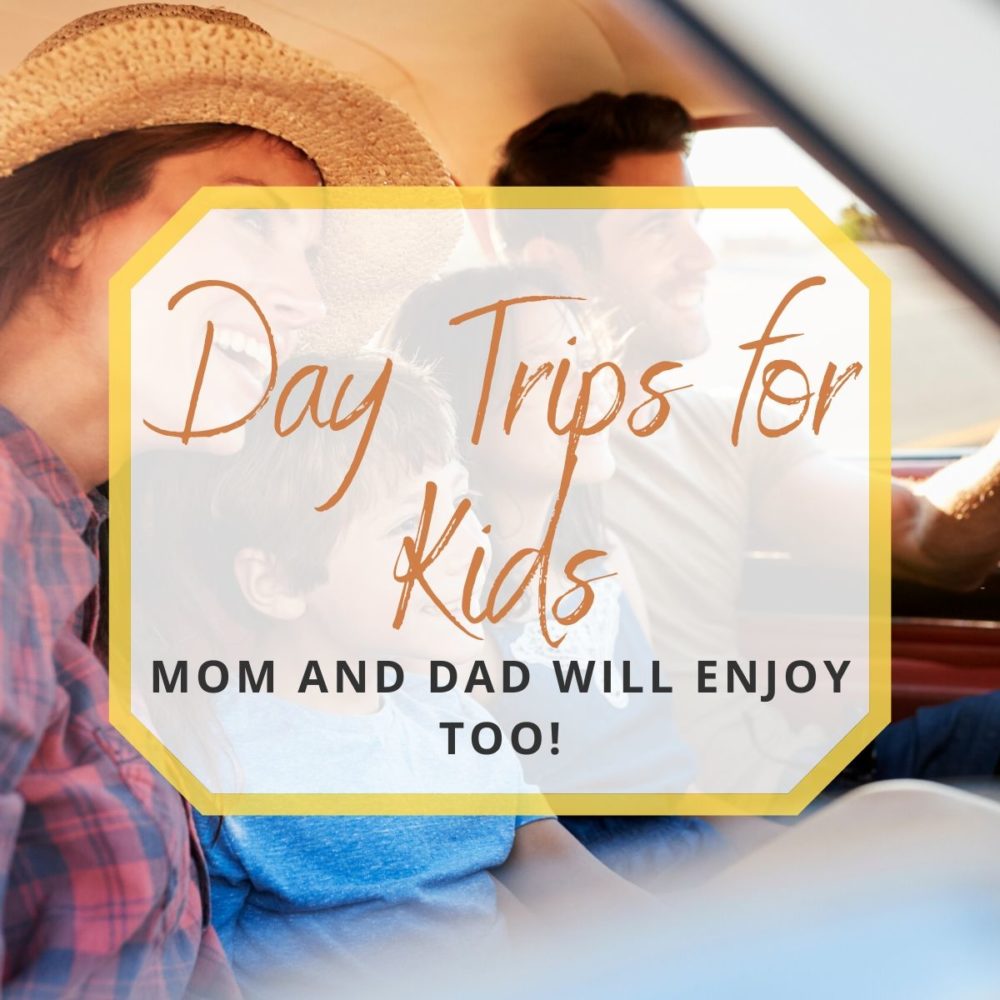 We always cherish the memories we spend time with our family. Enjoying childhood moments with the family, and those family bonding moments are always ingrained in our memories. Some of the most memorable highlights of our childhood are always those precious moments when we're out on a day trip with our family. Oh, how we loved those moments! As a kid, we would often talk about the day trips our parents took us to, and narrate every adventure to our friends and schoolmates for weeks on end.
Now that you're a parent, you'd want your kids to experience those memorable outings, too. Today, parents have a much more bewildering array of options when it comes to planning day trips for kids. 
How to Prepare for Day Trips for Kids
As fun-filled as day trips can be for kids and everyone involved, it needs careful, well thought out planning and preparation to pull off. Memorable trips don't just happen without a plan. 
Ideally your preparation for a day trip should begin with the following:
Plan with the Kids 
It's their day, after all! If you don't try to get their input, understand where they like to go, and what they like to do, you may as well stay at home. It's important to listen to them. After all, you won't have a good day trip if your kids aren't having a good time.
Prepare a Budget 
Having decided where you'd go for your day trip, the next step is to determine how much it's going to cost you. You need to consider the food expenses for the whole family, gas or travel expenses, accomodation or rental spaces (if any), as well as miscellaneous expenses.
Once you've computed an estimated budget for the whole day trip, decide firmly to stick to the budget. Any unplanned spending could cause serious strain on your family's finances. So, if you couldn't afford it or if the cost is way above your budget, it's best to look for more affordable alternatives. Remember, spend wisely.
Food and Transportation 
These items are distinct, but it's usually ideal to combine them as one. Take into consideration whether you're going to be using your own vehicle or public transportation. You should also decide if you'll be bringing a packed food or eat out. 
Generally, taking along something to eat while still spending a little on snacks is an ideal cost-saving tip and a means of adding more fun to your trip.
Set the Rules
It may be a day trip for the kids, but that shouldn't make them forget who's in charge. Firmly set rules for the day trip, and make everyone understand the need to follow them.
Give them an incentive to stick to the rules you've set, and a punishment for those who disobey, throw a tantrum, or misbehave.
Mind the Weather
Always make sure that the weather is good when you're planning for day trips for kids. Although the weather could be predictable, plan the day trip according to the best weather forecasted.
You can also plan your day trips for kids in line with the seasons. Even when traveling within your local town, keep constant watch on the local forecasts, and be sure to make adequate contingencies. 
Ideas for Day Trips for Kids
Having dispensed with all preparation tips, let's now look at actual ideas for day trips for kids, which mom and dad can also enjoy.
1. Beach Day
During the summer or even if it's just warm weather, this is an amazing way to have a day trip, especially if you live close to the beach. Aside from swimming, there are lots of activities you can do on the beach, like having a beachside picnic or playing beach soccer or volleyball. 
Make sure to take your swimming gear if you plan to swim, and be sure to obey all safety rules. 
One helpful tip—avoid peak season if you want a genuine family-focused beachside fun. 
2. Visit a Science Museum or Planetarium  
There's no better way to tease and stimulate a child's innate sense of curiosity than a visit to a science museum and planetarium. Be prepared, however, with the endless questions they have upon seeing all the possibilities science offers. Don't worry, though. Often, there are museum guides who entertain questions.
Science museums and planetariums alike offer educational information about science and space in the form of visual and interactive arts. Visiting one is also a good way to engage your little ones to an unconventional form of learning. 
Don't forget to account for the entrance fees they charge.
3. Visit the Zoo
Like a visit to a science museum, a visit to the zoo is educational for kids, too. If you're planning to go on a day trip at the zoo, find out one nearby and what kinds of animals they house. It's important that the zoo of your choice contains at least one animal your kid would be excited to see. 
Also, make sure that the zoo has a petting section where kids are allowed to interact with certain animals. Look out for ticket discounts and visiting times that best suits you. And, most importantly, check whether the zoo allows family picnics so you could have the option to bring in a packed lunch.
4. Go to a Safari Park
Unlike a zoo, a safari or wildlife park doesn't hold animals in designated pens. Instead animals are free to roam wild in their natural habitat. Visitors can view animals by driving through the safari grounds in the safety of a safari vehicle, guided by the safari employees. 
If you're opting for this kind of day trip, it's important to remind your kids to be in their best behavior. Also, it's important to be cautious and look after them at all times. Don't get out of the vehicle under any circumstances, unless sanctioned by the ranger. 
Do your research well before the trip, as some safari parks don't accept children in certain areas and situations for safety purposes. Aside from the precautions you have to take, safari day trips are an incredible experience for kids. 
5. Visit an Animal Farm
Unlike safaris or zoos, an animal farm is exactly as its name implies. It's a farm where animals are bred for commercial purposes. They could be regular animals, rare and exotic ones, or a combination of both common and exotic animals. 
Some farms welcome educational and recreational visits, and often make arrangements to make them pleasant. Children get to learn about the animals, share in their feeding activities, and also get to pet them.  
6. Go to a Nature Park
Whether you live in a sprawling urban center, surrounded by industrial landmarks, or the suburbs, a visit to a nature park will always be an amazing and educational experience.  
Visiting a nature park gives you the chance to see nature in its pristine and original form, undamaged by human habitation.  Some plants and animals may be abundant within a nature park.  
Nature parks are usually visited for fun activities, like hiking, camping, and picnics. Usually, it has a river where noncommercial fishing is allowed. Research ahead of time to know what activities are allowed in the nature park you wish to visit.
7. Visit an Amusement Park
Amusement parks are designated solely to amuse you and the kids. There are a lot of amusement parks you could choose from—Disneyland, Disney World, Universal Studios, Six Flags, and many more. Factor in what your kids like, and see which of the amusement parks is likely to give them the best experience.  
Some amusement parks are more expensive than others, so do your research ahead of time and look for discount packages. 
If you don't want to spend too much on amusement parks, you could choose the most affordable and look for discount rates and packages available.
8. Visit a Dude Ranch 
You can learn to ride horses, have a real campfire, spend lunch outdoors and have dinner under the stars, and learn the basics of horse riding. 
If your kid's bugging you for a pony, this can be your one-day chance to grant her that wish! Dude ranches offer a lot of collective and individual fun for the whole family, ranging from trail rides and cookouts to fishing trips and canoe rides.
If you're the type of family who would like to enjoy a western experience, this kind of day trip would be fun for you and your kids.
9. Go on a Rafting Adventure 
If you're looking for some sophisticated sense of aquatic adventure trip together as a family, you can search online for rafting river resorts.  
Rafting resorts, like the Colorado River Discovery in Arizona or the Adventures on the Gorge in West Virginia, offer rafting adventures for children as young as six years old. As a bonus, you can also get to enjoy treetop canopy tours, ziplines, fishing, hiking, and rock climbing. 
10. Go to a Waterpark
Enjoying a day at the waterpark is a fun day for both the kids and the parents. There are different water adventures kids would love, like water sports, enjoying the waterfalls, and conquering waterslides! Mommies and daddies also have a place of their own with hot tubs and jacuzzis for a more relaxing activity.
Have a Day Trip Fun!
Kids love going on day trips, but nothing makes it more memorable than spending it with their parents.  
Going on day trips as a family makes the whole experience richer and far more rewarding. Although day trips with kids can be tasking and tiring, it can also be the most rewarding and soul-energizing experiences of parenting.