Potluck: A meal where everyone in attendance brings a dish to be shared with every guest. A family reunion potluck is an intelligent, inexpensive way of throwing a party for many people while ensuring plenty of food to feed the whole group. Having a potluck at a family reunion is a terrific idea for the reunion planners and family members attending.
Getting Family Involved
You cannot have a successful potluck without willing participants, so it is important that you get people on board with the idea before actually following through with it. To get your family involved, just let them know the benefits of having a potluck, that you could use the help, and that it is a great way to get involved in family reunion planning. Also, if you know of a dish or two you enjoy from specific family members, let them know! Fluff it up so that they will want to make that dish.
Whether you talk to your family on the phone, send out a mass email, or post it on a social networking site, make sure you talk about how fun it will be to share different family reunion potluck recipes and how helpful it will be!
Planning the Menu
When it comes to family reunion potluck recipes, you will definitely need a way to plan out the menu to avoid a smorgasbord of potato salads and apple pies! You will need:
Drinks
Appetizers
Side dishes
Entrees
Desserts
Including a section for supplies such as cups and plates may also be beneficial, but this is optional if you already planned on supplying such items.
Talk to Each Other
When it comes to planning the actual menu for family reunion potluck recipes, communication is key. There are a few ways to keep everyone in the light about who is bringing what. Try some of these ideas to avoid duplicate family reunion potluck recipes:
Pinterest: Create a board on Pinterest that your family can use to add what they will bring.
Keep a list: Maintain your own list and give weekly updates to family members about any changes.
Facebook: Create an event on Facebook, and in the description, have a list with categories: Drinks, hors d'oeuvres, side dishes, entrees, and desserts. When someone posts what they will be bringing, edit the description to place the food item under the proper category.
Mass email: Send a mass email to the family with the aforementioned categories. Instruct everyone to use the "reply to all" feature and type what they will bring under the proper category.
Planning for a significant event is a tough task, so keeping in touch with everyone will surely help you plan the potluck. Don't be afraid to make suggestions, especially if a family member isn't sure what to bring.
If money is an issue to anyone, see if they would like to help you set up the potluck instead of bringing an actual dish. No matter what someone's situation is, there is always a way to get them involved. Nobody should feel left out, especially at a family reunion!
Food Safety 101
When it comes to potlucks, food safety must be front and center! Luckily, the USDA, the FDA, and CDC make it very simple to know how to keep food safe. For example, the image below is from the FoodSafety.gov website, and easily explains the various temperatures for keeping food safe to eat.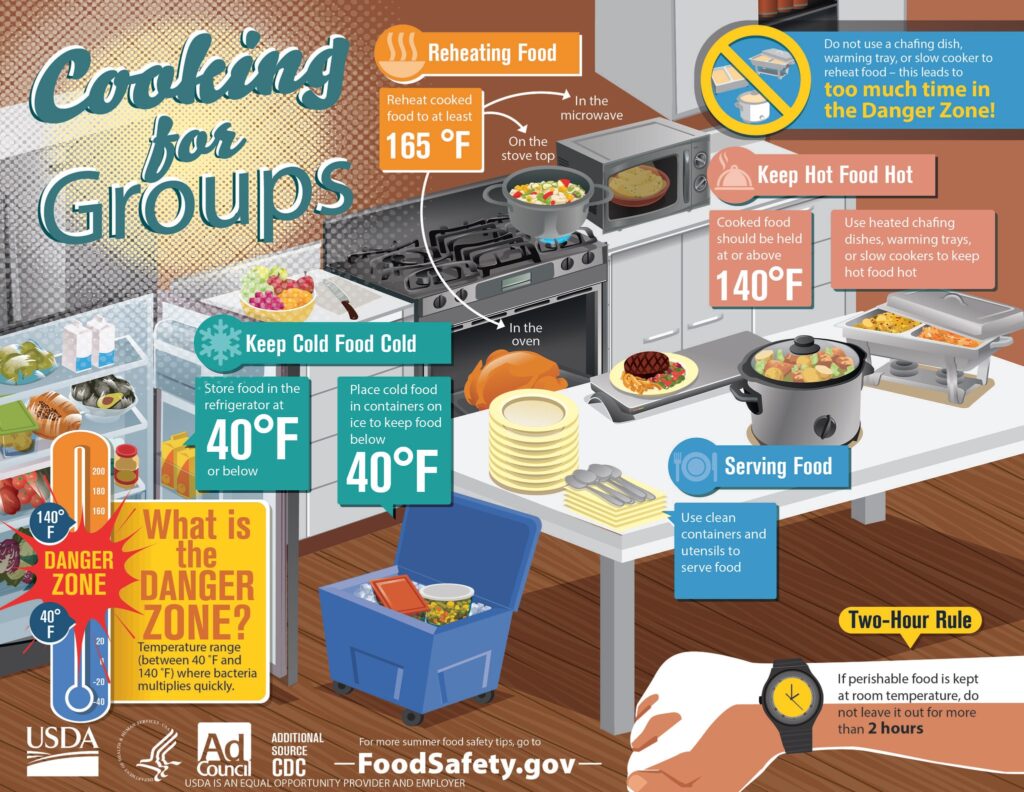 Helpful Food Safety Resources
3 Ways to Keep Hot Foods Warm
Slow Cookers and Chafing Dishes
For dishes that need to be served for an extended period of time, slow cookers and chafing dishes are great options to choose.
You can make a dish ahead of time, transfer it into these containers and then keep the temperature on warm. This way you don't have to worry about your food going cold after a while. Think stews, chili, casseroles and other hot dishes that you ordinarily have to serve quickly.
Slow cookers and chafing dishes save you from having to constantly check on your meal so that it doesn't get cold.
You can simply turn them on and let them do their job for hours so your guests can enjoy warm and delicious food all night long!
Warming Trays and Heat Lamps
Warming trays and heat lamps can be a great way to keep food warm. The heating element underneath the food ensures that it doesn't get cold and the foods stay at optimal temperatures. Whether you're cooking up fried chicken, a big batch of meatballs, or any other dish that needs to stay hot, these devices will help you do just that.
Not only will your food be served at an ideal temperature, but they also provide an aesthetically pleasing way to serve dishes buffet-style. They are attractive enough to display at dinner parties and will keep your guests happy with delicious, freshly-prepared meals.
Insulated Food Carriers
Transporting your hot dishes to their destination is easier with insulated food carriers. These handy containers keep your prepared hot dishes warm until you serve them! Just place your freshly cooked meats, vegetables, or whatever else you've prepared in the carrier, and the insulation will do the rest.
No more worry about reheating or having to cook on location. Insulated food carriers allow you to get your delicious dishes from one place to another without losing heat. Next time you're thinking of bringing a hot dish along for the ride, don't forget to pack your insulated food carrier!
It is important to remember that this is best for transporting food. Always check food temperatures before serving to ensure everything is correctly heated for food safety!
As an additional tip, when preparing hot foods, preheat your oven to a low temperature and keep the dishes covered inside. This helps keep warm food on standby until it's time to serve. Always make sure to check the internal temperature of the dish with a thermometer before you serve it.
Also, be mindful of how long food has been sitting in your preheated oven – as if left too long, food can dry out and become worse than when you started. Periodically check the internal temperature of your dishes and enjoy them fresh from the oven!
Allergies Are No Laughing Matter! Label, Label, Label!
When hosting a potluck, it's essential to be aware of guests' food allergies. Allergies can range from mild to life-threatening, so ensuring that all foods are properly labeled is vital for a happy and safe gathering. It's important to consider common allergens such as dairy, nuts, soy, seafood, and eggs; and ensure that the ingredients and potential cross-contamination are clearly noted. Having an allergen-free dish available makes hosting more accessible and accommodating to everyone.
Labeling individual dishes isn't difficult– simply grab a marker on the day of the potluck or use an array of printable labels with enough detail. Hence, those with allergies know what they can safely eat. Making information accessible is key to creating an atmosphere of care that your guests will appreciate, even if they don't have allergies themselves. Not only will you give many people the ability to relax when selecting their meals, but you will also create a welcoming environment for everyone around your family reunion potluck table!
Final Thoughts
Family reunions are about coming together, enjoying each other's company, and making memories that will last a lifetime. One great way to foster that sense of connection is by hosting a potluck.
When it comes to hosting a successful family reunion potluck, the key is in the planning. Preparing for the event properly sets the tone for an enjoyable evening with mouthwatering dishes everyone can enjoy. Know your guests' dietary needs, provide adequate food and supplies at the location, make sure you have enough seating and plates, and create a beautiful ambiance with decorations to help bring forth those family memories — these are all essential steps that help ensure success when hosting a family reunion potluck.