Goal setting is an important part of any child's development as it teaches them how to be responsible. They learn to make commitments and how to follow through with such commitments. Setting a New Year's resolution is a prime example of setting an important goal, and it's best to start this habit from a young age.
New Year's Resolution Ideas
Sit down with your child and come up with a few New Year's resolution ideas that are both realistic for them and appropriate for their age and stage of development.
Creating New Year's resolutions can be a great way for children to build important habits and learn how to pursue their goals. It can encourage young children to focus on their goals, learn from their mistakes, and develop habits that help them build life skills.
Whether it is social, physical, or mental goal-setting, there are many ways that parents can encourage their kids to strive for self-improvement in the coming year. Here are some unique New Year's resolution ideas for kids which will enable them to become better versions of themselves throughout the coming year.
Good New Year's Resolutions for All Kids
Helping out at home and being respectful to family members are two important areas where kids can make resolutions.
Help Out Around the House: They may not like chores, but helping out with chores is important for children. They learn like skills they'll need when they're adults, and it teaches them to take care of their things.
Encourage Good Behavior: Focusing on positive behaviors will improve your family dynamic. Cutting back on the complaining or learning to share with siblings can make your home a happier place.
I will keep my room clean.
I will watch less TV.
I will put things away when I'm done using them.
I won't talk back to my parents.
I will not tease my sister or brother.
I will be more organized in everything I do.
If I need help, I will ask for it.
I will help my mom cook dinner at least three times a week.
I will do all of my chores without giving mom trouble.
I will be nicer to my sister and brother.
I will help take care of my pets on my own.
I will share more with my sister or brother.
I will spend less time playing video games and more time reading.
Healthy New Year's Resolutions
Setting health-based New Year's Resolutions are a great idea not only for adults, but for kids too!
Healthy Eating: Encourage your children to make New Year's resolutions that focus on healthy eating habits. This could include drinking more water, eating more fruits and vegetables, and limiting sugary snacks. You can also encourage them to try new foods or recipes.
Exercise: Another resolution could be to get more physical activity. This could mean playing outside with friends, joining a sports team, or going for a family walk after dinner.
Mental Health: Finally, help your kids set goals related to their mental health. Encourage them to take time for themselves each day by reading a book, drawing or painting, or listening to music. Talk about the importance of getting enough sleep and taking breaks from screens when needed.
I will eat less snacks.
I will have a fruit or veggie with every meal.
I will try new foods.
I will exercise for at least a half hour each day.
I will drink less soda and juice and drink more water
I will eat my veggies even if I don't like them, because I know they're good for me!
I will brush my teeth each morning and night.
I will get into good hand washing habits.
I won't complain about having to take a bath.
I will get out and play every sunny day.
I will go to bed at a decent hour.
If I feel like I'm getting mad, I will walk away and calm down.
I will talk openly about my feelings.
New Year's Resolutions for Students
New Year's resolutions for students should focus on improving their academic performance, developing better study habits, and becoming more organized. Here are some ideas to get your student started:
Improve Grades. Whether it's getting an A in math or improving overall grades, setting a specific goal can help motivate students to work harder and stay focused on their studies.
Improve Study Habits. Encourage your student to create a study plan that works best for them and stick with it. This could include setting aside time each day for studying, taking regular breaks, and using effective note-taking strategies.
Be More Organized. Help your student create a system for organizing school materials. Keeping a planner is a great way to make sure they never miss another due date.
I will keep good grades in school.
I will be sure to do my homework before anything else after school.
I will take better notes in class.
I will pay better attention to the teacher and less attention to my friends during class time.
I will study my notes after school.
I will try to keep my school planner organized.
I will read a new book each (day, week, month, whichever is age appropriate).
I'll be nice to every kid, even the ones that are bullied by others; I'll be their friend.
I will resist peer pressure and be a positive influence on my friends.
I will make sure all my assignments get turned in on time.
I will do a better job proof-reading my work.
I will become more involved in extracurricular activities.
Printable New Year's Resolutions for Kids Worksheet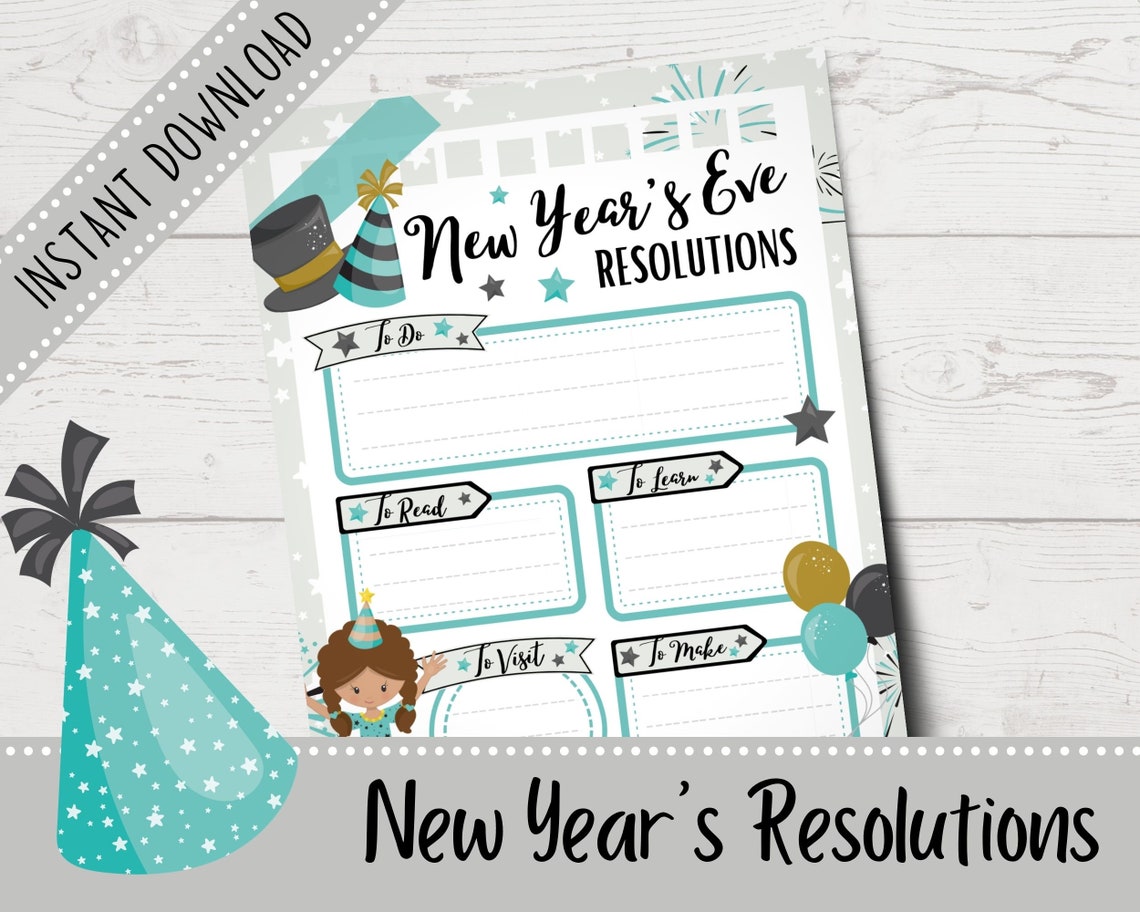 Help your kids remember their New Year's Resolutions with this printable worksheet! It highlights things they want to do, what they want to learn, books they want to read, and more.
Try letting your child come up with their own New Year's resolution ideas. Help them break down their goals into smaller steps so they can track their progress and stay motivated. With your support, your children will be able to reach their New Year's resolutions and develop lifelong healthy habits.
By helping your children set achievable New Year's resolutions, you can help them develop healthy habits that will last a lifetime. They will be on their way to better habits in no time!