Grandchildren are the ultimate source of joy for grandparents, but how can you make memories that will last a lifetime?
The best part about grandma and granddaughter activities is that they create lifelong memories! There is so much fun to be had while visiting with your grandkids that it can be hard to choose just one activity to be a priority.
Whether you're trying to find a fun activity for the holidays, looking for a great activity for Mother's Day, or wanting some ideas to keep the kids busy during summer vacation, these 10 amazing grandma and granddaughter activities will make your time spent together memorable for years to come.
Grandparent's Day
Grandparent's Day is the perfect opportunity to celebrate the special bond between grandma and her granddaughter. Make it extra special by turning it into a big birthday party, complete with balloons, cake, and presents for both of them!
Kids love birthday parties – why not turn Grandparent's Day into one too? You'll create a memory that will last a lifetime.
Maybe you could decorate the room together, stick up some festive banners or set out homemade cupcakes on pretty plates.
For those who are crafty-minded, there are lots of homemade decorations you can make in advance, including personalized cards and scrapbooks to help capture moments from this lovely day.
And of course, there's always the chance to take some adorable photos as lasting reminders!
Plus, having celebrations for grandparents allows both grandma and grandchild to spend meaningful time together that might otherwise be taken up with chores or homework. So why not seize the moment and celebrate like royalty?
A Visit to Grandma's House
A visit to Grandma's house is truly a magical experience, inside a special space of nostalgia and bonding. Playing with dolls, drawing pictures, or giggling over silly jokes, can create precious memories for granddaughters that will last forever.
And Grandma has so much wisdom to share! From lessons about life experiences to family history, it can be an inspiring journey to hear her stories as she offers family traditions that have been passed down through the generations.
It's moments like these that make going to Grandma's house extra special – something that will be remembered forever.
Baking Cookies and Cake with Grandma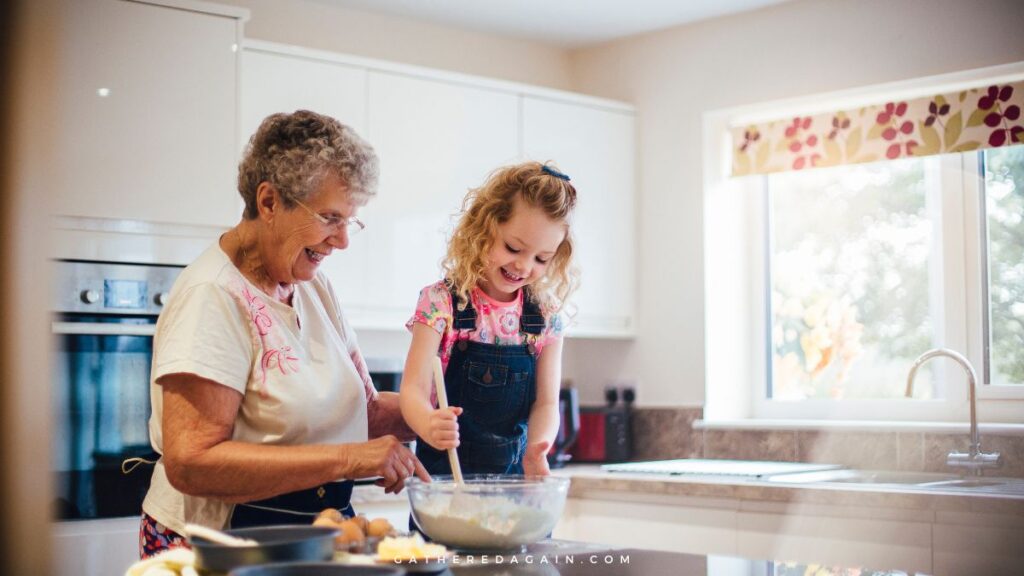 Making memories with Grandma can be sweet as pie! Baking cookies and cakes together is a fantastic way for Grandma to share her secrets and recipes with her granddaughters.
It's the perfect chance for Grandma to show them how to measure, mix, and bake the ideal yummy treat. Plus, she can teach them all about decorating their creations with colorful icing and edible sprinkles.
It's not just a great learning experience but also a fun-filled, memorable experience! Even better – they get to enjoy eating it when it comes out of the oven.
Doing Arts and Crafts Together
Doing arts and crafts together is a fantastic way for Grandma and her granddaughter to bond. It's the perfect avenue to share Grandma's unique crafting skills with her grandkids.
From paper dolls, jewelry, and even scrapbooks – it's an opportunity for a grandmother to inspire and move generations with her creative gifts.
With fabric, yarn, or beads, a grandchild can learn how to make wonderful surprise gifts that will be cherished from generation to generation! What a great way for Grandma to remind her grandkids of their memories together for life!
Making a Playhouse
Making a playhouse with Grandma is the perfect way to build lasting memories between generations. You don't need any fancy tools — just some creativity, cardboard boxes and couch cushions!
It doesn't matter if it's big or small, there will always be room for fun. Throw in some markers, paints or crayons and create a colorful facade to your playhouse.
Add a mini-garden outside the front door for extra fun and decoration — even tiny flowers behind the windows will do!
Make sure to keep it simple; after all, imagination is what makes any playhouse come alive. With Grandma's help, you'll have a one-of-a-kind creation that's more special than anything from the store!
Some of the most memorable moments of our lives aren't necessarily specific moments, but rather a general memory of "oh yeah! Do you remember when we would go to Grandma's house and we would always make the most interesting forts and playhouses?"
Looking At Old Photos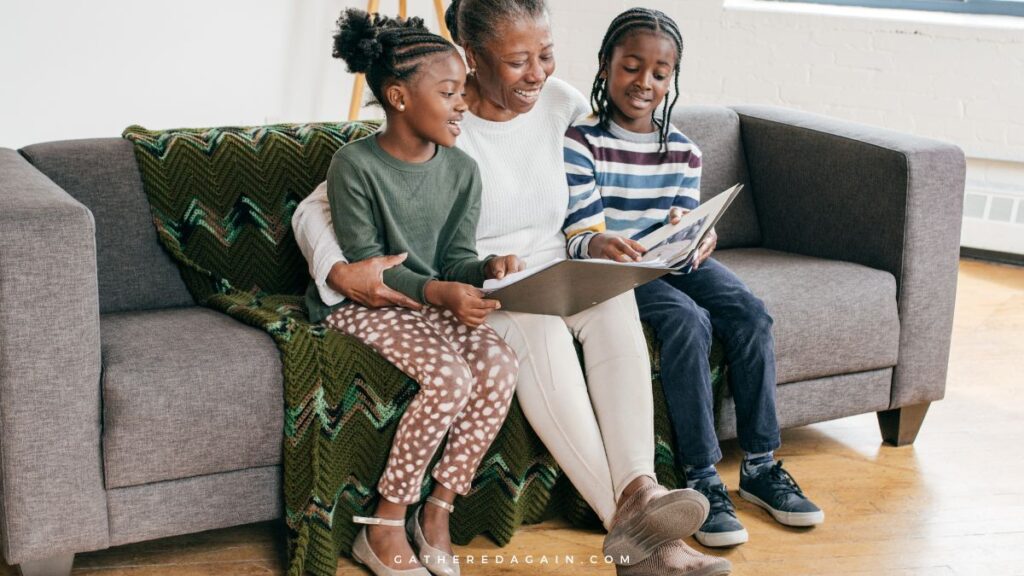 Peeking through Grandma's photo album is a fun way to explore the family history! It's more than flips of paper and dusty images, it's a powerful connection: creating lasting memories between generations.
Grandma can share her life stories with her granddaughter, helping her understand the foundations of their family. Time travel back in time with photos of when Grandma was younger or ancestors who have passed away. Discover special occasions and relive relatives' weddings, birthdays, graduations and so much more!
It's not only super fun but will also help Granddaughter grow closer to grandma and gain insight into the amazingness of their collective past.
Going on a Nature Walk
Exploring nature together is a wonderful way for Grandma and her grandkids to share quality time, surrounded by the beauty of the outdoors.
Grandma can show them different flowers and birds, tell exciting stories about nature, and educate them on the importance of protecting our planet.
The wonders of the natural world are endless – trees singing with chirping birds, spectacular sunsets or star-filled night skies.
It's a great chance to challenge little minds as Grandma teaches them about how plants grow, how animals survive in their habitats, and how everything works in harmony together.
By connecting with nature together they can make memorable experiences that can last a lifetime!
Playing Board Games
Board games are an amazing way for Grandma and her grandkids to connect, while still having tons of fun! After all, what better activity to keep grandparents and grandkids engaged than a good old-fashioned board game?
Plus, board games also provide Grandma with the perfect chance to teach her grandchildren her wisdom – from strategy tips to problem-solving skills. And when it comes time for silly conversations, there's plenty of that too!
Simply being together around the board game table can create laughter and sweet memories that will last a lifetime. Whether you're playing a classic like chess or Monopoly or trying something new every time – playing board games with Grandma is sure to be both enriching and entertaining.
Taking Pictures at Grandma's House
Taking pictures at Grandma's house is an awesome way to make lasting memories. It's fun for the grandkids, and it's the perfect chance for Grandma to snag special moments with her beautiful granddaughters.
Grandma can teach them how to operate the camera, letting them shoot photos of each other and all 'round their vicinity. Plus, she can compile these photos into sweet scrapbooks so the memories remain alive always!
Going Shopping Together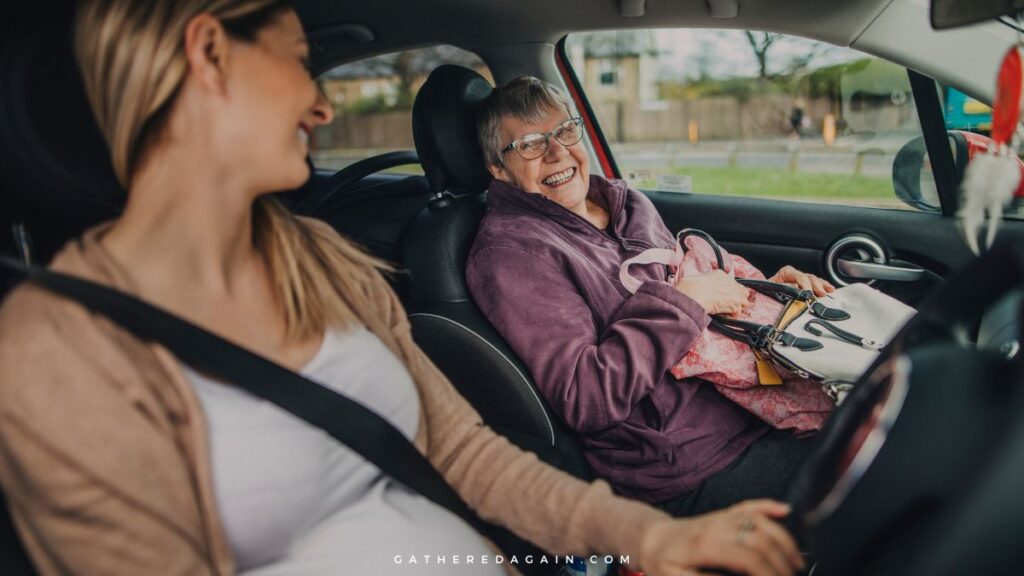 Going shopping together is a wonderful bonding experience for Grandma and her grandkids! Grandma can show them how to be savvy shoppers, compare prices, and look for deals. There's also the added benefit of passing down her fashion sense – picking out wardrobe staples that are stylish yet affordable.
My favorite memories with my grandmother are the times we would go shopping together at Burdines. With its wide selection of clothes, it was like a dream come true! I'll never forget those days browsing through the store with her by my side.
Final Thoughts
Grandma and granddaughter activities are a dream come true! From fun-filled playhouses to delightful nature walks, these adventures will create priceless memories. Not to mention, you don't need anything fancy or expensive to make these moments happen—just some extra love and attention from Grandma!
Plus, when young ones are having fun with Grandma it's an opportunity for her to share her wisdom and knowledge with her grandkids. Overall, engaging in grandma and granddaughter activities is worth the effort every time. So go ahead and schedule some quality time with your kiddo that will be remembered forever.