There's always been one person who has been there for us from the start. One, who not only took care of us and made sure we grew strong and healthy, but also provided us with the love and support we needed but couldn't get from anywhere else… our mothers.
For the longest time, our moms have served as our source of strength. They are our refuge in our moments of weakness, as they are the pillars of our highs and successes. After all their sacrifices, it's almost as if we can never repay them enough.
Now that we are capable of showing our love and appreciation, it's a great thing that we have one day a year entirely dedicated to the strongest women in our lives. That's why in this article, we will be giving you some fun and fascinating ideas on how to celebrate Mother's day at home.
Mother's Day at Home
While a day out in the sun or a lovely evening at your mom's favorite restaurant can prove to be a great way to commemorate this annual event, it's just as important to recognize the true value of the holiday, which is the gift of family.
This year, why not switch things up a notch, and instead spend quality time at the comforts of your own home. Not only will this experience help you save more money, it can also help aid in bringing the family closer together. Besides, at the end of the day, nothing truly beats the special vibe and intimacy of staying indoors.
Fun Home Activities with Mom
Below are some of our recommendations on fun activities to try out with your family for Mother's Day at home.
Paint and Sip
Perfect for a day of relaxation and artistry, paint and sip is a new, fun activity where painting and drinking collide. This simple, yet meaningful experience can help your mom widen her horizon, as she uses her imagination to paint while also taking her mind off stress from work or daily life.
For this project, simply prepare a canvas, brushes, and some paint for all the members of your family. Once that's set up, play some calming music in the background, and let those creative juices flow alongside your mom's favorite wine or champagne. 
If you have little ones or children who wish to join in the fun, you can replace their drinks with grape juice or any other beverage of their choice. All that's left is for you to add in some snacks, and get ready for a fun and tipsy night where you can heartily compare your artwork after.
Cook Mom's Favorite Meal
Instead of going out to your mom's favorite restaurant, why not imitate the meal, and complete the dining experience at home? Other than having the ability to tweak recipes to your mom's liking, you will also have room to add certain elements or dishes that are fitting to her taste and lifestyle.
A cool way to do this would be to set up the dining table with complete cutlery and your mom's favorite wine. From here, you can give her a set meal card that lists all the different courses she'll be having—from the appetizer all the way to dessert. Alternatively, you can also give her a menu with different options of meals and dishes to choose from, so she can freely decide which ones she prefers, just like at a restaurant.
Mom-Centric Game Night
Playing games and cards with the family always proves to be a fun recreational activity to partake in any day. For this Mother's Day, why not host a family game night at home, centered on the cause for celebration herself: our moms.
On the day or night of, set up in a spacious area of your home with a table and some pillows for comfort. To make it "mom-centric," you can either pre-select the games you know she loves or turn the entire theme of traditional games into something mothers can relate to.
My mom and I adore word games, so I made this fun collection of Mother's Day word games and activities I plan on printing and playing with my mom while we have our morning coffee! Visit our Etsy Printable Shop if you want a set too!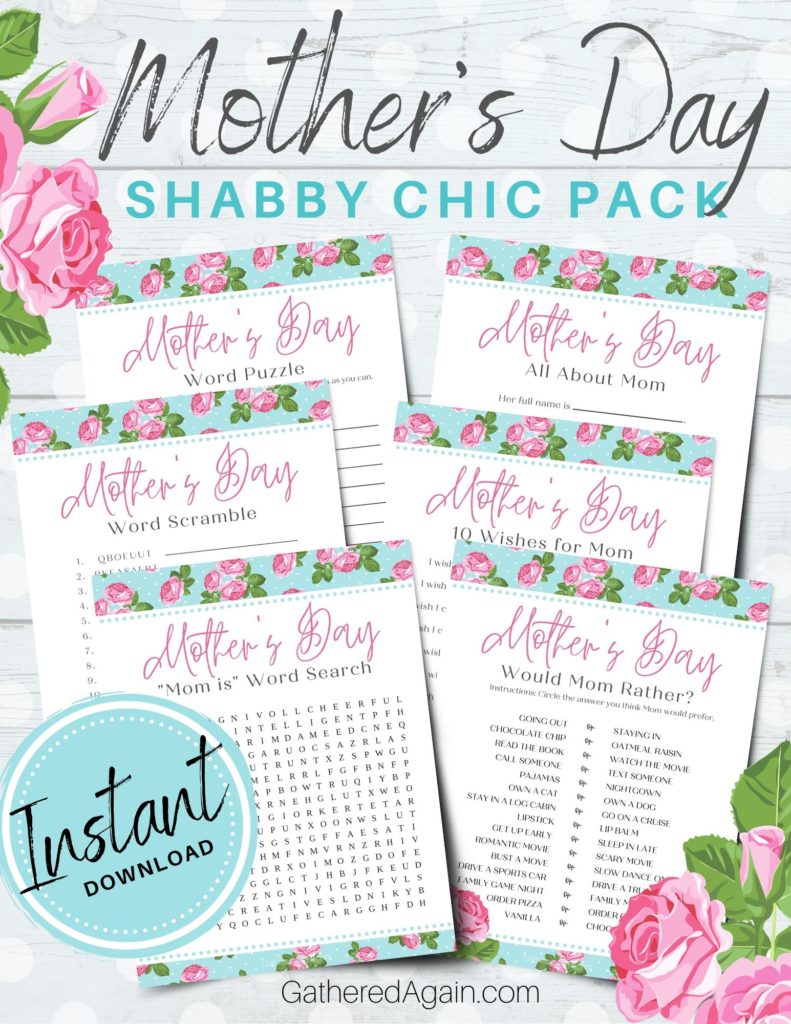 Homemade Pamper Session
Some say a woman's spa day is the epitome of ultimate rejuvenation. If you're going to spend your mom's special day indoors, then one of the best gifts you can offer is a refreshing at-home pamper session where she can lay back and unwind.
Be it ordering a home service mani-pedi, massage, or an exfoliating facial, any of these will surely help your mom loosen up, relax, and forget about her worries for the day. To properly set the tone, you can set up some mood lights and throw on a calming spa scent, like eucalyptus or lavender. Before starting, you can also give her a warm cup of tea with added honey for some sweetness.
Make a Scrapbook
Everybody knows that scrapbooks and photo albums are one of the best ways to hold onto your best memories and most valuable keepsakes. This Mothers' Day, why not make a scrapbook with your mom to commemorate all the wonderful years you've spent together.
From when she first taught you how to talk up until your recent highschool or college graduation, there are lots of precious moments that can be brought back to life just by doing this simple activity. When you prepare your photos, include some extra pens, stickers, and stationery for when making the design. Not only will this project relive a lot of precious time you spent together, but it can also serve as a cute bonding experience the two of you won't forget.
Do Yoga
If you find that your mom is constantly running in a high-strung environment from work and daily responsibilities, then doing some yoga on your living room floor can be exactly what she needs to have some peace and calm.
This one is really simple to pull off since all you really need is a yoga mat. Throw on your comfy yoga pants, and put on some nature-inspired music in the background to help set the mood for a nice meditative experience. If you're not familiar with any yoga poses, and are trying it out for the first time, just pull up a Youtube video you and your mom can follow.
Host a Karaoke Night
Carelessly belting out the lyrics to a classic Mariah Carey song on Mother's Day may just be one of the best things you can do to have fun. While this activity may typically require you to go out of your house, know that there are also easy alternatives to having a blasting karaoke night at home.
If you don't already own a swanky or affordable karaoke machine, then a microphone is all you really need to worry about. Nights like these where the family can just focus on having a great time, not only ensures your mom stays amused for the rest of the night, but also gives your bathroom shower head a break from the private concerts you've been having in secret.
Tend the Garden Together
Tending to some plants and flowers in the garden is a simple yet calming project for the family to enjoy. Even if you're not that familiar with the hobby itself, you can consider it as an exploration of a new potential passion you and your mom can bond over.
Aside from just watering the plants and plucking out the weeds, take it a step further, and plant a new flower, fruit, or veggie seed on soil. You can also remove some plants or flowers from their temporary pots, and move them into their permanent vase in or outside the house for added home decor.
Mommy's Movie Night
Seeing a movie with the family is a great way to enjoy a leisurely time indoors. Depending on the genre of the films you choose to watch, movies can take you on a whirlwind of emotions from love to laughter, and sadness to fright.
To make her day extra special, you can make this movie night personalized especially for her. You can choose to plan an entire movie marathon of all her favorite films or set up a night of all the movies she wants to watch but has yet to catch. Either way, make sure to add popcorn snacks and some cool beverages for a fun and laidback Mother's Day.
Bake a Delicious Treat
If your mom is a certified foodie, then baking a special treat for her day may just be an enjoyable activity to do on Mother's Day. Whether she's all about sugar and chocolates or she chooses to eat clean and healthy, there are now plenty of options to choose from, so your mom can be satisfied no matter what.
Cookies are the simplest type you can make, and decorating them together can be part of your plan. However, if you're looking for a bit more challenge or if you are more experienced in the kitchen, then you can also look into baking different cakes, breads, or rolls to help satisfy that major sweet tooth.
Bonus Tip: Put What Your Mom Wants First
While we have nothing but positive intentions when planning our surprise, it's so easy to get lost in the planning and excitement, that we sometimes forget to consider how our mom really wants to spend the holiday.
Before you decide on which activity to go with, first you must ask yourself:
Is her everyday life so tedious that she's looking for excitement or thrill?
Does she love to eat, but is not a big fan of cooking or baking?
Does she have a lot of work on her plate, and just wants to take the day off?
These questions help to place yourself in your mom's shoes, and ultimately help you decide what you think is best for her. No matter how you choose to spend your Mother's Day at home, it always helps to think about what she actually wants to do on her special day.
Conclusion
Now that you have all the ideas to make your Mother's Day at home extra special, it is now up to you to make sure this holiday is one that she will never forget. Just remember to put your best foot forward, and do whatever you do with your heart in your hand. They deserve all our special attention right now, but it's just as important that we do this for the right reasons and purpose.
Above anything else, it's important to know that just because you chose to celebrate this day, doesn't mean that it's the only day we should be showing her our love and appreciation. A mother's love for her children is powerful and unconditional, so let's learn to always treat her with the same love and respect.
Happy Mother's Day to all your moms!