It's tough being a parent sometimes. There are just not enough hours in the day to do everything we want to do with our children. So, how can you entertain your family during weeknights?
When it comes to family activities, weeknights are usually the most difficult. We have to juggle work, errands, homework, chores, etc. while trying to squeeze in quality time with our families. But your family can do many fun family bonding activities during the week without breaking the bank. Many of these activities are free or very inexpensive.
This list includes over 16 ideas for fun activities that will help you bond with your kids, teach them valuable skills, and entertain them at the same time. These activities range from arts & crafts projects to sports to outdoor adventures.
I hope you find something here that sparks an idea for some weeknight family fun that you can add to your weekly routine.
First, let's start with some tips that simplify planning your weeknight family fun. These tips have served my family well, and I want to pass them on to you.
Set Your Weeknight Family Activities Up For Success!
If you want your family to enjoy spending quality time together, you must set your weekly activities up for success. In this section, I'll share some tips to help you make sure your family has fun while also ensuring you have enough energy to succeed during the week.
Plan Your Activities Ahead Of Time!
Preparing ahead is the key to ensuring you can get home and get straight to the fun. If you know what you want to do, it's much easier to plan out how you will accomplish it. Plus, when you know what you're doing precisely, you won't waste time trying to figure things out as you go along.
Make a list of all the activities you think your family would enjoy on any weeknight (we also have a list of our favorite ideas below). Organize the ideas from least effort to most effort. On nights where you have less time, or perhaps the day was more stressful, you can choose ideas closer to the top of the list.
Have All Of The Materials For Your Weeknight Family Activity On-hand
When planning your activity, consider all the materials you may need. You don't want to run around searching for something or worse, go to the store. Having everything ready in advance helps ensure you aren't wasting time later.
Take Advantage Of The Time You Already Use
There is already time you give to your family. So how can you use it better to bond with them? For example, instead of everyone sitting quietly at dinner, why not ask your kids about their day?
Feel free to spice this idea up by introducing a "family conversation starter" to your family dinner. They can be about anything, even silly things. You can also let your kids think of conversation starters to ask at dinnertime. Here are a few conversation starters you can use at your next dinner:
12 Conversation Starters for a Family Dinner:
"What did you like most about your day?"
"What was the most challenging thing you've overcome recently?
"If I could be anything in the future, then I would be…"
"Have you helped anyone recently? If so, what did you do?"
"If someone knocked on our door right now, who would you want it to be?"
"If you could be in any TV show, which show would it be?"
"If I could combine any two animals and keep it as a pet, then I would mix…"
"If you could make any movie, which movie would you make?"
"If I could only eat one meal for the rest of my life, it would be…"
"What is your perfect meal if you could have anything on your plate you wished?"
"My favorite board game is…" (ask them to explain what they love about it)
"If you could go anywhere in the world, where would you visit?"
Dinner conversation starters are a beautiful way to get some extra quality family time.
Our Top 16 Weeknight Family Activity Ideas
So, what are some fun things kids can do on weeknights? We've compiled a list of our favorite weeknight family activities.
1. Blanket Forts For Evening Fun!
Blanket forts are an excellent way to have fun during the evening. It's a simple, cheap family activity that requires no special equipment or preparation. This is a perfect activity for the busiest evenings.
Kids love building a cozy fort because it gives them their own space where they can do other activities such as coloring, reading, or puzzles. Once your kids are done, you can easily transition to doing an indoor family campout!
Another simple alternative if you don't feel like all of your sheets being unfolded or having to make beds is to make a fort from couch cushions.
2. Do Puzzles Together As A Family
Puzzles are a great way to challenge kids' brains and improve their problem-solving skills. In addition, doing puzzles together is a great way to spend quality family time.
Puzzles are also a great way of teaching kids logic and reasoning. I know many people don't do puzzles because they take too long, but this is good. You can get a puzzle mat that lets you roll up a puzzle in progress and put it away for another day.
This allows you to do more challenging puzzles with your family and gives you something to look forward to. Best of all, you won't have a puzzle occupying your dinner table for the next month!
3. Play Board Games
Board games are a classic pastime for families. I mean, family game night exists for a reason! They provide hours of entertainment and are a perfect way to spend a family night.
There are hundreds of board game choices out there. Some are educational, others are silly, and others are just plain fun. For example, Ticket to Ride has become our official family board game. We can't get enough of it! So here are some board games that don't take long to play.
10 Board Games That Don't Take A Long Time
Guess Who – 5-10 minutes
Blokus – 15-20 minutes
Candyland – 15-20 minutes
Sorry – 15-20 minutes
Splendor – 30 minutes
Sequence – 30-40 minutes
Clue – 30-45 minutes
Monopoly Junior – 30-45 minutes
Mouse Trap – 30-45 minutes
Trouble – 30-45 minutes
4. Play Sports
Sports are a great way to spend time with your kids. Playing sports together builds teamwork, communication, and leadership skills among kids.
This is a great way to encourage kids to participate in physical activities. For example, if you don't have basketball hoops or soccer goals, you can choose other sports that don't require expensive equipment like Frisbees, dodgeball, or just throwing a football around.
5. Make Crafts
Making crafts is another great way to pass the time with your kids. Doing craft projects together teaches kids creativity and patience.
Crafts are also a great way for kids to express themselves creatively. You can do many age-appropriate projects and maybe even some fun STEM projects that mix art and science.
Recently, my sons and I grew crystals using a crystal growing kit. It was excellent; after a few days, my kids had their crystals in display cases that they could be proud of.
6. Read Books Together
Reading your favorite books together is another great way for kids to spend time together. Reading books together encourages kids to read independently and improves their vocabulary.
Books are also a great way to introduce kids to topics they may find interesting. For example, reading The Chronicles of Narnia series will allow kids to explore fantasy worlds and learn about perseverance.
7. Cook Dinner Together
Cooking dinner together is yet another great way to spend quality time together as a family. In addition, cooking meals together teaches kids responsibility and encourages them to prepare food for themselves.
They may even learn how to cook something new. This is also an excellent opportunity to teach your kids a family recipe or show them how to plan a family taco night.
8. Family Movie Night
Who doesn't love a good movie? Watching movies together allows parents to relax after a busy day and gives kids a chance to unwind. So teach your kid how to make popcorn in the microwave and prepare for a great night!
Movies also offer the opportunity to discuss themes and issues raised in the movie. Again, this is a great bonding opportunity for the whole family. Make sure you check out our Family Movie Night guide for more tips!
9. Play Games Together
Playing a fun game together is another great thing to do on weeknights. There are tons of games available that are suitable for children and adults alike.
Games are a great way to pass the time together and bond. Plus, playing games together helps kids learn problem-solving skills and develop critical thinking abilities.
You don't want games that will take forever, so while Monopoly might be a favorite game, it's probably best to save that one for the weekend.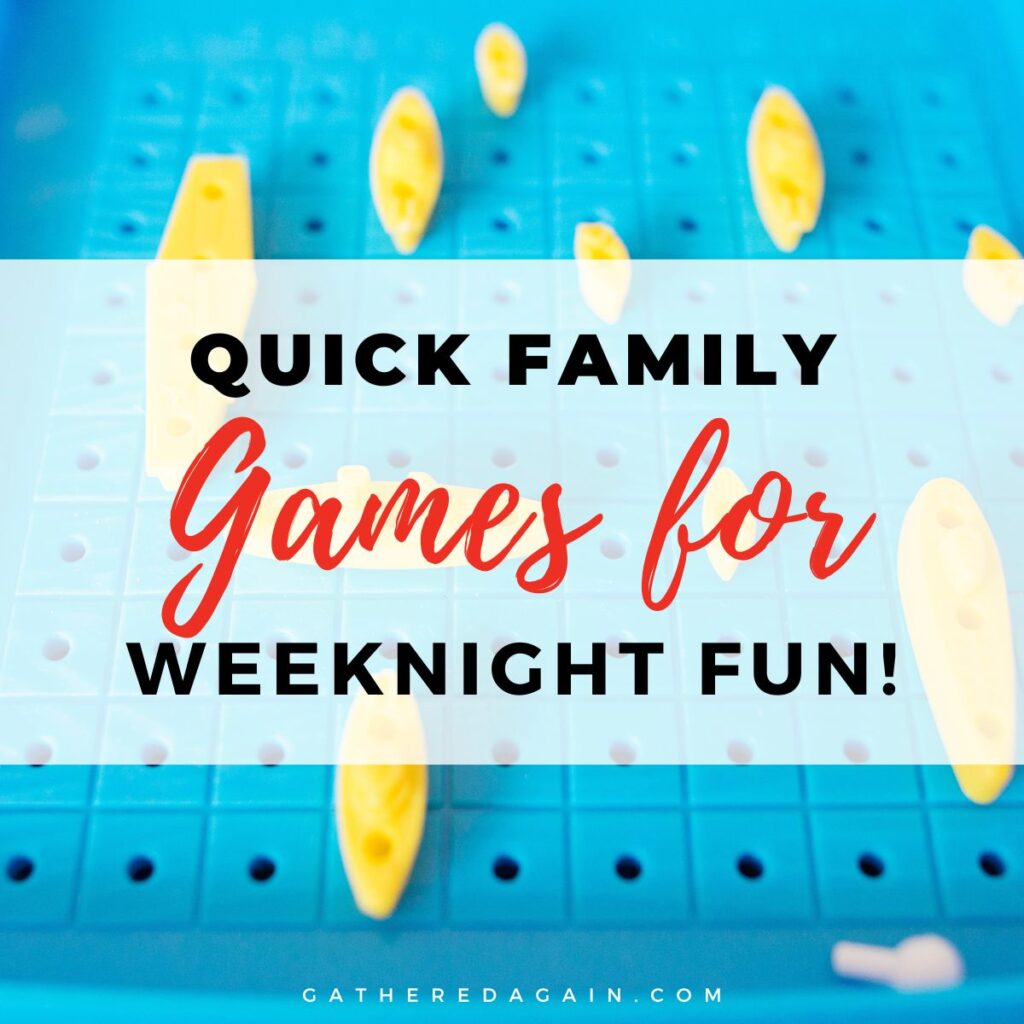 10 Quick Games Your Family Will Love
Here are some games that are fun but also quick:
Connect 4
Farkle (this simple game is a family favorite!)
Operation
Rock-Paper-Scissor (my family makes a competition out of it to make it last longer)
Battleship
Checkers
Tic Tac Toe
Mastermind
War Card Game (this is my kids' favorite card game)
Sushi Go
10. Bake Cookies Together
I love the smell of a batch of delicious chocolate chip cookies wafting through the house. Baking cookies together is a fun activity that promotes sharing and caring between families. In addition, it gives the kids something to look forward to once the work is complete (and it makes the house smell glorious)!
Baking cookies together also allows kids to practice following recipes and learning basic kitchen skills. It also gives them a delicious reward for their efforts.
11. An Indoor Scavenger Hunt
An indoor scavenger hunt is another great way to have fun during the week. They're easy to set up and usually involve finding items around the house or yard.
If you want to be particularly crafty, you could create a "chore scavenger hunt" where the items on the list are the nightly chores. For example:
Walk the dog.
Pick up legos.
Brush your teeth.
Get pajamas on.
Put laundry in the hamper.
Otherwise, you can create a regular scavenger hunt or do a "book scavenger hunt" where your kids need to find certain things in a book, such as characters, places, or if it's a picture book, then items in the pictures in the book.
12. Discuss Family History
While this might not seem like the most exciting idea on the list, kids are often interested in learning facts they never knew. If you have a funny family story, all the better!
This is also an excellent opportunity to explain how a family tradition might have started or teach your children how the world used to work. For example, my kids were amazed when they found out I couldn't just binge-watch any show I wanted when I was a kid!
13. Watch A Family Video or Look At Family Photos
Family videos are a great way to connect and share memories. Kids love seeing themselves on TV, so be prepared for them to be laughing hysterically.
You can also show them important videos from your family's history, such as your wedding video or any videos you might have of coming home from the hospital with one of your babies. This idea can make for surprisingly fun family bonding time.
14. Make Homemade Pizza
Making pizza at home is a great way to get everyone involved. Whether you let each kid make their own individual pizza or you show them how to make a large, gourmet pizza, your kids will love getting a chance to see how the pizza is made.
You don't have to get too fancy either. Feel free to make tortilla pizzas, french bread pizzas, or English muffin pizzas.
15. Teach Your Kids A New (Classic) Card Game
There are tons of classic card games that kids can play together. My favorites include Go Fish, War, Crazy Eights, and Old Maid. The fun of this idea is that kids love learning new things, and you get to teach them something you already know.
I've also noticed, at least with my kids, that when you teach them a new game, they can't wait to play it with others. I often wonder what my kids are up to because the house gets awkwardly quiet, just to find them all huddled together playing a game I taught them. "Rock, Paper, Scissors" was a very big deal in my household!
16. Make A Grocery List With Your Kids
I don't mean to brag, but this is kind of a brilliant idea. Kids love this because they like making decisions, especially if their decisions can get them cookies and candy.
But here is why I truly love this idea:
It's a chore you already have to do.
It helps teach your kids a task they'll eventually have to do themselves.
You get to impart wisdom about health, nutrition, and value.
You can use it as an opportunity to learn what your kids like and have them help you plan how to make your family healthier.
Those are a lot of benefits for simply including your child in a task you already have to do! This also gives you an endless opportunity to teach your kids skills they'll need later in life.
What are some of your favorite weeknight family activities?