Are you a fan of the iconic game show, Family Feud? This long-running program highlights two families in an exciting competition through answering survey questions. Now, for Christian Bible-believers, there is something fresh to enjoy!
Bible Feud is a fun, interactive way to learn more about the Bible and have a great time with family and friends. In this article, I'll introduce you to a printable version of the game and we'll provide some sample questions you can use too!
Get your printable Bible Family Feud-style game Now!
Join the revolution – Bible Family Feud! This classic game is a perfect way to have fun and learn about Biblical teachings on family game night. It takes the classic format of family feud and re-imagines it with Biblically-based questions. It's fun, it's engaging, it's informative – what more could you want? Don't miss out on the exciting gameplay that only Bible Feud can provide. It very well may end up as a family favorite game.
Bible Feud will push players to their limits with 30 thought-provoking questions tied to biblical figures and stories. With something for everyone, round after round will definitely put your knowledge of the Bible to the test.
Are you up for the challenge?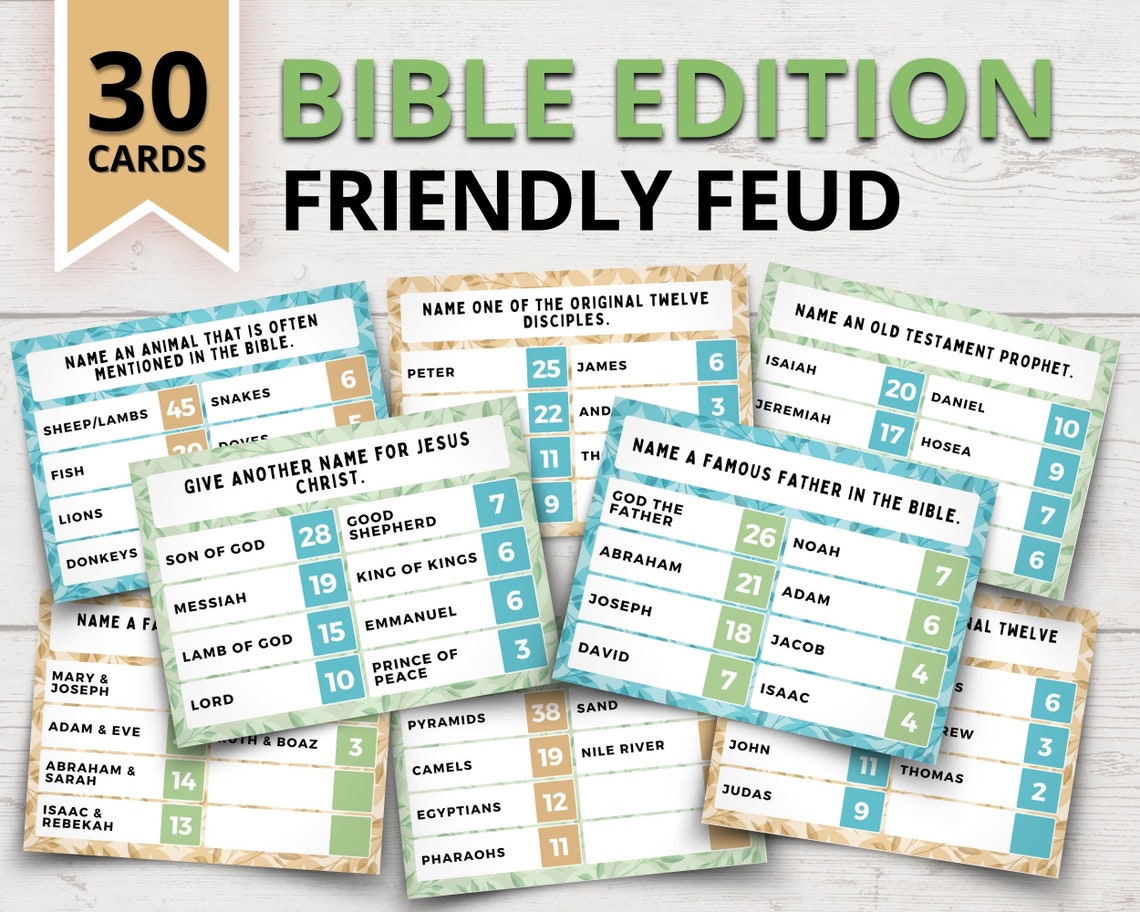 Find out how to play Bible Feud
If the game Family Feud rings a distant bell, let me explain what you'll need in order to play it with your family. Gathering the materials required is essential for the enjoyment of this fun game.
The Setup
A family member who isn't actually playing the game should be appointed as host and moderator, tasked with posing questions to all players involved. This is the simplest and best way to start the game.
In order to have a competitive match, two teams must be formed. Several ways of pitting individuals against each other are available; this could involve setting boys versus girls, children playing against adults, spouses dueling with spouses, or being chosen at random! For a nostalgic flair, why not select captains who will alternate picking team members like in your grade-school days?
The Gameplay
The teams are split and their respective members are seated together. At this point, the host begins calling up a player from each team to read out the starting question. Players have the discretion to answer before or after the host has finished asking; in any case, the team that buzzes in first will have the chance to provide their answer. 
In a situation where the first team to buzz in successfully provides the top survey answer, they are given a decision: keep or pass. If they don't present an appropriate answer, the opponent is given a chance to swoop in and take it. Whichever side provides the highest-scored answer gets the liberty of guessing all the remaining survey responses or else gives that opportunity to their competitors.
The host begins by asking each person to take turns, starting with the first family member. Each participant has only five seconds to answer and a maximum of three incorrect answers are permitted before it becomes the next team's turn to guess the correct answers.
In the event that the present participants fail to answer all questions on the board, their adversaries have an opportunity to steal the category. While they wait out their chance to do so, they can talk among themselves in order to come up with what they believe are the correct answers.
Once the team in control has accumulated three strikes, the host will proceed with posing the same question to the opposing team, with their team leader providing the agreed-upon response.
The Game Questions
Depending on the game question and the answers given by survey respondents, there can be up to 8 responses available per question.
Survey results are calculated by tallying respondents' answers and assigning individual points to each response. Even if technically incorrect, the survey responses are considered "correct answers" for the purposes of the game.
It's best to think of the survey responses not as "correct answers" but rather "popular answers."
The Points
Reaching 300 points is necessary to win the game, but this score can be changed to accommodate the size of your family and how many rounds you hope to play. Tweaking scoring and timing rules make for a more enjoyable time for all (especially kids who might have a shorter attention span). Speaking of kids, instead of monetary rewards as seen on television, up the fun by having bragging rights and toys or prizes for young participants.
What You'll Need
You will need the following items to play the game:
An improvised podium for speaking can be created with ease, as any object such as a table or chair will do the trick.
On top of the podium, place a bell or buzzer for emitting an audible sound. You'll want to ensure that it can be heard by everyone in the room.
Answer Covers Sheet.
A timer/stopwatch is useful for determining how long it takes an individual to respond.
You can make the game more official and extravagant by purchasing things like microphones and other gadgets, though standard household items are perfectly fine in creating a memorable game.
Sample Bible Family Feud-style Questions
Give another name for Jesus Christ.
| | | | |
| --- | --- | --- | --- |
| Son of God | 28 | Good Shephed | 7 |
| Messiah | 19 | King of Kings | 6 |
| Lamb of God | 15 | Emmanuel | 6 |
| Lord | 10 | Prince of Peace | 3 |
Name a famous father in the Bible.
| | | | |
| --- | --- | --- | --- |
| God | 26 | Noah | 7 |
| Abraham | 21 | Adam | 6 |
| Joseph | 18 | Jacob | 4 |
| David | 7 | Isaac | 4 |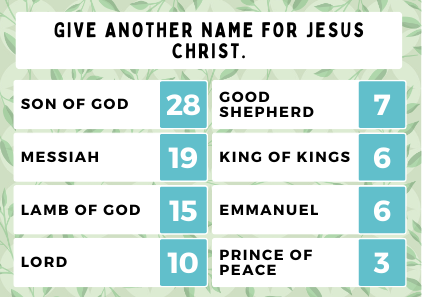 Name a food that Jesus likely ate during His life.
| | | | |
| --- | --- | --- | --- |
| Bread | 34 | Dates | 8 |
| Fish | 26 | Olives | 5 |
| Nuts | 15 | | |
| Figs | 10 | | |
Name a location in the Bible where Jesus walked.
| | | | |
| --- | --- | --- | --- |
| Jerusalem | 42 | Jericho | 5 |
| Bethlehem | 17 | Bethany | 3 |
| Nazarteh | 16 | Bethesda | 3 |
| Capernaum | 12 | | |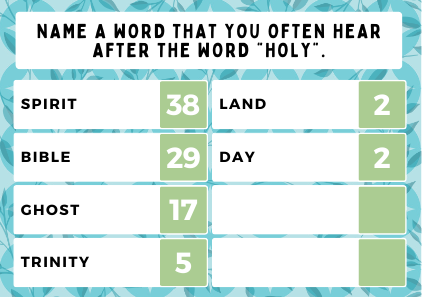 Name a word that you often hear after the word "Holy".
| | | | |
| --- | --- | --- | --- |
| Spirit | 38 | Land | 2 |
| Bible | 29 | Day | 2 |
| Ghost | 17 | | |
| Trinity | 5 | | |
Besides Satan, name a person in the Bible who was considered a villain.
| | | | |
| --- | --- | --- | --- |
| Goliath | 28 | Pontius Pilate | 8 |
| Pharaoh | 19 | Judas Iscariot | 5 |
| Nebuchadnezzar | 15 | Cain | 4 |
| King Herod | 11 | | |
Name one of the Ten Commandments given to Moses.
| | | | |
| --- | --- | --- | --- |
| Love God most | 20 | Don't lie | 11 |
| Don't make idols | 16 | Don't steal | 8 |
| Honor parents | 15 | Keep marriage promises | 7 |
| Don't kill | 12 | Don't be jealous | 5 |
Name an Old Testament prophet.
| | | | |
| --- | --- | --- | --- |
| Isaiah | 20 | Daniel | 10 |
| Jeremiah | 17 | Hosea | 9 |
| Elijah | 15 | Jonah | 7 |
| Ezekiel | 12 | Malachi | 6 |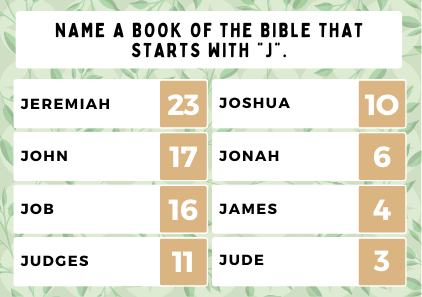 Name a book of the Bible that starts with "J".
| | | | |
| --- | --- | --- | --- |
| Jeremiah | 23 | Joshua | 10 |
| John | 17 | Jonah | 6 |
| Job | 16 | James | 4 |
| Judges | 11 | Jude | 3 |
Name an Old Testament Bible story kids learn about in Sunday School.
| | | | |
| --- | --- | --- | --- |
| Noah's Ark | 23 | Moses Hebrews out of Egypt | 10 |
| David and Goliath | 21 | Daniel in the Lions' Den | 8 |
| Seven Days of Creation | 13 | Jonah and the Whale | 6 |
| Adam and Eve in the Garden | 10 | Joseph and the Coat of Many Colors | 5 |
Making Bible Feud As Kid-friendly As Possible
Rather than simply playing aimless video games, Bible Feud is a fun game that can help adults and children familiarize themselves with the Bible. It's an entertaining way to broaden one's knowledge and understanding of Biblical teachings.
My husband and I were youth pastors for several years and I was always looking for fun new ways to teach lessons to our youth group kids. Bible Feud would have been a big hit!
Kid-Specific Ideas
One of the highlights of playing Family Feud is its entertainment value for individuals of all ages. This game can be personalized by modifying categories to fit your family's preferences, making it an incredibly fun experience. Here are some ideas to get you started:
If you're concerned about some of the more mature themes in the Bible, then simply omit questions about those teachings until they're older.
Try to limit questions to the more commonly-known stories from the Bible.
If possible, try to align the questions with topics they've learned about at church or Sunday school.
Try to ask questions that have broader answers. For example, instead of asking a question like "Name a king of Israel" try asking "Name a Biblical leader"
Offer Simple Prizes To Keep Kids Engaged
Want to make Family Feud more stimulating for the children? Providing rewards, like candy or themed items such as Bible coloring books and Bible verse bookmarks, may do the trick.
While prizes are a great way to foster competitiveness in kiddos, try not to forget about offering activities such as outings. All these incentives will surely motivate them to perform their best!
Fast-Money Bonus Round Rules
The fast-money round is an exciting way to end the game. It's also a great opportunity for players to win big points and bragging rights. Here are some rules you can use for your bonus round:
The fast-money round is a two-player game.
Two players from the winning team are selected.
Each player will have one minute to answer five questions.
Each player must not be allowed to hear the questions or the other's answers, so you'll need to take each participant to a separate room while the other is answering.
If the second participant guesses the first participant's answer for any of the questions, then you need to buzz them and they need to choose a new answer.
At the end of the round, both players are brought back into the room and their answers and points are revealed.
If they earn over 200 points combined, then they win the fast-money bonus round.
Bible Feud Final Thoughts!
Bible Feud is a terrific way to up the competition while forming the perfect group activity. It's a brilliant opportunity to unite, regardless of age, and gain insight into beloved biblical topics and their roots in our faith. 
By adding some competitive and Bible-oriented games with a few prizes and activities that unite everyone, there's virtually nothing more you could want to enjoy quality time with family.
Competitive games combined with a splash of Bible-related fun, accompanied by a few rewards and activities that bring everyone together, will ensure an evening of amusement for the entire family.
Bible Feud is the ideal game for family bonding nights this year! Bring on the questions and fun with the opportunity for much-deserved bragging rights. Preparing is easy; just gather your buzzers, prepare your platform, and have your host at the ready. Now, let the competition begin!
Also check out Bible Taboo!
If you love party games like this, make sure you also check out our Bible Taboo-style game!