What's better than fireworks, food, family and fun on Independence Day? Adding an all-out family reunion into the mix! If you are planning a family reunion for some summertime fun, make it red, white and blue with stars and stripes, too!
First things first, get started on that checklist, including a guest list (which should include all family, of course)! Speaking of checklist, check out our family reunion planning checklist.
4th of July Invitations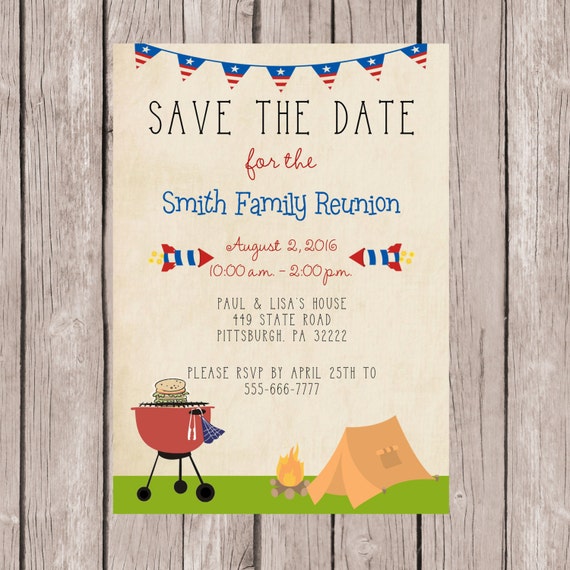 Sending out invitations for a family reunion is a must and with plenty of time, to boot! Skip the boring, plain invitations and send something out with some pizzaz and frill! For example, these invitations on Etsy are adorable and most are fully customizable and have everything you need! They are relatively inexpensive and you can order the exact amount you need!
For some extra 4th of July effects, add a pinch of confetti in red, white, and blue, and stars if you can find it! Just a little bit though, because nobody wants a mess!
Read More: Creative ways to get more RSVPs
Patriotic Decorations
4th of July family reunion ideas are perhaps most important when it comes to the decorations! The family reunion needs to have that oh-so-patriotic feel to it since you are not only celebrating the family, but the important holiday as well!
More than likely the venue will be an outdoor one, weather-permitting of course, so you need to think of some 4th of July family reunion ideas that are suitable for the outdoor environment. Here's a few ways to get those stars shining in your family reunion decorations!
Banners: Every family reunion needs a banner announcing the reunion to the world! Banners are easy outside because they can be hung on fences, tree-to-tree, or pole-to-pole. Although banners are an easy DIY project, if you find yourself strapped for time, invest in one that is professionally printed in your 4th of July theme!
Paper lanterns: The party will likely go into the evening hours since it will involve fireworks, so hang some themed paper lanterns all around and equip them with those little battery-operated LED candles for a subtle lighting effect!
Flags, flags, and more flags: Flags are an easy way to decorate for this occasion, and nothing is more appropriate! Small flags can embellish food at the table, line the walkways, and double as favors!
4th of July Food
When it comes to the American way, nothing says it better than the food choices! Having a 4th of July family reunion themed celebration means you have to have amazing food! Amazing food doesn't have to be expensive though, and remember that doing it yourself with a few helping hands can save you lots in the bank! Here's some 4th of July family reunion ideas that your tastebuds won't want to miss!
Rocket dogs: Stick hotdogs on skewers and wrap a half-inch thick piece of flattened biscuit dough (the kind in the can) around each one, cooking them according to the instructions of the biscuits. Stick a piece of triangle-shaped cheese on top for the rocket's tip, and add an optional embellishment on the bottom to look like the rocket's flare!
Star finger sandwiches: Make a platter of sandwiches, and use a star cookie cutter. Easy and cheap!
Flag fruit skewers: Think red, white and blue, of course! Watermelon, strawberries, and cherries work great for red, blueberries for blue, and bananas or marshmallows for white. Alternate the colors in such a way that when you lay the skewers on a tray or stick them in a foam block, the colors line up to look like the American Flag!
Mason jar punch bar: Is there anything more American than drinking from a mason jar? Probably, but it certainly adds a nice touch to a 4th of July family reunion! Ideas for this include having a few different punch flavors, one red, one blue, and a lemonade for "white." Don't forget to add these paper straws for the finishing touch!
Independence Day Games
Family reunions are all about fun and games, making good memories with the family. While the fireworks later will prove to be the more anticipated entertainment, you'll be in need of a few daytime activities to keep everyone on their feet and having a good time! Here's some ideas for 4th of July family reunion fun! Here are some family reunion game ideas:
Flag hunt: Best for the kids, but anyone can join! Hide flags all around the venue and see who finds the most in a set amount of time! If you hide some in harder places, be sure to keep a list of every place you hid them to make cleanup easier.
Pie-eating contest: If you'll have enough takers, this game will double as some hilarious entertainment! Each contestant must have their hands bound behind their backs, and the only thing they may use to eat the pie is their mouths. Messy and funny, this is a must for a 4th of July family reunion!
Ring toss: This is great for all ages and both cheap and easy DIY project! Take an old wooden crate and paint it blue with white stars. Take as many glass bottles that will fit in the crate and paint them however you'd like: Some white, some red, some red and white stripes. Find some small wooden or plastic rings (craft store) and you've got yourself a game!
Festive 4th of July Favors
Every party needs favors to thank guests for coming and a family reunion is no different! I personally enjoy the idea of people making their own favors, such as tie dye family reunion t-shirts, but it all depends on the crowd. For family reunions, personalized picture frames to hold a memory from the reunion is always a win! As for the kids, they can go out with a bang with a bunch of Pop Rocks and party poppers!