Mother's Day is a special day that we set aside to honor and celebrate the amazing women who raised us. Whether it's a biological mom, stepmom, or mother figure, we all have someone in our lives who we consider a mother. And what better way to celebrate them than with a Mom Family Feud-style game called Mom Friendly Feud?
This year, we wanted to do something a little different and create a fun and interactive way to celebrate our moms. So we came up with a list of Mom Family Feud-style questions that are sure to bring laughter and nostalgia to your Mother's Day celebrations. Let's honor our moms in a unique and entertaining way this year!
Printable Mom Friendly Feud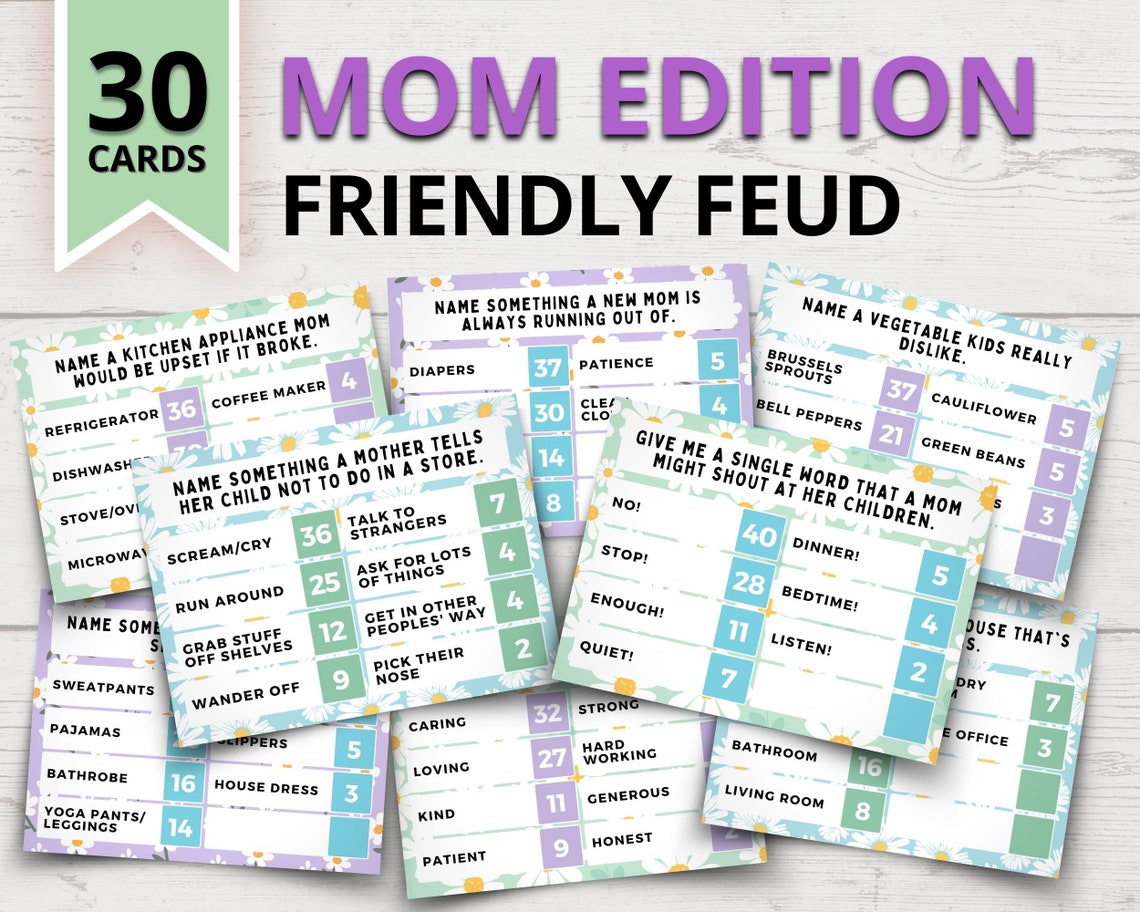 Introducing the latest addition to our family-friendly Etsy printable shop – Mom Friendly Feud! With 30 unique questions, this printable game will offer the whole family hours of fun and entertainment. Whether you're looking for a fun activity for Mother's day, Mom's birthday, or just a fun new angle for family game night, this game has got you covered.
Not only is Mom Friendly Feud fun and engaging, but it's also effortless to use. Simply download and print the game, and you're ready to go! Plus, its affordable price point makes it an accessible and affordable option for any budget. Don't miss out on the latest addition to our Etsy shop – get your hands on Mom Friendly Feud today and create unforgettable memories with your loved ones! If you're looking for a fun game for families, our shop has many!
How to Play Mom Friendly Feud
Get ready to put your knowledge of all things mom to the test with the game of "Mom Family Feud-style Questions!" The rules are similar to the popular game show, but with a mom-centric twist. First, divide players into two teams and designate a team captain. The host, or Steve Harvey if you're well-connected, will then read a question related to mom, such as "What is the most common mom complaint about household chores?" The team captains will then buzz in and try to guess the top answer. The team with the correct answer gets to choose whether to play the round or pass it to the other team. The team who plays has to guess all the remaining answers on the board without getting three strikes. If they succeed, they earn points based on the number of correct answers they guessed.
To keep the game interesting, we've included tons of topics for the questions including parenting, cooking, cleaning, and more. You can also add bonus rounds, such as "fast money," where one player from each team has to guess the top answers to five questions in a row. The team with the most points at the end of the game wins the title of ultimate mom expert! So gather your friends and family, and get ready for a fun-filled game of "Mom Friendly Feud."
What You'll Need
To play "Mom Family Feud" at home using our printable question cards, you'll need a few key items.
Printable question cards: Download and print the question cards from our Etsy shop or use the questions we have in this article.
A group of players: Gather together a group of friends or family members who are ready to compete against each other.
A buzzer or bell: You'll need a way for players to "buzz in" when they know the answer to a question.
A timer: Set a timer for each round to keep the game moving along.
A scorecard: Keep track of each team's score using a scorecard or whiteboard.
A fun attitude: Most importantly, bring a positive and playful attitude to the game to ensure everyone has a great time!
Game Setup
Let's get started with "Mom Friendly Feud"! The game kicks off with a face-off between the first player from each team. Listen for the game show host to read the first question and buzz in quickly if you know the answer.
If you get the answer right, your team has the option to "play" or "pass". But be careful, if you buzz in and get it wrong, your opponent could steal the face-off.
Choosing to "play" means your team gets to guess more answers to the question. Each player has five seconds to offer an answer, with correct responses displayed on the board. But watch out for the "X" marks indicating incorrect answers.
After three misses, the other team has a chance to steal the points by offering a correct answer from the remaining survey responses. So, stay sharp and make sure your team comes out on top!
The Questions
Experience the fun of Family Feud with "Mom Friendly Feud"! Discover what people had to say in response to our thought-provoking questions.
With up to eight answers on the board, each response is assigned a point value based on the number of survey participants who gave that answer. Get ready for some friendly competition!
The Points
Winning "Mom Friendly Feud" requires earning points through successful rounds. After four rounds, the team with the highest points on the board is declared the winner. The ultimate goal is to be the first team to reach 300 points and claim victory.
The Fast Money Round
The Fast Money Round is the ultimate challenge for the winning team to take home a fabulous prize, which could be anything, including simple bragging rights!
Two players from the winning team will be selected to participate in this exciting bonus round. Each player will take turns to answer the questions, with one player being relocated to ensure that they cannot hear the questions or their teammate's responses.
The clock is set to 20 seconds, giving Player 1 just enough time to answer the five questions with lightning-fast reflexes. The host will then calculate the total points earned by Player 1, before it's time for Player 2 to step up to the plate. Player 2 will have 25 seconds to answer the same questions, but with the added twist that they cannot repeat any of the answers given by Player 1.
Finally, the host will calculate the total points earned by Player 2. If both players have a combined total of 200 points or more, they win a fantastic bonus prize that will leave them over the moon!
Mom Friendly Feud: Free Game Questions
Now that you know how to play "Mom Friendly Feud" here are some free questions to get you started. Remember, if you want 30 questions, we also have a printable set of questions in our shop!
Besides her phone and wallet, name something Mom always has in her bag.
| | | | |
| --- | --- | --- | --- |
| Snacks | 32 | Lip Balm | 8 |
| Tissues/Napkins | 19 | Pain Reliever | 5 |
| Pens/Pencils | 15 | Hair Clip/Ties | 4 |
| Band-aids | 8 | Coupons | 4 |
Name something Mom might Ask Dad to do.
| | | | |
| --- | --- | --- | --- |
| Take out the Trash | 29 | Pick up Dinner | 8 |
| Fix Something | 27 | Watch the Kids | 7 |
| Mow the Lawn | 15 | Open a Jar Lid | 3 |
| Kill a Bug | 11 | | |
Name something kids always leave on the floor.
| | | | |
| --- | --- | --- | --- |
| Toys | 48 | School Bag/Books | 5 |
| Clothes | 25 | Bedding | 3 |
| Shoes/Socks | 9 | Crayons/Markers | 2 |
| Food Wrappers | 7 | | |
Name something a new mom is always running out of.
| | | | |
| --- | --- | --- | --- |
| Diapers | 37 | Patience | 5 |
| Energy | 30 | Clean Clothes | 4 |
| Baby Wipes | 14 | | |
| Formula/Food | 8 | | |
Name something Mom wants for Mother's Day that money can't buy.
| | | | |
| --- | --- | --- | --- |
| Rest/Day Off | 50 | Family Time | 6 |
| Peace & Quiet | 22 | Family Photo | 2 |
| Hugs & Kisses | 13 | | |
| Clean House | 7 | | |
Name a vegetable kids really dislike.
| | | | |
| --- | --- | --- | --- |
| Brussels Sprouts | 37 | Cauliflower | 5 |
| Bell Peppers | 21 | Green Beans | 5 |
| Broccoli | 14 | Asparagus | 3 |
| Onions | 12 | | |
Name something Mom rushes to do before guests arrive.
| | | | |
| --- | --- | --- | --- |
| Tidy-up Living Room | 36 | Take Shower/Get Dressed | 7 |
| Wash the Dishes | 28 | Vacuum/Sweep Floors | 5 |
| Finish Cooking | 14 | | |
| Clean the Bathroom | 9 | | |
Name something Mom might give you when you're not feeling well.
| | | | |
| --- | --- | --- | --- |
| Chicken Soup | 44 | Hot Tea | 4 |
| Medicine | 30 | Blanket | 2 |
| Orange Juice | 10 | Popsicle | 2 |
| Hug | 7 | | |
The Ultimate Mom Family Feud Winner: Bringing Families Together
The ultimate winner of the Mom Family Feud game is not just the team that scores the most points. It's the family that comes together, laughs together, and creates memories together. This game is not just about winning. It's about spending quality time with loved ones and strengthening bonds.
Whether you're playing on Mother's Day or at a family gathering, the Mom Friendly Feud game is a fun and easy way to bring families together. So, gather your loved ones, set up the game board, and let the laughter and good times roll. With the Mom Friendly Feud game, everyone is a winner.