One of the most long-running game shows is Family Feud. You'll often find online versions of this game, referred to as "Friendly Feud." It has become an admired home game to play at festivities, family events, and much more. Now, it's coming to New Year's Eve!
Much like the classic game show, the at-home game play is nearly identical- and I might dare to say, even more fun.
Get your printable Family Feud game to play on New Year's Eve!
We are delighted to introduce our Printable New Year's Eve Family Feud-style game! This New Year's Eve, it's sure to bring a lot of fun and memories to you, your family, and friends. It's certainly a favorite game in our household and makes for a fun activity for large groups!
Click below to get the scoop and download your copy of the 30 New Year's Eve Family Feud Question Cards, Answer Covers, and full instructions!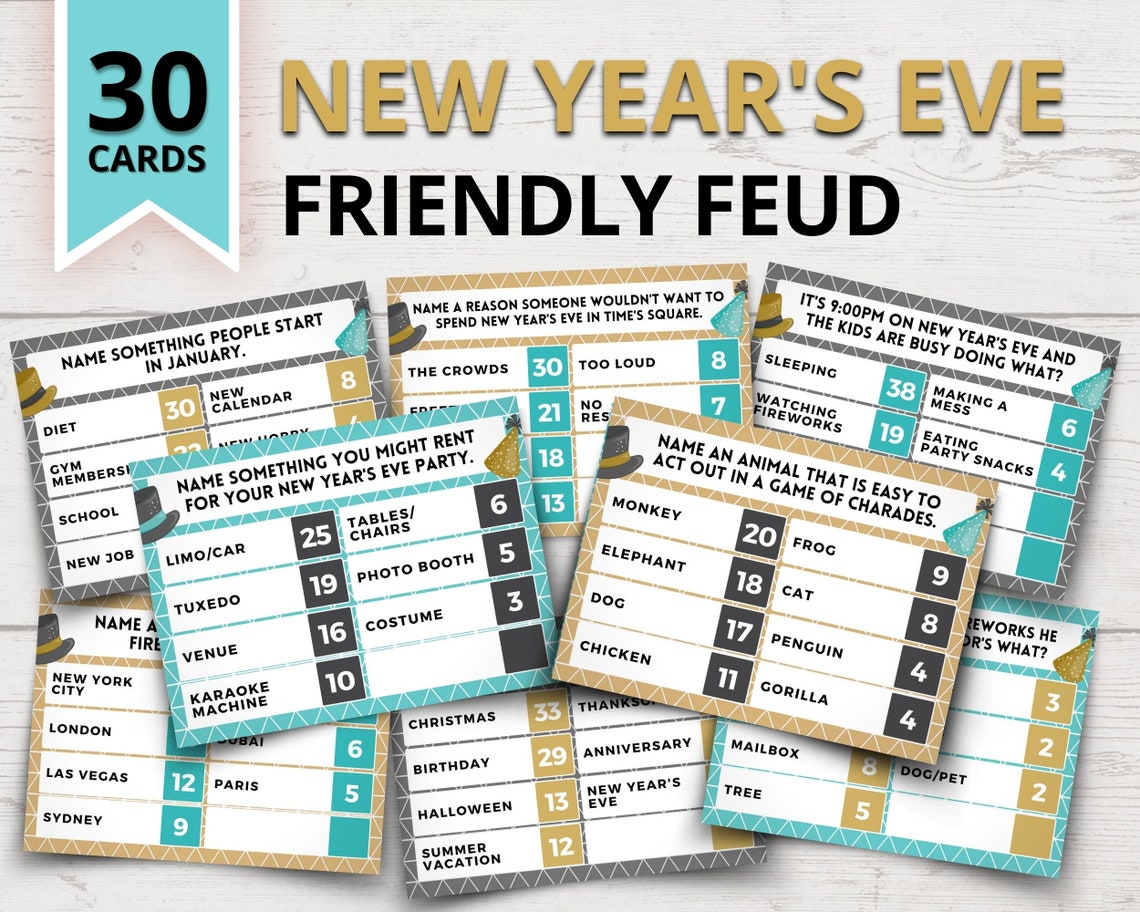 The battle is on! Join the New Year's Eve Family Feud
The strong connection between family members, collaboration, and lessons learned from mistakes, as well as connecting with one another are all characteristics of a great household. Whether you're looking to strengthen family bonds, rebuild lost connections, or just have a fun time with your family this New Year's Eve, family games help!
Building and nurturing close familial bonds requires shared beliefs, which gets harder for kids to develop as they become more independent. During the holiday season, when family matters most, playing a game such as Family Feud can create a sense of unity and bond everyone together again. During the ordinary times of year, it's easy to be occupied by work, school, hobbies, and electronic devices. That doesn't have to be the case during the holidays.
Make your New Year's Eve extra special this year, with a Family Feud competition! Design questions suitable for both kids and adults, and invite as many family members and friends as possible and have a blast!
Find out how to play New Year's Eve Family Feud
If you've never heard of Family Feud, here's what you need to know about the game and the materials you'll need in order to play it with your family this year.
The Setup
For starters, you should have a family member who isn't participating in the game be the host and moderator of the game. This person would be responsible for asking the questions to all players.
Two teams will be formed to play against each other. There are many ways you can divide everyone into teams for the game; such as having boys compete against girls, children versus adults, spouses competing with spouses, or simply choosing at random! There's also the old schoolyard throwback of choosing captains and letting them alternate picking team members.
The Gameplay
After organizing the teams, the host calls a player up from each team and reads out the question. The player can answer before the host finishes asking or wait until they are done. Whichever team buzzes in first is then asked to provide their answer.
When the player who buzzes in first answers with the highest-ranked response, their team can opt to keep or pass the category to their opponent. If they don't get the highest-ranked answer, then the opponent has a chance to steal. The team with the highest-ranked answer gets the option to answer all remaining responses, or pass to the other team.
Starting with the first family member, the host will ask for responses. Each person has five seconds to answer and the team has up to three incorrect answers.
If the controlling team fails to answer all questions on the board, their opponents can steal the category. While they wait to steal, they can confer with one another to think of the remaining responses.
When the team in control has three strikes, the host will then proceed to ask the same question to the other team, and their team leader gives a collective answer.
The Questions
Each question can have up to 8 responses available, which is dependent on the specific question and the answers given by survey respondents.
Points are calculated based on how many of the respondents gave that response in surveys.
The Points
In order to win the game, a team needs to accumulate a total of 300 points during the course of play.
You can adjust the rules of the game (points, time, scoring) depending on the size of your family and number of rounds you plan to play. Instead of playing for financial rewards (like in the television show), you can make it more fun with bragging rights and exciting toys or prizes for children.
What You'll Need
You will need the following items to play the game:
You can use anything – such as a table or chair – as an improvised podium.
A bell or buzzer located on the podium's top.
Our Printable New Year's Eve Feud Game.
Answer Covers Sheet.
A timer/stopwatch to measure response times.
You can make it more official and extravagant if you buy microphones and other additional items, but using everyday household items will suffice.
What Questions Should You Ask for a Family Feud Game on New Year's Eve?
We've outlined the rules, learned about each team, and have all the game components ready to go. But, what about the trivia questions?
With the new year just around the corner, let's get some New Year trivia ready for our questions.
Here are some example Family Feud questions for New Year's Eve:
Name something you don't want to hit with a firework.
| | | | |
| --- | --- | --- | --- |
| Person | 25 | Mailbox | 7 |
| Car | 21 | Fence | 6 |
| House | 18 | Pet | 3 |
| Neighbor's property | 12 | | |
Name something you might rent for your New Year's Eve Party.
| | | | |
| --- | --- | --- | --- |
| Limo | 25 | Tables/Chairs | 6 |
| Tuxedo | 19 | Photo Booth | 5 |
| Venue | 16 | Costume | 3 |
| Karaoke Machine | 10 | | |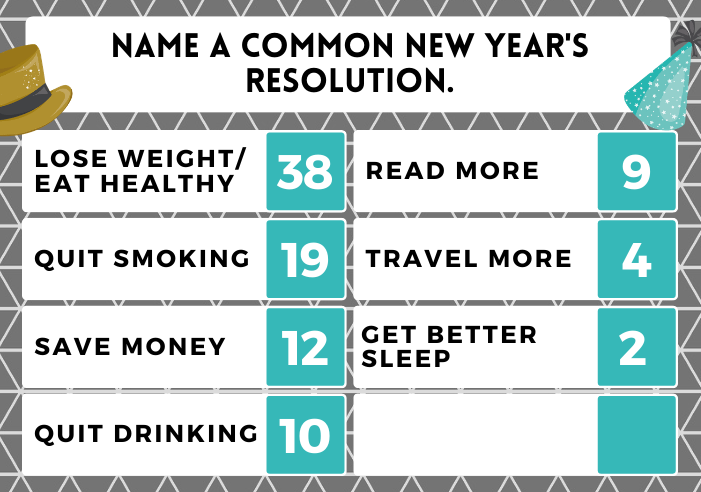 Name a common New Year's Resolution.
| | | | |
| --- | --- | --- | --- |
| Lose weight | 38 | Read More | 9 |
| Quit Smoking | 19 | Travel More | 4 |
| Save Money | 12 | Get Better Sleep | 2 |
| Quit Drinking | 10 | | |
Name a word that you often hear after the word "Happy".
| | | | |
| --- | --- | --- | --- |
| Birthday | 30 | Hour | 9 |
| Holidays | 18 | Meal | 5 |
| New Year | 13 | Days | 4 |
| Anniversary | 10 | | |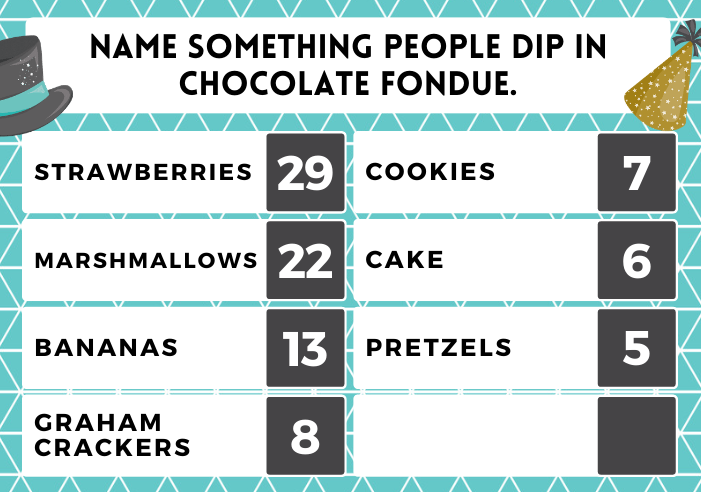 Name something people dip in chocolate fondue.
| | | | |
| --- | --- | --- | --- |
| Strawberries | 29 | Cookies | 7 |
| Marshmallows | 22 | Cake | 6 |
| Bananas | 13 | Pretzels | 5 |
| Graham Crackers | 8 | | |
Name something people start in January.
| | | | |
| --- | --- | --- | --- |
| Diet | 30 | Calendar | 8 |
| Gym Membership | 22 | New Hobby | 4 |
| School | 20 | New Book | 3 |
| New Job | 13 | | |
Name a prop you'd find in a New Year's Eve photo booth.
| | | | |
| --- | --- | --- | --- |
| Glasses | 31 | Necklaces | 7 |
| Party Hats | 25 | Mustaches | 5 |
| Noisemakers | 13 | Bow Tie | 2 |
| Masks | 9 | Feather Boa | 2 |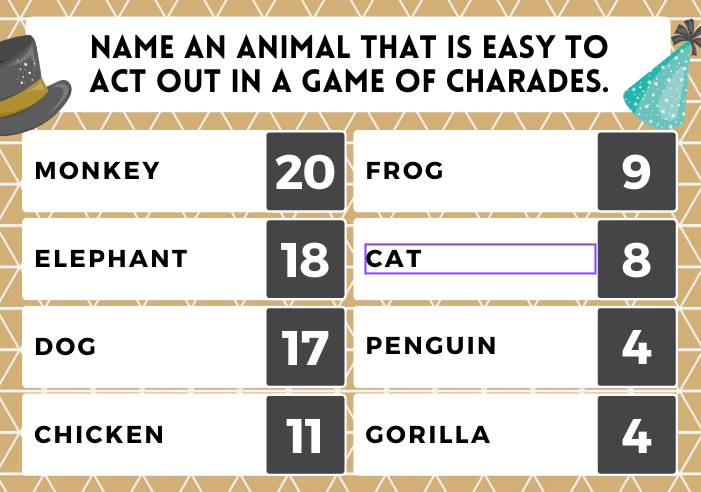 Name an animal that is easy to act out in a game of charades.
| | | | |
| --- | --- | --- | --- |
| Monkey | 20 | Frog | 9 |
| Elephant | 18 | Cat | 8 |
| Dog | 17 | Penguin | 4 |
| Chicken | 11 | Gorilla | 4 |
Name something that is loud.
Fireworks
32
Concert/
Sports Game
8
Cannon/
Gun Fire
18
Children
6
Firetruck/
Police Siren
12
Air Horn
5
Fire Alarm
9
Scream
4
Besides the few New Year's Eve Family Feud questions here, there are plenty more to choose from for teams wanting to battle each other.
Kid-Friendly Feud
New Year's Eve Family Feud is a great game for adults and children alike, helping to promote creativity and critical thinking instead of mindlessly playing video games.
Kid-Specific Categories
The best thing about Family Feud is that it's a fun game for the family!
Even if there are children in the home, it is possible to keep the game rated G or PG. Categories can also be tailored to accommodate certain age groups of players. Here are some fun holiday-themed ideas:
Holiday songs & movies
New Year's Eve activities
Wintertime activities
Gift ideas
There are limitless possibilities! Plus, you can create categories for different age groups such as children, adults, and seniors to make sure everybody is having a great time playing Friendly Feud.
Allow the Children to Select the Themes
To make sure the kids are really invested in the game, let them select the themes. If you don't, how motivated will they be to put effort into guessing '80s music or 50's actors?
Including kids in the game will not only make it more fun, it'll also make it more entertaining for all players since they'll be invested and put their best efforts in.
Offer Fun Rewards for People Who Win
To make Family Feud more fun for children, consider providing rewards like candy, noisemakers, poppers (or other themed items), or winning things like outings.
Prizes are a great way to motivate kids to do their best. It will certainly help bring out their competitive side!
Who Wants to Play the Feud?
Are you all set for New Year's Eve? It's only a few weeks away! Celebrating the start of the year together as a family is an ideal way to bond. These games are a fun way to fire up the competitive side, but it's also an excellent way for everybody–regardless of age–to come together during this special time of year.
Gathering the in-laws and all other relatives for a family reunion is can be a huge job. It's also very hard to get home all the college kids, grandparents from out of state, and distant relatives together for other special occasions, so why not take advantage of the times of year that many people have off. Thankfully, New Year's Eve is an excellent time to bring everyone together!
By adding some competitive and holiday-oriented games with a few prizes and activities that unite everyone, there's virtually nothing more you could want to have as the year ends!
As an enjoyable way to bond with the entire family, New Year's Eve Family Feud is a great addition to your holiday games this year. Get ready to play by collecting your buzzers, setting up the platform, and keeping the host in the ready position. Let the competition start!