What is Scattergories?
Scattergories is a game based on an older game called Categories. This fun word game was re-imagined in the 80s and published by Parker Brothers. Since then, there have been tons of spin-offs and the game has continued growing in popularity.
It's so much fun that enthusiasts like to create their own custom word lists to help expand upon the fun that we've enjoyed over these years.
In this article, we'll share all of the tips we've learned for not only hosting a fun New Year's Eve Scattergories activity, but some ways to avoid some of the problems that can arise from the competition.
We'll also share some free New Year's Eve-themed Scattergories word lists you can use.
Why Play Scattergories During Your New Year's Eve Party?
Scattergories is a family-friendly game that people of all ages can enjoy. It's also open-ended which allows creative answers when you get into a pinch. Just don't get too creative, because a judge may not award you the points!
In addition to it being a fun game, it leaves a lot of room for hilarious responses that will have your whole party laughing. Finally, one of my favorite aspects about it is that there really isn't a limit to the number of players. When a party game has requirements for the number of players, it can make pre-planning difficult for the party host.
Get the Full New Year's Eve Scattergories Printable Game!
In this article, we're giving you 3 Scattergories-style word lists you can use at your New Year's Eve party, but if you want even more ideas in a cutely designed, convenient printable, then you should check out our latest New Year's Eve printable. Not only will you provide endless fun for your future New Year's Eve parties, but you're also supporting a small, mom-owned business!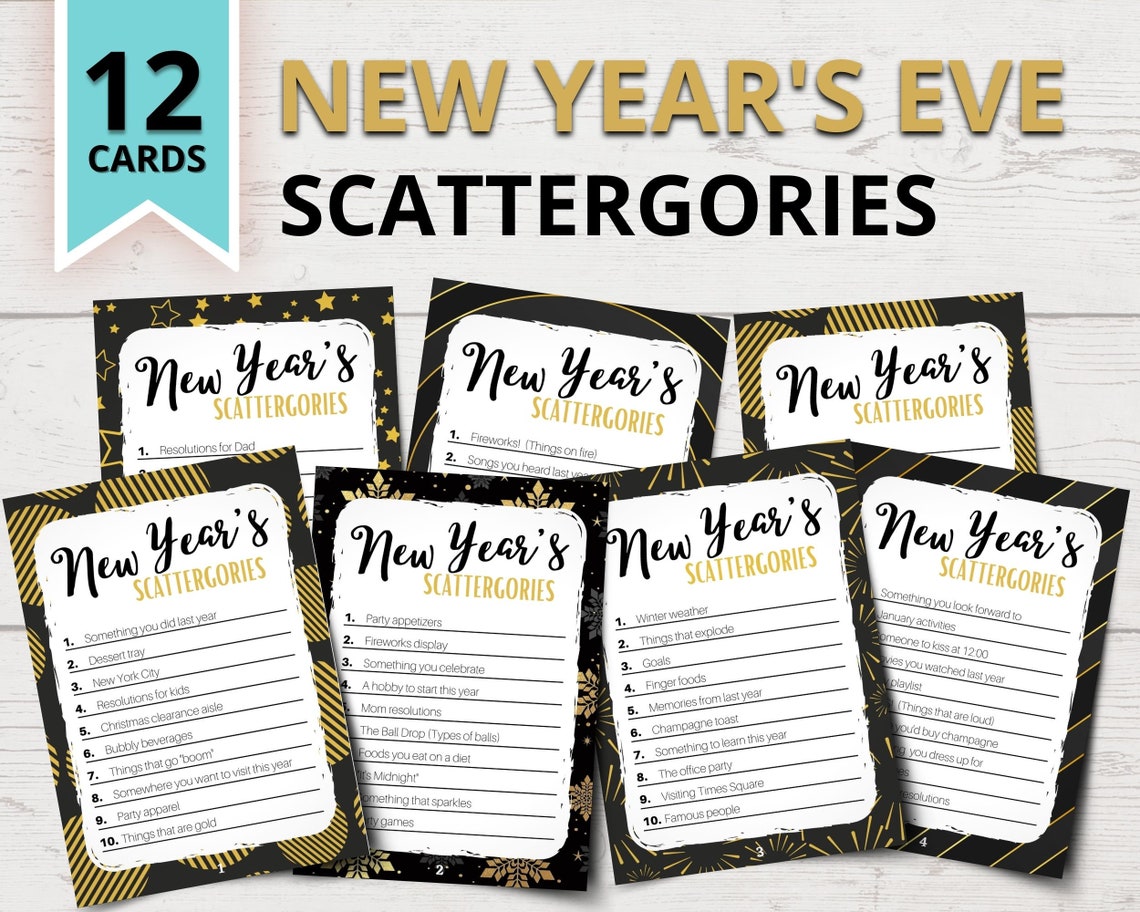 How to Play New Year's Eve Scattergories
New Year's Eve Scattergories is pretty easy to play. It has a few more rules than say New Year's Eve Taboo and it's certainly not as easy as New Year's Eve Left Right stories, but the rules are simple enough that you can have a game going in just a few minutes. Make sure you read through all of these because we provide a lot of tips that you can only gain from experience (or learning from our experience)!
The Objective:
The player's aim is to score more points than the rival team by giving creative answers for a particular letter that is selected.
The Setup:
To get playing, you'll need to gather a few supplies:
New Year's Themed Scattergories PDF
A 20-sided Scattergories die containing all letters of the alphabet except Q, U, V, X, Y and Z (an alternative method would be to cut out alphabet letters and randomly select them).
Copy paper or notebook paper to use as answer sheets
Pens or Pencils
Scissors
Printer and sturdy paper (Cardstock is ideal!)
A timer or gaming hourglass
The Gameplay:
Guests or teams (if you have lots of players) take turns rolling the Scattergories dice at the start of each round. The letter it lands on determines what letter your answers must start with in that category.
The length of each round is 1.5 minutes, with the possibility of adjusting it if you have many guests who are playing.
Choose a word, beginning with the letter from the die, for each category item on the list. For example, if the letter that was rolled was "A" and the category was "Famous holiday songs" your answer could be "Auld Lang Syne."
Using the same word multiple times within the same round is not allowed. For a point to be scored, your answer must be different from everyone else's.
The winner is whoever reaches 25 points first!
The Disputes:
The rules are set, teams are prepared, but how would you handle a disagreement during the game?
To resolve common disputes, here are a few tips we've used over the years:
Does alliteration earn bonus points? To illustrate, if "D" is the letter and "80s musicians" is the category, then "Duran Duran" is double-D). If bonus points will be awarded for alliteration, this should be made clear before the start of the game.
Do you get a point reduction for unanswered questions? Will you lose points if you're unable to give a response? Generally, responses that have been left empty earn no points, and no points are taken away. These rules should be discussed and agreed upon before the game commences.
When does "The" count? When the category's letter is S, answers such as "The Star" are valid; however, when the category's letter is T, typically "The…" is not an acceptable response.
Ensure you have rules for managing disputes. An effective strategy is to involve a guest who isn't playing the game and let them decide who, if anyone, is awarded points. They might even relish being the judge.
Free New Year's Eve Scattergories Lists
While we offer our own digital download printable for New Year's Scattergories-style word lists with over 12 lists included, we want everyone to enjoy this fun game. Below are 3 lists you can use for your own New Year's Eve party should you rather do it yourself. We hope you and your family and friends have a blast!
List #1: "New Year's Rockin' Eve"
Things you find in New York
Things that are cold
Famous musicians
Things that make loud noises
Things that have lights in them
Things you watch on TV late at night
Places you can host a party
Things that smell good
Items you wear to a party
Party decorations
List #2: "10 Seconds to Midnight"
Things you count
Things you can do in 10 seconds
Things you usually only do when it's dark out
Places on the opposite side of the earth
Bad reasons to be up past midnight
Places you can go to late at night
Places you shouldn't be late at night
Things you want with you when it's dark out
Things that help you relax at night
Scary movies
List #3: "Winter Is Here"
Things you do in the snow
Ways to keep warm
Things you can cook over fire
Winter clothing
Places where it snows
Places you go when it's cold out
Things you shouldn't do in the snow
Things that are better cold
Places you can go skiing
Things you can do in both Winter and Summer
Tips for Hosting a New Year's Eve Scattergories Game
When it comes to Scattergories, you should prioritize these points:
Teams should be divided as fairly as possible. Depending on how many guests are participating, you can usually set up at least 2 to 10 teams of 2 to 6 people. It comes down to how you break them up (boys against girls, parents versus grandparents, kids versus grown-ups, children pitted against each other, or pairing up based on age).
Establish all rules before playing at all and be specific on how any potential disagreements will be handled. You don't want a big argument over Scattergories spoiling the fun – we want to create memories, not enemies.
To generate some exciting New Year's competition, offer prizes for winning. They don't have to be extravagant, you can offer a small Walmart gift card or give the team that loses dish duty after dinner.
Final Thoughts
With New Year's Eve just around the corner, you don't want to delay the plans for your party's fun. Have your guests laughing until the ball drops with New Year's Eve Scattergories.
It's way more fun than a board game or card game, and you'll have such a fun time that it's likely to become your favorite game for holiday parties. Wishing you, your family, and your friends a very happy New Year!