The turkey feast is waving at you! Yep, Thanksgiving is right around the corner, and you may be wondering how you'll celebrate this year's Thanksgiving with the current situation. As social distancing and staying indoors became the new normal, some of our loved ones won't be able to make it in-person to celebrate with you. But, don't fret! Even though you guys are so far apart, make the traditional Thanksgiving celebration possible virtually!
Hosting a virtual Thanksgiving may be the best alternative than a physical gathering, given the circumstances. Similar to the conventional Thanksgiving, the virtual celebration brings a lot of fun, excitement, and allows you to bond with your loved ones even if you're miles apart. Thanks to technology, we can reconnect with everyone whenever and wherever they are with a single click. 
Why Virtual Thanksgiving?
You may be wondering why host a virtual Thanksgiving rather than the conventional in-person celebration. Virtual Thanksgiving is a better option if your family is far apart, and will help you guys celebrate the holiday together. As we are now living in the digital era, let's make use of the technological advancements. Here are the benefits of having a virtual Thanksgiving if you're still undecided to do it.
There's no shortage of fun virtual Thanksgiving activities for families in modern times!
Celebrate Together Even if You're Miles Apart
With a virtual Thanksgiving, you can celebrate with all your family members and friends all over the globe, regardless of the differences in time zones. They won't need to fly a thousand miles just to be personally with you this Thanksgiving. It's also fascinating to witness varying time zones, as it can be a bright morning to some while it can be a chilly evening to others.
Budget-Savvy
Typically, one will spend so much just to be with the whole family, especially if you're living on the other side of the world. Having a virtual Thanksgiving will allow you to save your supposed travel budget without leaving the comfort of your own home. This will allow you to spend time and catch up with the gang without thinking about the expenses you may incur.
Having a Blast While Complying With The New Normal
As we are following quarantine protocols, such as social distancing and staying indoors as much as possible, we can still have fun and enjoy our Thanksgiving by virtually bringing the fun and excitement. With a virtual Thanksgiving, we are keeping everyone safe while having a blast.
Where to Host Your Virtual Thanksgiving
When it comes to having a virtual Thanksgiving celebration, you may need to have a reliable internet connection, your handy dandy smartphone, iPad, and/or your laptop. Here are some of the easy and popular platforms where you can host your virtual Thanksgiving.
Zoom
Zoom is an application you can download on your smartphones, tablets, and even on your computers. It is the on-demand video conferencing application in town, as it is convenient and easy to use. A free account can allow up to 40 minutes of video conferencing with 100 members who can join. 
If you guys want to buy more time, as reunions may take more than 40 minutes, we have a trick for you. You, as the host of the Zoom meeting, should schedule the meeting on Zoom ahead of time. It's best if you schedule it at least a week before your virtual celebration. Also, make sure to tick the "Set Calendar to Others" option, and choose the "Generate Automatically" option for the Meeting ID tab. Get the Meeting ID, password, and link, and send it to your family members for easy reference. 
Now here's the critical part. When the 40-minute mark is coming, the host will receive a timer for it. You need to leave the meeting, but don't end the meeting for all, and rejoin again using the same link in the invite. Several participants should do it, too, in order for you guys to have more free passes. It's not an easy hack to pull, but it will be worth it. 
Google Meet
This platform is very easy and convenient to use because all you need to have is your Google account. It's another video conferencing app that can support up to 250 participants to join the conference call without a time limit. You may download the app beforehand or have a browser extension if you're going to use your laptop.
Skype
I'm sure you're all familiar with this app. Way before we had Facebook Messenger, Skype was the OG instant messaging app and video conferencing platform on the net. It also has an unlimited duration, and you need not send the conference link as an invite. Instead, add your family members beforehand as your contacts on Skype, create a group chat, and set a time for your event.
FaceTime
This app can be used if you're all iOS users. It's perfect for video conferencing, as it's already downloaded upon purchasing your phone or tablet, not making it difficult for our elderly family members to navigate their way to your virtual Thanksgiving celebration.
Facebook Messenger
Messenger can be the most accessible and convenient for everyone, as you guys communicate more often through this platform. All you have to do is to create a group chat or Messenger room, and you can conference with 50 of your family members all over the world.
CISCO Webex Meetings
Webex, also known as Teams, is the ideal online platform to use when you're having a large virtual Thanksgiving celebration. It can hold up to 100 participants with no time limit, and you can download the app on your phones or laptops. This is the platform, which companies usually use when having their virtual meeting across the globe. Plus, Webex allows you to share your screen and files to the participants. Just provide your number as the host and you're good to go.
Houseparty
Houseparty is a free app game available for all, whether you're using Android, iOS, or Chrome. You can do your video calls here while playing and having fun! Virtual games, such as Pictionary, Heads Up, and Quick Draw, are embedded in this app and can be played easily.
Virtual Thanksgiving Preparation Ideas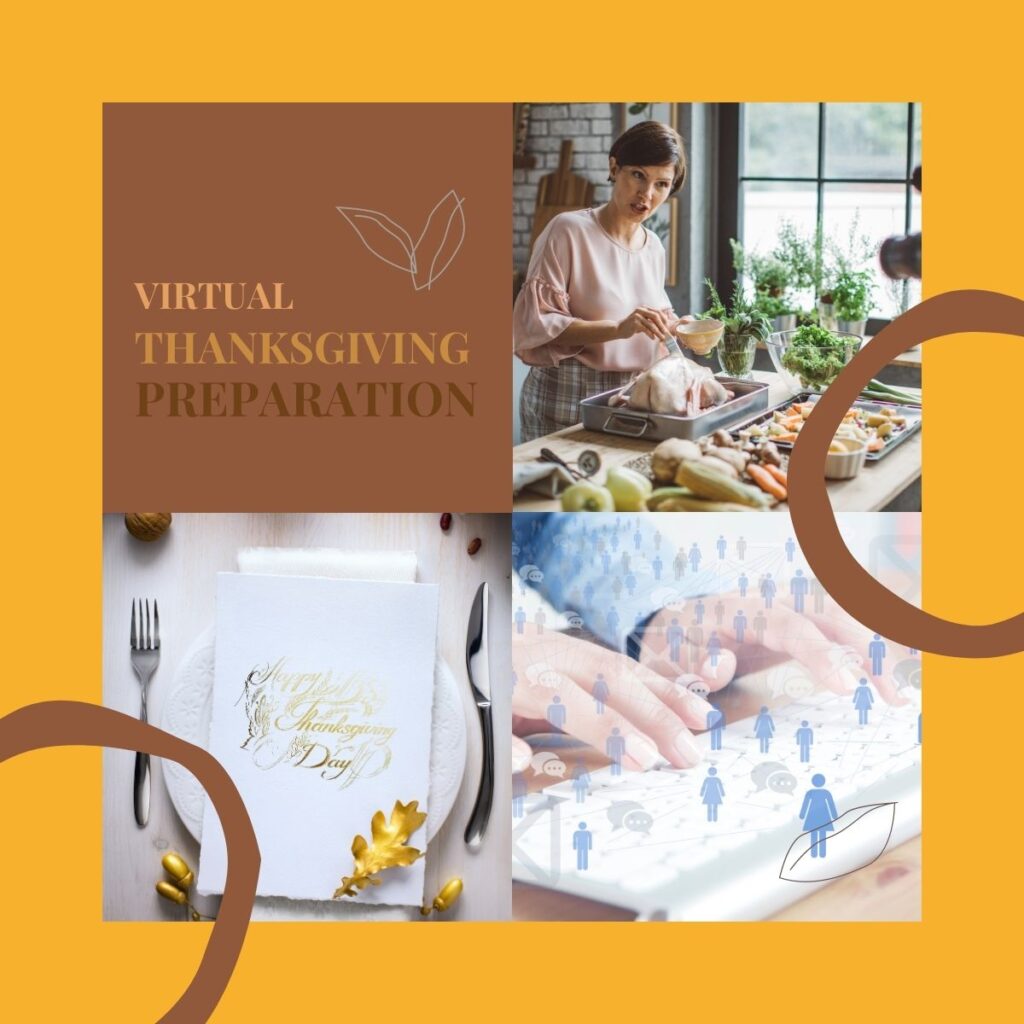 Send an E-Vite
Jumpstart the Thanksgiving mood by being a little extra in sending out virtual invites. Wouldn't it be boring if you're just going to chat them up and give the link to your Zoom meeting? 
Preparing an e-vite is as easy as 1-2-3! Check out these online Thanksgiving invitation layouts from Minted and Canva, which you can use for free! Just fill out the celebration time, the platform you're going to use with its corresponding link or meeting ID and password, virtual theme, and you're good to go!
Virtual Cooking Session
It must be stressful not having the Thanksgiving cooks with you as you prepare the dinner feast on your own for the first time. Stay calm, and don't worry! You can set up a pre-Thanksgiving meeting session over Zoom or call the chefs over FaceTime or Facebook Messenger. Let the experts in the kitchen send over the ingredients ahead of time, and cook together as if you're just right next to each other. It's a good catch-up session, too, while you're cooking your Thanksgiving menu.
Virtual Potluck
Extend the Thanksgiving celebration feast across the world by having a virtual potluck! Assign each family to prepare one Thanksgiving dish recipe each—appetizers, main dish, and desserts should be covered. On your virtual cooking session, have each representative guide others on how to make the dishes to be included on everyone's Thanksgiving table. Isn't it fantastic and exciting? For more Thanksgiving potluck recipes, check this article out. 
Send Thanksgiving Dishes
Another way to make a Thanksgiving potluck possible is by sending Thanksgiving dishes to each family. Just like a virtual potluck, assign each family to prepare a dish to be sent to another household. This lets everyone have a taste of each household's signature cooking, and it's like they're there with you all along. This is perfect to do, especially when you have relatives or friends who aren't able to prepare their own holiday food. Make their Thanksgiving more special  by sending Thanksgiving dishes right at their doorstep. 
Care Package
Even though you're not together this holiday, you can still share the love by sending care packages via local delivery services. You may send a personalized gift, especially for this Thanksgiving, such as a scented candle, quilted beanie, or scarf. Aside from that, a gift box full of goodies and snacks would do! It's a way of sending your heartfelt gratitude and appreciation to that person through a goodies gift box.
Passing on the Gratitude
Thanksgiving won't be complete if we don't share our blessings and gratitude to those whom we are most thankful for. Pass on the gratitude by sending a valuable belonging to the person who you think will be grateful for it when they receive it. It's like you're creating a ripple of gratitude, so that more people will relatively do the same. 
For example, there's this inspirational book you've discovered, which really helped you to reach your goals this year. Why not pass it on to a relative who may see that same value you saw in that book? 
Virtual Thanksgiving Ideas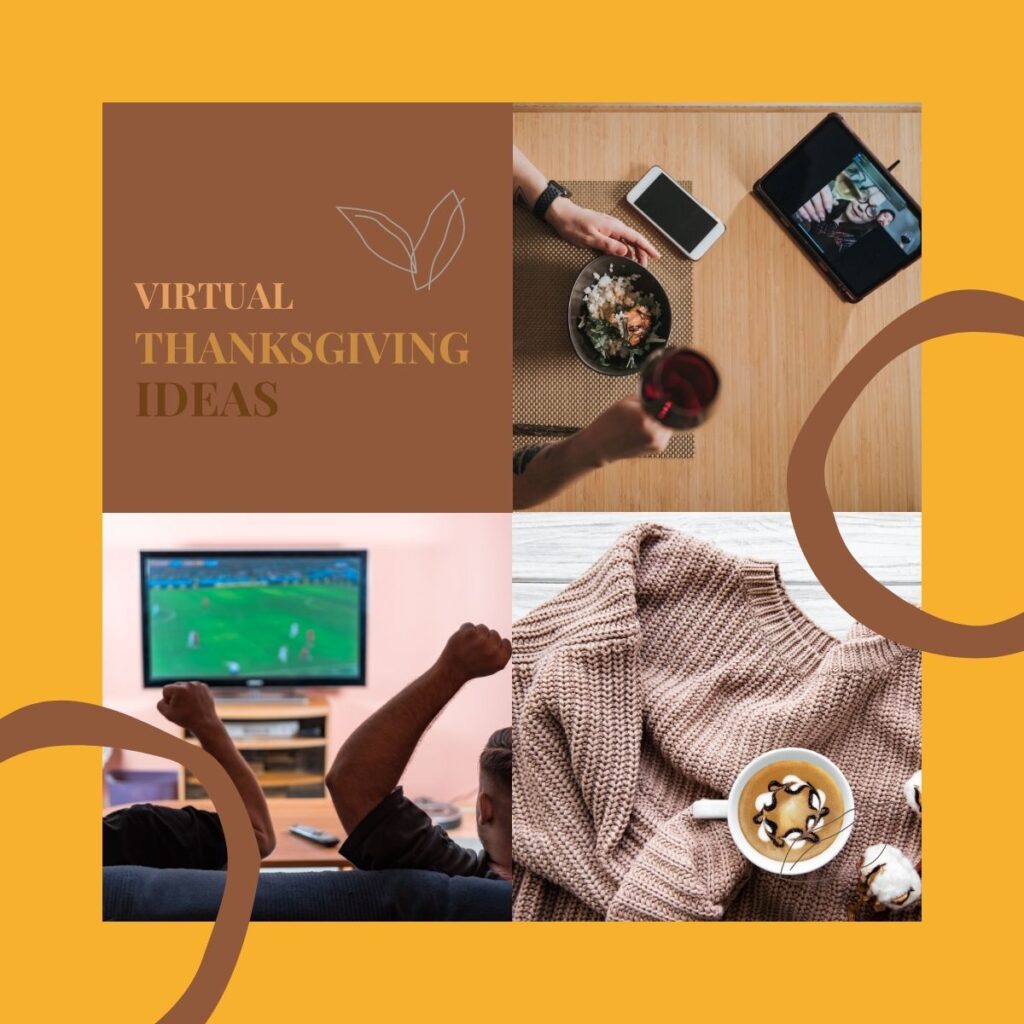 Ugly Thanksgiving Sweater
This can be your dress code or attire at your virtual Thanksgiving party. Be fashionably unique by showcasing your ugliest sweater to date, and conduct a virtual sweater contest amongst your family members. This may include an online mini-fashion show and a short Q&A, as if you're in a pageant. Who do you think will reign as the sweater champ this Thanksgiving? Try this idea out, and find out!
Gratitude Wall
As we are celebrating Thanksgiving, let us not forget the essence of this holiday. Instead of traditionally going around the table and saying what you're thankful for, why not conduct a gratitude wall? This wall will serve as your shoutout message board to share what and to whom you're grateful for. Give your family members some words of appreciation and thanks. For sure, this will warm their hearts, and your gratitude will keep them going. You may use Menti or Slack as your gratitude wall platform, or you may simply create a Facebook group solely for sharing gratitude.
Remote Dinner
Don't let the virtual celebration pass by without the most awaited part of the program—dinner time! Having a virtual Thanksgiving doesn't mean you can't eat together as a family.  Having a remote Thanksgiving dinner (or breakfast or lunch to some) is one of the staple virtual holiday ideas to spend time with your family and loved ones. The host may assign a certain menu inspiration for everyone to prepare on their dinner tables. You may incorporate the virtual cooking session and potluck ideas we've stated from the previous section. Lastly, this can be a good opportunity for you guys to catch up and spend some quality time. 
Virtual Volunteering
'Tis the spirit of giving this holiday season by becoming virtual volunteers! There are tons of ways on how we can help in our own little ways, may it be donating to a charity or a foundation, volunteering, or donating food packages to a food bank, and the likes. Here are some ways you and your family can volunteer this Thanksgiving. 
Stream the Parade
Another thing you can't miss this holiday is the Thanksgiving parade! The renowned Macy's Thanksgiving parade started way back 1924, and good thing is it's televised and can be streamed simultaneously on the NBC app, which is available both in Android and iOS. You can stream it while having your lunch or have it on replay if you're going to celebrate it over dinner.
Have an Online Watch Party
Fall season is equivalent to football season! Have a mini-tailgate watch party with the family for this virtual Thanksgiving celebration. Are you guys rooting for the same teams or not? Nevertheless, don't miss out on the most-awaited football game! You may conduct an online watch party through the share screen feature of the video conferencing platform. Also, don't forget your snacks and cheer your team as if you're watching them live!
Virtual Thanksgiving Activities
Virtual Board Games
Playing board games is one of the classic ways to have fun with the gang. But, nowadays, acquiring such games can be quite expensive or even difficult to find. In this case, playing virtual board games can be an option you can take! 
Thanks to Appstore and Playstore, we can play the family's favorite games, such as Monopoly and Scrabble online! You may also make use of your video conferencing platform's screen sharing feature or create a room in Facebook Messenger to play the chosen game together. Let's see who the luckiest person is this Thanksgiving!
Pie Eating Contest
Pies are always present on every family's Thanksgiving table. With this, find out who can finish a whole pie the fastest. Have one representative per family, and assign a timekeeper to check how fast they ate the pie, of course. But here's the trick, they can't use their hands! Good luck!
Turkey Scavenger Hunt
Thanksgiving won't be complete without a scavenger hunt! Invite everyone to Let's Roam where you can have a virtual scavenger hunt party. Alternatively, you may resort to the traditional scavenger hunt, but this time it's done remotely. So, you'll see everyone running back and forth looking for a specific item. Whoever gathered the most items wins a special prize. It may be a goodies package or a gift cheque, depending on what the winner prefers more. 
Thanksgiving Family Feud
Let's see who owns the "I-Know-All-About-Thanksgiving" crown through a game of Family Feud – Thanksgiving edition! There are free Family Feud PowerPoint presentation templates on the web, and here's a sample of Thanksgiving-related Family Feud questions for your reference. 
Thanksgiving Pictionary
Another game you can virtually play with the fambam is Thanksgiving-themed Pictionary. If you think you can only play this classic game in person, think again! Thanks to internet and web developers, you may bring the virtual Pictionary party to Skribbl or Drawsaurus. Just create an account, a room for the players, and let the Pictionary guessing start! 
Virtual Paint Me a Picture
Spice up your virtual Thanksgiving gathering by challenging each family to pull off an epic Thanksgiving-themed Paint Me a Picture. The host will give one to three scenarios to all teams, and they have to be still until the host captures the epic scenes. The family with the highest number of points wins.
Conclusion
Despite whatever's happening around us, may it be a setback or an unanswered prayer, let's still hope for a better day, and see its silver linings. As Thanksgiving is fast approaching, let's take this opportunity to be thankful for all the blessings we have received. Despite and in spite of the setbacks this year, there are a lot of things I'm still thankful for. How about you? What are you thankful for this Thanksgiving?