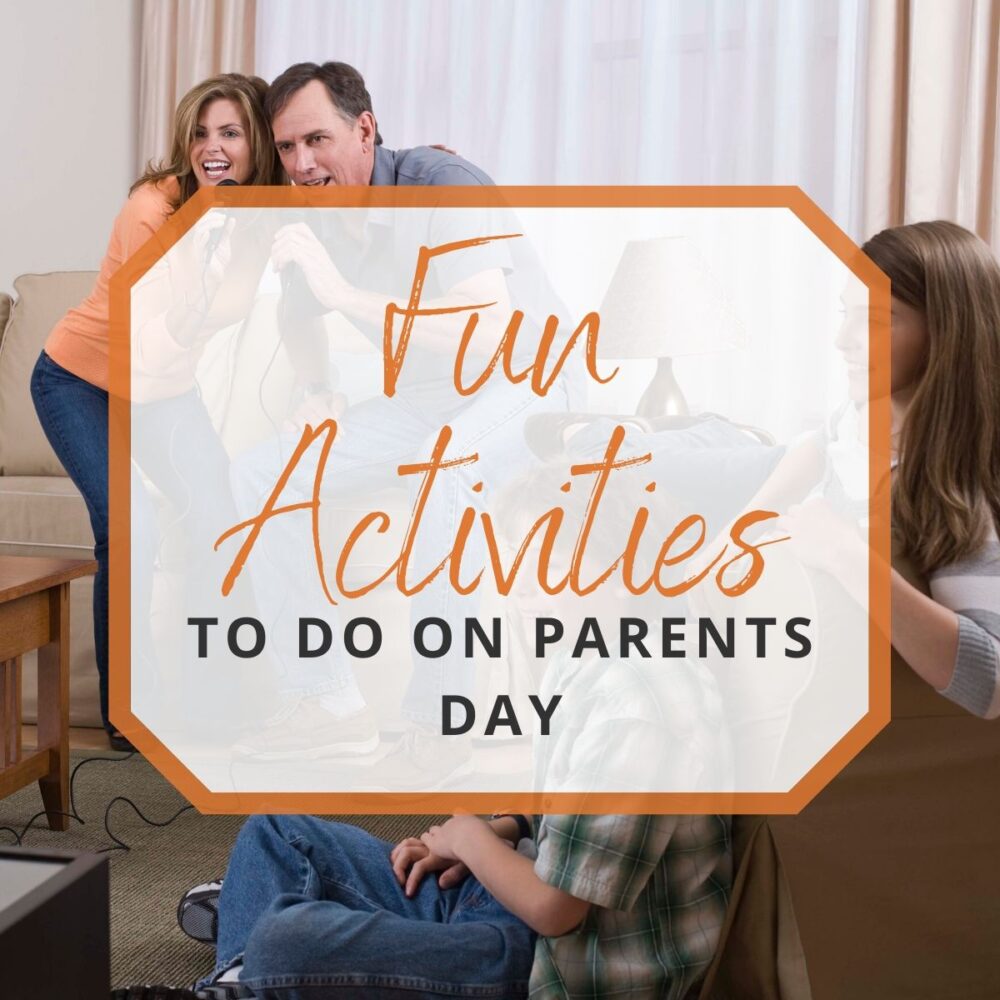 We spoil our moms during Mother's Day in May, and our dads on Father's Day in June. But did you know that there's a Parents Day' celebration every fourth Sunday of July? This goes to show that, as much as possible, we should honor and celebrate our parents for doing a job well done every now and then.
Our parents are our rock and foundation. Let's admit it, we are nothing without them. They taught us values that should be inculcated in our minds and hearts, choose the right from wrong, and good from bad. They help and guide us to reach our dreams, and in everything we do, they are our number one fan and supporter.
Whether they are our biological parents or not, this special day is for them. Let us acknowledge their relentless and unwavering efforts, as well as selfless love since day one. Allow yourselves to pause from your usual routines, and pamper our parents, and have fun with these activities we could do and/or organize this Parents' Day.
That said, we have listed several activities you can choose from, depending on how your parents want to spend Parents' Day. If your parents are physically active, you may opt to go for the Outdoor Activities category. On the other hand, if you want to just relax, chill, and spend some quality time with the fam, you may go for the Chill Activities for Parents' Day category.
Parents' Day Outdoor Activities
Family Picnic by the Garden
This activity is perfect if you guys wanted to have a change of view. Let's spice our family lunch or dinners a little bit by bringing the feast outdoors, by our backyard or garden, and enjoy the serene view of the neighborhood.
Go to the Beach
If you live near the beach, or your family is craving for some beach waves, invite them to go to the beach this Parents' Day! Get that dose of Vitamin C while relaxing under the sun with a beautiful ocean view. For sure, your parents would be able to rest and recharge from their daily routines at home and work.
Be Fit and Active Together
The family that exercises together, stays fit and healthy together. There are a lot of workout tutorial videos on the Internet you can follow on your active workout sesh this Parents' Day. You may go for yoga, basic stretching, or Zumba workouts. Let your bodies release endorphins, to give you a happy and positive outlook for the rest of the day.
Play Sports
Aside from working out, your family may spend the day playing your favorite sports, such as frisbee, badminton, soccer, basketball, and the likes. These sports are child-friendly and can be done right by your yard.
Host a Four-Square Tournament
To keep you active and moving this Parents' Day, why not host a Four-Square Tournament? This game is good for four players, and all you need is a large rubber ball.
Draw four big squares on your driveway—preferably 12×12 inches—and divide it into A, B, C, and D. Let the players choose their squares, and the player in square A will start the ball bouncing from his square over to the next square. The person in that square should catch the ball, and bounce it from his/her square into another square.
When one player isn't able to catch the ball or hits the ball out of the square, s/he moves to square D, and the other players advance to the next squares, and start all over.
Homestyle Bowling
Go bowling in your yard or the living room by preparing a makeshift alley using some empty bottles or cans, and a ball. This activity would hone everyone's skills in bowling while spending some quality bonding with the family. Also, this activity is perfect for those who miss the actual bowling lanes.
Host a Scavenger Hunt
Usually, the kids are the ones playing the scavenger hunt. This Parents' Day, turn the tables, and let the parents play. This can be done in the comfort of your homes—may it be indoors or outdoors.
You can have your parents scavenge for Parents' Day coupons, redeemable anytime. The coupons can be for doing the dishes, cleaning the backyard or rooms! For sure, your mom and dad would be delighted to redeem these coupons!
Home Gardening
If your parents are nature lovers, and gardening is their stress reliever, spend some quality bonding time with them by helping out with their gardening session. You can help them in your own little ways, like watering the plants or helping them repot.
Learn a New Craft
For the family who loves seeking new adventures, this one's for you! Tick off something on your bucket list by learning a new craft together with your family. There are a lot of free online classes, as well as crash courses you could join to make your Parents' Day extra meaningful and productive.
Organize an Indoor Camping
If you miss outdoor camping and hiking moments, why not organize an indoor camping by your backyard or transform your living room into a Camp Living Room? Get your tents or prepare an indoor fort. Also, prepare some camping snacks, like s'mores and cookies, and get ready with your nighttime stories to share with the whole family.
Chill Activities to Do on Parents' Day
Prepare a Family Memory Book
Aside from quality bonding time, memories with the family are the most precious and treasured gifts of all time. Immortalize those memories by preparing a family memory book. It is like a scrapbook filled with captured memories you want to treasure and look back on from time to time. You may also write short captions describing the pictures, or excerpts of your conversation during that memory. This may also serve as a gift for your parents on this special day.
Family Style Movie Night
What's a better way to chill this Parents' Day than to have a family movie night? There are a lot of movie streaming platforms nowadays, and a lot more movies you could choose from in an instant. Plus, you can also binge-watch your family's all-time favorite series!
Here are some must-watch and feel-good movies perfect for Parents' Day:
The Parent Trap
Coco
Zootopia
Home Alone
Mary Poppins
Matilda
Prepare a King and Queen Feast
Nothing beats home-cooked food, especially when it's made out of love. Prepare a feast, especially made for the king and queen of the house. It may be breakfast, lunch, or dinner.
For kids who shouldn't be cooking yet, we suggest you help mom and dad in the kitchen instead. At the end of the day, it's the thought that really counts.
Bake Something Together
Aside from preparing them a meal, try baking together some sweet treats, such as cookies, s'mores, cupcakes, and the likes. Add a little twist by personalizing it based on your own preference, like adding your favorite toppings on the cookies and cupcakes. It's definitely a bonding experience for everyone this Parents' Day.
Dress-Up Challenge
Divide the family into two teams—with mom and dad being the leader of each team, and have one of the children act as the judge. Have your parents dress you and your siblings up into something fancy. The challenge is that they have to use at least one unusual item in the outfit (for example, a tissue paper or a hanger).
If you're an only child, have your mom and dad dress themselves up with the wacky items, or have them dress up in each other's clothing. The choice is yours. The more extra you make the game, the more laughs you and your family would get.
Family Game Night
Grab your card games and board games, and have a family game night. It's a perfect way to de-stress and enjoy one meaningful Parents' Day with the whole family. Plus, it's best done with the next activity listed below.
Family Sing-Alongs
Sing your hearts out with the whole family by hosting a family sing-along or karaoke night. Load songs you can sing along to on Youtube, and transform the living room to look like a karaoke bar. Make it cozy for everyone to enjoy singing their favorite songs of all time. Have Mom and Dad sing their theme song or songs from their teenage years to reminisce their youth. This is also the perfect opportunity for you to dedicate a song for your parents this Parents' Day. 
Don't forget your snacks and drinks to complete the karaoke setup!
Do the Chores for Your Parents
One way of paying tribute to all of our parents' efforts everyday is to do the household chores for them and let them relax. Even by simply cleaning your bedroom would be a gift for your parents already.
Doing chores can be fun—from simply turning on the tunes throughout the house as the whole family cleans together, to making a game out of it.
Give your parents the role of decluttering officers, as you take on the role of tidying citizens. Assign parts of the house among your siblings, and whoever has a cluttered space or whoever owns that certain clutter will be put to clutter jail.
Clutter detainees have to grant one wish for each decluttering officer as a consequence. If there is no clutter found, reward yourselves by enjoying a nice, relaxing snack and cold beverage by the porch or backyard after doing the chores.
Redecorate with the Family
If you and your parents are opting to fix or redecorate your house, or at least a part of it, this activity is perfect to do on Parents' Day. Redecorating can be a fun bonding experience, as well as a creative outlet for the family.
The outcome after this activity would be so fulfilling, as this sets the ambiance and mood of your humble abode. Helping them have a renewed space is also a good gift for your parents this holiday.
Fellowship Night
Every day is a blessing and a gift from God. Let us not forget to give Him thanks for the unending blessings He bestowed upon us—for the gift of life, family, friends, safety, and so much more.
It would be good to spend the night in fellowship with the whole family this Parents' Day, and read some devotionals, reflect and discern about it, and sing songs of praise and worship. This does not only bring you closer to God, but also strengthens your ties as a family. It serves as an avenue for the whole family to get to know one another in a deeper sense.
Acknowledge Your Parents' Hardships
It's not easy to enter parenthood and raise a child. And, one way to acknowledge what they do for us, and honor our parents is to celebrate Parents' Day by engaging in family activities.
The months of May, June, and July tell us that, for at least once a month, we should pamper and spoil our parents. They work hand-in-hand to give everything that's best for us. It goes to show how selfless and unconditional their love for us is, that's why they deserve this recognition and appreciation.
Whether it's Parents' Day or an ordinary day, don't forget to show love and appreciation to your parents. Just a mere kiss, hug, and an 'I love you' can make their days brighter and more special. Truly, that's anything a parent would ask for.