Father's Day is quickly approaching, and if you are in the thick of life, you probably don't have much spare time to think about or shop for gifts. So instead, you may want to consider giving a gift that will make dad feel special without spending a week's worth of planning and strategizing.
Best of all, many of these ideas feel more thoughtful than what many people think of when they think "Father's Day gift."
Last-minute Father's Day Gifts You Don't Have to Make, and You Don't Have to Get From a Store!
I know many people are scrambling for last-minute gift ideas for Father's Day, but don't worry – we have some great ideas for you! We have compiled this list of last-minute gifts.
In this first section, I'll share some ideas that you don't have to make yourself, and you don't have to drive to a store to get. We live in extraordinary times, indeed!
Printable Father's Day Coupons
Nothing is more convenient than purchasing something you can print at home. With this set of Father's Day coupons from our printable shop, you can print out a gift in just a few minutes that will look like you spent hours.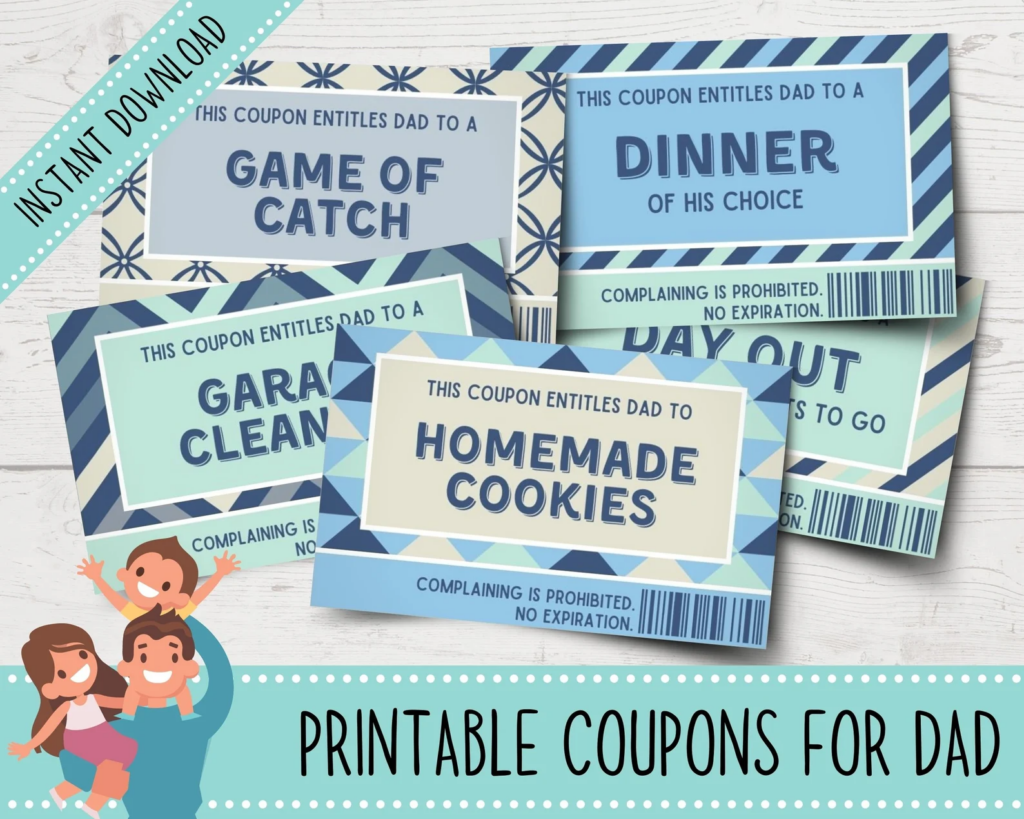 We have coupons for tons of fun ideas that dad can cash in at his convenience. Some of these ideas include:
Snack of his choice
Afternoon nap
Breakfast in bed
Car wash
Homemade dinner
Day out of his choice
and tons more ideas!
Give the Gift of Audiobooks with Audible
If you're looking for a gift that will make someone smile, give them the gift of audiobooks. There are so many different types of books available on Audible, from classics to new releases; there is something for everyone.
You can gift your dad a 12-month subscription to Audible, where he can pick out a new book each month. Additionally, he gets access to the Audible Plus library, including an exclusive Sherlock Holmes audiobook narrated by Stephen Fry!
If you have the type of dad who is always on the go (mowing the lawn, driving around, or hitting the gym), then audiobooks are a must!
Give the Gift of Amazon Prime
 Give the gift of instant gratification. With Amazon Prime, you can give your dad free 2-day shipping (some items next-day or same-day). With the Amazon Prime membership, you also bring your dad into the 21st century with things like:
Amazon Prime Video Streaming with over 24,000 movies
Amazon Prime Music with over 2 million ad-free songs to stream
Amazon Prescription Delivery (seriously, your dad doesn't need to jump in the car twice a week to drive to the pharmacy)
For the Lord of the Rings fans out there, your dad will have access to the Lord of the Rings: Ring of Power Show!
Get it here:
Amazon Print-At-Home Gift Cards
Amazon.com offers a new gift card option for those who would like to give the gift of Amazon. The Amazon Print at Home Gift Card is probably the most convenient way to give a gift card. It feels more thoughtful than a digital gift card, but you don't have to go to a store to get it. Yet, you still have something physical that you can put in your Father's Day card.
Printable Father's Day Cards
Speaking of Father's Day cards, you have one of those, right? If not, I've got great news for you. Our printable shop has a few lovely Father's Day card designs that you can download and print in just a few minutes. Don't forget the Father's Day jokes!
Last-minute Homemade Father's Day Gifts
What father wouldn't love to receive a homemade gift for Father's Day? Homemade gifts are thoughtful, personal, and show how much you care. Here are a few ideas:
Food Gifts
It's safe to say that most dads have a foodie hidden inside them. So here are some of my favorite food gift ideas that you could quickly whip up for dad:
Homemade Steak Rub 
Is your dad a grill master? This is the perfect gift for a Dad who loves steak! Combining some common herbs and spices can create a delicious rub that will last all year long. You can even use this as a gift idea for any occasion. Put it in a mason jar for a homey feel, or reuse a nearly empty spice jar you probably have in your spice cabinet.
Don't want to make it yourself?
Homemade Jam
Jam has been around forever, but I think it's time we brought back the art of making jam at home. It's easy to do, and the results are always better than store-bought jams. The best part is if you make even a regular-sized batch, you'll have some left over for yourself too!
Want some tried-and-true recipes?
Homemade Candied Bacon
I'm not sure what it is about bacon, but everyone loves it. When I first heard of "candied bacon," I was a bit put off by it, but after having it, I can assure you it is pretty delicious! The balance between sweet and salty is lovely. My favorite is maple candied bacon. This may qualify as my favorite candies.
Don't want to make it yourself? Look at this:
Homemade Hot Sauce
Hot sauce is another classic food gift that I am pretty sure every man likes. There are many different types, from simple pepper sauces to spicy habanero hot sauces with mango flavors infused. The best part is that we're so conditioned to buy it from the store that we never really think about how easy it might be to make.
Don't want to make it yourself? Are you a Prime member? Then get in 2-days or less:
Or give him the gift of DIY:
Homemade Candied Nuts
If you've ever tried making candy before, then you know that it's super fun and rewarding. So for Father's Day, why not try making some candied nuts? They're great on their own, but they also make a fantastic addition to any dessert or salad!
Don't want to make it yourself?
Batch of Cookies
Cookies are one of those things that I think everyone should learn how to make. If you don't have baking experience, I recommend starting with something simple like chocolate chip cookies. A good cookie recipe in your repertoire can be a vast life-saver come the holiday season!
Want the cookie recipe that we use at our house? These cookies always come out amazingly!
Here's a picture of one of the batches we made where we added rainbow sprinkles: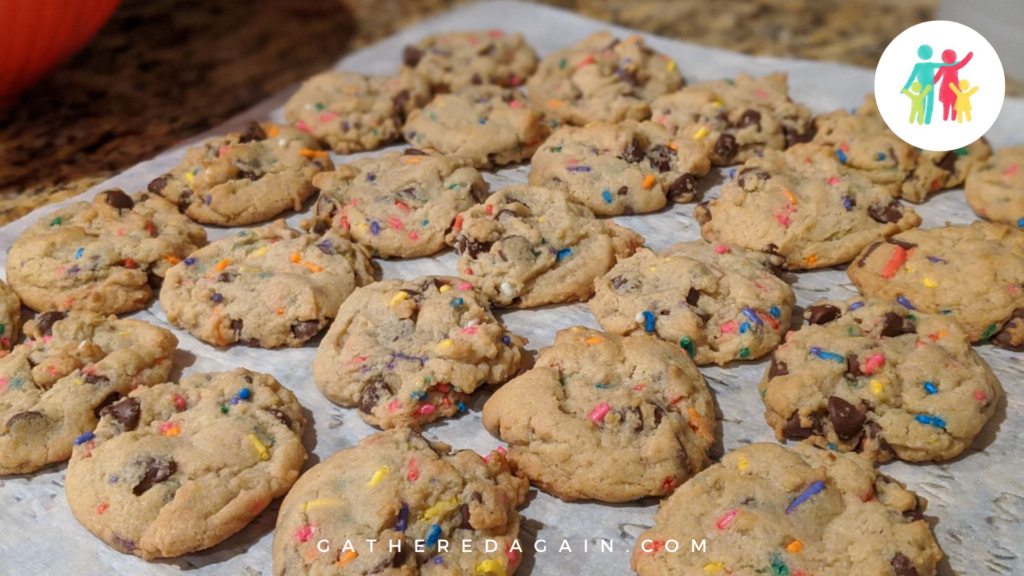 Homemade Tortuga Rum Cakes
When my husband and I went to the Bahamas on a vacation (too many years ago now!) we got to enjoy a fun treat: Tortuga Rum Cakes! Don't worry, depending on how you choose to make it, all the alcohol is cooked out in the process. Recently, my husband surprised me by baking two of these cakes for a family gathering we were hosting and they were surprisingly simple.
Here's the recipe he used:
Here's a picture of the almost finished product. You're supposed to flip the cake out of the pans, and all of the yummy nuts will be on top. We weren't planning to post pictures of it on here, which is why we don't have any pictures of the cake being presented nicely. Sorry about that!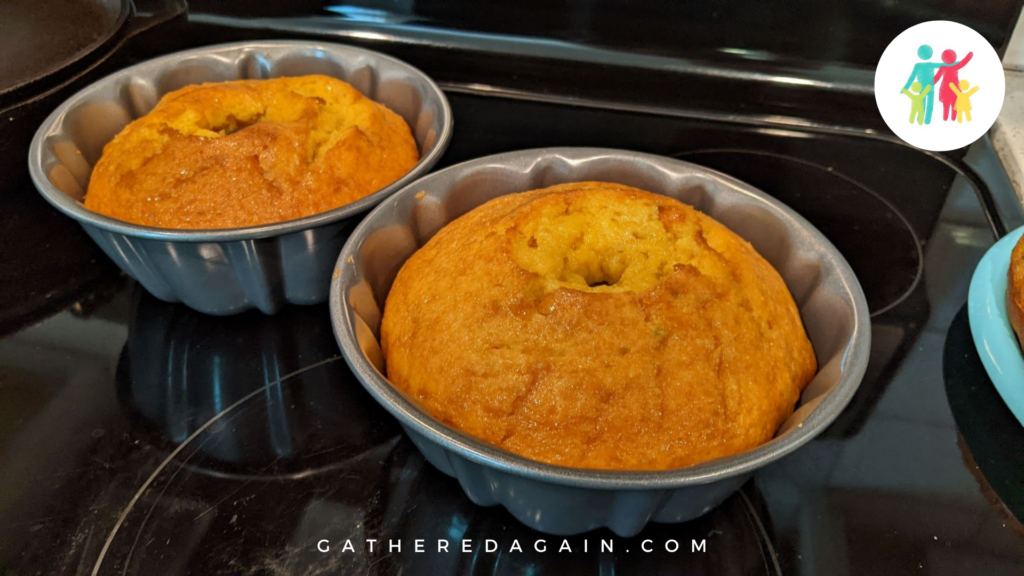 Homemade Fudge (so easy!)
Fudge is one of those desserts that I think everyone should master. It can satisfy even the most intense sweet tooth. It's so easy to make that anyone can do it. There are legitimately good 2-ingredient fudge recipes! It doesn't get any easier.
This is the 2-ingredient recipe I used recently. One note, I suggest using milk chocolate chips instead of semi-sweet. Semi-sweet chips were too rich for me.
Handmade Craft Gifts
If you're a person who prefers giving a gift with some longevity, then handmade crafts are a fantastic option. Not only are they unique, but they can also be used repeatedly. Here are a few of my favorites:
Create a DIY Project
Whether it's something functional and more involved like a phone caddy or something decorative like salt-dough decorations. DIY projects are an excellent opportunity to roll up your sleeves and get your hands working!
Write a Heartfelt Letter
While a letter isn't implicitly "crafty," it is a blank canvas for you. A handwritten note is so rare that it might be the most thoughtful gift on this list. Feel free to decorate it in whatever way feels authentic and special to you or your dad. For example, does he have a favorite sports team? Why not use his favorite team colors to decorate it. 
Decorate a Photo Frame
Photo frames are a great "short-cut" DIY project. You can get a basic wooden photo frame from almost any store. After that, you just need to adhere any decorations that make it personalized to your dad. Also, don't forget to include a super-cute picture of the two of you.
Make a Personalized Bookmark
If your dad likes to keep it old school with paper books (who doesn't love the smell?), he likely needs a bookmark so he doesn't go to "dog ear" jail. Bookmarks are a great way to add a personal touch to someone's reading material. A bookmark will help him keep his place while he reads and give him a little reminder of you each time he picks it up.
Make a Memory Board
A memory board is a great way to show off all the memories you have together as a family. Whether you want to create a collage of photos or a collection of other memories, this is a great way to express your appreciation for your father.
Last-Minute Activities to Plan for Father's Day
There are plenty of last-minute activities to plan for Father's Day. The critical thing is to make sure that your dad is available when you want to do the activity. Father's Day may not be the most convenient time if he'll be visiting with a lot of family.
Family Game Night
I'm a big fan of family game nights (I think they're essential for family bonding), especially when there's pizza involved. This is a perfect opportunity to spend quality time with your dad and play games. See if you can find out what games he might have enjoyed playing as a kid or games he played with you as a kid. 
Family Movie Night
Family movie night is another excellent idea for a last-minute activity. First, find a movie he would enjoy watching with you guys and set aside a night where you can watch it together. Then, again, consider finding out what movies he enjoyed when he was younger or films he might have watched with you as a kid. Warning: tears may be shed (looking at you, Homeward Bound!).
Make a Picnic Lunch
It's always nice to take a break from the hustle and bustle of daily life and relax outdoors. So make a picnic lunch for yourself and your dad, and head outside for some fun in the sun. It's also an excellent chance to talk about anything and everything under the sun.
Plan an Outdoor Adventure
Whether you're planning an overnight camping trip or a relaxing hike at a state park, this is an excellent opportunity to bond with your dad over nature. Make sure to pack lots of water for yourselves.
Final Thoughts
Father's Day is a beautiful occasion to celebrate your relationship with your dad; these ideas are a great way to show him how much you appreciate him. Don't miss out on the opportunity to show him how special he truly is!
The best part is that this is also a great way to break out of the traditional "gift-giving mindset" and show your dad how much you care about him. It's also not a bad way to brush up on new skills!