Spending the holidays indoors doesn't necessarily make it boring. In fact, even when you're away from your loved ones and are in the comfort of your own homes, you can still have a meaningful Christmas celebration with the family.
How, you ask? We're talking about hosting a virtual Christmas party! Using video conferencing platforms, such as Skype, Zoom, Google Hangouts, or Facetime, you can create your own parties and communicate with each other in real time. So, as long as you have your venue set up and ready, the rest of the gathering details are in your hands. 
Ready to get started? Keep on reading this article, as we've written a guide on some of the best virtual Christmas ideas for your party this coming holiday season.
Virtual Christmas Ideas
Similar to in-person events, a virtual Christmas party needs some props and preparations to help set the tone and mood for your guests. If you're looking for some neat ideas on how to make your online get-together exciting and engaging, here are some tips we've put together for you.
Virtual Invitations
Who said virtual events didn't need invitations? Certainly not us. So your family members can look forward to your meeting, create and personalize your own set of virtual invitations for the party. Decorate it with style, and include the what, where, when, and hows of your online gathering. Incorporate the theme into your color selection, and adorn the cards with elements and illustrations that fit the vibe you're going for. 
Other than giving your family members something to look forward to, these virtual invitations will also help seal the deal, making your event so much more real and special, even when you're miles away from each other. 
Secret Santa
Christmas exchange gifts never go out of style. Something about the mystery of not knowing who picked who always invokes a thrilling energy for participants, getting them excited about shopping and receiving their gifts. To start, have everyone draw lots beforehand. Whether you use an online picker or an app is fine, for as long as there are no repeats and no one draws themselves. Then, a couple of days to a week before the gathering, ship out your gifts in Secret Santa fashion, so they receive it in time for your celebration. 
Once you're on the call and everyone's present, dedicate a time on your program to opening these presents. This way, regardless of the distance, you'll still be able to see your relatives' faces light up when they open up the gift that's been hand-picked (or handmade) by you.
Fun and Festive Playlists
Music is at the heart of any gathering or celebration. It's what brings people together and sets the ambiance, especially if you're meeting each other online. Days before the scheduled party, curate your own mix of festive songs, which help to liven up spirits and bring in the holiday vibe. Choose from a long list of classics, as well as modern day Yuletide bops that solidify your theme and build on your party's concept. 
As you hop on the call and play these tunes for your family, they'll instantly get a feel of what to expect for the party, as it sets the mood for some festive Christmas fun.
Family Holiday AVP
Since the family is going to be apart for this holiday season, some would argue that it isn't quite the same now that you'll only be celebrating through the screens of your phones and computers. However, there is a way to work around this. Instead of dwelling over how you aren't together for the holidays, why don't you prepare a short presentation that will allow you and the family to reminisce and look forward to your next meeting? 
Using your old photos and videos, create a simple, yet touching video of your family's best kept memories. Compile a bunch of silly clips and beautiful images that celebrate the bond you have with each other. Once you're done, finish it off with a heartwarming song that can fill your family's heart with joy and sense of longing. 
Regardless of how far apart you are from each other during this time, this little holiday AVP is going to make you feel loved and close to each other, despite the distance.
Christmas Carol Contest
Anyone in their right mind would say that Christmas simply isn't complete without the caroling. It's arguably one of the most fun and engaging activities to do on Christmastime, so celebrating a party without it can feel lackluster. If this is how you and the family view this seasonal festivity,  why don't you host a fun and simple Christmas Carol contest? The rules for this are simple. Form your family members into groups of four or five, and have each prepare their favorite holiday song or medley to perform for the party. Depending on everyone's interests, you can add your own twist or gimmicks to each performance. 
At the end, you'll be able to watch and enjoy the fruits of everyone's hard work as they sing their hearts out and perform their A-game to bag the award for the night's best carolers. Other than bringing out everyone's competitive spirits, a mini contest like this helps to bring the family closer, which is a perfect activity to have for the holidays. 
Festive Christmas Dress-Up Party
Not seeing each other in person shouldn't be a handicap for having an amazing holiday party. If you're in need of a little extra prop or trick to make things feel more festive, minus the typical household decorations, consider throwing a fun, little dress-up party to liven the atmosphere. It doesn't have to be excessive; you can have everyone dress up as elves, wear reindeer antlers, dress up the Claus family, or even as their favorite Christmas movie character. Kids, especially, will enjoy this kind of gimmick.
Regardless of how everyone ends up going as, having a little rule like this can give you tons of laughs and memories to hold dear to your heart.
Virtual Christmas Games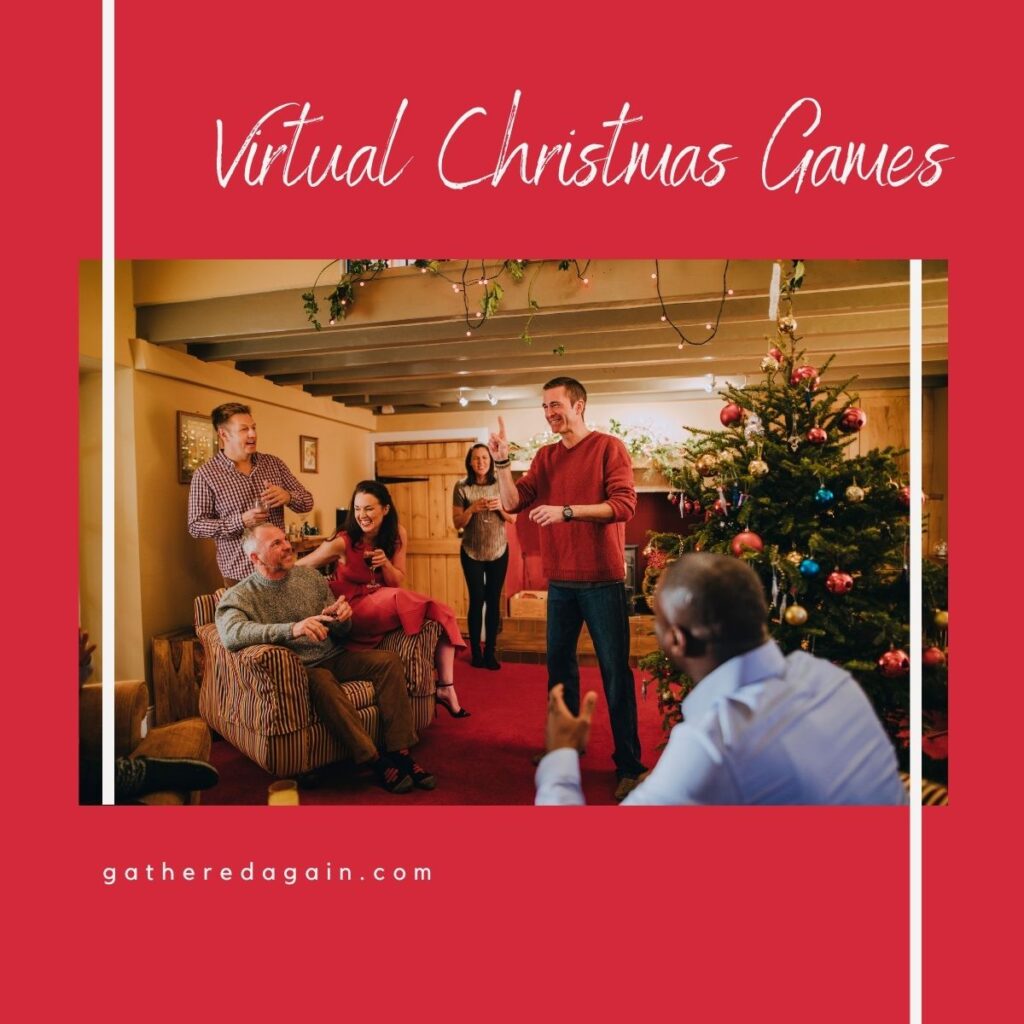 More than your festive Christmas party ideas, it's the games you host that will truly make the most impact on your little online reunion. Even when you aren't all staying under the same roof this holiday, there are still some amazing party games you can enjoy on your virtual Christmas party. Here are some examples below.
Holiday Trivia Game Show
Just like traditional TV game shows, with the likes of Jeopardy and Who Wants to Be a Millionaire?, trivia games can spell hours of fun when played with an energetic and highly competitive bunch. If you've got family members who are always butting heads and challenging each other for the top spot, then this is the game for you. 
Simply prepare a bunch of questions based on various Christmas-related facts, cultural traditions, as well as themed shows and movies. On the day of, have your relatives volunteer as solo players or act as representatives of their respective groups. Because you'll be hosting this game yourself, you're free to vary or add any additional rules you want your game to have. 
Whether you belong to a family of nerds or a clan of crazies, a game like this can surely get your family pumped and hyped up for the games to come.
Yuletide Bingo
Bingo is a classic game of chance made popular in the 1960s. It's a highly addictive pastime, invented by the Italians as a lottery mini game, which has now evolved into this famous worldwide phenomenon. 
This Christmas, consider hosting your own version of a Yuletide Bingo, as it's a great way to get everyone excited and engaged even when you're communicating through the screen. Start off by designing your own cards or use a printable template. Send it out to members of your family, and draw a pile of cards that contain the symbols present on the sheets. Have fun playing a couple of rounds with different sets of rules and prizes, so everyone has a chance of winning. 
Festive Movie Charades
Charades is a well-known icebreaker game, which promotes teamwork and cooperation within its members. Since this acting game only requires players to use their body to play out the answers, it's a perfectly suitable game for your online party. Start off by compiling a list of various holiday films and shows, which range from easiest to hardest to act out. Then, write them down on a piece of paper, and have one representative from each group draw lots so they could play their turn. In the end, the group who guesses the most titles wins. 
While it's definitely an old game that's typically used in parties, it's a great option for an online party where your family can get up and moving, instead of staying seated for the duration of the call. 
Guess the Gift Giveaway
No one is too old to get excited over presents. Whether it's the dainty box and wrapping, or the overall weight and size of the package, some feature or characteristic of the present is bound to get anyone thrilled, especially if what you're getting is a mystery. Since the spirit of Christmas is all about sharing with your loved ones, have you ever thought about hosting a Guess the Gift giveaway for your family members? 
For this game, all you will need are some small presents you can easily tuck away inside a box. Once it's game time, hold the box up to the camera, and shake it around a few times for your relatives to make up the sound that it makes. As you're moving the gift on screen, have them try to guess the gift that's inside. If you want, you can even provide themes or clues to give your players an idea. In the end, the winner who guesses correctly gets to keep the gift they guessed right.
Though simple, it's one of those games that gets everyone's energy up as they try to compete for the right answer. You, as the host, will be able to have the honor of sharing small yet meaningful presents with the family, through this mini game for Christmas.
Virtual Christmas Escape Room
In recent years, escape rooms have gone up in popularity. If you want to introduce a new and exciting way to bring the family together and experience an almost true-to-life excursion, perhaps you may want to sign yourselves up for this. With the option to go for a paid game, organized by Go-to Events or Team Tactics, you can have a separate host that will guide you along the mysteries for some thrilling family fun. Otherwise, you can set up the game yourself by creating a storyline and some clues for the rest of the family to figure out. 
Either way, mystery games are awesome team building opportunities that can make you feel closer to each other, regardless of where you are. In celebration of the true spirit of Christmas, these types of experiences are perfect to help bring you all together even though you have different interests and hobbies.
Name That Christmas Tune
This game is all about knowing your Christmas bops and tunes to heart. Simply start by writing down a list of popular holiday songs, and have one representative from each team pick one at a time. Once they do, set up a timer and get ready to hum the tune. 
Just like charades, the team members must be able to name the title of the song in order to bag the point. At the end, the team with the most points wins.
With an interactive game like this, the family's energy will surely skyrocket, ensuring a great time. Putting this in the program will also be sure to inject the holiday vibe into the atmosphere, getting everyone singing along to their favorite Christmas carols.
Happy Virtual Christmas!
There you have it! A bunch of neat and cool ideas to celebrate your family's virtual Christmas party. We think these ideas can help you have a meaningful reunion with your relatives, even if you're miles away from each other.
Personally, we think the escape room game is the most innovative one out of the group, but let us know which one ends up being your family's favorite. Remember, what matters most at the end of the day is that we're able to spread happiness and spend time with the ones we love the most. Christmas isn't about the gifts we receive after all, but the spirit of giving and appreciation of the true gifts we already have. 
We wish you all a happy holiday!