You know it's that time of the year again when the temperature drops and speckles of ice begin to fall from the sky. Lakes and rivers begin to freeze, while trees, parks, and driveways are covered with soft, pillowy bodies of snow. Because of the chilly air, it's natural for you to want to cozy up indoors, underneath a heated blanket. With a warm cup of cocoa in one hand and a TV remote on the other, life couldn't be any more perfect. However, there are more ways than one to celebrate the season. In this article, we'll be sharing 17 fun, exhilarating, and cozy hobbies that'll make you fall in love with winter even more!
Depending on your hobbies and interests, you may have your own set of go-to activities for some recreation. Today, we'll be giving you ideas on indoor, outdoor, and arts and crafts hobbies to try with kids for wintertime.
Warm and Cozy Indoor Winter Hobbies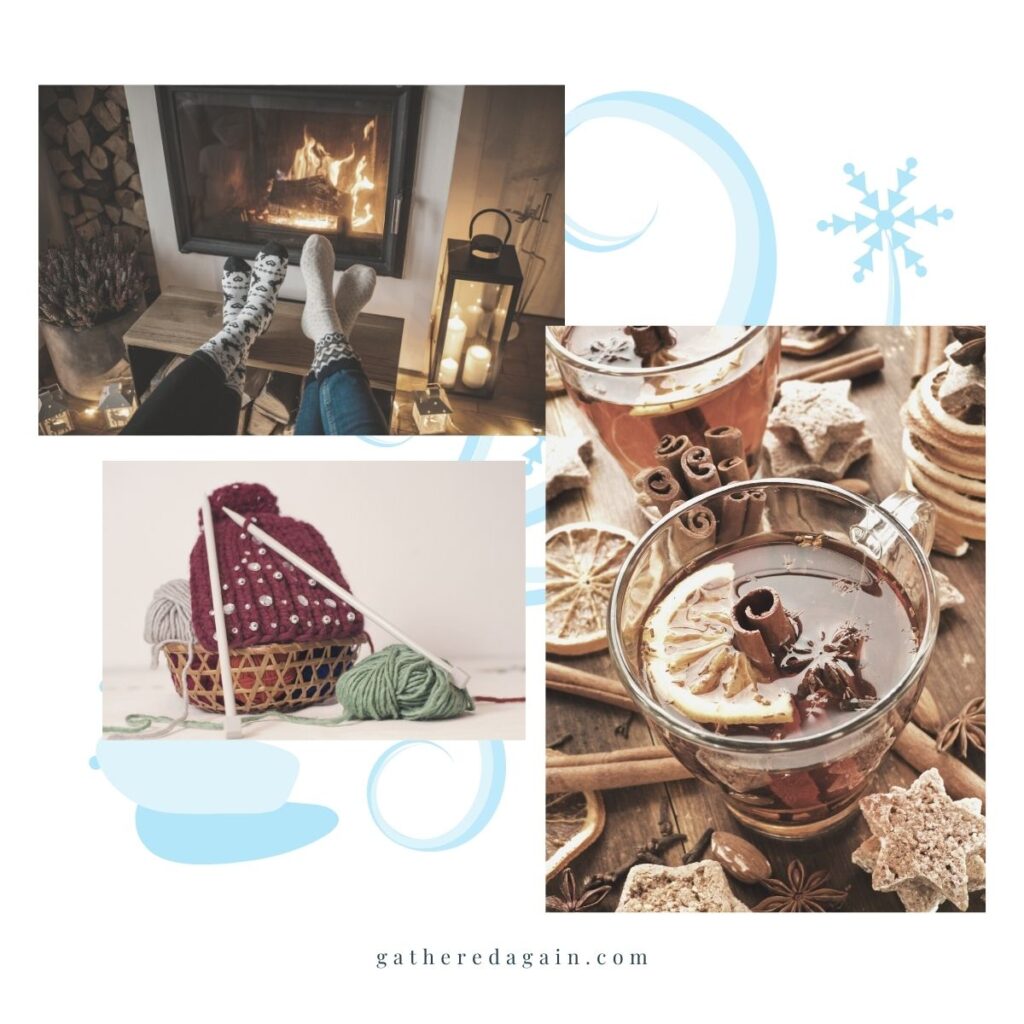 If it's cold and freezing outside, the obvious practical option for anyone would be to stay indoors. Since going out and taking a trip has become troublesome, consider adopting a new hobby that doesn't require you to step out of your front door.
Here are some warm and cozy indoor hobbies to try for the wintertime.
Read by the Fireplace
On a normal day, it's easy to visit your local cafe and order your favorite cup of joe. However these days, between the thick snow and generally cooler weather, we understand if you'd rather stay indoors. So in place of your habitual routine, we recommend sitting by the fireplace and reigniting your love for reading. 
Amidst the heavy air, reading will help take your mind off stress and into pure, unbothered relaxation. Besides the warm, crackling fire, you may never want to get up ever again. 
Try New Hot Drink Recipes
Hot drinks can help warm up one's heart and stomach, especially on a chilly day. These beverages can make you feel instantly calm and relaxed, ready to take the day on with a smile. With that said, hot chocolate and coffee aren't the only options you have for when you're looking to warm up. 
Feel free to look up recipes online or in a cookbook for new flavors to experiment on this winter season. Peppermint and nutmeg, among other spices, are great add-ons to mix in with your regular cup. Adding in new flavors to your drinks can give you the homey feel and refreshing new tastes in time for the season.
Bake Heartwarming Desserts
Desserts and baking go hand-in-hand. After all, baked treats help you feel relaxed and at home, as they fill the air with smooth and sweet scents. This winter, invite some family and friends over and have a great time baking some heartwarming desserts. Whether it's a soft sponge cake, some delicious cookies, or a gooey brownie, sharing them with your loved ones over a glass of milk can fill the house with lots of love and laughter.
Take up Knitting
In the midst of the cooler climate, we all need a soothing hobby that makes us feel warm and fuzzy inside and out. Yes, this time, we're talking about knitting. The monotonous and rhythmic pastime invites a deep sense of relaxation and promotes stress-inducing feelings. It's known for being a good stimulator for the brain—it promotes positive effects and prevents Alzheimer's, among other mental illnesses. 
Starting a knitting project creates a sense of fulfillment by piecing together sweaters and blankets, suited for the cold weather. Better yet, you can enjoy your time and wear it with pride, or gift it to close friends and family.
Redecorate Your Space
Every season comes with its own vibe and feel. With the arrival of winter and the holidays, revisit your decorations, and change up your space. You can add new pillows, desk accessories, or perhaps switch up your scents and candles. 
This may also be a good time to redo your theme and swap your accent colors for more festive shades and hues. Doing so helps to give you a lasting, refreshing space that feels brand new. Not only will you be waking up to a new environment that livens up your senses, but your newly redecorated home can serve as your inspiration for the days to come. 
Crafty Winter Hobbies with the Kids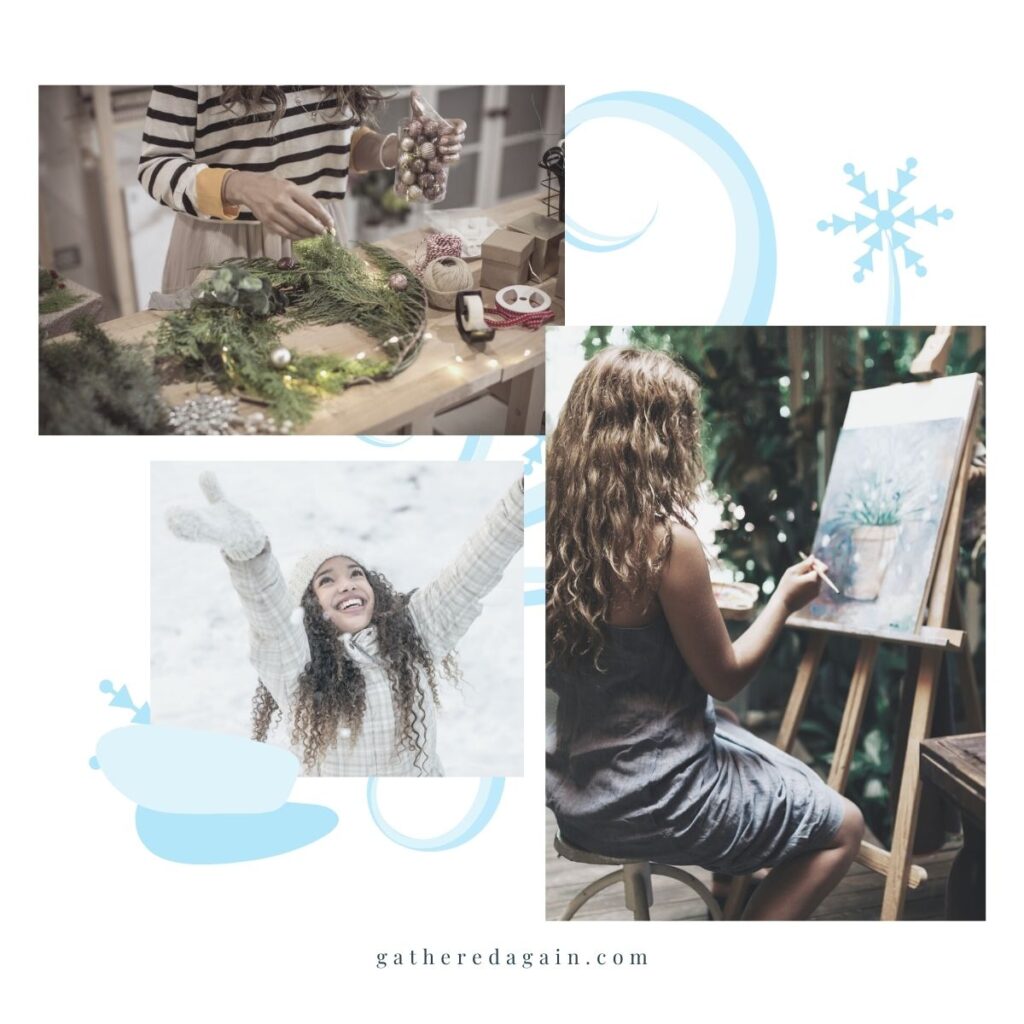 Growing children can benefit from brain-stimulating activities, which aid in their development. While they may no longer be able to go out and play with their friends as much as they used to, it's important to give them fun and exciting projects to do at home.
Without further ado, here are some crafty winter hobbies to try with the kids.
Snowflake Preservation
Snowflakes are special and unique, possessing different qualities and characteristics that make people want to look and stare at them all day. Well, what if we told you that you could? 
While this hobby may take a bit of time and effort, the finished product will be worth it. All you will typically need are some snow, glue, some slides, and a magnifying glass. 
Once you've collected your flakes, and have put them into their own glass slides, coat them with cooled glue. Immediately sandwich it with the next slide, then freeze. It may take a few weeks before you can remove them. But once you do, you'll have beautifully preserved snowflakes you can display at home or give as a gift.
Festive Wreaths Making
Now that the holidays are nearing, slowly start filling your house with ornaments and decorations that give off the Christmas spirit. Here is a festive wreath idea you can create with the kids, using materials you can find during winter. Using a combination of pine cones, twigs, and flowers, you can create an organic Christmas wreath.
No matter how much time you spend making these, the compliments you'll receive from neighbors, visitors, and friends when they see that you've made your own wreath from scratch is worthwhile. 
Gift Crafting
Everybody loves handmade gifts. These are great to show your love and appreciation for someone, specifically because you took the time to make them rather than purchasing them from the store. 
Consider taking up gift crafting with the kids as a hobby this winter. It's fun and, at the end of it, you'll have personalized gifts to give to your loved ones this Christmas.
Now, depending on you or your loved one's personality, these handmade crafts can vary. However, common ones are revitalizing lotions, scrubs, essential oils, and candles that come in different holiday scents and packaging. 
To make things more special, take the time to make a gift for each loved one during each session. This way, each one is catered to their specific tastes and interests. In the end, you'll create gifts close to your heart, while teaching children about the importance of showing gratitude and appreciation.
Painting
Finding new and exciting ways to express yourself in this cold weather can be beneficial in a lot of ways. Painting is a hobby that promotes stress relief and good memory, keeping the brain active and sharp. Especially at a time when there's hardly anything to do and see outdoors, it's nice to have a creative outlet, where you can let your imagination thrive without limits.
If this feels like a hobby that's right up your alley, then consider bringing your kids along on your first painting session. Have everyone illustrate what they want and paint with the colors they choose. Whether you and the kids end up creating a picture of your loved ones, animals, places, or a completely abstract painting, it's a nice hobby to try. It will allow you to decorate your home with sentimental pieces and is also beneficial for the kids' and your health in the long run.
Start Your Own Winter Garden
During the winter, fruit and vegetable prices skyrocket due to off-season harvesting and limited availability. Because of this, a lot of folks have a much harder time finding the right produce for their food, and end up having to pay more to get the same amount. However, did you know that you could start your own outdoor garden, even under this cool and freezing climate?
By gathering a couple of cold-resistant crops, you can grow and harvest your own pure and organic food. Using some DIY mini-greenhouses that you can leave where the sun is, the weather can heat and water your plants on their own. 
Taking up this hobby has been known to improve focus and relaxation. Doing so in the wintertime also helps to promote exercise and relaxation, which can be very helpful to combat the cold, snowy blues. 
At the end of the day, anyone with a green thumb would know that taking care of your own garden is a very rewarding and fulfilling hobby. All it takes is a bit of hard work, and you'll be able to immediately see where the love you've poured is going.
Exciting Outdoor Winter Hobbies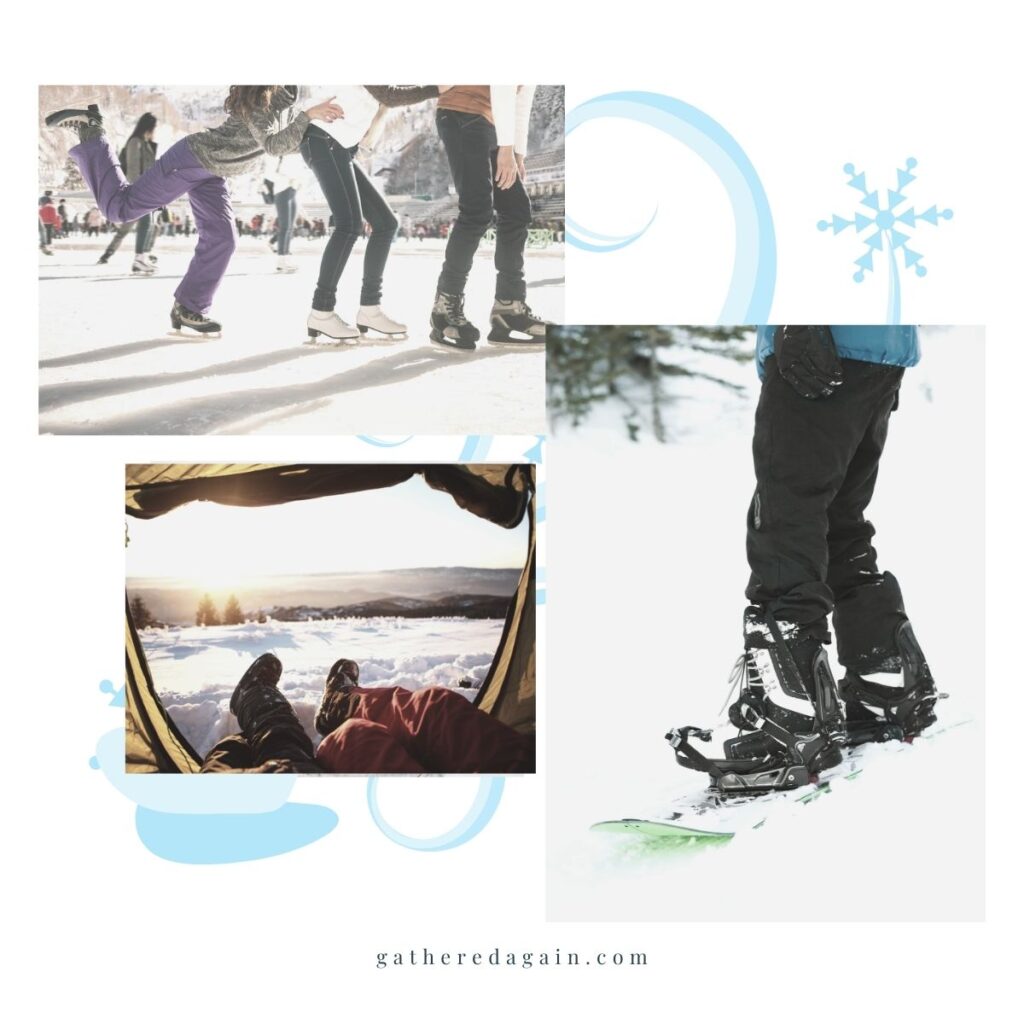 While some would huddle up indoors in this cold climate, others would argue that there are a couple of wintertime sports and festivities worth staying out for. If you happen to be a thrill-seeker or someone who wants to fully experience the snowy weather, here are some exciting outdoor winter hobbies for you.
Build an Igloo
Creating something bigger than your average snowman isn't something new to snow sculpture enthusiasts. If the winter season gives you more free time than usual, and you're looking for a bigger project to take on, maybe it's time you build your own snow fort. 
It may seem daunting at first, but it's pretty doable, as long as you get the basics down. Just make sure that you have a lot of dense snow in your yard, as well as a couple of helping hands to work on the igloo with you. 
As soon as you lay down your foundation using pre-formed snow bricks, just keep on building it up until you reach the very top, then hose it off in the end to form a frozen ice layer. This will help keep its shape and last you for a couple more days for some outdoor fun. 
Camping
Whoever said camping was only meant to be enjoyed during warm and sunny climates didn't have the true blood and spirit of an adventurer. Even when it's perfectly cold and snowy outside, nothing is impossible for true adrenaline junkies, searching for their next undertaking. 
Whether you pitch a tent or use your own homemade igloo, camping is as easy as taking all your essentials with you, along with a couple of extra garments for some extra heating. Either way, it's a hobby that definitely isn't limited to spring or summer days, but even when everything's covered in snow.
Go Dog Sledding
What once was just an age-old mode of transportation, typically used by people up north, is now a recreational activity held during wintertime. From the word itself, dog sledding is when a pack of dogs pulls a sleigh against the snow. 
If you're a thrill-seeker and a dog lover, then you'd enjoy this fun activity with your loved ones. While these dogs undergo a lot of training to run and pull the sleigh as they do, the trainers guarantee they love pulling the sleds, so there's no need to worry. 
Whether it's the picturesque views you want to see or the cool and damp air with the dogs you want to bask in, this one's definitely a must-try for anyone who's looking for something new. 
Snowboarding
Snowboarding is one of the winter hobbies a lot of enthusiasts look forward to during the cold winter days. It's a sport wherein people slide off steep hills and mountains, using a snowboard attached to their feet. It takes a lot of practice to master and be fully comfortable maneuvering in the snow. Even so, beginners are welcome to try and learn the basics. If you're willing to start this hobby and put in a lot of effort and hard work, you will also soon be able to enjoy the cool winter breeze as you glide down the slope of snow. 
It's always worth the drive to muster your courage, and try something this thrilling because you never know when the experience may offer you fresh perspectives on the beauty of life, and give you the hunger and tenacity to crave for more.                                                                                                   
Skiing
Feeling adventurous on a cold winter day? If you're seeking the damp air and the spectacular snowy vistas, then skiing is a popular hobby you can enjoy, along with other people of all ages. 
In contrast to snowboarding, skiing uses a pair of poles for direction and balance. It's much easier to learn compared to snowboarding and can be done with the entire family. Should you ever wish to start on this hobby during the holidays, pay a visit to your nearest skiing spot and enjoy the stunning outdoors with your loved ones. The cool air greeting your face as you slide down the snowy slopes is sure to get your energies up—a thrill that's unique to wintertime.  
Snow Shoeing
Hiking is considered a very engaging and riveting hobby for a lot of people. Something about climbing the tops of the steepest hills and mountains just screams thrill and adventure, which is what adrenaline junkies love about it the most. 
However, now that the weather's taken a quick turn, it may seem impossible to scale the same cliffs and reach the same summits. Instead, a lighter alternative to it could be snowshoeing. For as long as you know how to walk, you can definitely snowshoe! It's all about wearing a pair of large footgear, which prevents your feet from sinking into soft clouds of snow. 
You can definitely do this in pairs or in groups. This is, perhaps, the simplest out of all the outdoor winter hobbies, as you can solely focus on your journey and destination rather than feeling all squishy from your socks getting drenched in the snow.
Ice Skating
Now that winter's arrived, large bodies of water have frozen and become accessible to us. Because of this, one of the most common pastimes for a lot of children and families is ice skating—a great and highly enjoyable hobby that celebrates the magic of being able to glide over ice. 
The naturally chilly air that rises from the frozen bottom is definitely an experience particular to this hobby. Not only is it a special activity that's both exciting and exhilarating, but it's also used as a common medium of expression for a lot of professional ice skaters and enthusiasts alike. 
Whenever you're free and looking for an afternoon or evening of fun and laughter, head to your nearby skating rink, and bask in the beauty of the outdoor winter scene.
Winter Hobbies for the Whole Family!
At this point, we've already probably given you a lot of ideas to go off of, so we hope you don't hesitate to try new hobbies this winter season. There are still a number of indoor and outdoor activities, as well as projects you could do with the kids.
Overall, we hope you enjoy this time of the year with your friends, family, and loved ones. Remember that life is short, and moments are fleeting, so let's all learn to appreciate each day, seeing the beauty of the world we live in as it is and all of its seasons.