The turkey has been baking for hours, the rolls are rising, and the pies are cooling on the window sill. Everyone knows there's a lot of hard work that goes into planning and making a nice Thanksgiving gathering!
If you've been invited to join someone's Thanksgiving celebration this year, make sure you remember the person (or people) who put in all those tiring hours in the kitchen.
Give A Thank You Gift
Rather than simply saying thank you, why not do the unexpected and bring your Thanksgiving host something nice as a token of your appreciation?
Everyone enjoys the pleasant surprise of receiving an unexpected gift, and a hostess certainly would not expect it! Just what do you get for a Thanksgiving hostess gift? Ideas are abundant!
Thoughtful Thanksgiving Hostess Gift Ideas
Put a smile on her face with one of these thoughtful Thanksgiving hostess gifts!
Needle Felting Kit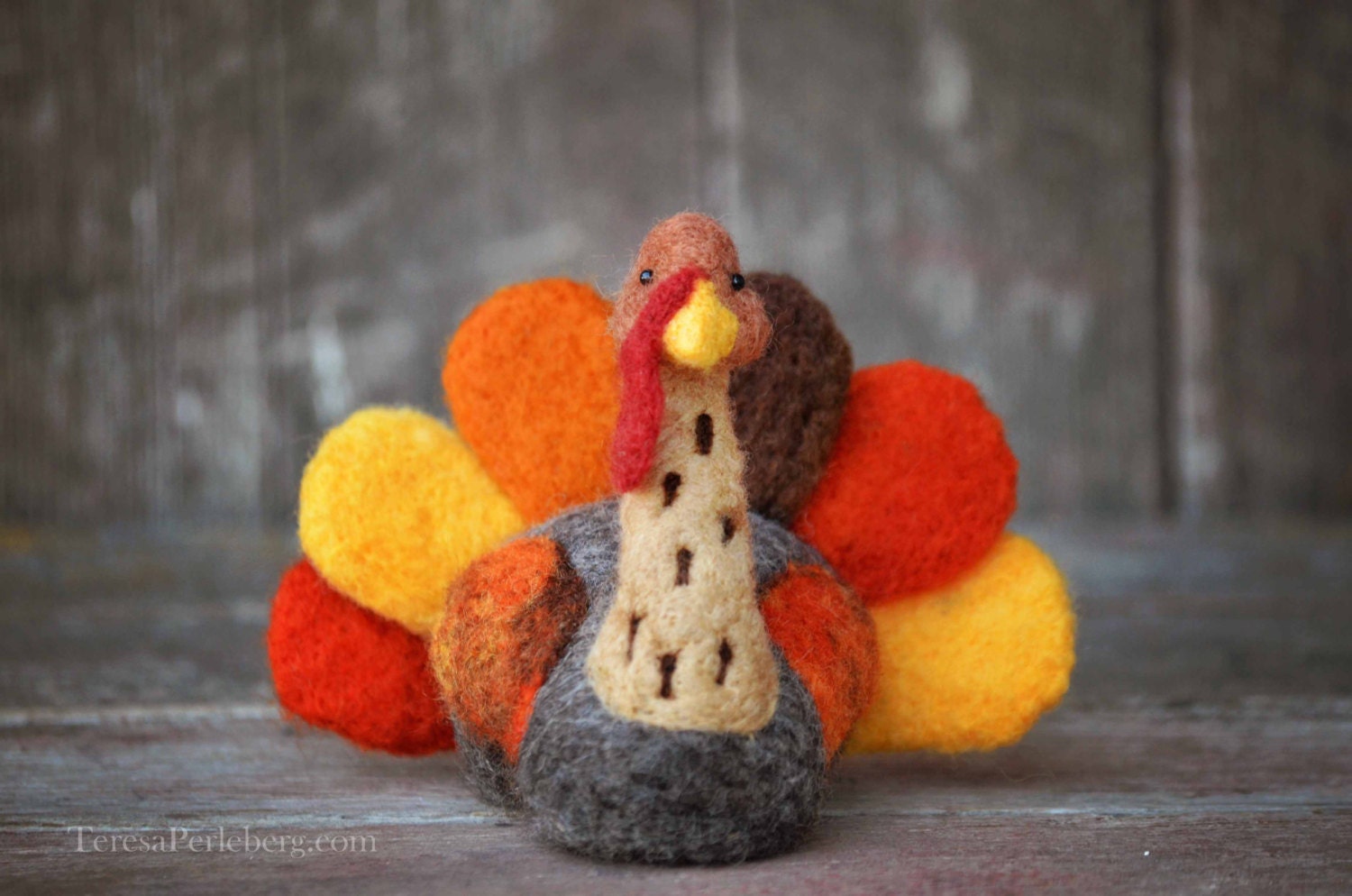 That's one cute turkey!
Autumn is a great time for picking up a new craft, and one of my favorites is needle felting! Needle felting is a fun and unique hobby, and with little kits like this one, it's inexpensive and easy to start!
This little kit gives you everything you need to make this lovable Thanksgiving mascot! Plus, it'll help your hostess wind down after the busy day of cleaning, cooking, and entertaining!
Festive Coffee Mug
Once the dinner is finished and the dishes are picked up, it's time for some pumpkin pie! And what goes better with your festive fall desserts than a warm cup of your favorite holiday beverage.
Whether it's coffee, tea, or warm apple cider, your hostess will enjoy drinking from this adorable orange "Pumpkin Spice" mug. Pair it with either her favorite coffee or tea or a set of festive-flavored treats for a gift she's sure to love!
Gourmet Treats
Gourmet goodies, like these yummy biscottis from Barnett's, make a great gift idea for the hostess who seems to have everything. You can never have too many sweet treats to go with your morning cup of coffee!
I have actually gifted these on numerous occasions and received great feedback. They're elegantly packaged and taste as wonderful as they look! If you're stumped on how to thank your Thanksgiving hostess, definitely consider this one!
Handmade Jewelry
The holidays are a perfect time to shop for handmade goodies! Whether you make them yourself or help support a local small business, the charm of handmade gifts will outshine any big-box alternative.
These handmade acorn earrings are super cute and affordable, making them an ideal hostess gift. And while they will be a classy accessory to her fall wardrobe, these earrings are really something she'll be able to wear and get compliments on year-round!
Gravy Boat
Gravy is one of the most important and sometimes underappreciated item on the table. Every Thanksgiving hostess needs a nice gravy boat to help serve up that delicious gravy on Thanksgiving day! Get her a nice one themed for fall or one that she can use all year-round.
Even if your hostess already has a gravy boat, she likely doesn't have one like this! I really love this particular gravy boat. It will keep the gravy nice and warm as it rests on atop its warming stand. Include a set of tealights so she can use it right away!
WoodWick Candle
Because when is a candle not a great gift idea?
WoodWick candles are one of my favorite candle brands. The crackling sound of the wood wick is subtle and inviting and the scents can fill the whole room!
Fireside is without a doubt, one of my favorite WoodWick scents. The warm scent is the perfect aroma for the holiday. This is also a great neutral scent that anyone can appreciate, not too sweet-smelling or overpowering.
Flameless Candles
While traditional candles are a lovely hostess gift idea, flameless candles can also make a great gift. This is especially the case for those who may have pets or young children in the house.
This beautiful candle features a red and orange glass mosaic vase that fills the room with a warm glow. And there's no worry about the wax running low – when the batteries die, simply pop in a fresh set to continue enjoying this gift for years to come.
Cozy Autumn Throw
No matter where you live, even down in Florida, it's likely cooling down a little by now. With that said, why not give your hostess a gift that she can cozy up with while listening to her favorite Thanksgiving songs! Throw blankets are definitely one of my favorite gifts to give around the holidays. Lots of styles, a wide range of prices, and pretty much everyone uses one!
Plaid is a popular pattern around the holidays. It has a timeless country look that fits the season. I adore this brown and orange patchwork throw for Fall, but you can also find it in a variety of other colors to suit your hostess' preferences.
Tiered Appetizer Tray
The ideal way to serve your appetizers is with a classic tiered serving tray. Every hostess needs a way to serve appetizers and other treats at their get-togethers. Give her a piece she'll set out proudly at every party she hosts!
When shopping for an appetizer tray, look for one with detached plates. That way, she can keep plates of cold foods in the fridge until serving and it allows for easier washing after use. Talk about being thoughtful!
Fall-Scented Hand Soap
Who doesn't love a yummy-scented hand soap to clean their hands with? Give your hostess a collection of fall-scented soaps like this that she and her holiday guests will all enjoy using.
This collection comes from Bath and Body Works, so you know they're going to feel and smell amazing! It includes 5 irresistible scents Sweet Cinnamon Pumpkin, Marshmallow Pumpkin Latte, Crisp Morning Air, Afternoon Apple Picking, and Warm Autumn Glow.
Mmm, I would be all over that Marshmallow Pumpkin Latte!
Other Ways to Say "Thank You"
These are just a few of the great Thanksgiving hostess gift ideas out there! When shopping around for a gift, try to keep the holiday itself in mind. If all else fails, stop and buy a nice, fall bouquet of sunflowers!
You can also thank your hostess by giving a simple "Thank You" card and a small contribution to the meal costs. This should help you cement your seat at the table come Christmas-time!