Most of us have elderly members of the family. And with a busy day-to-day schedule, it's only normal to forget spending time with the grandparents of the family, especially if you're not living with them. 
Spending time with your whole family not only strengthens your bond with each other but it also instills important values to your children, like respect and honor. It also allows them to learn the value of service and life. 
Moreover, interacting and spending time with your elderly are also greatly beneficial and rewarding for them. According to research, spending time with their family and young ones improves seniors' mental and physical health. Interacting with their loved ones encourage them to be livelier and to reminisce about their youth.
Studies also suggest that spending time with your elders lessen their feelings of loneliness. Often times, most of them live separately from their families. Whether they live in a nursing home or in their own homes, they are surely prone to loneliness due to isolation, feeling forgotten, or simply feeling like they don't have value anymore.
If you'll be hosting a virtual thanksgiving or just need some virtual thanksgiving activity ideas, you'll be happy to know there are plenty of options to include for your senior family members.
This is why Thanksgiving season is a great opportunity to enjoy quality time and make lasting memories with the seniors of your family! Seize this holiday to make your elderlies feel special and loved by enjoying the season with them, complete with activities that would be enjoyed not just by them, but the whole family, too.
For Seniors Who Love Games
With old age comes the deterioration of cognitive and motor abilities. However, seniors who regularly play games are able to stay sharp and alert than those who don't. 
While spending time with your elderly members this Thanksgiving, why not engage them with holiday-themed games to exercise their muscle and memory? And even if your grandparents aren't the kind to regularly play games, we're sure that they would enjoy this kind of activity as well, as long as their spending it with you.
Thanksgiving Bingo Game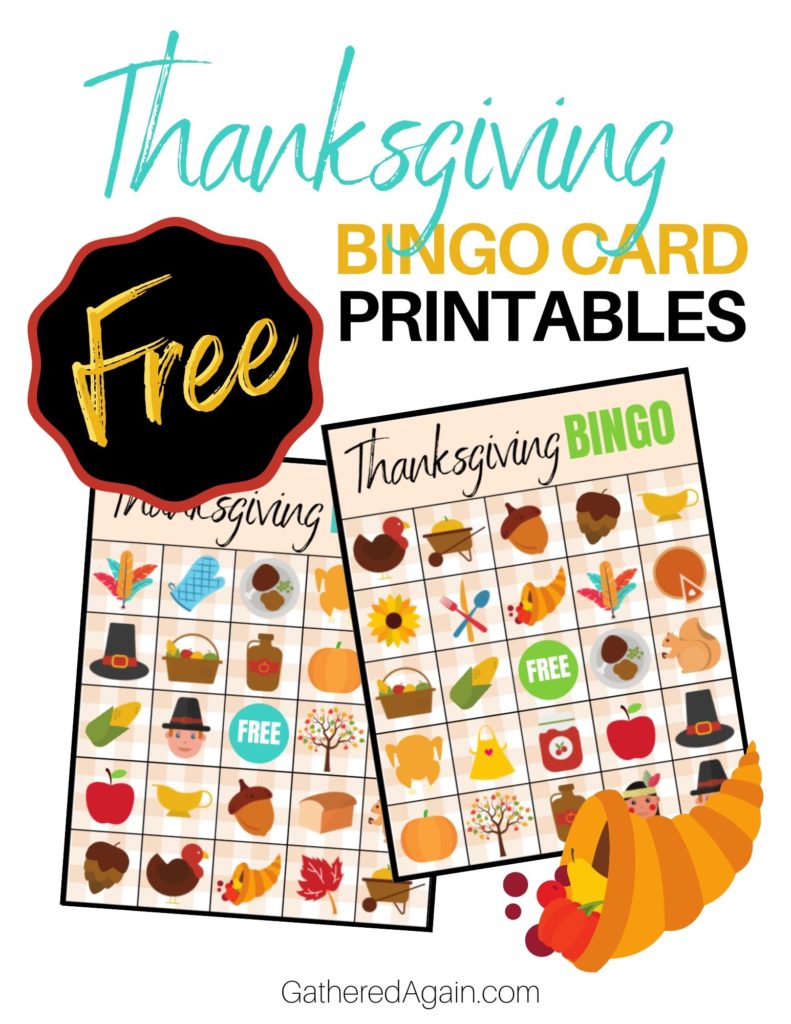 Make your elderly's bingo game suitable for the occasion, and turn it more personal and enjoyable by customizing your own bingo cards. For your loved ones who simply love Thanksgiving itself, you could print out these free Printable Thanksgiving Bingo Cards to pass out to your players.
Get the Free Printables of All 3 Activities!
Not only is this a good, entertaining game for seniors, but it is also great for exercising their memory muscles and critical thinking skills. More than that, it could awaken a competitive spirit in them. This game can also be played by every member of your family, making it more enjoyable for your elderly.
Thanksgiving Puzzles
Thanksgiving puzzles let your elders exercise their skills in movement, teamwork, critical thinking, and visual memory. And, for your aging family members, these skills are important to retain and constantly enhance. 
Playing the Picture Puzzle Game would not only boost your elderly's brain skills, it would also give you a fun time, working together with them to achieve your goal of completing the picture.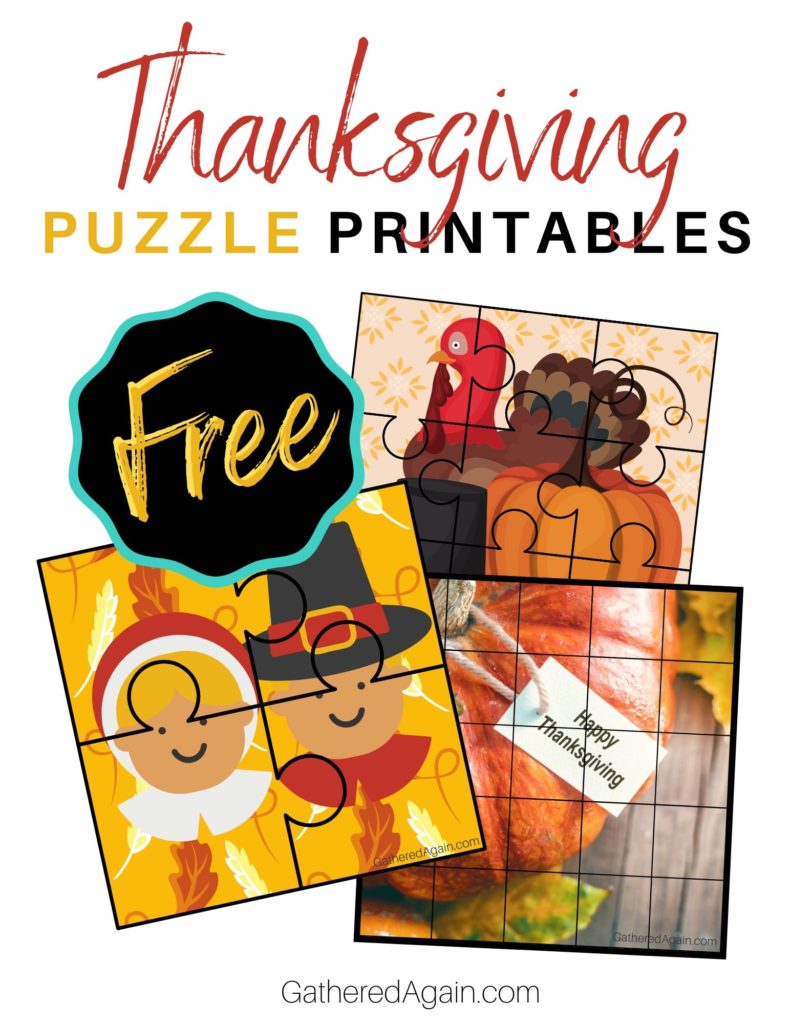 For this game, you'll need to start by printing out the Thanksgiving Puzzle Printables, below. Cut out the pieces in advance and keep them together in a small plastic bag. Once done, distribute the parts of the picture to the game participants.
Get the Printable
On the go signal, players are to find those who would complete their picture. Whoever completes their puzzle first wins. To make it more amusing, give out a prize for the winning player or team! 
Thanksgiving Dinner Game (sharpens memory)
What most of us look forward to during the holiday is the Thanksgiving dinner that comes with it. And, while waiting for the scrumptious meals to be served, why not play a little dinner game to pass the time? 
The Thanksgiving Dinner Game is a simple memory game. You can play this with any number of people and you can do it anywhere you like. If you would prefer, you could play this on the dining table, just before dinner is served. 
It starts off with the first person saying, "At Thanksgiving dinner, I will eat (name of food)." The next person would then proceed to say his choice of food followed by the first one mentioned by the previous player. 
The goal of the game is to remember all the food that the players mentioned. And, for extra laughs, try adding a punishment for those who failed a round. 
The Thanksgiving Dinner Game is a fun game to be played with children and elders alike. Not only would it give you some laughs, this would also help sharpen one's memory—no matter your age. 
Thanksgiving Charades (motor skills)
Charades is a classic game we all love to play. It seems like every time there's a family reunion, charades is the go-to game to amp up everyone. 
If you want your seniors to not only exercise their motor skills but their imagination and quick thinking, as well, this is the game for your family to play. Just like the classic game, you divide your family into two teams and act out the given words.
It's best to print your Thanksgiving-related words beforehand so you won't have to think on the spot. To make it more special, why not print out a photo of the word to be acted out, instead?
For the Artistic Seniors
Most people explore their artistic abilities after retirement because that's when they find the time for themselves. At an old age, most seniors find comfort in making art and being creative. Research also shows that making art has positive effects, such as improvement in one's cognitive functions, reduction of depression and anxiety, and additional sensory stimulation. 
Creating art is also said to give elders a sense of purpose and meaning since they're creating something new. This also helps with their socialization, giving them confidence and a boost in self-esteem.
Create a Gratitude Tree
A grateful heart is a happy heart, and being grateful shouldn't be just a once-a-year event. Wouldn't it be nice to note down and be reminded of the things you're grateful for? 
A nice valuable way to do that and spend time with your aging loved one is by creating a gratitude tree. It's something you could work on together or they could work on with their grandchildren. 
This is an easy craft to make, requiring you to only have twigs or branches, a vase or mason jar to put the tree in, construction papers, strings, and some art supplies. It's an activity that your creative seniors would surely enjoy, and they would certainly appreciate the quality time and effort that you've put into planning it.
While on display, more leaves with things you're grateful for written on it could also be added throughout the year, then you could all read it for the next Thanksgiving to come.
Grandparent & Grandchild Pumpkin Decoration
Thanksgiving is one of the many occasions when grandparents can spend time with their grandkids. And, while pumpkin carving for the spooky season is officially over, it's never too late to decorate mini pumpkins for the fall season. Besides, this is way easier and safer than pumpkin carving. You could leave and do your Thanksgiving preparations, assured that they would be safe and, most importantly, having fun. 
For this craft, you would just need to prepare a few autumn pumpkins and washable paints and markers. This would be a good grandparent-grandchild bonding time, and easily one of the most wonderful and memorable activities both would treasure for a long time.
For Seniors with Alzheimers or Dementia
While Thanksgiving is a fun-filled day of celebration and reunion. Sadly, these kinds of occasions can be stressful for seniors with Alzheimers or Dementia. However, it's also important that they are encouraged, engaged, and mobile. 
Make sure you keep them included in the holiday preparations and festivities. This is especially the case if they usually helped before they get Alzheimers or dementia. It's important to remind them they are still valued and needed. 
It's also important to let them be active, whether they're doing light preparation tasks or chilling on their own.
Coloring & Arts
A lot of seniors with Alzheimers and dementia find comfort in coloring. Coloring tends to be anxiety-reducing and helps in boosting memory and nurtures inner calm. Sometimes, due to the stressful feeling the holiday may bring, your aging loved one may still feel overwhelmed, no matter how careful you may be. With this in mind, it's best to prepare a peaceful space for them to decrease the overstimulation. You could buy coloring books with Thanksgiving themes on it, for your beloved senior to enjoy.
Table Arrangement or Decoration
For those who love arranging and decorating for the holiday, it's best to let them help and feel engaged. Ask them to place the tablecloth, pick the table setting, or maybe you could arrange the centerpiece together. 
Decorating the table or the place could also help seniors with diminishing cognitive functions because the colors and lights help stimulate their memory and vision. This simple preparation is also a good bonding time for you and your beloved aging parents. 
Simple Cooking Tasks
Another activity for your seniors with Alzheimers and Dementia is simple cooking, especially if they were a staple in the kitchen before. Let your seniors help with cooking by doing simple tasks, like mashing the potatoes, preparing the side dishes, washing the ingredients or stirring the soup. This also helps with their hand-eye coordination.
Letting your seniors with Alzheimers and Dementia do tasks like these gives them some sense of independence and confidence. Additionally, this also improves their cognitive faculties. 
It's also good to prepare old family recipes your aging parent used to love or remembers. This could help their memory and produce a more invaluable bonding time. 
Thanksgiving Word Search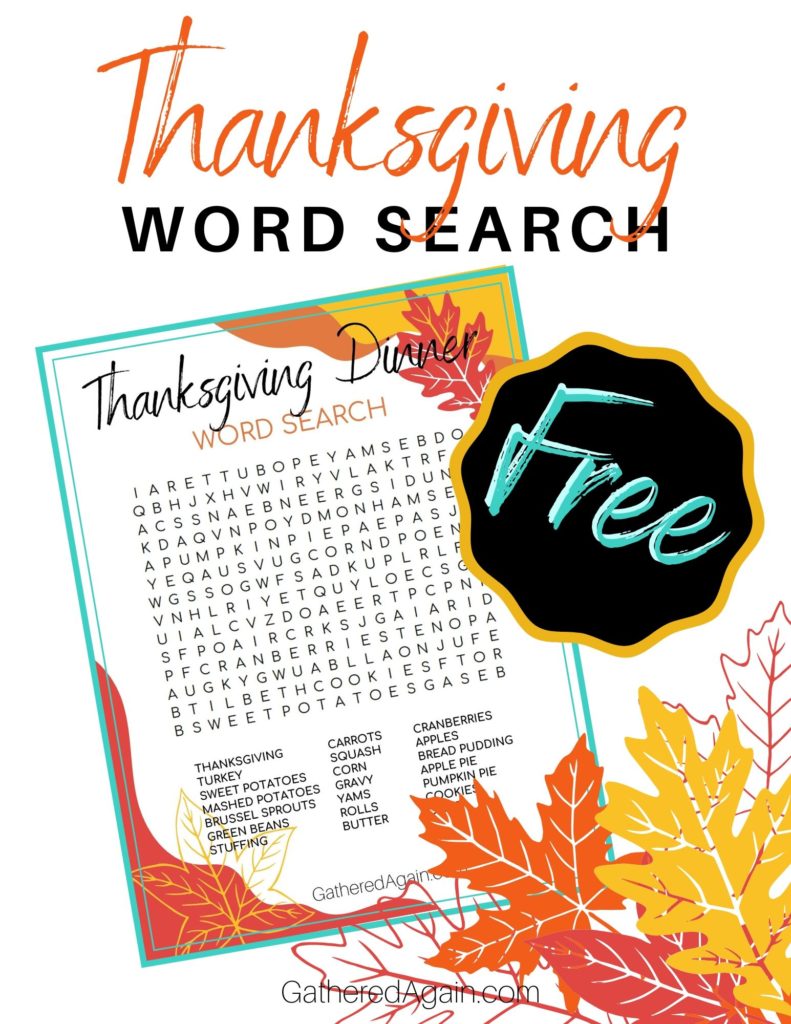 Stimulating games help seniors with Alzheimers and Dementia to improve their self-esteem and keep them mentally sharp. One of these games is a word search.
For the Thanksgiving holiday, why not make a customized word search for your seniors, fitting for the season? We made one just for the occasion, with large print for easy reading. Download the free Thanksgiving Word Search printable using the form below and print as many copies as you need. While they're doing this word-search, it also helps to offer them praise whenever they finish a page or find a word. 
Get the Printable!
Conclusion
Thanksgiving is a time to be grateful for all the things we have, all the experiences we've come across, and all the blessings we've been given. As such, it's also the perfect time to be thankful to and for our families, especially to our seniors. With their old age, we already have limited time to make memories with them, and it's important to cherish the moments we have and make it fun and worthwhile for them. 
As not all of us are capable to take time out of our busy schedules, Thanksgiving is the perfect occasion to give time to our aging loved ones. This is the time to show them that we still care and that they are still important to us, that they are not alone, and they are still loved.
Thanksgiving is a time to give thanks, and what better way is there to give thanks than to spend time and effort into making sure that our seniors have a memorable and fun Thanksgiving season.