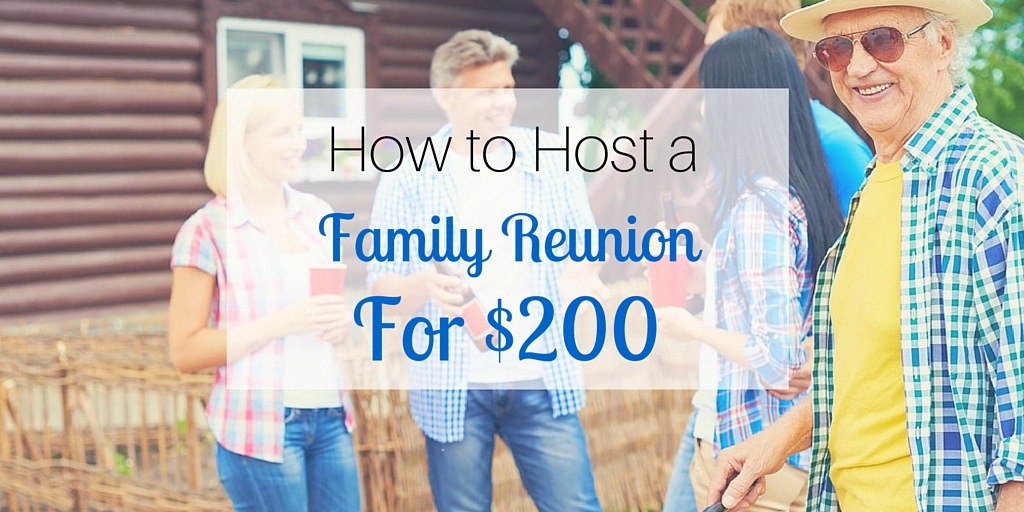 Want to host a family reunion but have a hole in your pocket? Have no fear, Gathered Again is here! This is the hotspot for cheap family reunion ideas!
The Steps
You get to a point where Skype and Facebook just doesn't cut it for interaction with your loved ones; nothing compares to having their company! If you want a family reunion, they likely want to see you just as much, too, so step #1 in cheap family reunion ideas is to ask for help.
Step 1: Ask for Help
There are many ways one can help with the financial aspect of family reunion planning:
Donate money
Utilize crafting abilities for DIY projects: Decorations, games, favors, etc.
Make food
Bring supplies
So begin poking around your family to see in which ways they can help. Tell them your goal in setting up a family reunion, and rather than asking if the can help, lay it on thick and phrase it like this: How will you be able to help? This leaves less room to say "no."
Step #2: Get Your Budget Organized
Grab a notebook and keep your planning organized. Start brainstorming different ways that you can save money. For each area of planning, stick to this: $50 or less, but free is best! So, first you will see which ways you can make each area free, and if free is just not an option, explore the ways you can keep the cost under $50. The main, more expensive areas of planning are:
Venue
Food/beverage
Entertainment (games, activities, etc.)
Decorations
Favors/family reunion swag
Here are a few money-saving ideas to get you started:
Go paperless: Rather than sending invites and other communications by mail, eliminate the cost of postage and supplies by sending everything by email. If some family members don't have internet access, utilize messengers in the family who live nearby. This alone will easily save you $20 or more.
Backyard family reunion: Using your backyard or another family member's backyard will eliminate the cost of a venue. If nobody has a big enough backyard, consider using pavilions at a local park, which are usually free for first-come-first-serve, or reservable for a very small fee.
Potluck: Rather than taking on the cost of food completely on your own, spread it out over the entire family by having a potluck picnic instead!
DIY games: There's plenty of games that require little or no supplies, such as tug-o-war or ring toss. You can easily make your own games like cornhole or put together a scavenger hunt!
DIY T-shirts: T-shirts can be a big expense, so rather than having a bunch of shirts screen-printed and footing that bill, either ask each person to bring $x.xx per person to pay for the shirt as reimbursement, or have everyone bring their own shirt, and provide supplies to decorate their own. Keep in mind that these can double as the favor if need be.
DIY favors: This is the least necessary expense but if there's money leftover in the budget, you can use it to either buy cheap favors, or purchase supplies to make your own. Even turning it into an activity for each person to make their own favor is a good idea. Example: Sand art. The small, corked bottles are cheap, colored sand is cheap, and all you would have to do is hand make some tags to affix after the bottles are corked: (last name) family reunion 2015.
Step #3: Implement Your Plan!
You may find yourself running into roadblocks and going back to the drafting table, but it's okay because you're allowing yourself plenty of time for planning, right?
Stay up to date with that tasks you need to complete by utilizing a our reunion planning checklist. This will make sure you've allowed enough time for each task and that you don't get stuck with last minute costs because you forgot something.
There are plenty of cheap family reunion ideas all around you; you just have to find them! Now to start asking your family for help…it's time to be on your way to planning this family reunion!