It's that time of the year where leaves are changing and falling from its trees as the weather starts to cool down in preparation for winter. This also means that shorter days are coming, and you can take out those comfy and warm coats and boots from your dresser. Moreover, it's the season packed with family celebrations—from Halloween to Thanksgiving real quick! I don't know about you, but these are just some of the numerous reasons why fall is the best season, don't you think?
Speaking of family celebrations, there are a lot of indoor activities you can do this fall with the whole family! Bring the fun indoors while having a cup of hot cocoa or mom's special apple pie. If you're looking for some fun recreational, yet family-centered fall activities, we got you covered!
Indoor Fall Activities for the Family
There are a lot of fall activities, usually done outdoors, which can also be enjoyed indoors with the whole family. Some activities listed below can be done simultaneously together. With this, we can't wait for you guys to have fun and make wonderful memories this fall season with your loved ones.
Have a Fall Picnic
Fall in love with the season more by having a sumptuous picnic by your garden or backyard, while enjoying the majestic view. This picnic is best paired with homemade goodies prepared by the whole family, such as apple or pumpkin pies and refreshing seasonal sodas.
Make your fall picnic extra special by preparing homemade picnic treats! Keep the fun rolling early in the kitchen by gathering everyone up, and giving each their own tasks to do, such as chopping the ingredients or mixing the flour with butter. Or better yet, organize a family cook-off or bake-off! Check the next activity out for more details.
Host a Fall Cook-Off or Bake-Off
This activity is perfect if the whole family is a major food lover, and loves to cook! It's like hosting a family edition of Masterchef.
Split the family into two teams (maybe Team Dad and Team Mom?), and have your grandparents judge. Or, you can also split the kids into two, and let dad and mom be the judges.
In order to achieve the family cook-off or bake-off—whichever the fam prefers more—establish a set of rules, such as time limit and the likes. The judges may also decide what would be the main ingredient for the competition. Will it be potatoes, apples, pumpkins, or broccoli? What about the plating and presentation? 
You may also immerse yourself into the competition by dressing up as chefs, complete with the aprons and hats. Also, don't forget to practice safety precautions. Ensure that your little kiddos are paired with an adult, especially when handling hot pots and sharp objects. 
Happy cooking!
Apple Creativity
Spark up your creativity by having fun in the kitchen, trying out new treats the whole fam will love because it's apples! Indeed, apples are one of the OG ingredients every fall season. From caramelized apples to apple doughnuts, there are a lot of recipes out there to try. 
We've listed several apple treats you can make this fall.
Prepare Some Pumpkin Treats
Can we all agree that pumpkin is the season's main ingredient? Just like apples, get creative in preparing pumpkin-based dishes for an all-day round of meals! 
Since pumpkin will only be here for this season, don't miss the chance to make as many fresh pumpkin dishes as possible! Here are some dishes you can do, which the kids will surely love.
Go Camping
We may miss doing our family tradition's outdoor camping and hiking every fall season, but don't fret because you guys can still achieve it in your own homes! Transform your backyard or your cozy living room to a makeshift camping area.
If you have outdoor tents, perfect for camping, and you like a change of ambiance and view, you may have your family camping by your backyard. Top the camping experience with some activities, like roasting some hotdogs, s'mores, or corn on the cobs. 
Alternatively, you can also prepare some indoor forts and tents using your duvets and blankets. This may be more suitable if your kids are not comfortable sleeping on sleeping bags or tents. Also, Camp Living Room can serve as a practice test to prepare yourselves for an actual outdoor camping soon. 
Have a Bonfire in the Backyard
In order to achieve the backyard camping vibes, prepare some spooky stories, s'mores, and hotdogs by a bonfire in your backyard. Though, please take note that you would need to check beforehand if your neighborhood requires you to secure a permit to build a bonfire. Alternatively, you may check this article for DIY backyard fire pit ideas. 
While enjoying your cup of hot cocoa or s'mores by the campfire, savor the moment by sharing some spooky stories, may it be real or not. If you're looking for some stories to share this spooky story night, pay a visit to Koa's article on kid-friendly spooky campfire stories.
Play Fall-Themed Charades
Level up the classic charades by focusing on anything related to Halloween and Fall! For sure the whole family will laugh their hearts out while playing this game. 
The gamemaster or host may prepare charade cards in advance. This may include iconic fall items, such as jack-o-lanterns and corn mazes; activities like raking leaves and baking apple pies; or even fall-related celebrations, such as Halloween and Thanksgiving. The sky's the limit when you prepare the charade cards list.
Have a Backyard Family Movie Night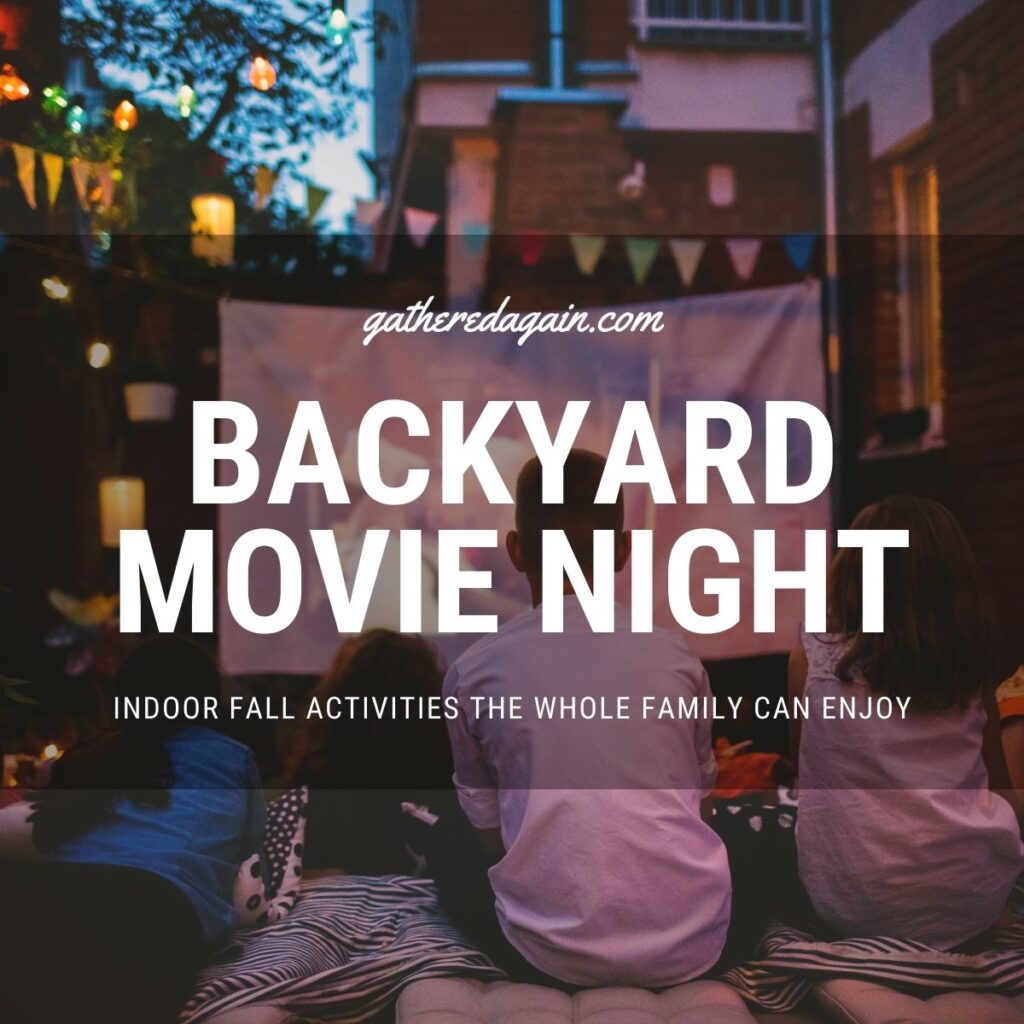 Enjoy the cool autumn breeze at night in your backyard, and have an outdoor movie night. Prep some popcorn, hot cocoa, and snacks. Grab your blankets, throw pillows, and a makeshift projector screen, like a white cloth or extra white linen, to achieve the outdoor cinema.
Have a movie marathon of the family's all-time favorite movies or new releases on Netflix or Apple TV. You can also check out those fall-themed movies to make the movie night more special. 
Carve and Prepare Your Own Pumpkin Art
Do we all agree that pumpkin is the face of fall? Yes? As Halloween is approaching this season, we're decorating our humble abodes with the infamous jack-o-lanterns. Make it more memorable by letting the kids decorate and carve their own jack-o-lanterns and pumpkin arts and crafts. Another option would be opting for no-carve pumpkin arts. Instead, have fun and be creative by mixing and matching colors on the pumpkin with this Squeeze Paint Pumpkins.
Create Your Own Hayrides
Looking for some fun this fall weekend or on Halloween? Why not decorate your truck or car trunks into a makeshift hayride? You can simply set up your truck into a hayride by putting some hay bales, dried leaves of various colors, twigs, and branches of trees. 
Check this decorative hay bale from Amazon.
If you're able, park your makeshift hayride by your backyard, and enjoy a picnic, dressed up as country lads and lasses—plaid long-sleeves, denim pants, boots, and cowboy hats! Also, set the mood by adding music or organizing a hayride sing-along.
Create Your Own Corn Maze
Complete the hayride party by setting up a corn maze in your backyard. If you're feeling a little artsy and creative, buy some white cloth and paint cornfields on them. After which, set up a maze in your backyard, and stick some poles from one end to another, then pin the painted cornfields. 
Let the kids help you paint the cornfields, hide some items in the maze, and conduct a corn maze scavenger hunt. For sure the kids will truly enjoy your backyard corn maze and hayride party!
Host a Murder Mystery Game Night
Hosting a murder mystery game night will surely excite everyone. While some others play it by acting it out throughout the night, you can play it in the form of storytelling or card game. Either way, you can use the Mafia Party Game to do so.
The objective of the game is that the mafia should kill all the civilians, and vice-versa. So, if you're a civilian, you should find out who the mafia is, and kill him off to save the neighborhood. For more detailed instructions on how to play this murder mystery game, check this out.
Cultivate a Mini Farm
Do you want to prepare your garden to be in full bloom when Spring comes? Or do you want to have a garden/mini-farm wherein you can harvest produce, and set it on your tables? 
This season can be a perfect opportunity for us to plant perennials, bulbs, and shrubs. Just make sure you plant them just before winter hits the clock. The fall air may be cooler than that of spring or summer, but the soil is still warm, and allows the roots to grow healthy before the winter season freezes the ground. Some of the flower-bearing plants you may consider planting this fall are hyacinths, daffodils, and violas. 
On the other hand, you may start your fall activities with the fam early by planting crops in your backyard just in time for fall harvest. Just take note of how long the crops will grow before they can be harvested. There are crops that prolong their lives and maturity because of the cool weather we have in fall, like lettuce, spinach, broccoli, cabbage, kale, carrots, onions, and more. 
Wouldn't it be more satisfying to eat sumptuous meals knowing that these came from your own garden? 
Organize a Leaves Raking Contest
Do you want to make the chores more exciting and interesting for everyone? Then organize a leaves raking contest! 
For sure, there'll be a lot of red, orange, and yellow leaves scattering around your homes and yards every single day. So, instead of hiring someone else to clean it up, let the family compete, and see who can rake the most leaves in the shortest time period. The winner per week or day, depending on the family's choice, will have an immunity card, which exempts them from doing another chore, such as doing the dishes or cleaning the table after dinner. 
This fun activity can also serve as your daily workout, as it can sweat you out and have you active and energized. 
Watch Fall Foliage in the Backyard
You may not be able to do long drives and watch fall foliage at your favorite park or camping sites, but you can still do this family bonding right in your backyard. 
This is best paired when having a backyard family picnic. Grab your picnic blankets or extra duvets, beanbags or pillows, and make yourselves comfy as you enjoy a picturesque view with your favorite fall snacks.
Make DIY Fall Candles
Are you guys into scented candles, diffusers, and the likes? Then this activity is perfect for you! Instead of buying those wax candles from department stores, why not make your own, and customize the scent you love? 
You may opt to make pumpkin spice, cinnamon, vanilla, clover, orange, or ginger scents, and design it depending on your preferred size and shape. 
Here are some tutorials you may follow for this fantastic activity:
Knit Something Together
This warm cozy weather calls us to learn how to knit. There are a lot of tutorials you can follow, and who knows? It may be your newfound favorite hobby this fall. It is a great bonding experience with your kids as well. Start knitting something cozy and warm, such as scarves and blankets, for you and your loved ones. These knitted items can also serve as your Christmas presents. For sure, they'll appreciate it more, as these gifts are handmade with love.
Learn How to Cross-Stitch
Learn a new skill with the kiddos, and let them appreciate art more by trying how to cross-stitch. This hobby can be a form of de-stressor, and it allows you to sit back and relax. In addition, it can calm you and give you peace of mind. 
You may check out these starter kits and video tutorials to hone your craft in cross-stitching.
Tailgate from Home
Missed watching football games live and supporting your favorite teams? Worry not, because you may still tailgate from home! 
Transform your car or truck into a makeshift picnic setup facing your garage door pinned with white linen cloth as your big screen while watching the game. Don't forget those refreshing drinks and snacks to make the football watch party even more exciting!
Conclusion
With those being said, there are a lot of indoor activities you can do with the whole family this fall. What makes these activities more interesting is that you don't have to spend much, and you can enjoy doing these at the comfort of your own home. 
So, take this opportunity to enjoy the fall season with your loved ones, and create more memories you can treasure forever. We hope you'll have a meaningful, yet memorable fall with your fambam!