Christmas season is upon us! It's time to get together with family, enjoy one another's company, and obviously play Christmas games, one of my personal favorites being this festive Christmas Scattergories!
There are so many ways to enjoy time with your family, and playing games is one of them. It's cathartic; you could build fun rivalries, and easily integrate everyone in the family into the competition–no matter the age of participants in the group.
What is Scattergories?
Scattergories was originally introduced in 1988 by Parker Brothers (published by Hasbro), and since its inception, it has been one of the most popular games for large groups.
It's a creative-thinking game, where players have to think quickly on their feet and answer the first word, phrase or name (category) that comes to mind, given the list they're playing. The game's been developed into a TV game show, and is even available for download as a mobile app.
Why Play Scattergories During the Holiday?
For many reasons! 
For starters, it's fun for all ages. You can implement Christmas or holiday themes and festivities, plus it's a game that makes you think quickly on your feet. You'll get the kids to do something productive and away from video games while enjoying time together.
And, if nothing else, you get to crown the Christmas Scattergories winner, and the winning team gets bragging rights for a year! So, get your pen and pad ready to start creating Christmas Scattergories lists for the next few weeks.
🍁 Be sure to also check out Thanksgiving Scattergories! 🍁
How to Play Christmas Scattergories
As mentioned, you need to make sure everyone is on the same page when it comes to gameplay. There are several ways you can play Christmas Scattergories, so make sure the rules are properly laid out before any action begins.
The Objective:
The primary objective of the game is to score more points than the opposing team by naming unique objects for a designated letter of play. 
The Setup:
Before you start playing, you'll need a few supplies:
Christmas-themed Scattergories Lists PDF
20-sided Scattergories dice containing all letters of the alphabet except Q, U, V, X, Y and Z (you could alternatively cut out letters of the alphabet and randomly pick).
Blank paper for answer sheets
Pencils or pens
Paper cutter or scissors
Printer & paper (Heavy cardstock works even better!)
Timer
The Gameplay:
Players or teams take turns rolling the dice at the beginning of the round. The letter it lands on would be the letter for your responses in the given category.
Each round is one and a half minutes long (you can increase or decrease the time, depending on the number of teams and players).
For each category from the list, respond with a word, which begins with the letter rolled on the die.
You can't use the same word multiple times in the same round. To score a point, your answer has to be unique from everyone else's'.
The first player or team to reach 25 points wins!
The Disputes:
Okay, so you have the rules in place, you have your teams ready to go, but what if a dispute comes up during the game?
Here are some common disputes and how to resolve them:
Do you lose points for no-answers? If you can't come up with an answer, do you lose points? Generally, answers left blank are not awarded points and no points get deducted. It depends on how competitive your players and should be discussed prior to playing.
Do you get multiple points for alliteration? (For example,  if the letter is R and the category is famous people, Ryan Reynolds is double-R). If you plan to offer multiple points, this rule should be set before the game starts.
Is "The" valid for answers? The rules generally state if the letter is R, an answer like The Ring is valid. But, if the letter is T for the category, "The…" isn't valid.
Make sure you have the protocol in place as to how you'll settle disputes. A good idea is to have a third party, who isn't competing in the game, to determine who gets the point, if anyone. 
Christmas Scattergories Lists
So, what should your Scattergories Christmas lists look like? Here are a few fun samples for you to consider using when you're just starting to build your lists and categories for gameplay.
List #1: "Deck the Halls"
"Deck the Halls" (Decorations)
"Away in a Manger" (Things you'd find in a manager)
Things to do in the snow
Christmas Dinner
Something on Your Christmas Wishlist
Things in Santa's Workshop
Holiday Treats
Gifts you don't want for Christmas
Christmas Songs
Places to Go During Christmas Vacation
List #2: "Let it Snow"
Types of Winterwear
Christmas cookies
"Let it Snow!" (Things that are frozen)
Stocking-stuffers
Holiday movies
Things you do on Christmas vacation
Toys kids want for Christmas
The Bible Story
Christmas card pictures
List #3: "Santa Clause is Coming to Town"
Things that only come out at Christmas
Gifts you can wear
"Silver and Gold"
"Santa Clause is coming to town!"
Toys from your childhood
Dinner leftovers
Christmas gifts you can't wrap
Places to go for Christmas
Christmas characters
Tips for Hosting a Christmas Scattergories Game
For the holidays, you would want to focus on several points:
Split players into fair teams. Depending on your family size, you can create at least two to ten teams of two to six players. It depends on how you choose to split up (boys vs. girls, parents vs. grandparents, kids vs. adults, kids vs. kids, by age group, etc.).
Make sure you set the rules before any game begins, and have clear definitions of how you'll resolve disputes. The last thing you need is a huge fight over Christmas Scattergories–we want to bring everyone together, not tear them apart.
Encourage friendly Christmas competition. Offer prizes to get your group excited to play and win! They can be simple, like a $10 Amazon gift card or have the losing team do chores after dinner).
Time to Play Christmas Scattergories
When can you play Scattergories? 
Any time! But, this particular game is best played during the holiday season. The best time to spark up a friendly rivalry might be once the kids arrive home, when all the family members and in-laws have arrived for dinner, and at the start of the family holiday party.
Christmas Scattergories is a great way to bring the family together this year, and it can become a part of your annual festivities when everyone's home for the holidays. Choose your list and let the games begin!
Get the Full Christmas Scattergories Game!
Get the complete Christmas Scattergories game including 12 cards for hours of fun with the family! Also includes 4 blank cards to create your own custom lists!
➡️ Click HERE for more info!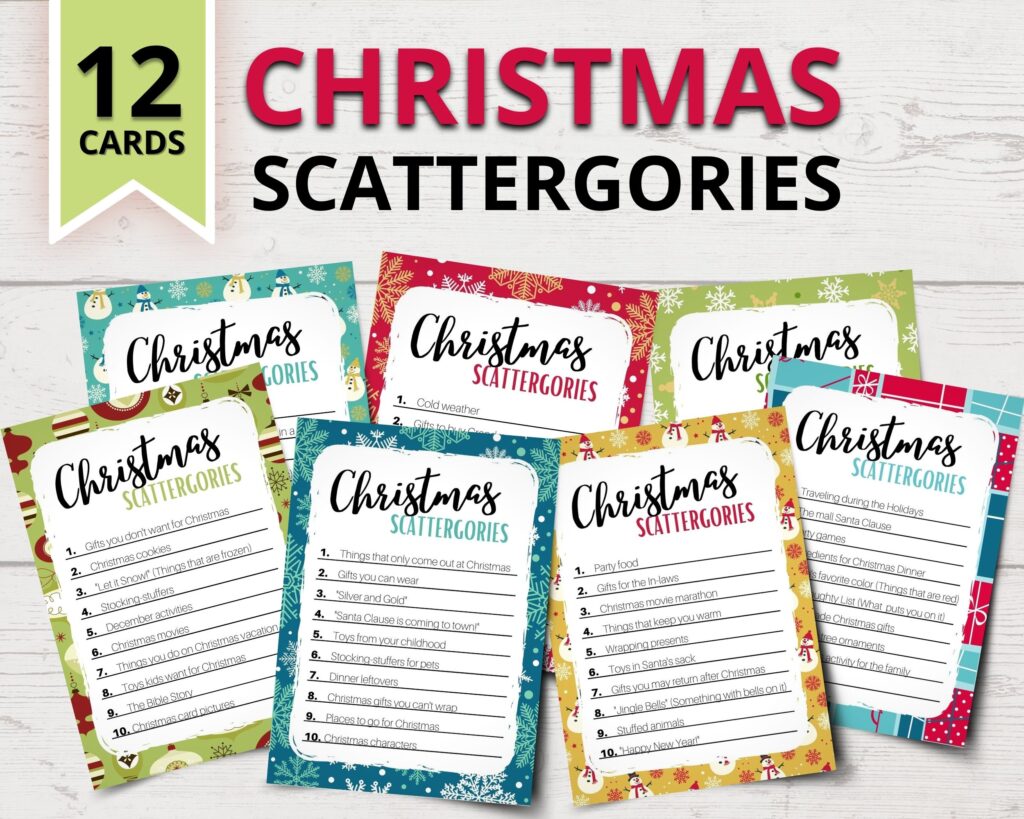 If you enjoy this game, be sure to also check out our Christmas Family Feud and Christmas Bible Trivia games!