Christmas is a time for many fun and festive activities, playing in the snow, playing Christmas board games, and singing Christmas songs. For many, the favorite Christmas tradition is giving gifts. This tradition is something that goes way back in history, and serves as a representation of the wise men giving gifts to baby Jesus in the nativity story. 
For many people, giving a gift is even more exciting than receiving one. To see the look of delight on a loved one's face when they unwrap the present you thoughtfully picked out is a brilliant feeling. 
Nowadays, there is certainly more than one way to give a gift. Many workplaces often take part in Secret Santa or White Elephant games. Choosing to give gifts this way adds a little fun to the process, and is also a way of sharing the Christmas spirit without having to buy lots of gifts.
An exciting game to play around gift-giving is the Left-Right Christmas game, which has become increasingly popular for a few reasons.
What is the Left-Right Christmas Game
This game makes for a different experience than a traditional White Elephant Christmas gift-giving game, wherein each person buys a gift and lays them all out for each person to choose one. Gifts are permitted to be 'stolen' or 'swapped' until each player has taken their turn. Meanwhile, in the Left-Right Christmas game, there is no swapping, so it is a little fairer. 
It is also different from Secret Santa, where participants are given an individual to anonymously give a gift to. Similarly, nobody knows from whom the gifts are in the Left-Right Christmas game. But, the gift buying is a little more of a challenge since you are looking to purchase an item that any member of the game would be happy with.
How to Play
The Left-Right Christmas game is centered around a story especially designed for the game. The participants sit around in a circle, holding a gift they have brought and wrapped. 
As the story is read aloud, the players must pass their gifts to the left whenever they hear the word "left" in the story. They must also do this if they hear the word "right", but this time they pass the gift to the person on their right. Once the story is over, you keep whichever gift you are currently holding.
Variations to Try
The Left-Right Christmas game can be a super fun experience for its players, because not only do they receive a gift, but they also have a laugh in the process. There are, of course, options to create your own version of the game. You could add other directions into the game such as up or down, and have some people sitting on chairs and on the floor to incorporate it. 
There is also the option to have each person read a line of the story in a funny voice, adding to the laughter the game creates. Trying new versions and adding in your own little quirks can be a fun way to ensure that everyone gets maximum enjoyment out of the game.
There are many Left-Right Christmas game stories that can be found online, or you may also like to try writing your own. It doesn't have to be the most creative story in the world, as long as it is fun and have plenty of 'lefts' and 'rights' included. Here are a few Left-Right Christmas stories to use during your Christmas festivities.
"Christmas Lights" Left-Right Christmas Story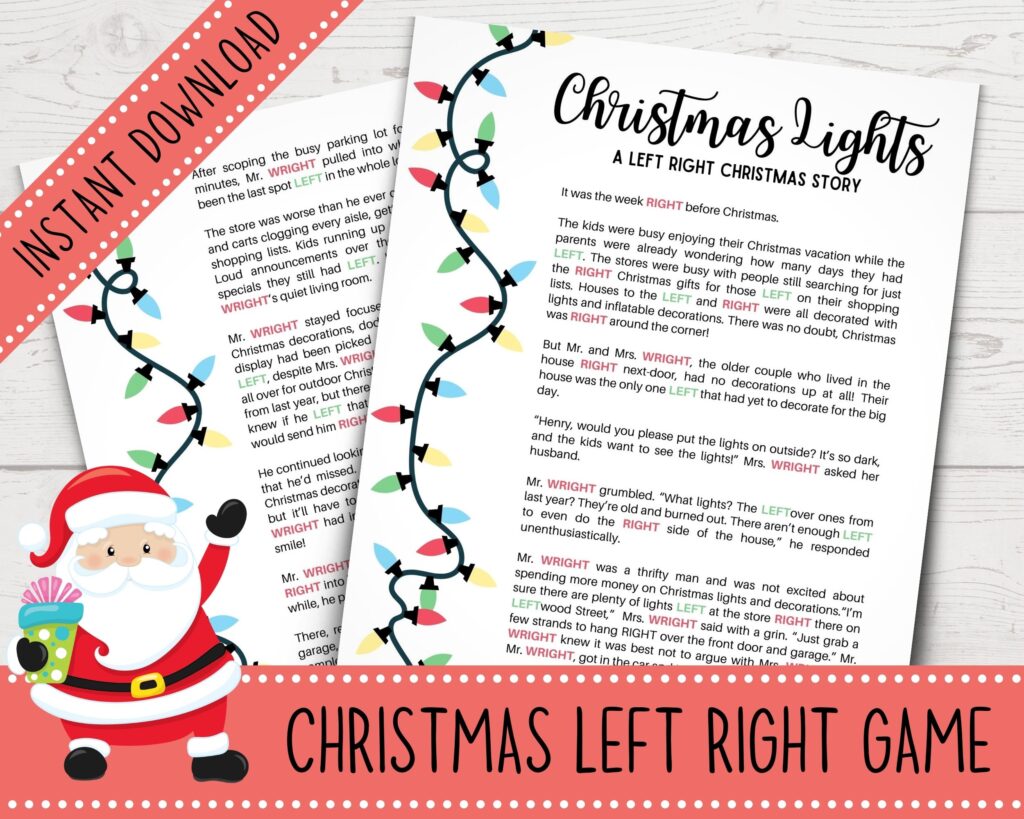 It was the week RIGHT before Christmas.
The kids were busy enjoying their Christmas vacation while the parents were already wondering how many days they had LEFT. 
The stores were busy with people still searching for just the RIGHT Christmas gifts for those LEFT on their shopping lists. 
Houses to the LEFT and RIGHT were all decorated with lights and inflatable decorations. There was no doubt, Christmas was RIGHT around the corner! 
But Mr. and Mrs. WRIGHT, the older couple who lived in the house RIGHT next-door, had no decorations up at all! Their house was the only one LEFT that had yet to decorate for the big day. 
"Henry, would you please put the lights on outside? It's so dark, and the kids want to see the lights!" Mrs. WRIGHT asked her husband. 
Mr. WRIGHT grumbled. "What lights? The LEFTover ones from last year? They're old and burned out. There aren't enough LEFT to even do the RIGHT side of the house," he responded unenthusiastically.
Mr. WRIGHT was a thrifty man and was not excited about spending more money on Christmas lights and decorations.
"I'm sure there are plenty of lights LEFT at the store RIGHT there on LEFTwood Street,"  Mrs. WRIGHT said with a grin. "Just grab a few strands to hang RIGHT over the front door and garage." 
Mr. WRIGHT knew it was best not to argue with Mrs. WRIGHT. So Mr. WRIGHT, got in the car and LEFT for the store. 
Stopped at the light RIGHT in front of the store, Mr. WRIGHT saw the packed parking lot and dreaded going into the busy store. RIGHT then, the light turned green and he turned RIGHT in to find a spot. After scoping the busy parking lot for what seemed like 30 minutes, Mr. WRIGHT pulled into what he assumed must've been the last spot LEFT in the whole lot. 
The store was worse than he ever could've imagined! Shoppers and carts clogging every aisle, getting everything LEFT on their shopping lists. Kids running up and down, LEFT and RIGHT. Loud announcements over the store's speakers about the specials they still had LEFT. It was much different than Mr. WRIGHT's quiet living room. 
Mr. WRIGHT stayed focused. He rushed RIGHT over to the Christmas decorations, dodging people LEFT and RIGHT. The display had been picked over already and there wasn't much LEFT, despite Mrs. WRIGHT's previous reassurances. He looked all over for outdoor Christmas lights to match the ones LEFT over from last year, but there was only one box LEFT on the shelf. 
He knew if he LEFT that store without a solution, Mrs. WRIGHT would send him RIGHT back out to another store.
He continued looking around, hoping to find some display LEFT that he'd missed. No luck. He wandered back to the outdoor Christmas decorations and looked up. There was only one LEFT, but it'll have to do. While it wasn't exactly what he or Mrs. WRIGHT had in mind, it was certainly going to make the kids smile! 
Mr. WRIGHT, now feeling excited about his purchase, pulled RIGHT into his driveway and got to work decorating. After a little while, he proudly called Mrs. WRIGHT out to see his work.
There, resting across the roof, RIGHT over the front door and garage, was a gigantic 18 foot-long inflatable Santa sled, complete with all nine reindeer, including Rudolph! 
"Well Henry, no one can say we didn't decorate the house!" Mrs. WRIGHT said as she laughed. "But Henry, how much was it?" 
Mr. WRIGHT smiled back at his wife. "It was the last one LEFT so it was on clearance. Just the RIGHT price for me!"
"Santa's Cookies" Left-Right Christmas Story for Kids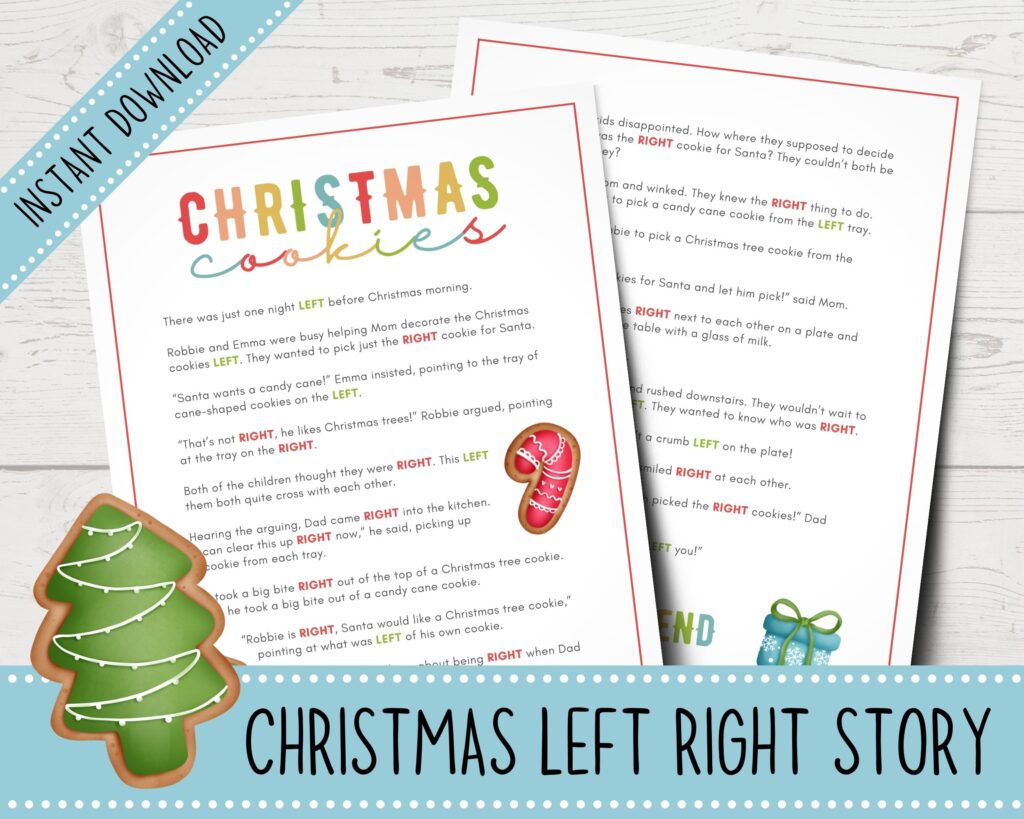 There was just one night LEFT before Christmas morning.
Robbie and Emma were busy helping Mom decorate the Christmas cookies LEFT. They wanted to pick just the RIGHT cookie for Santa.
"Santa wants a candy cane!" Emma insisted, pointing to the tray of cane-shaped cookies on the LEFT.
"That's not RIGHT, he likes Christmas trees!" Robbie argued, pointing at the tray on the RIGHT.
This LEFT both kids upset.
Hearing the arguing, Dad came RIGHT into the kitchen.
"I can clear this up RIGHT now," he said, picking up a cookie from each tray.
He took a big bite RIGHT out of the top of a Christmas tree cookie.
Then he took a big bite out of a candy cane cookie.
"Robbie is RIGHT, Santa would like a Christmas tree cookie," pointing at what was LEFT of his own cookie.
Robbie was about to brag about being RIGHT when Dad continued…
"But Emma is RIGHT too, Santa would enjoy one of Mom's candy cane cookies."
This LEFT the kids disappointed. How where they supposed to decide which cookie was the RIGHT cookie for Santa? They couldn't both be RIGHT, could they?
Dad looked at Mom and winked. They knew the RIGHT thing to do.
Mom asked Emma to pick a candy cane cookie from the LEFT tray. Then she asked Robbie to pick a Christmas tree cookie from the RIGHT tray.
"We'll leave both cookies for Santa and let him pick!" said Mom.
She placed both cookies RIGHT next to each other on a plate and LEFT them on the coffee table with a glass of milk.
Christmas morning came.
The kids woke RIGHT up and rushed downstairs. They wouldn't wait to see which cookie Santa LEFT. They wanted to know who was RIGHT.
To their surprise, there wasn't a crumb LEFT on the plate!
Mom and Dad walked in and smiled RIGHT at each other.
"I guess Santa thought you both picked the RIGHT cookies!" Dad laughed.
"Now let's see what presents he LEFT you!"
"Grinchmas Cookies" Christmas Left Right Story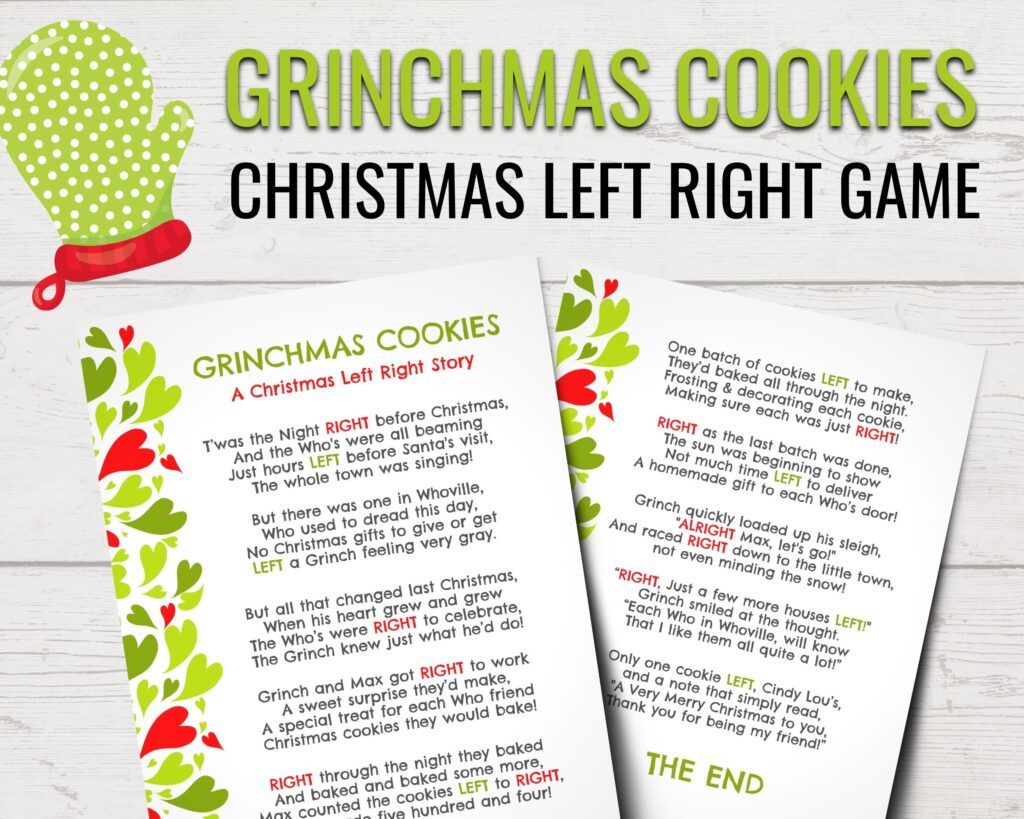 T'was the Night RIGHT before Christmas,
And the Who's were all beaming
Just hours LEFT before Santa's visit,
The whole town was singing!
But there was one in Whoville,
Who used to dread this day,
No Christmas gifts to give or get
LEFT a Grinch feeling very gray.
But all that changed last Christmas,
When his heart grew and grew
The Who's were RIGHT to celebrate,
The Grinch knew just what he'd do!
Grinch and Max got RIGHT to work
A sweet surprise they'd make,
A special treat for each Who friend
Christmas cookies they would bake!
RIGHT through the night they baked
And baked and baked some more,
Max counted the cookies LEFT to RIGHT,
They'd made five hundred and four!
One batch of cookies LEFT to make,
They'd baked all through the night.
Frosting & decorating each cookie,
Making sure each was just RIGHT!
RIGHT as the last batch was done,
The sun was beginning to show
Not much time LEFT to deliver
A homemade gift to each Who's door!
Grinch quickly loaded up his sleigh,
"ALRIGHT Max, let's go!"
And raced RIGHT down to the little town,
not even minding the snow!
"RIGHT, Just a few more houses LEFT!"
Grinch smiled at the thought.
"Each Who in Whoville, will know
That I like them all quite a lot!"
Only one cookie LEFT, Cindy Lou's,
and a note that simply read,
"A Very Merry Christmas to you,
Thank you for being my friend!"
Christmas Games You'll Want to Play
If you are looking for a fun new game to try at your next party, then why not give the Left-Right Christmas game a try? You won't have to spend a lot of money on a gift for the game, which is a great bonus. And you, your friends, and family will have a wonderfully fun time taking part in this great game! 
The Left-Right Christmas game is an ideal way to bring people together, and add some extra joy to the spirit of giving at this time of year. 
Whilst giving and receiving gifts is always a lovely thing to do, it is important that we don't get caught up in what we receive. Rather, enjoy the fun and the thought that has gone into it. 
Happy Christmas!