Christmas Bible Trivia is a fun and appropriate game to play during Christmas, especially when all of your family members are present or if you need a fun Christmas youth group activity. Make this game a part of your family tradition, and see who has been keeping up on their Bible studies throughout the year!
Celebrate the Christmas season with this set of Christmas Word Searches for Kids that focuses on the people and events around the birth of Jesus! Both easy and hard puzzles are included so there's something for everyone in this fun Christmas activity for your Sunday School or youth group!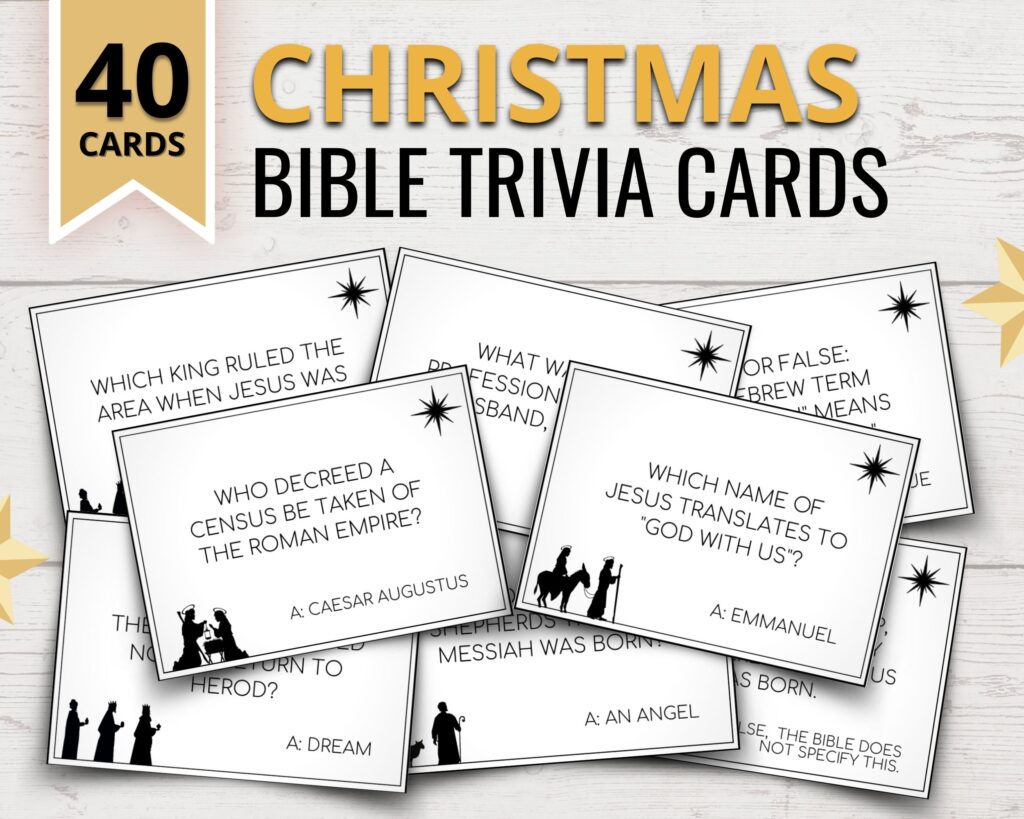 Christmas Trivia Questions
If you are planning a Christmas Bible trivia, and in need of some questions, here's a list we compiled for you and your family to use. The best part is, most of these questions are related to the birth of Jesus, making it the perfect Christmas Bible trivia to use!
Where in the Bible do we read about the Birth of Jesus?
Luke 2.
Who gave birth to Jesus?
Mary.
Which city did Mary and Joseph travel to for the census?
Bethlehem.
Who was Mary's cousin?
Elizabeth.
What city was Jesus born in?
Bethlehem.
Who appeared to tell Mary that she was with child?
The angel Gabriel.
How many miles did Mary and Joseph have to travel to get to Bethlehem?
90 miles.
How did Mary and Joseph travel to Bethlehem?
The bible doesn't specify, but it's been depicted with Mary on a donkey and Joseph walking beside her.
How many angels spoke to the shepherds?
One.
What time of the day did the angel speak to the shepherds?
At Night.
What sign were the shepherds supposed to look for when searching for Jesus?
A baby lying in a manger wrapped in swaddling clothes.
Who followed a star to find baby Jesus?
The wise men.
Where was Jesus laid after he was born?
In a manger.
What is a manger?
A feeding trough.
How many wise men were there?
It is not specified, but it is believed to be three, as three gifts were brought to Jesus.
What gifts did the wise men bring to baby Jesus?
Gold, incense, and myrrh.
What gift from the Wise Men was a symbol of royalty? 
Gold.
Where was Joseph originally from? 
Bethlehem.
Who was the one trying to kill Baby Jesus?
King Herod.
Who was the prophet that foretold a virgin shall give birth to a son called Emmanuel?
Prophet Isaiah.
What are the five names of Jesus found in the Bible?
Jesus, Emmanuel, Christ, the Mighty God, the Prince of Peace
Which direction did the wise men travel to, going to Jerusalem?
Westward.
Where did Jesus' family flee to from Bethlehem?
Egypt.
What else did the wise men do aside from give Jesus gifts?
They kneeled down and worshiped him.
What does the name Emmanuel mean?
"God with us."
True or False Questions
Test your knowledge with these tricky true or false Christmas Bible trivia questions.
The Bible says Jesus was born in December.
False. (The Bible does not state the exact date of Jesus' birth.)
Christmas wasn't celebrated for over 300 years after Jesus died.
True. (The first Christmas was celebrated on December 25th, 336 A.D.)
The story of the Little Drummer Boy is found in the book of Mark.
False. (The Little Drummer Boy is a fictional story.)
Joseph is the father of Jesus.
False. (Trick question, God is the Father.)
Mary had other children after Jesus.
True. (Mark 6:3 seems to suggest Jesus had brothers and sisters.)
The Bible says sheep and other barn animals were present at Jesus' birth.
False. (No animals are specified.)
The three wise men were present at Jesus' birth.
False. (They visited Him as an infant.)
Bethlehem is known as the city of Abraham.
False. (It is the City of David)
Trivia Game Guide
There are always more fun ways you can go about doing trivia with your friends and family. To add more fun and variety to your Trivia Game night, why not try these other forms of playing a trivia game?
Pop Quiz
When everyone is together in the room, announce, "pop quiz!" like teachers do in grade school. Give everyone paper and pens, recite one question at a time aloud, then go over the answers as a group and see who got the most correct answers.
Jeopardy Style
Make it a game of Jeopardy, where the answers are given in question form. Award higher points for harder questions, and you can even customize your own Jeopardy game board!
Multiple Choice
Just like exams, everyone can be given a printout of the questions with multiple possible answers to choose from.
Raise Hands
Ask questions out loud and call upon the first person to raise their hand. For every correct answer, give a corresponding bead or token to the person who got it right. The goal is to have the most number of tokens at the end of the game!
Hat Trivia
Put all the trivia questions in a hat and go around the room, and let each person draw a question. They read it aloud and give their answer. If correct, they hold onto their piece of paper. And if wrong, it goes back in the hat for someone else to answer.
Christmas Bible Trivia is a fun game to play with family, so give it a try! It's a game that would exercise your memory and requires you to think fast. Everyone–from kids to adults–would surely enjoy the game.
Also, be sure to check out Christmas Bible Verses to Share for Scripture for the holidays!
Get the Matching Christmas Bible Word Search Bundle and Crossword on Etsy!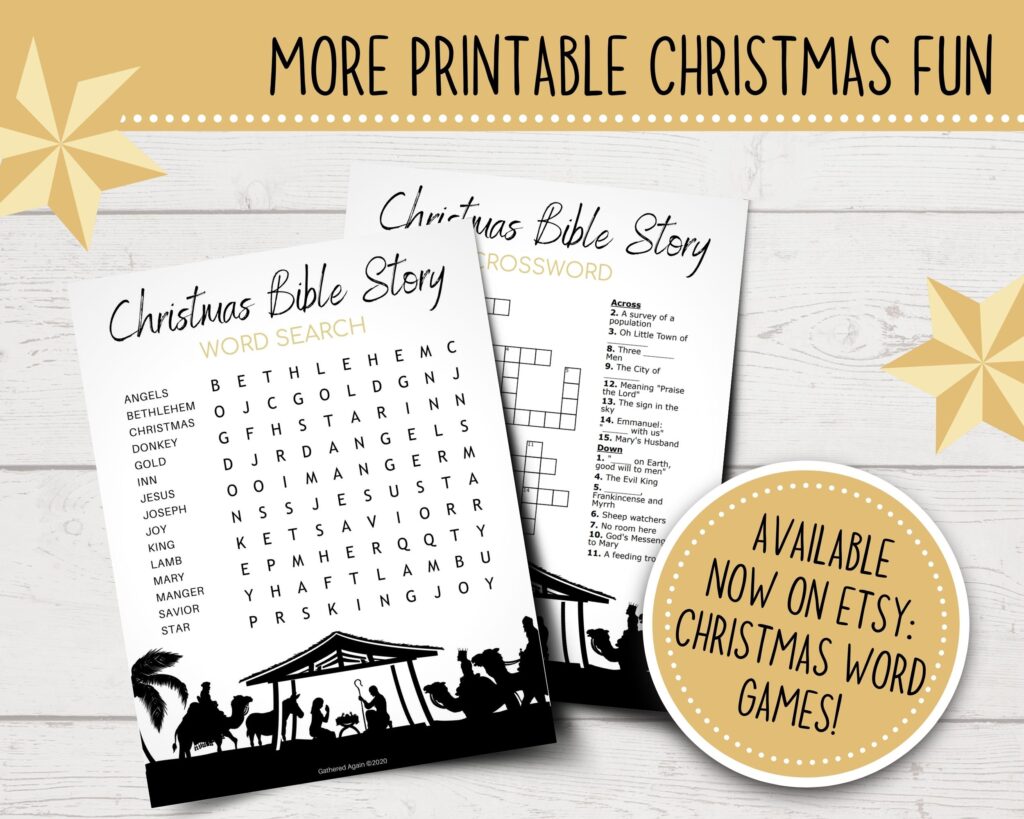 [no_toc]