Christmas is around the corner, and with it comes many festive holiday traditions. Our family started a new tradition this year, surprising neighbors by secretly leaving Christmas gift baskets at their door, a tradition called "Elfing," "You've Been Elfed," or "You've Been Jingled."
If you are looking for great "You've been Elfed" gift ideas that your neighbors will love, check out this list. These gifts are perfect for adding to an elf basket because they're small, easy to find, and best of all, affordable!
Christmas Snacks and Treats
Christmas foods are a great addition to an elf baskets because there are so many delicious treats that are only available this time of year. Here is a list of my favorite festive Christmas foods, drinks, and treats.
Sugar cookies
Chocolate chip cookies
Gingerbread cookies
Shortbread cookies
Biscotti
Cake pops
Candied apples
Candy canes
Chocolate bars
Peppermint bark
Hot cocoa packets
Hot cocoa bombs
Marshmallows
Jar of hot fudge
Apple cider spices
Holiday coffee blends
Chex Mix
Moose Munch
Chocolate covered pretzels
Caramel popcorn
Fruitcake
Candied nuts
Roasted nuts
Popcorn
Popcorn seasoning
Dip seasoning mixes
Spice blends
Christmas Baking & Kitchen Gift Ideas
Odds are good that your family, friends, and neighbors will be spending more time cooking in the kitchen during the holidays. With that said, here's a list of baking ingredients and kitchen tools that will make the job easier!
Sugar cookie mix
Red velvet cake mix
Can of frosting
Cake decorating kit
Food coloring set
Cupcake liners
Cookie cutters
Vanilla extract
Sanding sugars
Sprinkles
Peppermint extract
Oven mitts
Festive Spatula
Whisk
Measuring cups
Sponges
Holiday-scented dish soap
Christmas-themed dish towels
Cookbook
Serving utensils
Cutting board
Serving tray
You've Been Elfed Gifts for Kids
Perhaps the most excited to find a surprise on their doorstep will be the kids in the neighborhood! Here are a bunch of great "You've Been Elfed" gift ideas for kids!
Christmas light necklace
Santa hat
Dress-up Rudolph nose
Red or green glow sticks
Funny Christmas glasses
Small plush toy
Bouncy balls
Bubbles
Christmas stickers
Sidewalk chalk
Crayons
Play-doh
Pop it fidget toys
Christmas storybook
Bath crayons
Bath color tablets
Hot wheels car
Christmas coloring book
Temporary tattoos
Water Wow! Activity pads
Christmas Fun and Games
Kids young and old will love these fun activities and games! Be sure to also check out our printable Christmas games! You can print several copies to share if you're making multiple baskets!
Uno card game
Skipbo card game
Phase 10 card game
Playing cards
Farkle dice game
Qwixx dice game
Travel size Battleship
Rubik's Cube
Jigsaw puzzle
3D puzzle
Word search puzzle book
Sudoku puzzle book
Christmas Gift Ideas for the Home
Everyone is getting their homes ready for the holidays, so why not include some festive decorations and home goods to your elf basket! What I love about these gifts is that they last longer than the candy canes and popcorn!
Christmas ornament
Picture frame ornament
Candle holder
Holiday-scented candle
Christmas figurine
Christmas gift tags
Nightlight
Coasters
Christmas-themed notepad
Pens and pencils
Christmas Magnets
Holiday-scented air freshener
Christmas-themed hand towels
Coffee mug
Thermos
Acrylic drink cups
Miniature Christmas tree
Small throw blanket
Throw pillow cover
Beauty and Bath Gift Ideas
If you're planning to give a "You've Been Elfed" gift to a female friend, coworker, or neighbor, include one of these pampering products!
Holiday-scented hand soap
Handmade bar soap
Holiday-scented hand lotion
Sugar scrub
Bath bomb
Bath salts
Loofah
Exfoliating gloves
Body brush
Shampoo
Conditioner
Leave-in conditioner
Lip balm
Makeup sponges
Makeup brushes
Sparkly eyeshadow palette
Cozy socks
Nail polish
Nail file set
Hair ties
Velvet scrunchies
Hair clips
Cosmetic travel bag
Essential oils
Don't Forget the Printable "You've Been Elfed" Poem!
Make sure that once you've packed up all your goodies in your elf basket, that you include the "You've been Elfed" Poem with instructions! This is an important step because not everyone who is being visited by the Christmas Elf is familiar with the tradition!
Get our You've been Elfed printable below!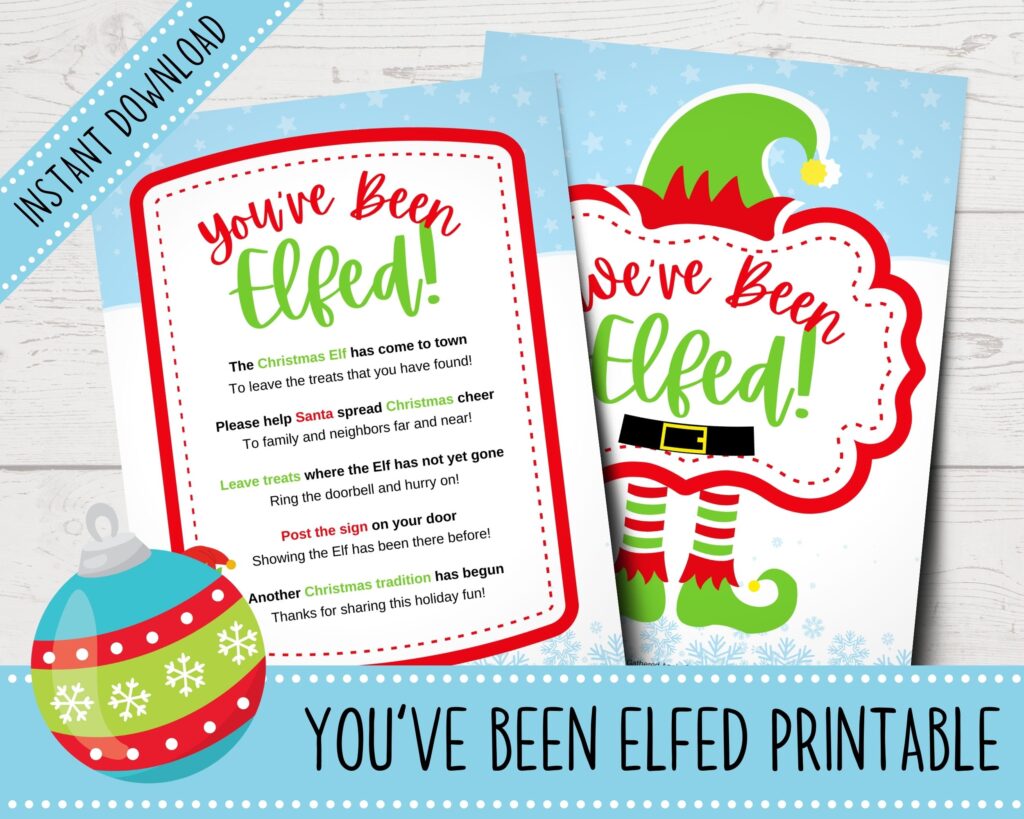 I hope you enjoyed this list and if you have any more great ideas that we missed, let us know!
Merry Christmas and Happy Elfing!