This year, we moved to a new neighborhood and learned about a fun Halloween gift-giving tradition called "Booing!" We had so much fun 'booing' neighbors, that it made we wonder, "Is there a Christmas version of booing?"
Yes, the Christmas version of "booing" is called "elfing!" and it's a great way to spread some Christmas cheer through your neighborhood!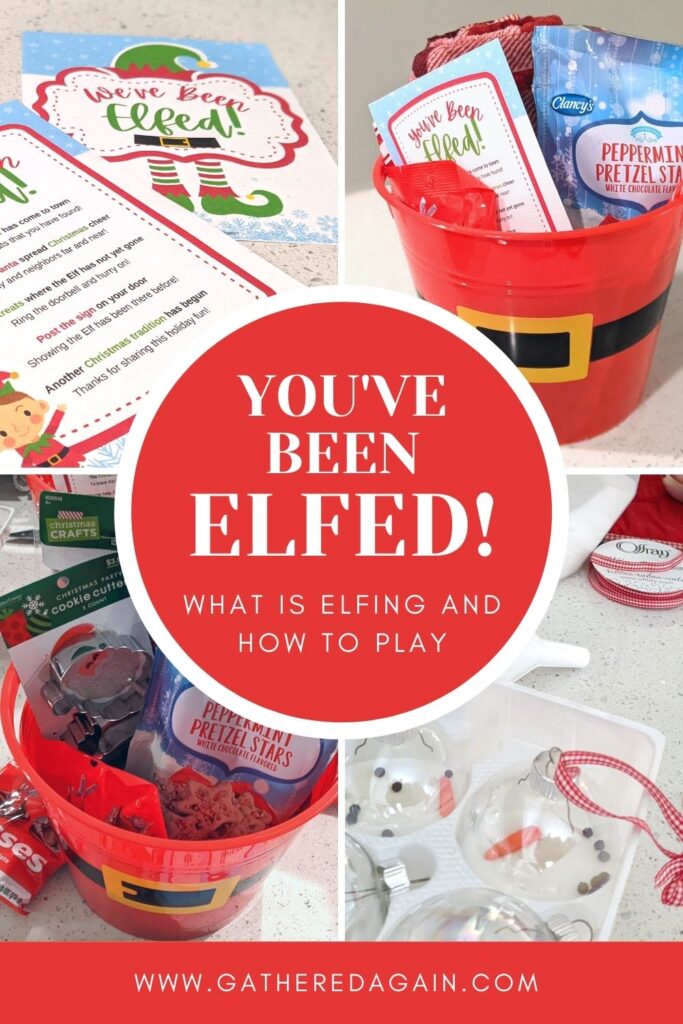 What is Elfing?
Elfing, also known as "You've been Elfed" and "You've been Jingled", is a Christmas tradition where you secretly give gifts to your neighbors.
This tradition starts in December, usually during the weeks leading up to Christmas day. The fun begins when someone volunteers to be the first "Elf" of the season. To start, they will make a treat basket, sometimes 2 or more, and secretly deliver it to a neighbor's doorstep.
When someone receives an elf basket at their door, it's now their turn to continue the game by elfing someone else.
The ultimate goal is to make sure everyone in the neighborhood has been elfed!
What To Do If "You've Been Elfed"
When we got our first basket, I had no idea what it was for! But after some quick Googling, I've got the steps pretty well understood!
What to do if you've been elfed:
Step 1: Hang the "We've been Elfed" sign on your front door or window. This lets others in the community know the Elf has already visited you and should find another who hasn't been visited yet.
Step 2: Create 1-2 elf baskets filled with treats. Include a printed You've been Elfed Poem with instructions for your recipient to follow.
Step 3: Time for you to play the elf and leave a basket at the doorstep of someone who hasn't been elfed yet.
Optional: Snap a picture of the basket you received and share it to the neighborhood Facebook page if your neighborhood or street has one.
We do this in our neighborhood group and it definitely gets everyone excited about the tradition and keeping it going!
What Should You Put in Your Elf Basket?
Whether you're starting the elfing or passing it along, making an elf basket is a ton of fun! Everyone loves to receive gifts, but as most know, it's more fun to give than to receive!
There are so many creative things you can put in an elf basket to bring a smile to a neighbor's face!
To start your basket, you'll need a container to store your treats. I went to Dollar Tree and found these cute plastic Christmas themed bucket that was big enough for lots of goodies.
Holiday baskets, buckets, gift bags, cups, mugs, planters, and tins are great containers for an elf basket. Once you've got your container, it's time to fill it.
How Much Should You Spend on an Elf Basket?
Elf baskets are small gifts, after all, they're from 'elves', right? You should not feel pressured to spend lots of money on your baskets.
I kept our baskets around $20-25 each, but a $10 budget can still create a great basket!
*Tip: If you're making multiple baskets, look for sets you can divide for each basket. Ornaments and individually wrapped foods are perfect for this.
Some communities may decide to do larger elf baskets with wrapped gifts,
Elf Basket Ideas Everyone Will Like
Keep in mind who you're planning on gifting your basket to. Is it a family with kids or retired couple with pets? This will help you figure out things to fill your basket with.
If you plan on surprising a household you don't know, there are
Here are some easy and festive elf basket ideas any of your neighbors will enjoy:
Candy canes
Chocolate and candy (we chose Hershey Kisses and Sour Patch Kids)
Hot cocoa packets
Christmas mug
Snack mix
Popcorn
Sugar cookie mix
Cookie cutters
Packaged cookies
Festive pens/pencils

Ornaments

(Handmade ones are even better!)
Small decorations
Christmas-themed crafts
Stickers
Santa hat
Cozy socks
Gift tags
Notepad
Hand soap
For even more ideas, check out: 125+ "You've Been Elfed" Gift Ideas!
Don't forget to include a "You've Been Elfed!" printable with instructions and sign to post.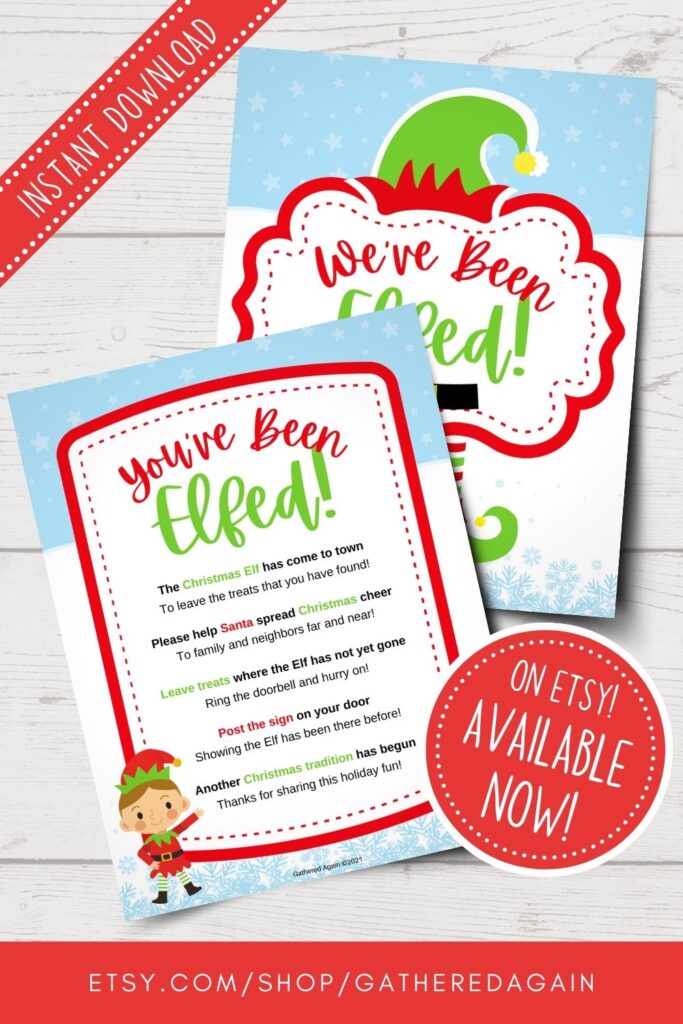 Elfing is the best way to spread Christmas cheer, because it embodies what the holidays are all about. It's not about getting credit, or even giving big expensive gifts. It's about begin generous, charitable, and thoughtful.
It reminds your neighbors that they're not on an island by themselves. It tells people that there are others who care about them.