Attention all youth group members and Sunday school attendees! Get ready to sharpen your Bible knowledge with an exciting game that will have you racing to find verses and recite them with lightning speed. Yes, we're talking about Bible Sword Drills! Not only is it a fun competition, but it's also a great way to become familiar with where different books and verses are located in the Bible.
Why are they called Bible Sword Drills? Because in Ephesians 6:17, the Bible is referred to as the "Sword of the Spirit." So, grab your swords (or Bibles) and get ready to delve deep into the pages of the holy book. Let's see who can come out on top in this ultimate test of Bible knowledge!
What Are Bible Sword Drills?
Bible Sword Drills is a fun, fast-paced Bible game, where players race against each other to be the first to locate a Bible verse and read it aloud. It is basically a race to find a verse in the Bible.The goal of Bible Sword Drills is to help players learn the order of the books in the Bible.
This game is very easy to learn, but winning can definitely be a challenge! And like with so many other games, the more you practice and play, the better, (and faster) you'll get at locating Bible verses in record speed!
What You'll Need
Leader: Game leaders need to prepare a list of Bible Sword Drill verses. This list should include verses from both the Old and New Testaments, as the goal of the game is to practice the order of the books of the Bible. We provided a list of Bible verses at the end of this article.
Players: Players only need one thing to play this game; their Bibles! Each player will use a Bible to search for verses during the game. 
King James Version (KJV) and New International Version (NIV) are the two most popular translations are most often used for Bible Sword Drills.
Bibles with index tabs are usually not permitted as they allow faster navigation and offer an unfair advantage.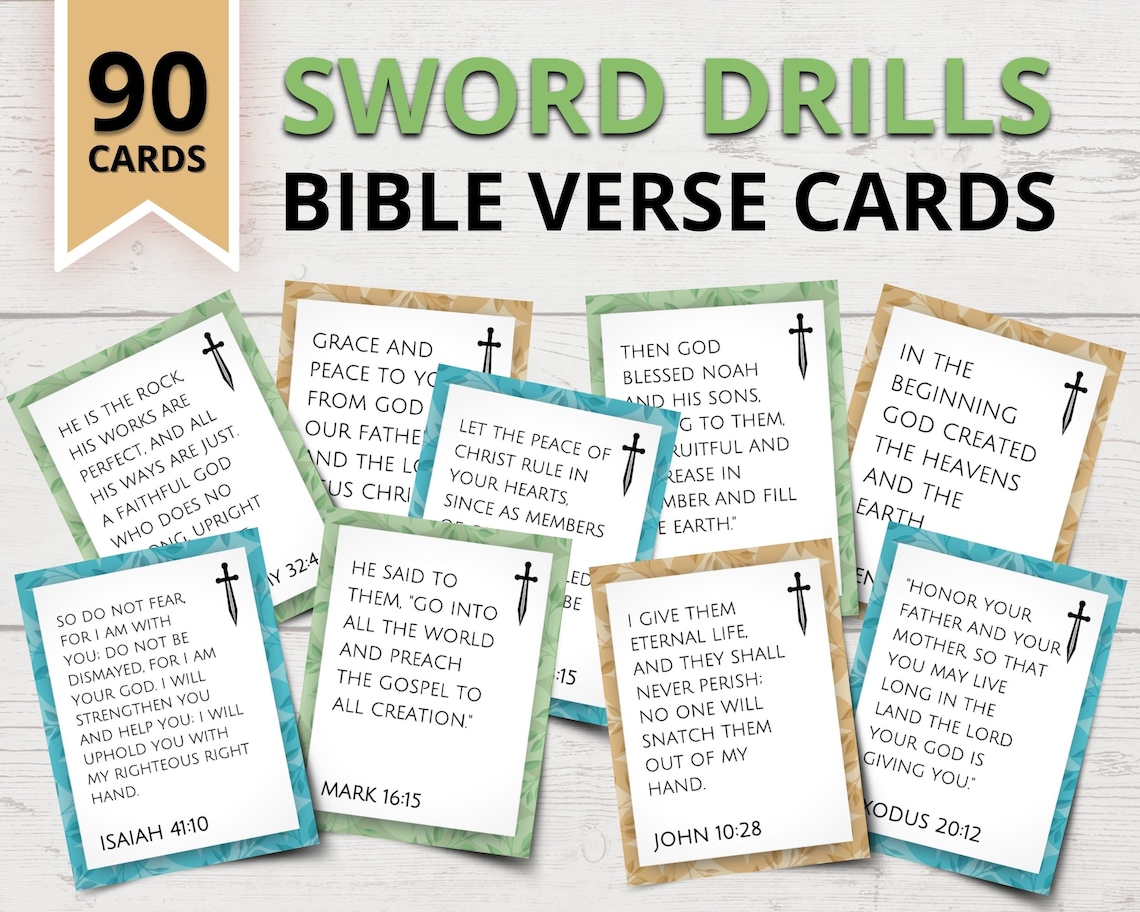 Our New Printable Bible Sword Drill Verse Cards feature Bible verses from both the Old and New Testaments. Each volume of our Printable Bible Sword Drill Verse Cards includes 90 unique and thoughtfully-selected verses.
Each card includes the full Scripture verse from the NIV translation. This means the game leader does not have to find the verse themselves during the round, keeping the game running smoothly.
For more information and to get your own copy, check out our Gathered Again Etsy Shop!
How To Play
To start the first round, the leader will say "Swords Ready!"
All other players will hold their closed Bible in the air. The spine should be in the palm of their hand.
When everyone's Bibles are up in the air, the leader will pick up a Bible Sword Drill card from the pile and loudly read the book, chapter, and verse number on the card. Do NOT read the Scripture on the card.
After repeating only the book, chapter, and verse number, the leader will shout, "Charge!"
Players begin searching their Bible for the verse. The first person to locate the verse must stand and recite it aloud. The leader will verify the verse matches the card and the player earns a point. This completes the round.
Players return to "Swords Ready!" position. The leader will select another card and repeat steps 3-5 until the game is over.
The game ends with the 10th and final round. At the end of the last round, the player, or team with the most points wins.
*It will take roughly 15 minutes to play 10 rounds.
Game Variations to Try
If you're looking to mix up your Bible Sword Drills, here are two easy variations that can add a little extra competition to the game!
Team vs Team:
Divide your players into teams. Boys vs Girls is great if you have a fairly even number of group in your group. Everyone in the group will still participate during each round. The winner of each round will earn a point for their team.
Face-Off Battle:
If you have a limited number of Bibles, consider trying this variation, which only requires one per team. Divide the group into two teams. One player from each team will face off against each other. The winner earns a point for their team.
Code Word:
This variation requires all the Bible verses in a game to have a common word within them, which we call the "Code Word". For example, each verse could contain the word "faith", "strength", or "love". The first player to correctly identify the code word earns one extra point.
*Players may only guess once. If they guess incorrectly, they may not guess again.
Bible Sword Drills Verses List
Here is a list of ten of our favorite Bible verses:
 John 14:16 – Jesus answered, "I am the way and the truth and the life. No one comes to the Father except through me."
Romans 10:9 – If you declare with your mouth, "Jesus is Lord," and believe in your heart that God raised him from the dead, you will be saved.
Galations 5:22 – But the fruit of the Spirit is love, joy, peace, patience, kindness, goodness, faithfulness
Deuteronomy 6:6 – These commandments that I give you today are to be on your hearts.
Jeremiah 29:11 – For I know the plans I have for you," declares the LORD, "plans to prosper you and not to harm you, plans to give you hope and a future.
Matthew 11:28 – "Come to me, all you who are weary and burdened, and I will give you rest."
2 Corinthians 5:17 – Therefore, if anyone is in Christ, the new creation has come: The old has gone, the new is here!
Isaiah 9:6 – For to us a child is born, to us a son is given, and the government will be on his shoulders. And he will be called Wonderful Counselor, Mighty God, Everlasting Father, Prince of Peace.
Philippians 4:6 – Do not be anxious about anything, but in every situation, by prayer and petition, with thanksgiving, present your requests to God.
1 John 1:7 – But if we walk in the light, as he is in the light, we have fellowship with one another, and the blood of Jesus, his Son, purifies us from all sin. 
Bible Sword Drills Are Fun For Everyone!
When I was an elementary student in a Christian school, Bible Sword Drills were my favorite part of Bible class! Our Bible teacher would surprise us with a round of Bible Sword Drills if we had extra class time before the bell rang. It was always the highlight of our school day!
But Bible Swords Drills aren't only for kids! They can be fun and challenging for everyone, even Grandma and Grandpa! So whether you're planning a round in your Sunday school classroom, or mixing things up during Family Game Night, Bible Sword Drills are a great way to spend some quality time together in the Word!