When it comes to the Fourth of July, the day often brings to mind barbecues, fireworks, and, of course, a sense of unity as we come together to celebrate our nation's independence. But what truly makes this day special are the memories we create with our loved ones.
This year, why not add a new tradition to your Independence Day celebrations? To help you do just that, we've rounded up ten fun and patriotic Fourth of July games that the whole family can enjoy. These games are not only a great way to keep the kids entertained, but they also offer an opportunity for the entire family to bond and share a few laughs.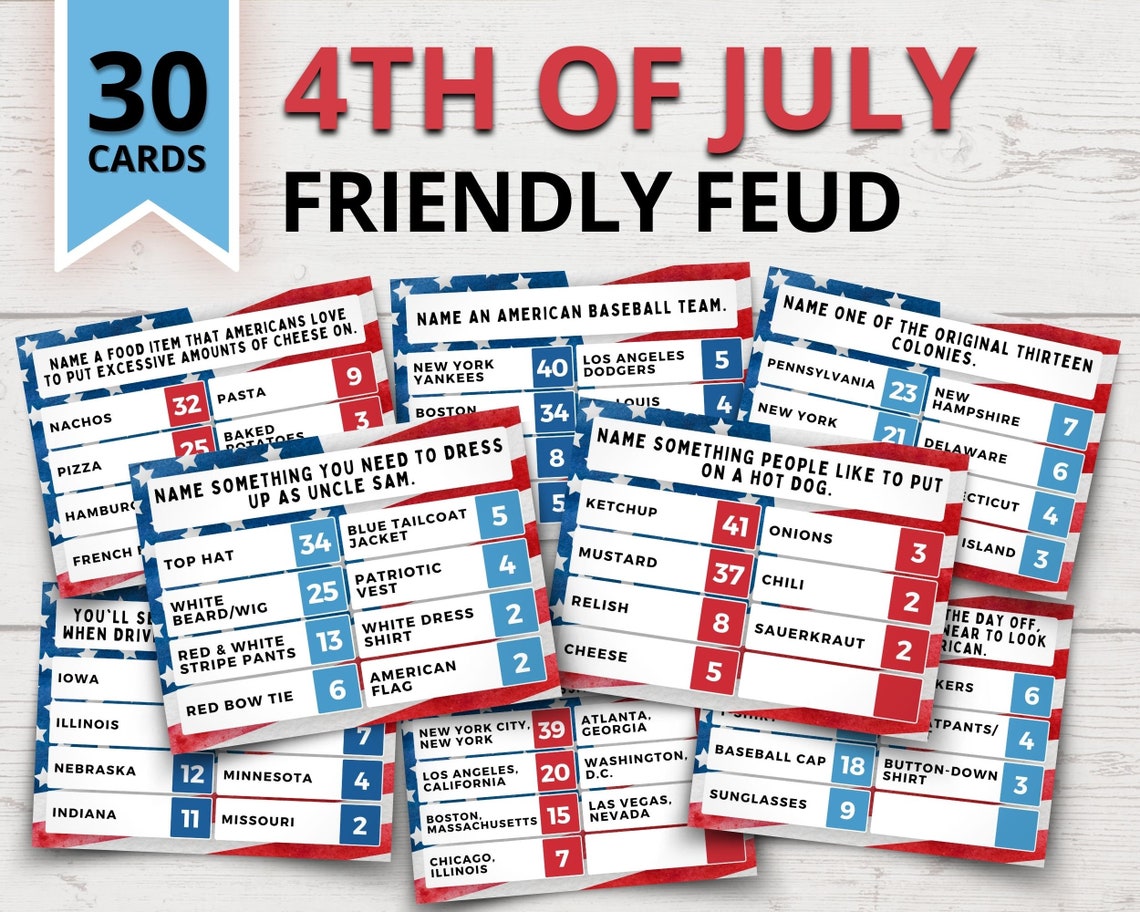 First on our list is the 4th of July Friendly Feud, a printable game available on our Etsy shop. This game is a patriotic spin on the classic Family Feud and is designed to engage all family members, from the youngest to the oldest. The game includes a range of questions related to Independence Day and American history, with points awarded for the most popular answers. It's a fantastic way to test your knowledge while having fun. Plus, it's a great conversation starter that can lead to interesting discussions about American history and values.
4th of July 5-Second Game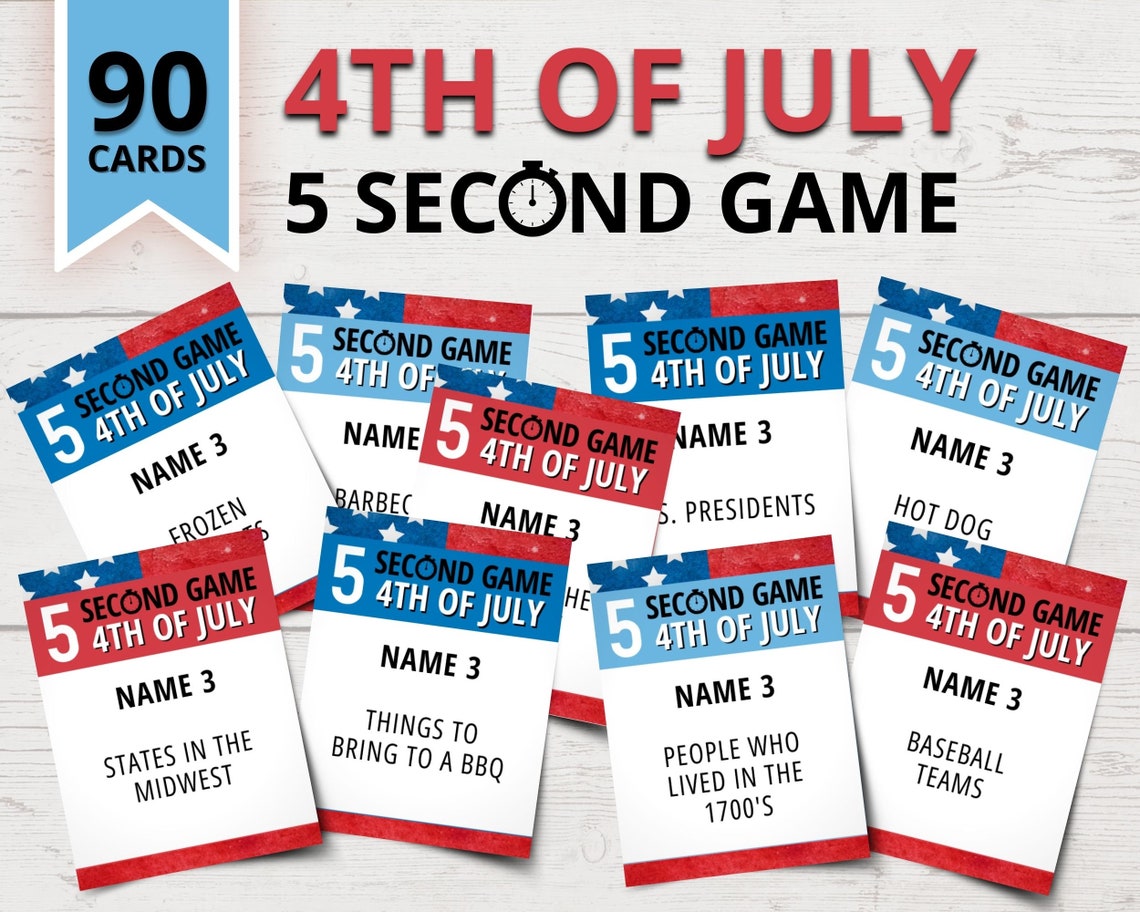 Next, we have the 4th of July 5-Second Game, another printable gem from our Etsy shop. As the name suggests, this game challenges players to name three items related to a given category within just five seconds! The categories are all themed around the Fourth of July, so you might be asked to name three types of fireworks, three patriotic songs, or three founding fathers. This fast-paced game is sure to bring out competitive spirits and create plenty of laughter.
4th of July Taboo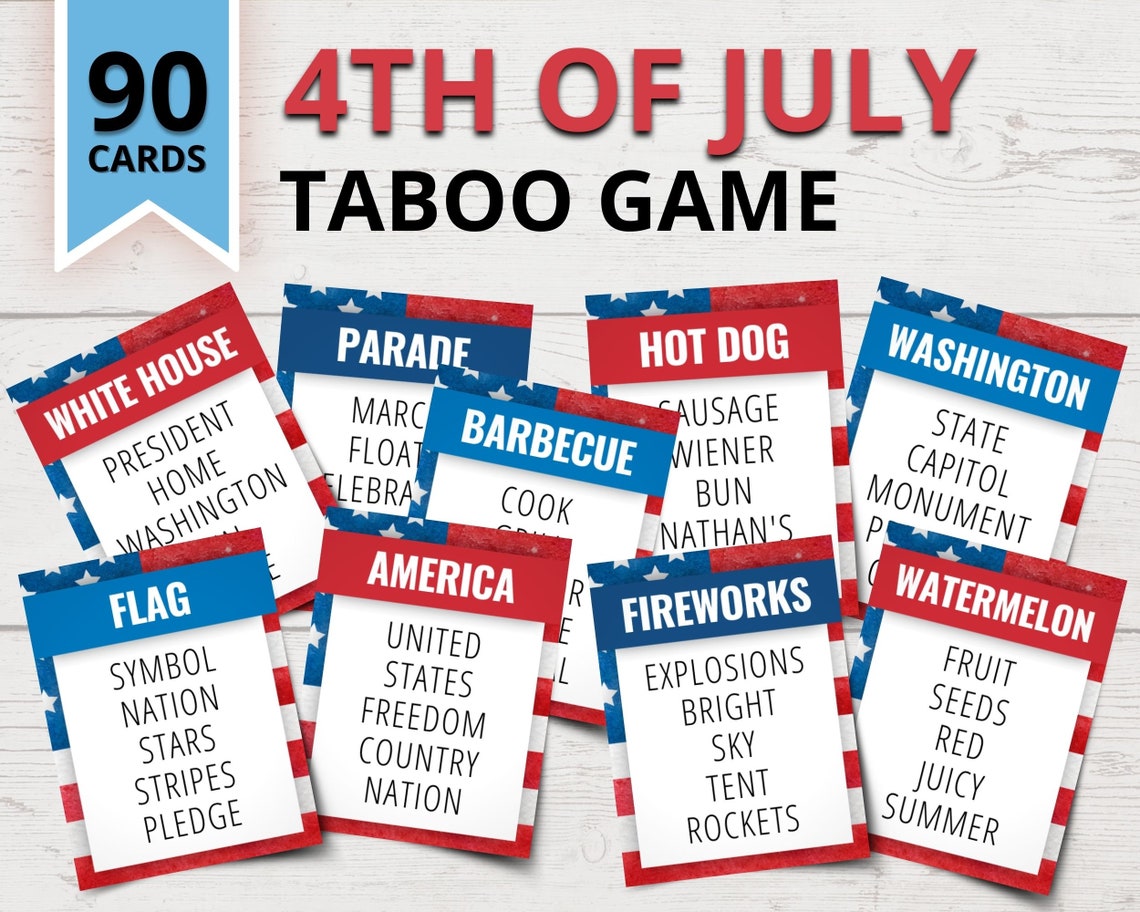 Our 4th of July Taboo game puts a patriotic spin on the popular party game. Players must describe a word or phrase related to the Fourth of July without using any of the 'taboo' words listed on the card. It's not as easy as it sounds, especially when you're racing against the clock! This game is sure to challenge your vocabulary and your quick-thinking skills, all while keeping the theme of Independence Day at the forefront.
Patriotic Scavenger Hunt
Scavenger hunts are always a hit with kids and adults alike. For the Fourth of July, consider organizing a patriotic scavenger hunt. You could hide small American flags around your backyard, or create a list of patriotic-themed items for participants to find around the neighborhood. Don't forget to reward the winners with a special Independence Day treat!
Flag Relay Race
A flag relay race is a great way to get everyone moving. Divide your group into two teams, and give the first person on each team a small American flag. The goal is for each team member to race to a certain point and back, then pass the flag to the next person in line. The first team to have all members complete the relay wins!
Independence Day Trivia
Test your family's knowledge of American history with an Independence Day trivia game. You can come up with your own questions, or use a printable trivia game. This can be a fun and educational way to learn more about the history of the Fourth of July.
Water Balloon Toss
In the heat of July, a water balloon toss is a great way to cool down. Plus, it adds an element of excitement (and a bit of friendly competition) to the day's activities. You can make the game more festive by using red, white,and blue water balloons.
Horseshoes
The game of horseshoes is a classic outdoor activity that's perfect for Fourth of July celebrations. It's easy to set up, and it can be played by people of all ages. The objective of the game is to throw horseshoes at a stake in the ground with the goal of getting them as close to the stake as possible or even encircling it. This game requires a combination of skill, strategy, and a little bit of luck, making it a fun and engaging option for your Fourth of July party.
Three-Legged Race
A three-legged race is a classic picnic game that can easily be incorporated into your Fourth of July festivities. To make it more festive, consider using red, white, and blue bandanas or scarves to tie participants' legs together.
Cornhole
Rounding out our list is Cornhole, another classic outdoor game that's perfect for Fourth of July parties. In this game, teams take turns tossing bean bags onto a board with a hole in it, aiming to get the bag into the hole or at least onto the board for points. It's a game of precision and finesse, and it can get highly competitive. Best of all, it's easy to add a patriotic spin to Cornhole by using red, white, and blue bean bags or painting the Cornhole boards in patriotic colors.
Final Thoughts
Adding games like the 4th of July Friendly Feud, 4th of July 5-Second Game, and 4th of July Taboo to your Independence Day celebrations can truly elevate the fun. These games can bring everyone together, create a lively and enjoyable atmosphere, and make your Fourth of July party, family gathering, or community event even more memorable. So, this Independence Day, let's embrace the spirit of unity, celebration, and friendly competition with these fun and patriotic games. Happy Fourth of July!