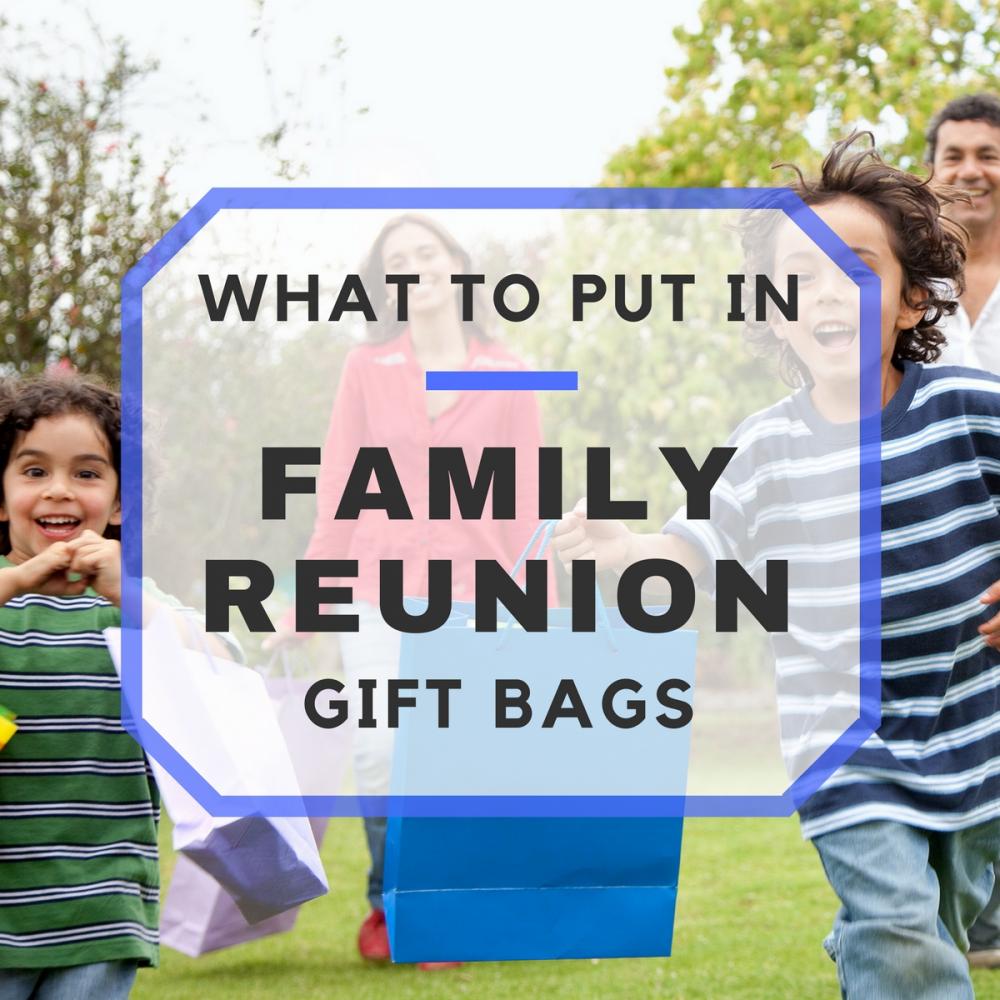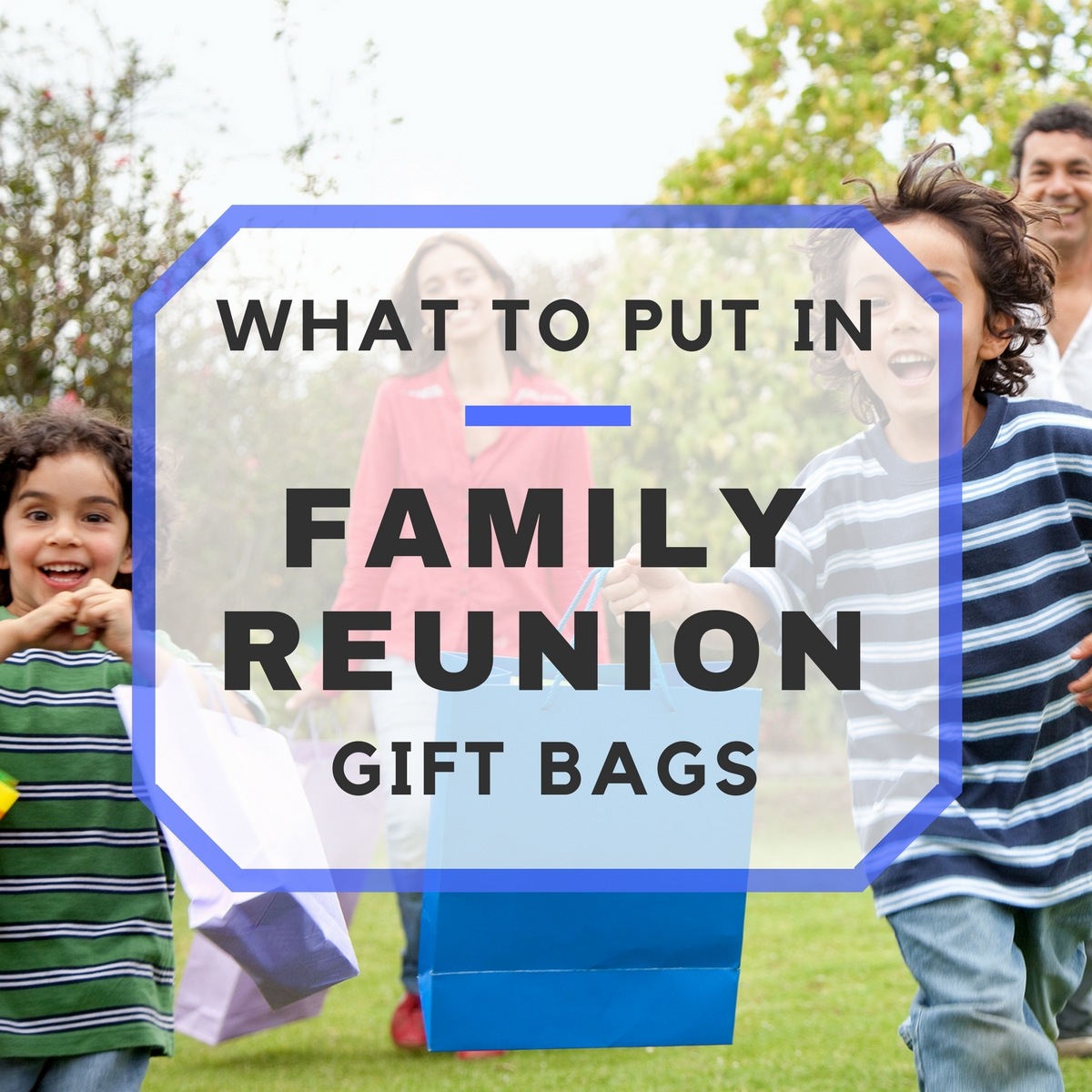 ---
We hope you love the recommendations in this article. Just so you know, we may receive compensation from the links on this page. Also, all products were available at the time of writing. If you notice any that aren't, just let us know!
---
Every party needs party favors, and a family reunion is not just any party! When it comes to partying, nobody does it better than family. Such a great time should be met family reunion gift bags containing something that will spark amazing memories for a lifetime.
Here is a list of 25+ perfect family reunion gift bag ideas!
Gift for Mom & Dad
Keepsakes
Family reunion poem scroll
Write an original poem about your family, print it on nice paper and roll them up into little scrolls, tying them off with a nice ribbon.
Mini photo albums
There will be so many pictures taken and not enough places to put them, mini photo albums are cheap and easy to personalize!
Photo frames in family reunion gift bags will definitely be used for that perfect picture snapped at the reunion!
Food Related
Canned family recipe
Have a family-famous recipe? Can it up and stick some labels on it because it's going in the family reunion gift bags!
Coffee mugs
These are an easy favor to have personalized, also. Don't forget to include little samples of coffee, tea or hot cocoa!
Family reunion cookbook
Having a potluck? That's even more perfect! Collect all of the recipes, make copies on nice paper, bind them and you have a family cookbook!
Odds and Ends
These are easy to personalize and don't cost too much. Pair that up with the lovely scents available and candles are a very nice, general gift that anyone can use. Consider choosing a candle that fits your reunion theme, or perhaps a family joke.
Fan
If it's going to be a hot day, make some fans out of large popsicle sticks and heavy cardstock. Print fun messages on them!
Chances are, a lot of your family traveled to go to the reunion, so they obviously need some luggage tags, right?
Scratch offs or lotto
Okay, not exactly personal, but if you have quite a lucky family (because they're related to you and everything), then add one of these in their bags! Make sure you get the most time consuming ones that way you get the most for the dollar. Who knows, maybe someone will win and have a very fond memory!
Gift for the Kids
Outdoor Fun
Bubbles
You can buy any bubbles and print labels to stick on, that say whatever you wish!
Everyone can appreciate a frisbee, even the family dog!
Kites
Forecasted to be a breezy day? Who doesn't enjoy flying kites, seriously?
Tubs of chalk
Put chalk mason jars if you can't find little tubs of chalk, spray the lid with chalkboard paint and write each person's name on the lids!
If the family reunion will be going into the evening hours, or if it's a camping family reunion, make individual kits with chocolate, marshmallows, and graham crackers so everyone is prepared.
Indoor Activities
Coloring kit
A.K.A. crayons and a coloring book! It will give the kids something to do to keep them busy!
Inexpensive Games
Technology has changed, but that doesn't mean that kids still don't appreciate the traditional games we grew up with. You can find inexpensive card games in the toy aisle or even at the dollar store. Games like Old Maid are great because the kids don't know them, so they are eager to learn the rules and beat their siblings and peers. You can also get "travel" versions of classic games cheaply like travel chess and travel checkers.
Stickers
Some things are just timeless. My kids adore stickers. Sure, they don't last long, but they love covering themselves in them. Give a group of kids some stickers and they'll start decorating each other in no time.
Odds and Ends
Amazing Books
This might sound boring at first, but give me a chance here. When I was a child, my favorite book was a book of amazing facts. I'm not saying you should get the kids pocket encyclopedia's, but kids love knowing stuff their parents don't know. Did you know scientists no longer consider Pluto a "planet?" Get little "amazing facts" books and the kids will be glued!
Figurines
When my husband was a child, he collected dinosaur figurines. Now, with my own children, they too love dinosaur figurines and are very inexpensive. Of course, you don't have to force dinosaurs onto all of the kids. You can find figurines for just about anything such as farm animals, horses and other wildlife.
Noisemakers
Everyone should know you're a big, happy family and proud to show it! If you give a kid a noisemaker, participation isn't a question. The kids will lead the way.
Gifts for Everyone
T-shirts
If you have t-shirts made, a cute idea is to make ones that say "Survivor of 20xx family reunion!" There are so many different things you can do with family reunion t-shirts that it really is one of my favorites. Check out these family reunion t-shirt ideas on Zazzle for more inspiration.
Hats
If you have the event outdoors, these will certainly come in handy! Who doesn't love a practical keepsake? Additionally, if you give them out early and you have a particularly large family reunion, then this will help identify participants of the reunion from strangers who have wandered in.
Koozies
They're great for keeping drinks colder longer and what's better on a hot day? These are very inexpensive and they are also an available, easily customized item as many businesses customize these for promotional purposes.
Everyone will be delighted to always have a piece of the reunion with them. I have this hilarious photo key chain from a theme park where my family are all doing funny things. It's really nice to have with me.
Reusable shopping bags
These will likely end up being the gift bag itself, rather than a favor inside of a gift bag, but it is something practical and will give everyone a great, green favor! I've started doing this for gifts on holidays too. Not only can you get these cheaper than paper gift bags from the store (how crazy is that?), but your family members will actually have a use for them!
Sweets
Brownies, cookies, rice crispy treats and candy are all family reunion favorites. Share the recipe with the already-prepared treat, or provide directions on a dressed up mason jar with the ingredients layered neatly inside.
Water bottles
You can have plastic water bottles customized for a reasonable price, or do it yourself with decals.
Water bottle tags
Nobody will be losing their water at this family reunion! The days of looking at a water bottle and wondering "is that mine?" will be a thing of the past!
So while you think of ideas, be sure to keep your family in mind, their ages and personalities, and you will find the perfect favors!