Valentine's Day is known as the day of love and it's the perfect time to show the one you love just how much you love them whether you're already married or it's a secret crush! If you're a man of woman of God, there's no better way to do this than through some great Valentine's Day Bible verses.
Valentine's Day Bible Verses
When it comes to that special someone, giving them a card with a couple of sweet Valentine's Day Bible verses is a very nice gesture and will be very appreciated so as long as the recipient is also a person of God, which you should ultimately be seeking out as a Christian.
Although there's no specific mention of Valentine's Day in the Bible since it came well after the Bible was written, love is nothing new to the human race and soul! Therefore, here's a few verses from the Bible that would be perfect for your significant other on Valentine's Day!
Galatians 5:22-23 But the fruit of the Spirit is love, joy, peace, patience, kindness, goodness, faithfulness, gentleness, self control.
Proverbs 30:18-19 There are three things that amaze me– no, four things that I don't understand: how an eagle glides through the sky, how a snake slithers on a rock, how a ship navigates the ocean, how a man loves a woman.
Colossians 3:14 And above all these put on love, which binds everything together in perfect harmony.
Song of Solomon 2:16 My beloved is mine and I am his. 
Valentine Bible verses can be very moving and powerful when placed in a sweet greeting card for the one you love. Keep in mind that this is also a bold, yet smart move when approaching a secret crush with your feelings as not only will it let them know right off the bat that you love God, but if they are turned away by it, you know they are not the one for you!
Printable Love Bible Verses Match Quiz
The Love Bible Verse Match Game is a perfect game to include in your Valentine's Day festivities! Challenge yourself and others to match the Bible verse with the correct scripture reading.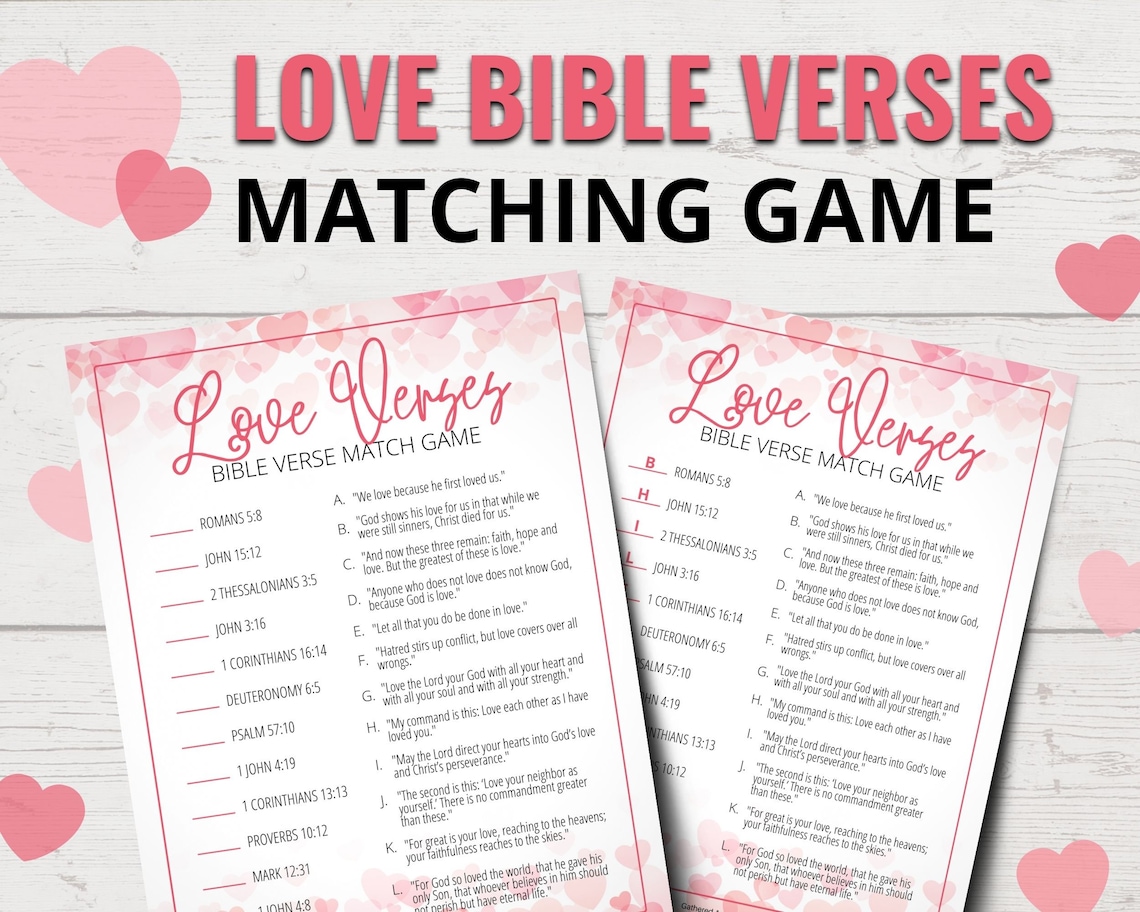 Love and Respect
When it comes to loving your spouse, respect is a very important and mutually needed element of any marriage or blossoming relationship! So with true love should come respect. If the respect is not there, true love is not there. But also if a love for God above each other is not there, then true love is not there! Here is what the Bible says about love and respect for your significant other:
Ephesians 5:25 Husbands, love your wives, just as Christ loved the church and gave himself up for her.
Ephesians 5:33 However, each one of you also must love his wife as he loves himself, and the wife must respect her husband
Romans 12:10 Be devoted to one another in love. Honor one another above yourselves.
When you love and respect your significant other, it will show and your love will only grow from there. It is so important to put the one you love above yourself and treat them with the utmost kindness that only true love can provide!
Love in General
Love as a whole is a very special emotion and should not be taken lightly. If you love someone, let it spill from your soul, for love is a very beautiful emotion! With all of the negativity in this world, I would certainly say we need a lot more love around, an the Bible would certainly agree! Just what does the Bible say about love in general? Let's take a look!
1 Corinthians 13:4-7 Love is patient, love is kind. It does not envy, it does not boast, it is not proud. It is not rude, it is not self-seeking, it is not easily angered, it keeps no record of wrongs. Love does not delight in evil but rejoices with the truth. It always protects, always trusts, always hopes, always perseveres. (How can we talk about love in the Bible without bringing up this perfect verse?)
John 3:16 For God so loved the world, that he gave his only Son, that whoever believes in him should not perish but have eternal life. 
And last but certainly not least, in John 4:19, the Bible says "we love because He first loved us." This couldn't be more true! So always keep this in mind, and thank God for your feelings of love. Use this emotion to your advantage as it is a God-given emotion and he wants us to love all!
So while we are caught up in the holiday in which we celebrate love, remember why we love, where it came from, and the true reason we are celebrating! It's not about the chocolates and flowers and cards, rather expressing our love to one another through actions and how we treat our loved ones each and every day of our lives.