Valentine's Day is around the corner, and some people are already thinking about their plans for the holiday. If you want to surprise your loved ones with something special, but it's cold outside, then you're in the right place.
Valentine's Day is an excellent opportunity to express love and affection towards your partner or spouse. So if you plan to spend your time together with them, make sure that they feel special by doing something unique. But what should you do when the temperature drops on Valentine's Day?
In this article, we'll cover some unique, romantic, and memorable activities to do on Valentine's Day when there's cold weather around you!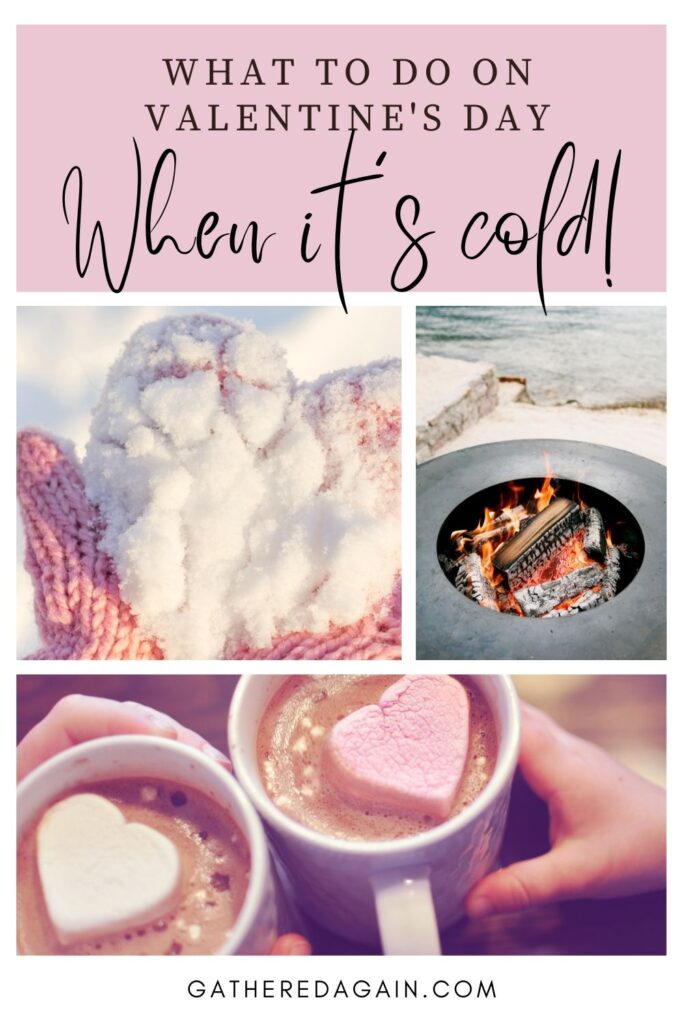 Ideas For Outdoorsy People
There are two types of people in this world: those who love the cold and those who prefer pretending it doesn't exist.
My husband loves the cold; I prefer seeing snow on TV or out the window. For the outdoorsy people who want to embrace the cold winter weather, I have some ideas that I know my husband loves, and I want to share them with you.
An Evening At The Fire Pit
If you and your special someone want to embrace the cold, why not plan for a relaxing outdoor fire pit?
You can purchase fire pits at most big box stores, some for as little as $30-$40!
Bonus gift idea: I surprised my husband with a "smokeless" fire pit from Sam's Club, and he and the kids LOVE it. It cost about $275, but it was well worth it and far cheaper than some other leading brands like Solo Stove.
If that's not in the budget, then you can dig a hole in the ground or use any large rocks and bricks that you might have to build one yourself. If you don't have access to firewood, you can purchase firewood from many big box stores, hardware stores, and gas stations. We buy our firewood that way and usually pay about $8 for a bundle.
Enjoy the ambiance of a warm fire as you talk with each other or enjoy the stars.
Star Gazing
Speaking of stars! If fires aren't your thing, then perhaps stargazing might be a stellar option for you.
Stargazing can be a romantic and simple activity if you live near a body of water, like lakes, rivers, oceans, etc. Just find a spot with no obstructions and look up at the sky.
You can also go camping, hiking, or even visit a park to view the night sky. I recently downloaded an app on my phone that lets me point my camera at the sky, and it will tell me which stars and constellations I'm viewing. It's amazing!
Just make sure you bring lots of blankets and a thermos full of your favorite coffee or hot cocoa!
A Winter Picnic
There are many ways you can do this, depending on how cold it is outside. Some of these include:
Snow On The Ground? Put A Tarp Down!
If there is snow on the ground, then you can put down a tarp or some painter's plastic, then put your blankets on top of that. That will help insulate and keep the blankets from getting wet.
Fend Off The Wind With Tents
If it's too cold to be out in the open, or it's windy, then consider using a tent or a day tent.
This has the added benefit of containing heat if you want to use a tent heater. It's a little like glamping where the meal is the main event!
Other Outdoor Ideas When It's Snowing
Before we move on to the indoor ideas, here are a few other activities you can consider if it's snowing outside:
Going sledding
Skiing
Ice skating
Snowshoeing
Making a snowman
Building a snow fort
You can also repurpose many ideas to make them specific to Valentine's Day.
For example, instead of making a snowman, why not make a "snow heart" and decorate it with red garland, heart cutouts, and roses?
You can even make these activities a tradition that you carry on each year.
How cute would it be to have a photo album of your "snow hearts" over the years? Some of them you'll be so proud of that you'll see the picture and instantly know, "oh yeah! That was Valentine's Day 2023!" Also, it'll give you and your loved ones ample opportunities for reminiscing.
Indoor Ideas For A Cold Valentine's Day
If you're more like me (there's no place like indoors, there's no place like indoors!), then you'll need to think about things that you can do inside your warm, cozy, comfortable, luxurious home. Valentine's Day doesn't have to feel cold!
Here are some of my favorite indoor ideas for a chilly, wintery Valentine's Day.
Breakfast In Bed
I LOVE breakfast in bed. Seriously! A warm, fluffy bed, and breakfast, what's not to love? It's so romantic, especially when you get to cuddle all morning long while enjoying your food together.
The best part about this idea is that it allows you to spend time with each other without having to rush off somewhere else or get ready (bed hair, don't care!). This way, you can relax and enjoy each other's company.
Scavenger Hunt
Consider arranging a scavenger hunt around your house. Now, if it's just the two of you, then it wouldn't be fair if you knew where everything is, so you might want to divide the house into two parts, and each of you plans the Valentine's Day scavenger hunt for the other person in your area of the house.
You can also do a treasure hunt if you enjoy writing riddles to lead your special someone around the house. Again, this is a fun way to spend some quality time with each other.
If you plan to hide gifts as part of the scavenger hunt, then you can use more budget-friendly gifts like chocolates, candy-hearts, or sentimental photos. Photos are probably my favorite gift idea.
Hot Cocoa Bar
One of my favorite things to drink during winter is hot chocolate. The combination of sweet milk and spicy cinnamon makes it better than regular old hot tea or coffee.
So why not recreate that same feeling by making your very own hot cocoa bar. Have all of the fixings for the best hot cocoas ever! Here are a few ideas:
Different Hot Chocolate Flavors
Did you know hot cocoa comes in a lot of different flavors? It does! Dark chocolate, milk chocolate, peppermint mocha, raspberry, orange, and more. You can find DIY recipes online for flavoring your hot cocoas if you prefer not to purchase the ready-made mixes.
Whipped Cream Flavors
Whipped cream doesn't have just one flavor. At our local stores, we can often purchase peppermint mocha-flavored whipped cream as well as chocolate.
Toppings And Mix-ins Galore
Why do ice cream sundaes get to have all the fun? Have a spread of toppings for your hot cocoa! Sprinkles? Yes! Edible glitter? Glamourous! Marshmallows of different colors and sizes. Cinnamon sticks and candy canes can be offered as fun, flavorful stirrers.
Make Each Other A Valentine's Gift!
You could also make a gift for each other. I love this idea because it allows you to show how thoughtful and creative you are.
You can bake something special for each other. But, if you'd prefer to show off your crafty side, then what about making some heart-shaped wreaths from natural materials from outside or creating some cute Valentine-themed birdfeeders out of pine cones?
Movie Night
In our household, movie night is a go-to, but we have an article about the many ways to make a movie night (especially with family) unique and memorable. So make sure you give that a read if you want to look like a movie night genius!
More Ideas
Valentine's Day is going to be a blast; if you want even more ideas, then read these articles because there is no end to the fun you can have inside or outside during winter!
I hope some of these ideas help make for an exceptional Valentine's Day, and if you have any of your own thoughts, or if you tried any of these, let us know how it went—wishing you and your family a very happy Valentine's Day!