Welcoming a new bundle of joy into the world is always a reason to celebrate! Baby showers have long been a cherished tradition, providing a perfect platform to share the excitement and anticipation of a new arrival. Amidst all the adorable decorations, thoughtful gifts, and delicious food, there's always room for a little fun and games. That's why we've put together this comprehensive guide to one of the most popular and entertaining activities at these gatherings—Baby Shower Charades.
Our guide will walk you through the easy rules of charades, ensuring everyone can join in the laughter and create lasting memories. We've curated a delightful list of baby-related words and phrases—from the simple, such as "Baby Bottle" and "Bib", to the amusingly challenging, like "Dirty Diaper".
But the fun doesn't stop there. We're also thrilled to introduce our printable Baby Shower Charades game available for instant download. Perfect for the time-crunched host or hostess, this game is ready to go whenever you are.
In addition, be sure to explore our Etsy shop where we feature a variety of other engaging baby shower games. Each offering is designed to bring laughter, joy, and a dash of gentle competition to your special celebration. Dive into the world of baby shower games and let the merriment commence!
How to Play Baby Shower Charades!
Playing charades at a baby shower is a simple and delightful way to break the ice, get guests mingling, and create unforgettable memories. Here's how to play this pared-down version:
Step 1: Prepare the Game
Write down baby-related words and phrases on separate slips of paper, and place them in a bowl or hat. Check out our free word list below for ideas to include. You can also grab a copy of our printable Baby Shower Charades. Just print and cut them out and you're ready to go!
Step 2: Divide into Teams
Split your guests into two or more teams. Each team will take turns acting out and guessing the words or phrases.
Step 3: Act It Out
A player from the acting team draws a slip of paper from the bowl and acts out the word or phrase without speaking or making any sound. The goal is to convey the word or phrase through pantomime only.
Step 4: Guess the Phrase
The team members try to guess the word or phrase within a set time limit (typically 1-2 minutes). If they guess correctly, they score a point.
Step 5: Winning the Game
The team with the most points after all the words and phrases have been acted out wins the game. This simplified version of charades is easy for anyone to enjoy, regardless of their familiarity with the traditional charades hand signals.
Free Baby Shower Charades Word List
We know that coming up with just the right words and phrases for Baby Shower Charades can sometimes feel like a challenge in itself. But fret not! To make things easier, we've created a specially curated charades word list, filled with baby-related terms. This list will spark laughter, test your guests' creativity, and keep the fun flowing!
Pregnancy:
Pregnancy Cravings
Maternity Clothes
Morning Sickness
Trimester
Baby Bump
Gender Reveal
Ultrasound
Due Date
Prenatal Vitamins
Stretch Marks
Sleepless Nights
Labor
Nursing
Back Pain
Epidural
Baby Life:
Dirty Diaper
Swaddling
Crib
Baby Monitor
Lullaby
Rocking Chair
Midnight Feeding
Newborn
Baby Proofing
Breastfeeding
Baby Gate
Nursery Rhymes
Bath Time
Rubber Ducky
Baby Food
Spit-up
Potty
Baby Shower Gifts:
Baby Bottle
Bib
Changing Table
Pacifier
Stroller
Diaper Bag
Onesie
Playpen
Pediatrician
Teddy Bear
High Chair
Rattle
Baby Wipes
Baby Car Seat
Bottle Warmer
Baby Carrier
Each word and phrase is sure to bring out the creativity in your guests, making for an entertaining and memorable game.
Our Printable Baby Shower Charades Cards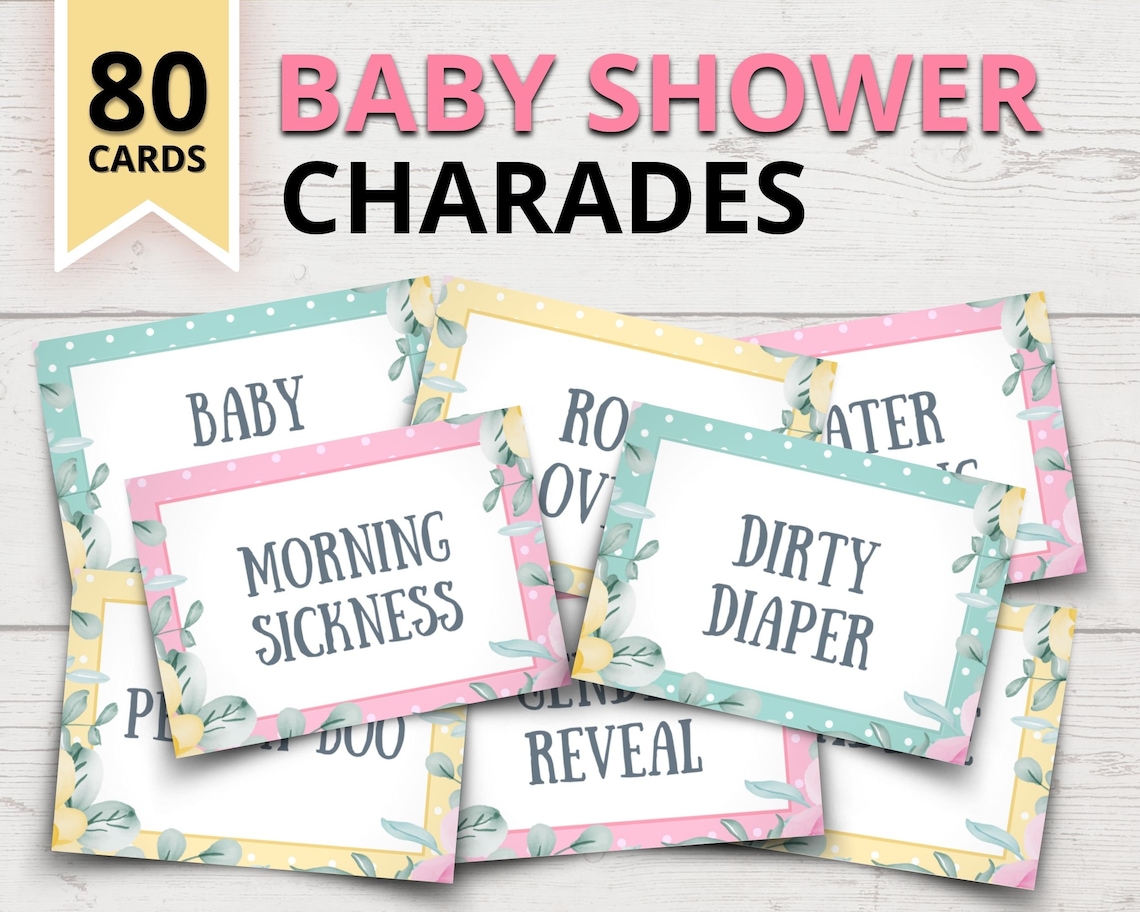 We're excited to present our Printable Baby Shower Charades Game, a must-have for your upcoming celebration. Designed to entertain and inspire, this set includes 80 beautifully designed cards, each featuring a unique baby-related word or phrase. It eliminates the need to come up with words on your own, allowing you to focus on the fun instead of the preparation.
Each card is designed for easy reading, making it straightforward for your guests to play. Whether you're expecting a small intimate gathering or a larger party, our printable charades game is an engaging, inclusive activity everyone will enjoy.
Purchasing is a breeze. Simply visit our Etsy shop and select the Baby Shower Charades Game. After purchase, you'll receive an instant download link. From there, you can print your game cards in the comfort of your own home. There's no wait time, no shipping fees, just immediate access to a delightful baby shower game.
Let the laughter and love flow with this fun-filled addition to your baby shower festivities!
Baby Shower Game Prizes
There's nothing like the promise of a charming prize to stoke the competitive spirit at a baby shower! Offering prizes for game winners not only adds an extra layer of excitement, but also gives guests a delightful memento to take home from the special day.
When selecting prizes, consider items that are fun, affordable, and cater to a variety of tastes. You might opt for cute, baby-themed items, or go for something more universally appealing. A small prize can still be meaningful, and it's the thought that counts.
Here are some prize ideas that are sure to be a hit with your guests:
Scented candles: A beautifully scented candle can provide relaxation and ambiance at home.
Mini succulents: These easy-care plants make adorable, eco-friendly prizes.
Personalized mini champagne bottles: Celebrate in style with a personalized memento.
Gourmet chocolates or candies: Sweet treats are always a hit.
Bath bombs or luxury soaps: Provide a little at-home pampering.
Coffee or tea samplers: These will warm the heart of any beverage enthusiast.
Baby-shaped cookies or cupcakes: A playful nod to the occasion, these can be homemade or ordered from a local bakery.
Miniature photo frames: Guests can remember the day with a keepsake photo frame.
Remember, the goal is to ensure your guests have a great time. Giving out thoughtful prizes can be a wonderful way to show your appreciation for their participation and support.
More Baby Shower Games to Play
Baby Shower Charades offers an engaging and entertaining way to add fun and laughter to your celebration. With an array of baby-themed words and phrases to act out, this game not only adds joy to the occasion but also helps break the ice and encourages guests to mingle.
Moreover, exploring a variety of games can add an extra dose of excitement to your event. From the lively competition of the Family Feud-inspired game, the quick thinking required in the Taboo-style game, to the thrilling race against the clock in the 5 Second Rule game, each adds a unique spin to the festivities.
Our printable games are designed to make your life easier, letting you focus on celebrating this joyous milestone. They are a convenient and delightful way to enhance your baby shower. We hope these games bring even more laughter, love, and unforgettable memories to your special day. Explore our offerings, and let the fun and games begin at your baby shower!
Baby Shower Friendly Feud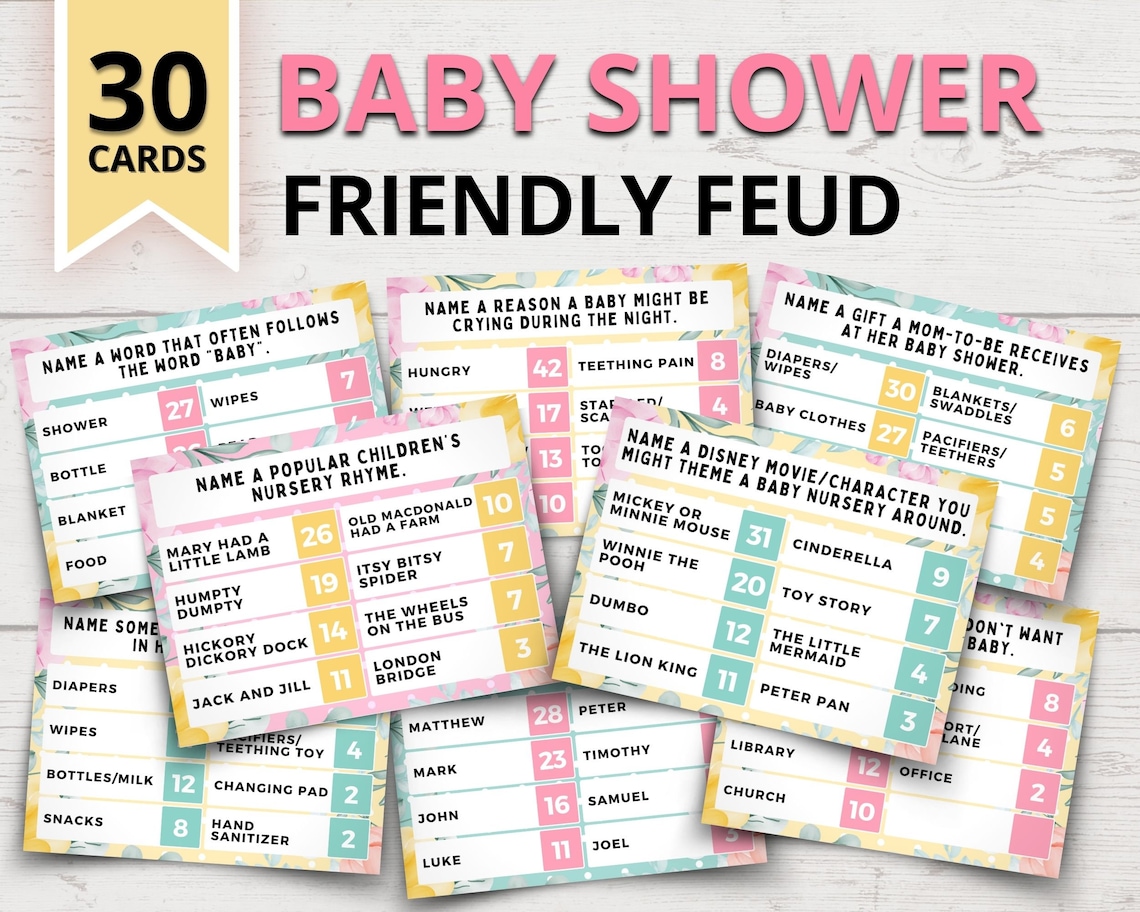 Add a delightful twist to your baby shower with our Printable Baby Shower Family Feud Style Game. This engaging game pits teams against each other in a lively battle of wits, inspired by the classic TV show. Loaded with baby-themed questions, this game will test your guests' knowledge, quick thinking, and team strategy.
The digital file is available for immediate purchase and download from our Etsy shop. Print it in the comfort of your own home, and within minutes, you'll have a ready-to-play game that will surely infuse your baby shower with laughter, camaraderie, and a bit of friendly competition. Gather your teams and let the 'family feud' begin!
Baby Shower Taboo Game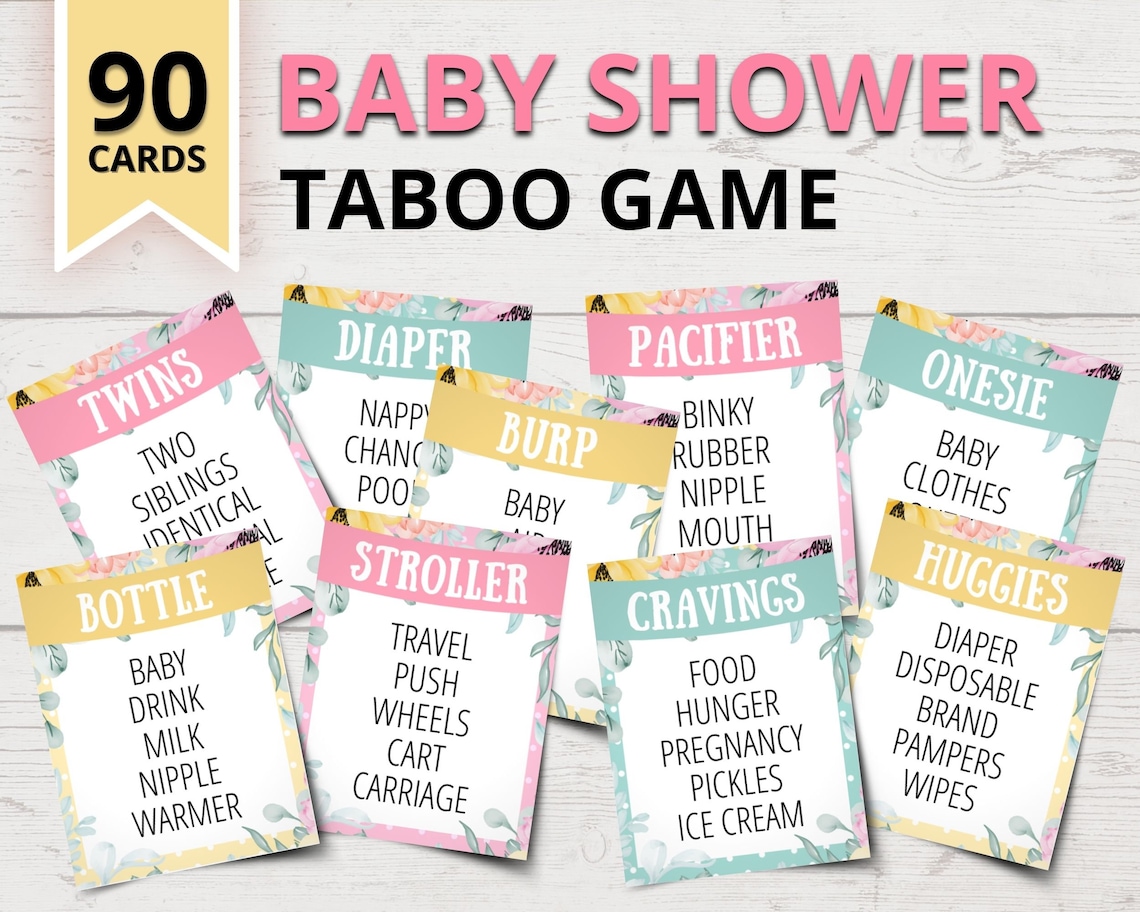 Get ready to test your quick thinking and your ability to describe under pressure with our Printable Baby Shower Taboo-Style Game. This exciting game challenges players to describe baby-related words or phrases to their teammates without using the most obvious, 'taboo' clues. It's a thrilling race against the clock that's sure to have everyone in stitches.
Available for immediate purchase and download from our Etsy shop, you can have this game printed and ready in minutes. Whether it's for a cozy gathering or a large party, this game is sure to bring lots of laughter and create lasting memories at your baby shower. Let the games begin with a hilarious round of Baby Shower Taboo!
Baby Shower 5 Second Game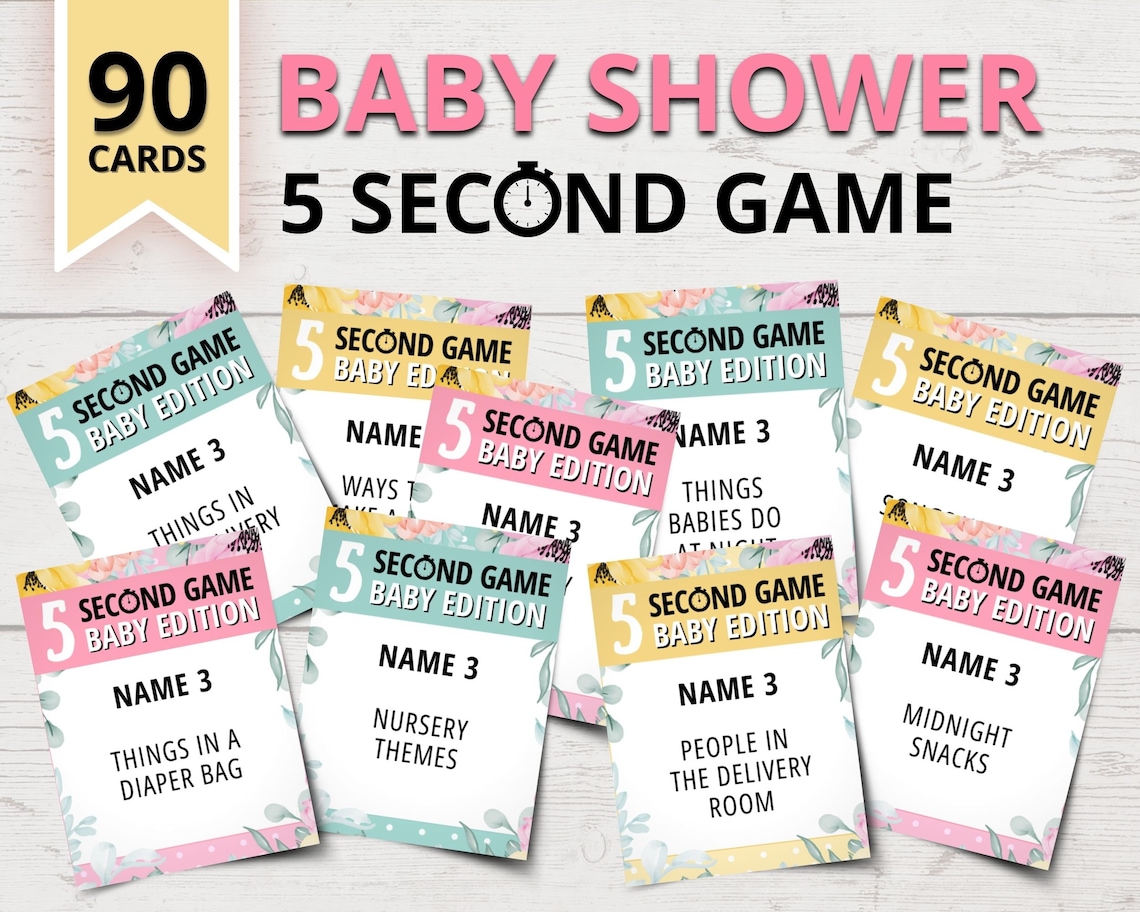 Think fast and speak faster with our Printable Baby Shower 5 Second Game. This exhilarating game challenges your guests to name three items related to a baby-themed prompt—all within a brisk five seconds! It's a fun, frenzied race that will test your guests' quick thinking and surely provoke laughter all around.
The game is available for immediate purchase and download from our Etsy shop, so you can print it and start playing in no time. Perfect for any size of gathering, our Baby Shower 5 Second Game promises to be a high-energy highlight of your celebration, and a surefire way to create unforgettable moments. Get ready to beat the clock in this baby shower game that's as amusing as it is fast-paced!