Are you looking for fun ways to celebrate fall with friends and family? These fun hayride ideas will satisfy just that! 
For your fall-themed party or church festival, make use of hayrides to see fall- or Halloween-themed sights in your neighborhood for the kids to enjoy. Fill your wagon or truck with hay, and decorate it according to theme or add a personal touch. Don't forget to think of fun activities the kids can do while on the hayride.
In this article, we'll talk more about hayride ideas you can do for your party. 
Hayride Ideas for Your Party!
To help you think of ideas for your hayride, we've listed five fun themes you can implement to keep your guests excited and hooked. 
Hayride Karaoke
A sing-along hayride will definitely get your friends and family pumped, especially if they love music. To make your hayride different, add a stereo on the ride, and play some songs. You can play your kids' favorite songs, too, and hand out lyrics for everyone to follow. 
You can play games, such as Guess the Lyrics and a riff-off like the one on Pitch Perfect. Decorate your hayride with photos of famous musicians and singers to complete the look. Add a microphone and guitar, too. 
Hayride Under the Stars
Teach your kids about the planets, the constellations, and the universe by having a hayride under the stars. Drive around your neighborhood at night while gazing above the different constellations. 
You can give interesting facts about the stars and planets, and have everyone wear pajamas during the ride. Add some glow in the dark stickers and decor to light up the night. 
Harry Potter Hayride
It wouldn't be fun if you didn't add a bit of magic (even if it's not real) on your hayride. Try out this Harry Potter-themed hayride, and give your family a little bit of magic. 
Have the kids wear costumes from the Harry Potter movies, and use your own Sorting Hat to determine which Hogwarts house they belong in. Doing so will help in grouping the kids  for the hayride, especially if you have a large batch. Once sorted, give them a badge for their respective house—Gryffindor, Slytherin, Ravenclaw, or Hufflepuff. 
Decorate your ride just like Hogwarts Express (which is the name of the train, for the muggles who don't know), and decorate the waiting area as if it's Platform 9¾. For sure the kids will love it! Serve pumpkin juice, honeydukes sweets, and shepherd's pie. 
Journey to the Past Hayride
There's something beautiful with reliving the past through old photographs, paintings, and homes. Visit different historical sites around town through your hayride. Drive around town, and visit the different places, which hold rich history about your town. You can also point to different places that held a significant meaning in your life. It can be the school your grandparents went to, or the tree your parents used to play around. 
You can have your family wear old clothes, like clothes from the '90s or even as old as the '20s. If you have a huge backyard, decorate the space to reflect the era you want to portray. 
Into the Jungle Hayride
The jungle holds so many organisms your kids can learn about. Considering that they're very curious about everything they see, a hayride on a forest or wooded area with lush leaves is a fun learning experience for them. 
Have them wear explorer outfits, and have the driver act as the head explorer. Your task is to talk about the different animals, trees, and flowers you spot, and give interesting facts about them.
Activities You Can Do on Your Hayride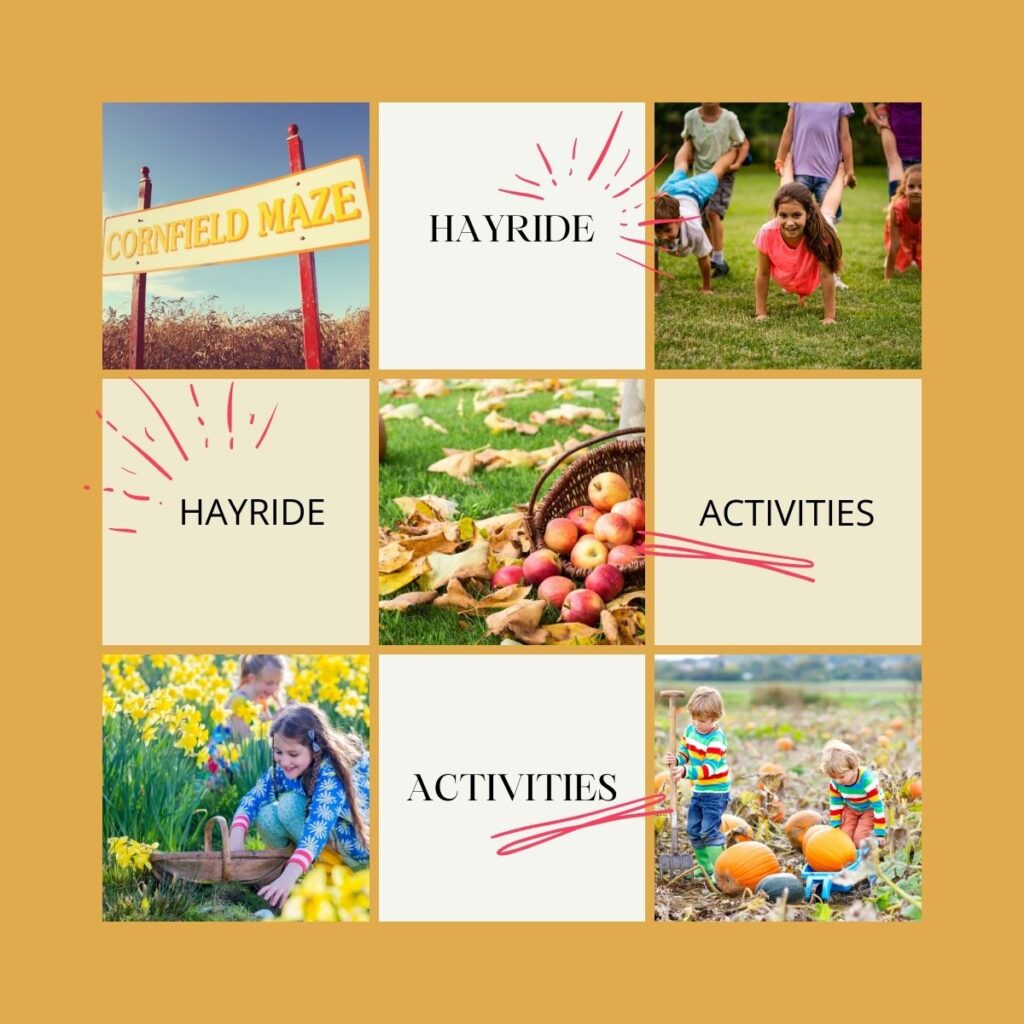 Now that we have listed the themes and decorations for your hayride, it's time to plan the activities. Below is a list of games and activities you can do on the hayride. These activities can either be done while on the ride or during stops.
Fall Scavenger Hunt
A scavenger hunt makes any party fun. This fun photo scavenger hunt will get your family excited and happy as they move around the neighborhood finishing the checklist. 
To play the game, you need to prepare a checklist, and distribute it to each player. The checklist should contain interesting items, which the players have to photograph. These items can be playing in the leaves, brown-colored leaves, or caramel apples. The first three to complete the checklist gets the prize. 
Corn Maze
Create a mini corn maze in your backyard, and hide corn on each section. This can be done individually or by pairs, depending on how many hayride participants you have. 
The goal is for each pair to come out of the maze in 20 to 30 minutes, and collect the most corn. Whoever gets to collect all the corn and get out of the maze wins the race. 
Hay Trampoline
Hays are more than just for barracks for the maze. Your kids will love it when you set it up as a made-up trampoline. Set up a large pile of hay in an open area, and let the kids jump on them. They can toss the hay in the air, and jump repeatedly on the pile. Just make sure you place a huge pile, so it will be easier for the kids to jump around the soft hay. 
Wheelbarrow races
Form two teams, consisting of at least two pairs, for this game. Let them assign one to push the wheelbarrow, and the other to sit inside it. Just like a relay race, each pair has to push the wheelbarrow towards their team's post on the other side of the room, go around it, and go back to the starting line. The first team to finish the relay wins the game.  
Leaf Pile Race
For this game, you'll need hula hoops, rakes, and autumn leaves. Each team will have two to three members each. Place the hula hoops on the ground, and pour out the leaves around the yard. 
Give a rake to each participant, and have them pile all the autumn leaves on the hula-hoop once the timer starts. When the time is up, the team with the tallest pile of leaves wins the game. 
Hayride-Worthy Snacks and Drinks for Your Party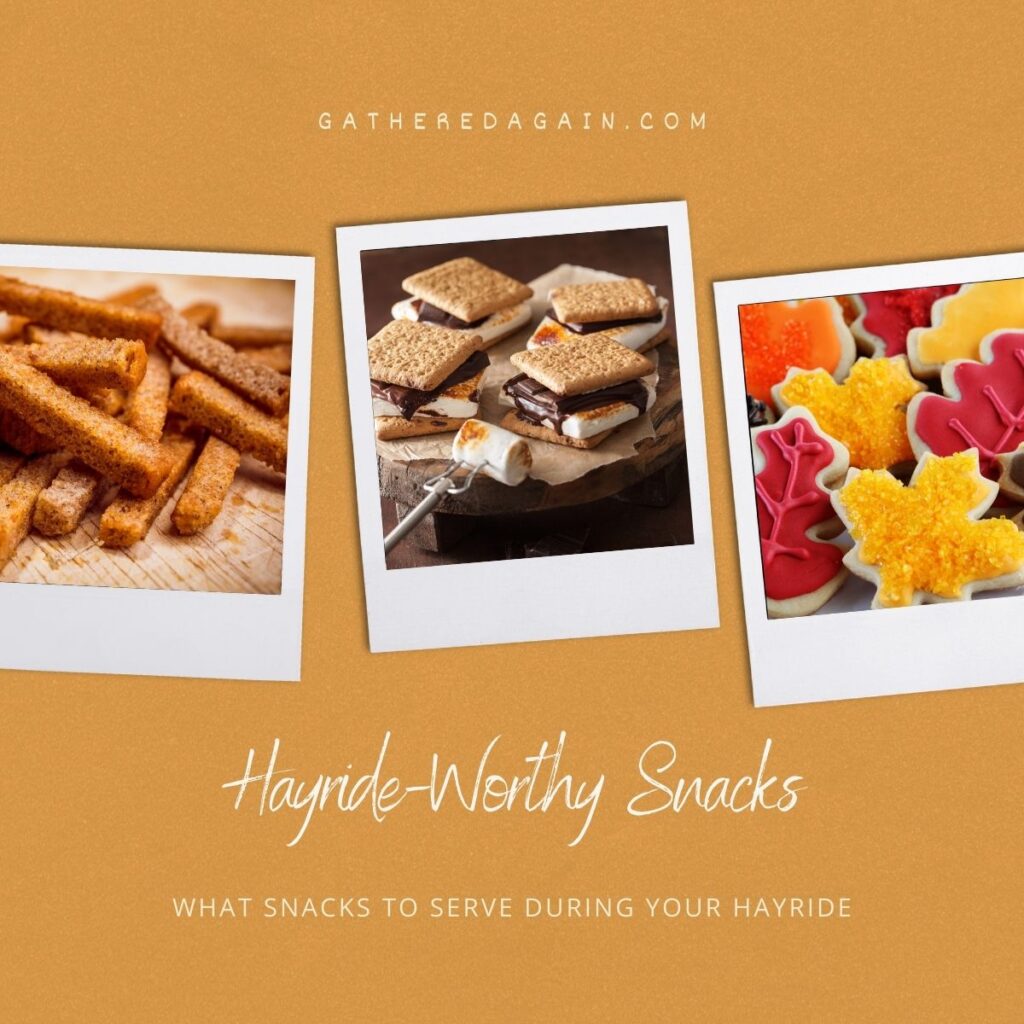 Don't forget the delicious drinks and meals you can serve to your guests during the ride. You may serve these during or after the hayride. 
Hot Cocoa and Cookies
Kids love sweets! Serving hot cocoa and cookies during the ride will keep their energy going, and avoid grumpy, hungry children. Place the hot cocoa in a portable cup with a secured lid to avoid spilling during the bumpy ride. You can have the cookies placed in a tupperware or jar they can pass around.
Sandwiches and Juice Boxes
Aside from sweets, you can offer them tuna or chicken sandwiches. You can cut the sandwiches in rectangles, and place them in a container attached with a greeting card. Don't forget the juice boxes to help them down the food. 
S'mores and Hotdogs
Camp out in the backyard after the ride, and start roasting marshmallows and hotdogs. You can stack the hays around the campfire, and sit on it while roasting. It's also a fun way to spend time with your friends and family, and hang out. Let the kids roast their own marshmallows, and serve hot choco, too. 
Warm Berry Pie à la Mode
After a long ride, your kids would definitely be hungry. Serve them these tasty warm berry pies. 
To create one, you'll need 2 medium cooking apples, 1 tablespoon of lemon juice, 10 ounces of frozen raspberries, 3 tablespoons of margarine, 2 tablespoons of honey, regular oats, ½ cup walnut, 1 teaspoon of cinnamon, and ice cream. 
Steps to cook a warm berry pie:
Heat the oven to 375 degrees
Mix the apples and lemon juice
Place it on a baking dish, coated with cooking spray, and top it with raspberries along with the other ingredients
Bake it for 30 minutes
Cut it into squares, and top with the ice cream
Creamy Pumpkin Pasta with Pine Nut Gremolata
If you need a heavier meal for your kids after a fun ride and games, then a pasta shall do the trick. Serve the crowd with this creamy pumpkin pasta with pine nut gremolata. Instead of using tomato sauce, use pumpkin parmesan, pine nuts, and herbs for the dish. 
Conclusion
We often associate hayrides to a spooky and scary experience. But, it doesn't always have to be the case. You can always change it to make it fun and entertaining, especially for the kids. Instead of scaring your family, why not take them on a ride where you can share stories, knowledge, and experiences? It will not only teach your kids, but it will give them a memorable experience, too. 
My favorite hayride ideas are the Hayride Karaoke and Under the Stars theme. Singing along will definitely hype up the riders, and can even be a fun game on its own. Meanwhile, being under the stars can be a fun way to teach children, and enjoy the night sky's beauty.  
If you need some fun ideas for your next hayride, I suggest you pick these themes, and let us know your experience!