Retirement is the time of one's transition from a career-driven lifestyle to one that's meant for family and enjoying life. As for Mom, this indicates her moving onto the next chapter of her life—from being a full-time professional career woman, to now leading a laidback life at home.
Since this change can often bring about a spur of mixed feelings and emotions, it's important to show our love and support in the best way we know how. If you're thinking about sending special retirement wishes for your mother, here are some ideas for different occasions below.
Retirement Wishes for Your Mother
It's only a given that Mom's retirement is a thing to be celebrated. Whether you plan on sending her a sweet message on Facebook, showing your love through a personalized card, or giving a toast to all her achievements at a party or gathering, here are some retirement well wishes you can send to your mother who's helped make who you are today. 
Retirement Wishes on Facebook
Thanks to the digital age we live in, Facebook has become one of our most commonly used platforms for sharing our day-to-day with our populous network of family, friends, and colleagues. Since this is the case, it wouldn't be surprising to share the news over the social media site. So everyone can see just how proud you are of Mom's accomplishments, here are some retirement wishes to share on Facebook.
Your life's golden phase is just about to start, so keep your chin up and smile knowing you have all our love and support. Happy Retirement, Mom!
May the rest of your days be filled with light, laughter, and love. You deserve it all.
Wishing you the very best that this life has to offer! May your new journey be filled with nothing but joy.
This new chapter of your life is just the beginning. There is so much more in store for you, Mom.
The joy of retirement comes in those everyday pursuits that embrace the joy of life. Now that you're retired, we hope you find those that bring color to your day-to-day.
Retirement is when you stop living at work and start working at living! The future is up for grabs now. We hope you make the most of it.
You have brought tons of happiness into this world on your own. Now that you're retired, may you find it for yourself.
This isn't the end of the road for you, Mom. It's just the beginning of the open highway.
Time to focus on yourself. You've done what you can for the rest of us.
May you look back and feel proud of the work you've done, for all these lives changed were because of you, Mom.
Wishes for Happy Retirement Card
They say your feelings come through a lot more when you send handmade gifts instead of store-bought presents. If you're considering conveying your retirement wishes through a heartfelt card to your Mom, here are some ideas to let her know.
Celebrate your accomplishments, enjoy your newfound freedom, and always remember the positive difference that you've made. 
May you reward yourself with the great and joyous vacation you always craved for, Mom!
We wish you good health and happy days ahead in your retirement.
It's time to enjoy your permanent weekend. Have a good one!
Consider retirement as being given a blank sheet of paper. It's time to rewrite and lead the life you want to.
We hope your retirement is perfectly grand, with lots of luck in the things you've planned. May the coming years bring happiness too, and all that is the best just especially for you.
As you reach this new chapter of your life, may you find joy in remembering the past success and use it as fuel in pursuit of your new hopes and plans.
A milestone this big deserves a celebration. Happy Retirement!
Happy days are here at last, the days of nine to five are past. You've worked all your life and paid your dues, now it's time to do what you choose!
May you find more ways to be inspired. Congratulations, you've retired! 
Wishes for Retirement Party Toast
It'll come as a no-brainer for you to want to celebrate Mom's transitioning journey with your closest family and friends. Since a retirement toast will most likely be done in favor of all her successes in her career, here are some ideas on retirement party toasts for Mom.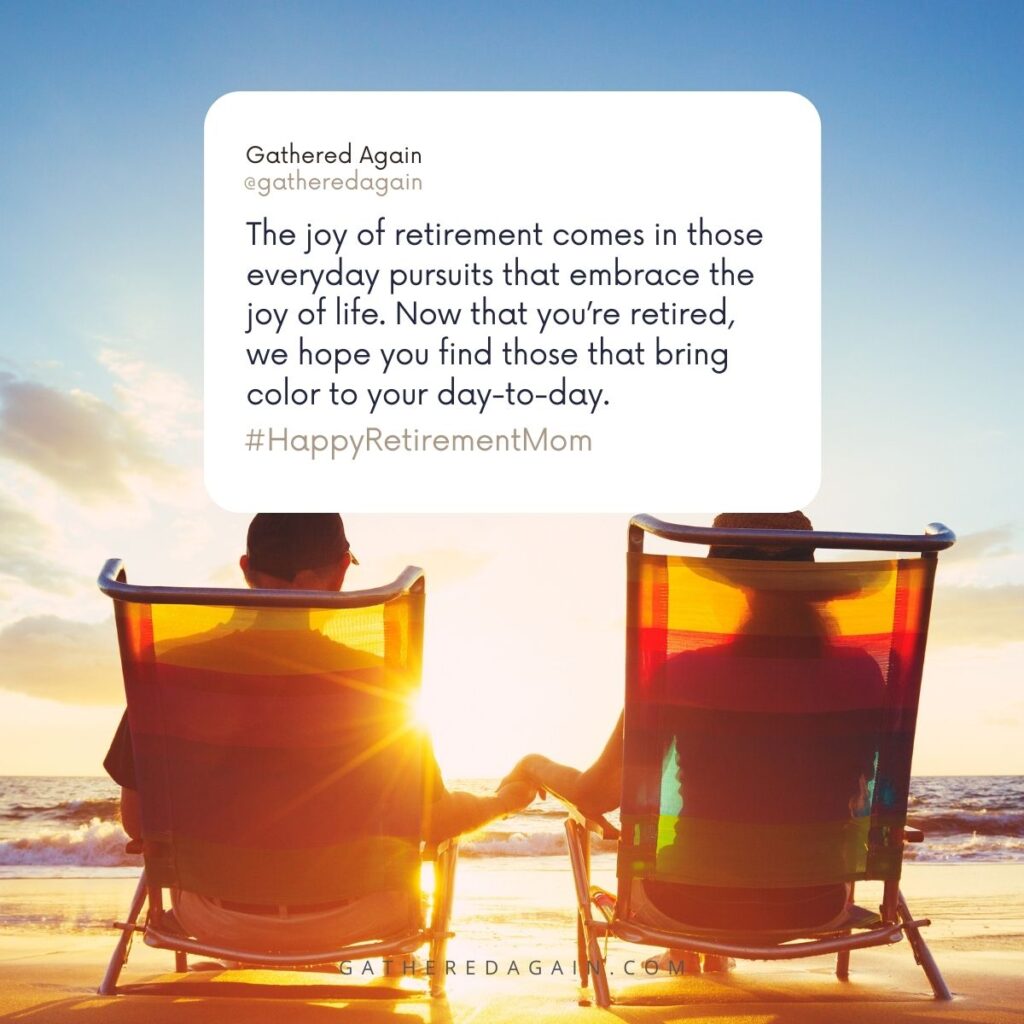 Here's to your success in this new chapter of life!
Cheers to the worry-free days ahead of you.
Here's to living a fulfilled life with the ones you love.
Here's to celebrating your hardships. Now it's time to enjoy what you worked hard for.
May you have a life full of hope, blessings, and more love than you could ever imagine.
Here's to colorful years of chasing after your passions and dreams.
Here's to all the love and support you showed us through all this time. It's now time we shower you with ours.
Here's to more time spent with family and what you love most.
Cheers to a beautiful journey ahead of you.
Here's to many more years of happiness and achieving your dreams.
Conclusion
Mom leaving her work life behind to spend more time with the family at home is a big change that's bound to happen at some point in her life. Now that she's getting older and looking forward to simply living life to the fullest, it's important to welcome her with a smile alongside your lovely retirement gifts and messages.  
As you go through your new day-to-day life with Mom's new setup, let it serve as a reminder that life is short and that we should make the most of what we can with our loved ones while they're still with us.If you're ever on the lookout for more ideas on activities to do with your family now that Mom's home with you, we invite you to check out our Etsy shop for new and exciting things to try with the family.
Cheers!