How to Celebrate Easter
One of the very best things about holidays are the traditions that fill them and the memories that fill you from all of the joyous times shared. One of the major holidays which carries strong traditions is Easter. For my family, Easter traditions are some of the most memorable parts of the celebration!
Although Easter is all about how Jesus died on the cross for our sins and was resurrected, proving he was the Son of God, there are some traditions surrounding Easter that might be unclear. Other traditions are pretty straightforward and universal amongst many families across the globe! With traditions varying so widely for each family, let's just get into the nitty gritty to discuss the more common ones!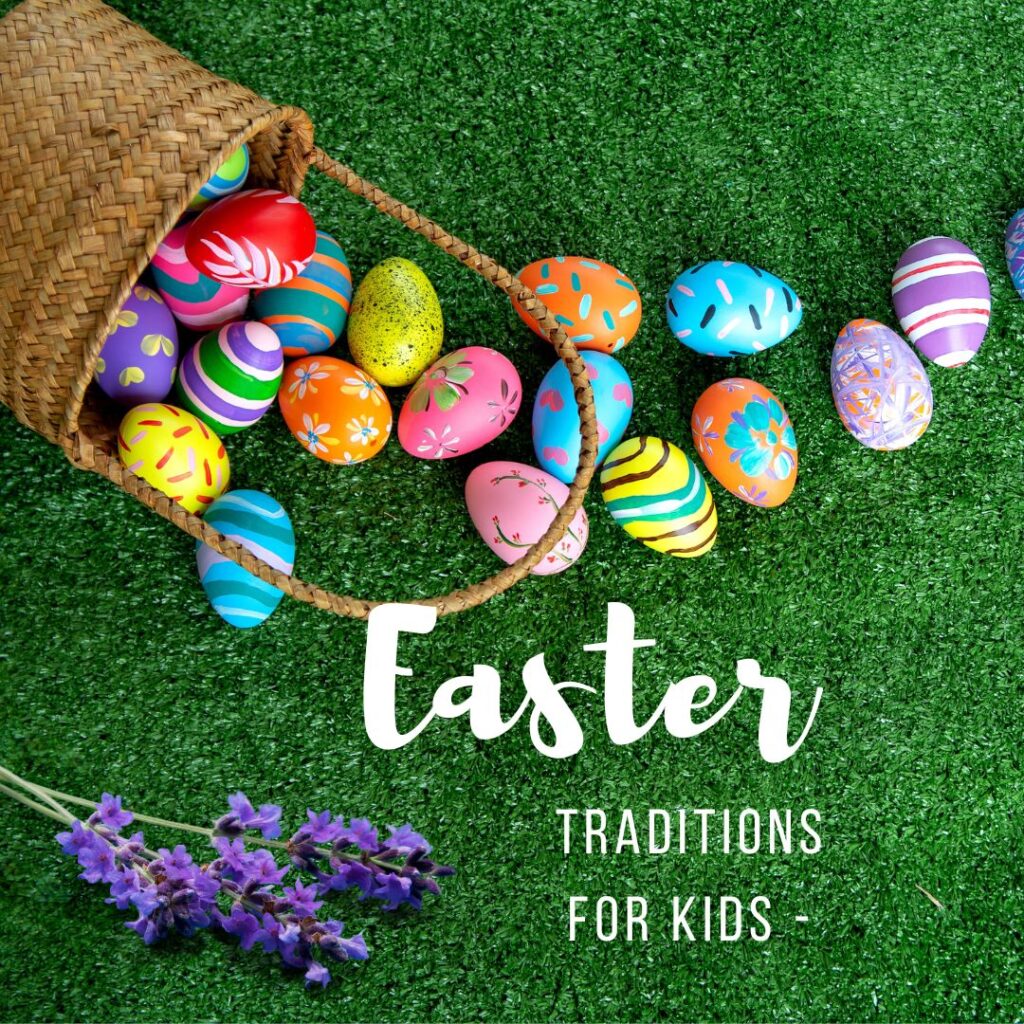 Family Easter Traditions for Kids
Being a child is quite a magical time in life, and it's often full of all kinds of fun traditions around the holidays. Since kids have big imaginations and are very impressionable, it's fun to make some traditions that you can't exactly enjoy as much as an adult (unless you have kids, of course)!
Easter Bunny Tradition
One of the perhaps more confusing traditions about Easter is the mascot himself, the Easter Bunny! Just how did a bunny become a part of the holiday? While it remains very much unclear, there are a couple of theories: One dates back to the Medieval times, stating that the hare was a symbol of the Medieval church, made up to determine if children have been good or bad. Another theory suggests that the bunny came about from a time dating in the 1500's during a time when people worshipped Eostre, the pagan goddess of Spring, whose symbol was the hare.
Either way, regardless of where this tradition came from, it's really the intent that matters! The most important thing is to know why you're truly celebrating. Kids really enjoy the Easter bunny. Kids soak it up and there are so many ways to incorporate the Easter Bunny:
Visit the Mall
Make it a family Easter tradition to visit the mall each year to visit the Easter Bunny in person! You can get family portraits taken each year, so it's a great way to have a visual on how much each person in the family changed in just one year!
Stuffed Animals
Purchase bunny stuffed animals for the young'ins in the family! These huggable friends will be a favorite toy for the kids during this time of year!
Real Bunny
A lot of people see this as a cute time to purchase a baby bunny as a pet, but this should only be done after the general care and diet of the animal have been well-researched, and all necessary supplies have been gathered! A real bunny isn't a 1 day gift.
Decorations
Add to the ambiance of the Easter holiday by decorating all over with springtime decor and lots of bunny decorations! There aren't many chances to deck your house out with pastels. How about making these super adorable Easter Bunny Place Cards for a traditional Easter dinner?
The Big Visit
Perhaps the most anticipated part of the Easter Bunny tradition is the actual visit from him because he leaves fun treats and hides the eggs! Be sure to leave a carrot out to say thank you!
Easter Basket Tradition
It is believed by some that the tradition of Easter baskets stems from the old tradition of creating nests for the Easter Bunny to lay eggs in. Rather than there being a nest to lay eggs in, there are now baskets that treats are left in! Each child is so very different, so the Easter Bunny tends to make each basket special for each individual child. He also likes to find good and age-appropriate hiding places for the baskets too, which is always fun! Here are some ways you can have fun with Easter baskets:
Traditional Basket
If you're trying to keep things simple, go with a chocolate cross or bunny, jelly beans, Peeps, chocolate eggs, and a couple of fun little toys, activities, or books! A small stuffed animal is always a welcomed filler as well! Here are some toddler Easter basket ideas for your youngest bunny.
Healthy Basket
Not all parents wish for their children to be pumped full of sugar so many opt for a basket with healthier choices like organic snacks, chocolate covered fruit, snack crackers, and dark chocolate (which is the healthier form of chocolate)!
Non-Food Basket
You can also choose to make a basket that is simply full of fun things to do, often items that encourage kids to play outside. Ideas include bubbles, jump rope, sidewalk chalk, a kite, and some activity books to switch it up!
Themed Basket
If the child is involved in a specific sport or hobby, then theming a basket around this specific interest will certainly be appreciated!
Easter Egg Tradition
Well, it all started with the traditions that the Germans brought over to America when they migrated to Pennsylvania in the 1700's. They had a tradition involving an egg-laying hare, or the Easter Bunny who they call "Osterhase" or "Oschter Haws" in which children would make nests for the hare to lay its pretty eggs in. Now, there are many different ways people incorporate the Easter egg tradition into their holiday:
Decorating Eggs
When it comes to the decorating of eggs, many people choose to simply dye them festive colors. There are many different ways you can decorate eggs whether you decide to color them with crayons or embellishing them with stickers and stick-on rhinestones!
Hiding Eggs
Modern day Easter wouldn't quite be Easter if there weren't eggs to find in the morning! Usually the ones that are hidden by the Easter Bunny are the ones that were colored the night prior.
Plastic Eggs
To really add to an Easter egg hunt, sometimes plastic Easter eggs are filled with candy, small toys, or even money! If you have some spare change laying around, now's the time to use it! Make sure that you put quarters into a couple of the eggs. The kids will think they hit the lottery!
Candy Eggs
Around Easter time, the shelves fill up with all kinds of egg-shaped candies, from Cadbury Eggs to Reese's Eggs and Whoppers Robin Eggs. Whatever your style, you'll enjoy with a smile!
Jell-O Eggs
Okay, this one is not very common but it's a fun one to make with kids. In the supermarket aisle that sells Jello, you'll find a kit containing egg molds and everything else you'll need to make Jello eggs, including detailed instructions.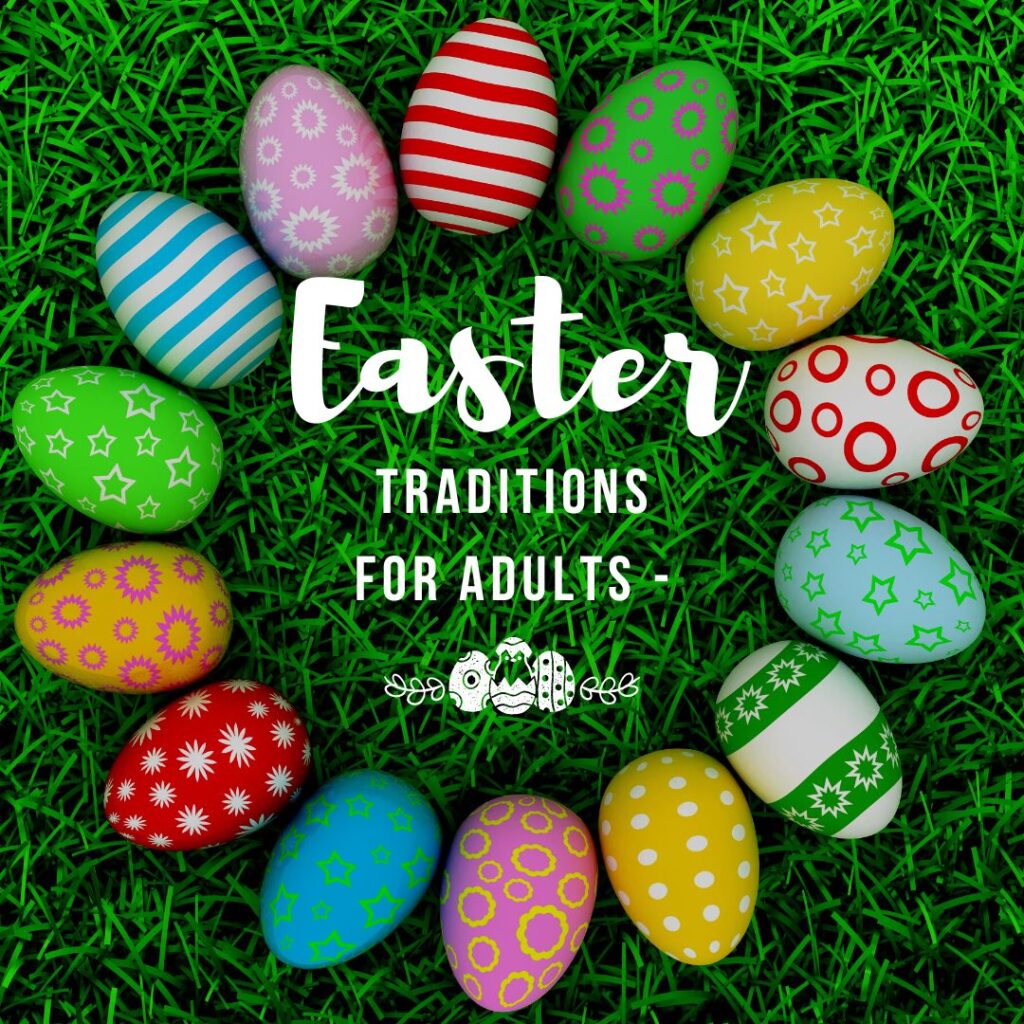 Easter Traditions for Adults
Of course, Easter isn't just for the kids! Let's not lose focus here; it's about celebrating the resurrection of Jesus Christ! Which means, adults celebrate too, just in different ways. While adults play a big part in making the day special for the littles, here are some common ways that adults observe the holiday.
Easter Church Service
A favorite family tradition for many families on Easter Sunday is to attend Easter church service. Every church is different, but here are some things you can expect from nearly all Easter services:
Easter Hymns
Most services start with praise and worship, and Easter Sunday is no different! These Easter songs of praise will remind you why we celebrate this time of year, and get our hearts ready for the pastor's message.
Communion
There is not a more appropriate day to share communion with your family. Communion, the representation of bread and wine as being the body and blood of Christ, is an important part of Christian tradition and remembrance. We take part in communion to remind us why Jesus died on the cross for us, and that we accept Him as our Lord and Savior.
Baptism
Some churches host a mass baptism on Easter Sunday. This is a great opportunity to dedicate or rededicate your life's purpose to Christ.
Easter Potluck
After the service is over, it's time for the part of the day Dad's been waiting for, the Easter brunch potluck! Again, not all churches may host a potluck after the service, but if they do, this is one tradition the whole family can enjoy! I'll bring the carrot muffins!
Easter Dinner Traditions
Speaking of food… With any major holiday comes a special meal, and Easter is no different! One of the very best parts of the Easter family gathering, aside from the company, of course, is the food! Adults (and sometimes kids, too!) all pitch in to make the Easter dinner special in many ways.
Ham
No Easter would be complete without a delicious, juicy ham! Why? Well, because it's delicious! But also because prior to Easter, some people celebrate Lent which traditionally involves giving up meat for 40 days that ends on the Saturday before Easter. Anyone would want to dig into a nice ham after giving up meat for this long!
Lamb
Many, many families prefer the tradition of eating lamb rather than ham for Easter dinner. It's really a matter of preference and family tradition.
Side Dishes
Yet another element of Easter dinner that's all a matter of family preference, as you want to be sure that everyone will leave with a full belly and big smile!~ Common side dishes served on Easter include yams, mashed potatoes with gravy, green beans, carrots, and various different casseroles. Don't forget the dinner rolls!
Deviled Eggs
(Sometimes referred to as angel eggs instead, in light of the holiday) Although hors d'oeuvres are pretty universal, you can almost guarantee someone is bringing some yummy deviled eggs! After all, is everyone really going to eat all of those beautiful, colored Easter eggs before they all go bad? Best to put them to good use!
Traditional Easter Cake
While the holiday may be filled with tons of sweets and unlimited jelly beans, no family gathering is complete without a dessert! Many families carry on a tradition of an Easter cake, whether one person makes their famous recipe every year, or a random family member is chosen to make their version of the Easter cake.
Here are a few different ways you can embrace the tradition of the Easter cake:
Bunny Cake
The shape of a bunny can be obtained by using two round cake pans, one of the rounds will serve as the bunny's head, while the other round is carefully cut to be the bunny's ears and bow tie, then decorated as desired. Or, you can simply purchase a bunny cake mold!
Easter Egg Cake
Most supermarkets sell egg-shaped cake pans, as well as art stores in the baking section. Decorate as you please or let the kids have a ball (with supervision of course)!
Carrot Cake
Carrot cake is delicious and suitable for Easter as bunnies eat carrots! And what person doesn't love cream cheese icing?!
Simnel Cake
While this is traditionally eaten in the middle of Lent, some families choose to eat one on Easter day. It's a delicious fruit cake layered with almond paste (marzipan), and topped with 12 marzipan balls to symbolize the 12 apostles.
There's no one way to celebrate Easter! Family traditions are something you and your family will fondly remember year after year, and will pass on to future generations! Start your own Easter traditions this year with your family, just be sure to remember to say Grace before your meal and not forget why we are celebrating on this glorious day. Jesus always has ways to bring us together as a family, and closer to Him! He is risen!