Many people think that Bingo is just a game played by old ladies, but it doesn't have to be that way. BINGO is a game that anyone can play, and it's always a lot of fun. It is also a fantastic activity for family reunions and gatherings!
Suppose you plan a family reunion or any other event where many relatives will attend. In that case, you should plan at least one game of "Bingo." This article will tell you more about how to play Bingo at a family reunion and provide a fun variation that makes it really fun.
How to Play Bingo
When it comes to family reunion games, this game is pretty close to ideal. The basic idea behind playing this game is simple:
You have a bingo card with randomized numbers between 1-75 organized in columns titled B, I, N, G, and O (thus spelling Bingo). A person designated as the caller will roll a cage full of numbered balls. The caller will pull a ball out with a number and call that number out.
For example, the caller might call out "B6." If you have the number "6" in your "B" column, mark it off. Once you have 5 numbers in a straight line (vertical, horizontal, or diagonal), you stand up and call out "BINGO."
Your card will then be checked against the caller's calls, and if you have Bingo, you're the game's winner.
Variation: How To Play Family Reunion Names Bingo
The setup is the same for Family Reunion Names Bingo, except instead of numbers, you randomly place the names of family members attending your reunion on your bingo card.
This feels more put together and adds more cohesion to your Bingo game. It feels more like a family reunion game and not like you're just throwing anything you can think of into the family reunion activities.
Make sure you only put one name per space, and you only use each name once per bingo card.
Additionally, the caller will fill their "bingo cage" with the names of the attendees on pieces of paper. As the caller draws a slip of paper with the name, you mark the names that happen to be on your game card. The first person to score 5 spots on their card in a row calls out BINGO!
If you're doing Family Reunion Names Bingo, make sure your bingo cage is solid plastic. If you use a wire one, the names will likely fall through the holes between the wires.
To make things easier and super fun, check out these printable Family Reunion Names Bingo cards from our Printable shop. They are instantly downloadable.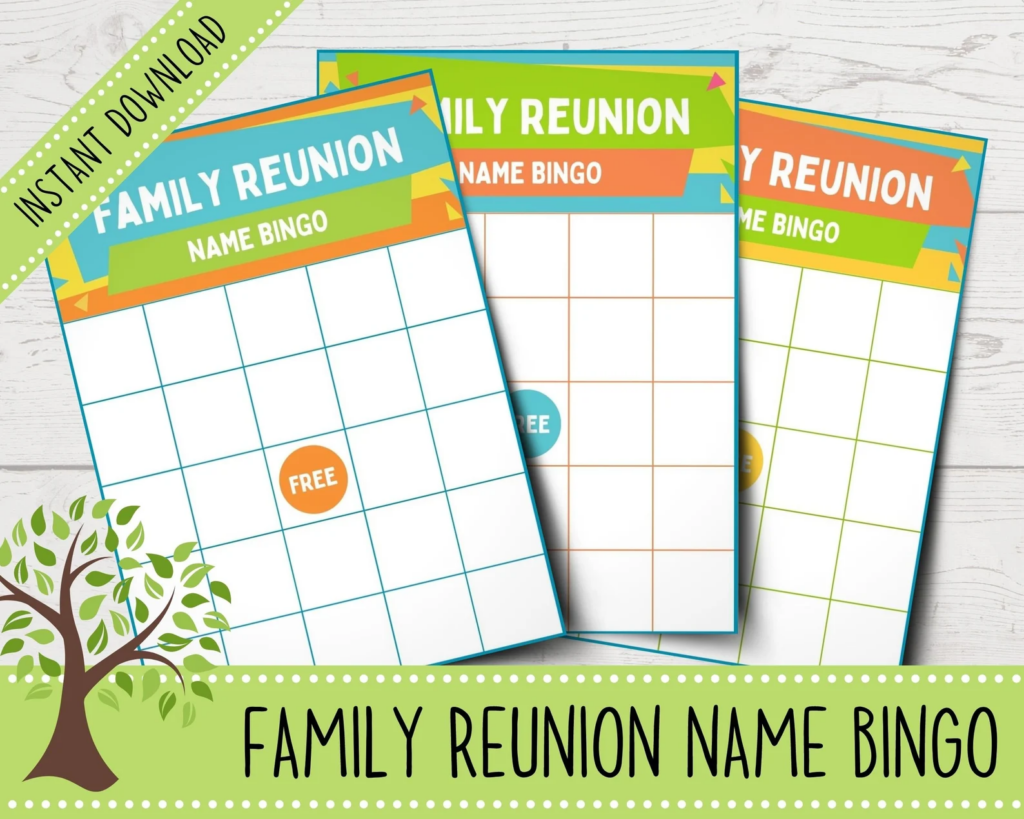 First: You Need Bingo Cards
You can order bingo cards online quickly, and you might find them in the game areas of some stores, but buying them online is probably the cheapest way to go.
You can use a bingo card generator to mock up some bingo cards, but you still have to print them. Another option is to save them as PDF files and use them as virtual bingo cards.
Give the Deluxe Bingo Experience!
One thing that makes Bingo so much is just the general experience. Being in an open room with a bunch of people sitting at their tables eagerly awaiting to mark their numbers and shout "BINGO" is so much fun.
But here's the question: how do you capture that same energy and feeling?
Assuming you have tables and chairs, you've won half the battle. What you need next are just a few accessories that will add to the overall experience. Of course, the Bingo accessories you buy are dictated by how many people attend your family reunion and your overall budget.
Bingo Cage
You want your game to be as fair as possible. That's why it's essential to have a bingo cage roller. Not only does it ensure random draws each time, but this is also the hallmark of a good bingo game. In addition, the sound of the cage rolling alone adds to the right atmosphere.
Speaker System for the Caller
You'll need some speakers and a microphone to call out each number. There are a few good sets on Amazon, but you might also have success using a Karaoke machine (just don't play the music, of course). The size of the speaker can depend on the venue.
A personal speaker, microphone, or a megaphone might be sufficient for smaller events. However, it's probably better to stick with an actual microphone with an amplified speaker for more significant events.
Camera and Projector
If you want to be particularly cutting edge, setting a camera up and connecting it to a projector will add a "wow" factor that will surprise almost anyone. Of course, this can be accomplished in many ways. Still, most people use a GoPro camera and connect it directly to a projector using an HDMI cable. Here's a video of a gentleman showing how hooking up an HDMI cable to a GoPro using a TV works.
This would work the same way, except you would connect the HDMI cable to a projector instead of using a TV.
Markers and Daubers
Don't forget the bingo card markers or daubers. Daubers are a bit more old-school, but I actually prefer them. There are a few pros to circular plastic markers. Firstly, the markers are infinitely reusable. Another pro for the markers is that you aren't marking up your bingo cards, which means your Bingo cards can also be reused.
I prefer the daubers because I have little kids who tend to bump tables, making the markers move on your card. Besides that, the plastic markers are pretty great!
Final Thoughts
These are just a few ideas to get you started. Of course, you may not need all of these items. Still, suppose you're looking to really wow everyone. In that case, you should definitely consider adding one or two of these items to your list.
At the end of the day, family reunions are about the family having fun catching up with each other. If this article helps make that possible even in the slightest way, then I consider that a huge success. I hope your family reunion is a huge hit, and don't forget to take plenty of pictures!