Within every game night is a fun children's party classic that never goes old. No matter the time, year, or age of participants, this game never fails to make players laugh out loud wherever or whenever they give it a go. 
For the most part, this short-time merriment requires you to use and move your entire body, syncing your own creativity and imagination along with it. Figured it out yet? As you've probably read from the title, we're talking about the all-time party favorite, Charades.
While this game arguably holds the record for the highest number of most hyped up parties since it was invented, the fact that it's literally centuries-old makes it hard for today's players to come up with fresh, new words and phrases to play it with.
If this is you, you're in luck, because today we're going to be giving you over 200 Charades words for the kids (and parents) to enjoy. Are you ready? So are we! But before that, let's first refresh our memories on how to play this game.
How to Play Charades
When it comes to Charades, the rules are simple. Divide the group into two teams, and assign one representative for each round to act out their word or phrase. Before each round begins, select a category to play or to draw it from the lot, just like you would with the actual answer.
Have each team guess as many answers within a given time, or until you run out of words for the game. At the end, the winner is the team with the most points, and that group wins a prize.
Silly Charades Words for Kids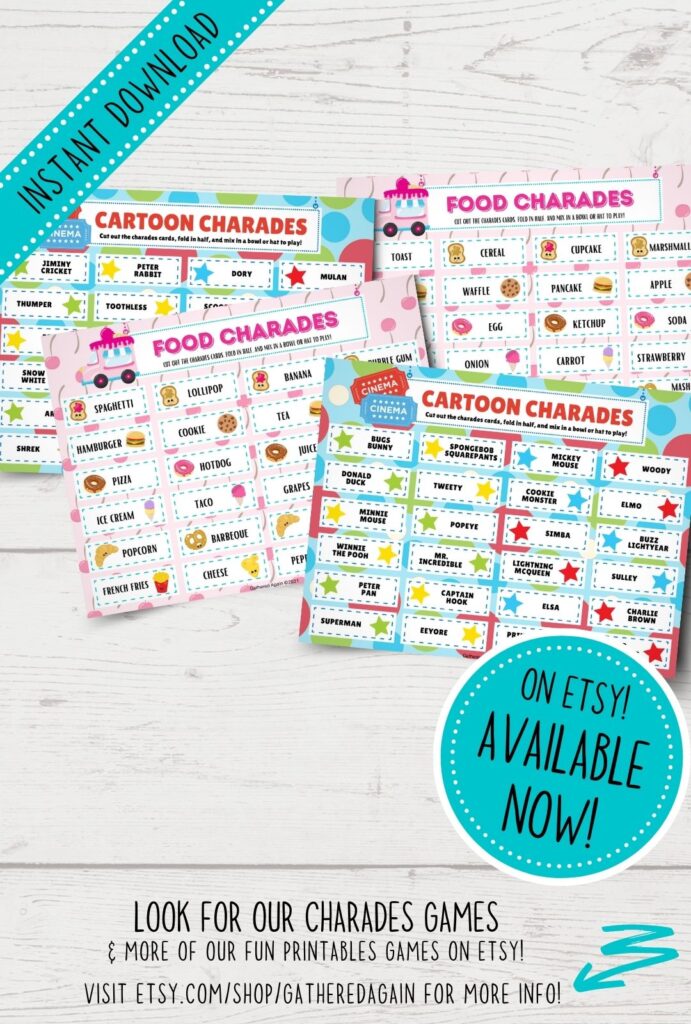 Now that we've refreshed your memory on how to play this classic party game, it's time for the answers! Here are silly charades words kids can use at your next game night.
Everyday Activities Charades Words 
If you're going to be playing Charades, never forget the basics. Here are some ideas on everyday activities you can use for your next game.
Eating
Drinking
Sleeping
Taking a Shower
Brushing Your Teeth
Brushing Your Hair
Getting Dressed
Putting on Shoes
Cooking
Cleaning
Taking Medicine
Doing the Laundry
Common Objects Charades Words
Other than the daily activities you regularly partake in, there are also many household objects we interact with on a day-to-day basis. Here are some of those examples below.
Table
Chair
Sofa
Bed
Refrigerator
TV
Soap
Knife
Cup or Glass
Bottle
Door
Stairs
Rug
Computer
Cellphone
Telephone
Doorbell
People and Professions Charades Words
Other people's impressions of their family and friends are the best kind of entertainment you can get on a game night. Here are some ideas to get your laugh on for your next game of Charades:
Mom
Dad
Brother
Sister
Grandma
Grandpa
Cousin
Uncle
Aunt
Chef
Lawyer
Doctor
Mailman
Ballerina
Artist
Veterinarian
Actor
Firefighter
Farmer
Cashier
Policeman
President
TV & Cartoon Charades Words
If you have kids at home, then you might already know this list, because you've no choice but to watch them. Kidding! Here are some of children's favorite shows and characters they can play for your next game:
Mickey Mouse
Spongebob Squarepants
Peppa Pig
Elmo
Batman
Dora the Explorer
Cocomelon
Paw Patrol
Winnie the Pooh
Eeyore
Big Bird
Ask the Storybots
Blue's Clues
Bugs Bunny
Elmer Fudd
Shimmer and Shine
The Flintstones
Garfie
Food Charades Words
Eating candy is probably the number one thing on a child's mind other than play. Here are some ideas on some tasty treats and snacks your kids can mime to fulfill their childhood dreams:
Ice Cream
Pizza
Marshmallows
Cotton Candy
French Fries
Toast
Cake
Sandwich
Steak
Donut
Cupcake
Spaghetti
Hamburger
Pancakes
Animal Charades Words
Other than humans, impressions of our favorite furry friends and animals can get the laughs roaring—literally. Below are some animal ideas you can use for the next round:
Dog
Cat
Lion
Tiger
Penguin
Cow
Turtle
Snake
Monkey
Pig
Skunk
Gorilla
Bird
Bat
Fish
Kangaroo
Elephant
Jellyfish
Horse
Lizard
Rabbit
Crab
Sports Charades Words
Have you got a hyper athletic kid who likes to run around all day and doesn't let anyone stop them? Let them explore their potential as they play pretend some of these famous sports and recreation:
Running
Swimming
Basketball
Baseball / Softball
Fishing
Golfing
Badminton
Tennis
Volleyball
Football
Soccer
Wrestling
Boxing
Surfing
Cricket
Hockey
Ping Pong
Hobbies & Arts Charades Words
There are some things in life that make living colorful and vibrant. Whether it's something as deep as your passion, or as simple as an afternoon pastime, here are some ideas on hobbies and arts for your game:
Painting
Drawing
Dancing
Singing
Playing Instruments
Writing
Baking
Cooking
Acting
Watching TV
Reading
Fairy Tales Charades Words
Fairytales and folklore allow children to see the world through a pair of shimmering eyes that are ready for adventure. For this list, your kids can play the part of their favorite fairytale characters for some fun.
Sleeping Beauty
Snow White
Rapunzel
Goldilocks
Three Little Pigs 
Little Red Riding Hood
Cinderella
The Little Mermaid
The Princess and the Pea
Beauty and the Beast
Jack and the Beanstalk
Hansel and Gretel
Humpty Dumpty
Children's Movies Charades Words
Other than cartoons and TV shows, your kids' favorite movies are bound to make an impression on them as they grow old. Below are some of our favorite movies and movie characters that you could include in your game!
Finding Nemo
The Lion King
Lightning McQueen
Frozen
Mike Wazowski
Coco
Poppy
Wreck-It Ralph
Snoopy
Shrek
Dumbo
Wall-E
Up
Toy Story
Buzz Lightyear
Woody
Zootopia
The Grinch
Emotions Charades Words
Our feelings are part of our daily lives. Because of this, even kids at a young age should be taught to understand how they work and how to express them. Here's a fun list to exercise your kids' display of emotions:
Happy
Sad
Angry
Sleepy
Hungry
Excited
Bashful
Confused
Jealous
Evil
Panic
Bored
Toys and Games Charades
As growing children need different types of learning for their development, toys are necessary. Let your kids have a blast playing as their favorite knick knacks in this list of ideas.
Race Car
Legos
Ball
Squirt Gun
Playing Cards
Paintball
Legos
Slinky
Jigsaw Puzzle
Jenga
Train Set
Airplane
Locations Charades
You know how there's always that one guy in the play who always gets the role of the tree or the moon? Now's your chance to put yourself in his shoes with this list for your next game.
School
Zoo
Arcade
Ice Cream Shop
Barber's Shop / Salon
Mall
Church
Hospital
Pizza Parlor
House
Toy Store
Grocery Store
Conclusion
Oh, the number of silly charades words for kids you can use at your next gathering. Exciting stuff, isn't it? We hope that this article was able to shed some light or inspiration for what to use for your game night with the kids.
In the meantime, if you're looking for more ways to change up the old mechanics, or perhaps an inspiration for other party games you can include, feel free to visit the official Gathered Again Etsy Shop for more ideas. 
We hope you have a great time with your friends and family playing Charades. We wish you the best of luck, players!