You may have stumbled upon this article because you were searching for ways to have good fun this Valentine's with your family, friends, and special someone. And, if you're hosting a Valentine's party, a game of Scattergories is the perfect party game you can play! 
Valentine's is an ultimate fun day for couples and families. All over the world, people celebrate this special occasion with lots of fun activities. There's a bewildering array of fun things you can do this Valentine's Day.  
Now, if you are throwing a Valentine's Day party or you're invited to one, you would surely want to have a list of fun things to do. For a cheap yet fun way for everyone to connect, we suggest the game of a relationship-themed Scattergories game that's perfect for the holiday.
What is Scattergories
Scattergories is a creative-thinking categories-based game, and the fun of it is in the answers people give. Also, the questions create an opportunity for deep emotional bonding by providing an outlet for laughter, some sweet memories from the past, and of course, learn a new thing or two about friends and spouses. 
This game was first introduced in 1988 by the Parker Brothers, manufacturers of toys and games. However, they have now been taken over by Hasbro, an American brand of toys, board games and entertainment company known worldwide.
How to Play Valentine Scattergories
Players compete by making lists of words that all start with the given letter. You'll score one point for every word you put on your list if no one else have written it on theirs. At the end of the game, the player who has the most points wins. 
The beautiful thing about a category game is that, there are a multitude of general themes and ways to play. Our theme for this game of Scattergories is, of course, all about Valentine's Day!
Available Now: Valentine's Day Scattergories!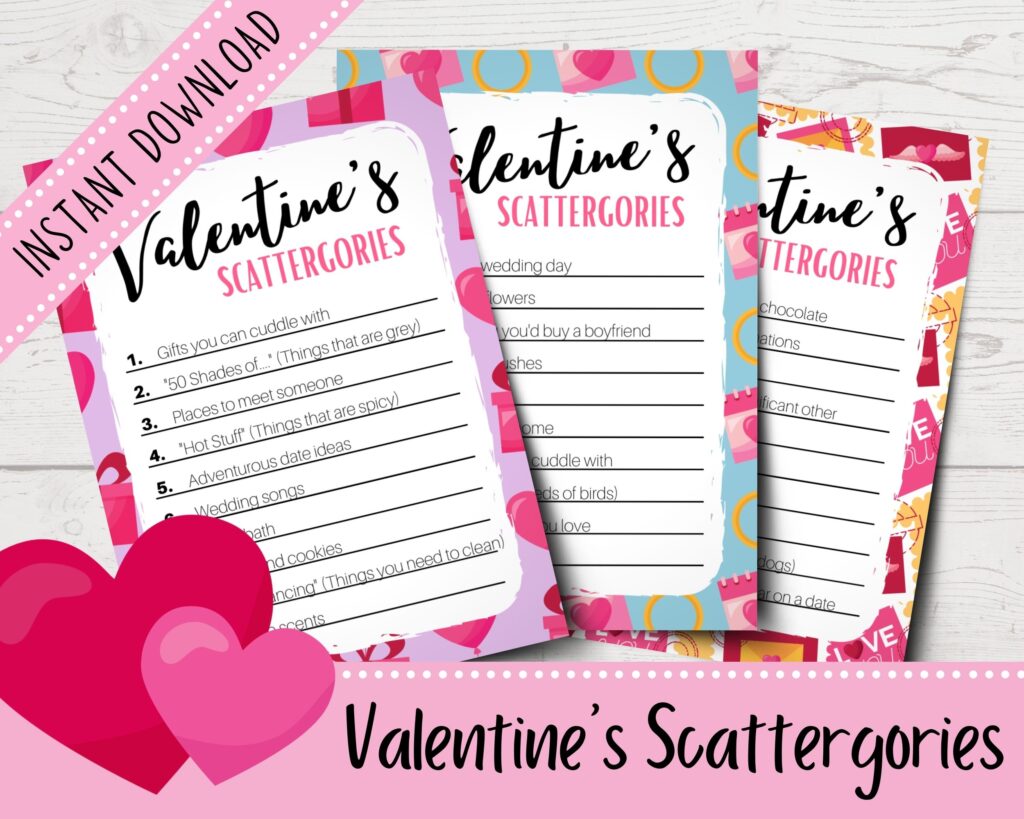 Game Objective
The objective of the game is to score the most points by giving a unique word or object within a set of categories, using the letter provided.
Setup
Make sure each player has everything they need to play the game. For our special Valentine Scattergories, you are going to need the following:
Valentine's Day Scattergories Lists PDF
20-sided Scattergories dice containing all letters of the alphabet except Q, U, V, X, Y and Z (you could alternatively cut out letters of the alphabet and randomly pick).
Blank paper for answer sheets
Pencils or pens
Paper cutter or scissors
Printer & paper (Heavy cardstock works even better!)
Timer
Print our free Valentine's Day Scattergories lists directly from your browser page by going to the link and clicking the printer icon. You'll need to print a set for each player, as everyone needs the same list each round of play. If you do not have a printer, this can be done in a printing shop.
Next, cut out the lists along the bold black lines on the boundaries. Each player is given a complete set of Valentine Scattergories lists to use during the game.
Scattergories Gameplay
A Scattergories game consists of three rounds.
A player or a game supervisor must roll the dice at the beginning of each round. The letter it lands on would be the first letter for your category responses. Alternatively, it would be the letter you randomly picked if you have them cut out.
Each round is a maximum of three minutes long (you can increase or decrease the time, depending on the number of teams and players).
The players must be fast in providing their answers, which start with the selected letter. Once the timer runs out, everyone has to stop writing. You could either check the scores after each round or wait until you finish the three rounds.
The player or team with the highest number of points after the third round wins!
Rules and Disputes
Articles, such as a, an, and the, don't count. For example, if the category is "Movies", then "The Dark Knight" would be an appropriate answer for the letter D, but not for the letter T, as the word the doesn't count.
A person's name counts if either their first or last name starts with the selected letter. For example, if you rolled the letter J and one of the categories is "Basketball Player", then both "Julius Irving" and "Michael Jordan" are appropriate answers.
You have the right to challenge your opponents' answers if you think they don't fit the category. If majority of the players approve your contradiction, then the player in question won't get points for the corresponding answer. If the votes are tied, then the challenged player's vote doesn't count.  
A word cannot be used multiple times on the same list. 
To score a point, your answer has to be unique from everyone else's.
If you are playing as part of a team, be sure to write down any answers you want to suggest instead of saying them out loud. You don't want your opponents to steal your answers!
To keep your opponents from seeing the answers you write down, hold up the upper flap of your folder so they won't be able to see your answer sheet.
Valentine Scattergories Lists
Aside from the printable Valentine Scattergories game, here are some sample lists you may want to add to your Valentine's Day party game.
List 1: Sweet Thang
Sweet fruits
Aromatic flowers
Glittering gift items
Kinds of candy
Songs about love
Perfumes
Honeymoon resorts
Romantic gestures
Food usually eaten on Valentine's
Sweetest thing about your lover/spouse
List 2: How Romantic
Gemstones used for rings
Found on dates
Countries couples visit for a romantic getaway
Ways to say "I love you"
Romantic comedy actor/actress
Valentine gifts people buy
Romantic novel authors
Romantic movies
Nickname for your spouse/lover
Romantic activities
List 3: All About Love
Names that mean "love"
Catchphrases that relate to love/romance
Decorations for Valentine's Day
Things you don't want to get for Valentine's Day
Places you go to for a romantic date
Emotions
Ways to propose
Married celebrities
TV shows about romance
Hollywood heartthrobs
Conclusion
Ever since its introduction in the late '80s, Scattergories has become an extremely popular game and pastime all over America. It's a game you can play either with your partner or your whole family and friends.  
If you play this during Valentine's Day parties, you could have couples play against each other or grouped together, this way everyone can participate. Feel free to download our free Scattergories printables, so you could have a sweet and fun Valentine's Day with your partner and family members.