Back in the day, paper heart crafts, red confetti, and cupid cutouts were just some of the things you can expect to see at school when February rolls around. The light, airy, and almost magical atmosphere helps set up the mood, while you're giving gifts and letting your loved ones know they're special.
With Valentine's Day just around the corner, we thought it would be a great idea to bring back some of the old school party games that made this day extra exciting. This time, we're talking about hosting a Valentine Left Right Game to kick off the vibes for this year's love month.
How to Play the Left and Right Game
If you're not sure what to get your friends and family this year, then taking part in this activity ensures that everyone will receive a little something to make their day. Thankfully, this Valentine Left Right Story Game is as simple as pie, and everyone can participate in it by simply bringing in a gift to exchange with.
To start, choose or create your own Left Right Story as a base. Once you have your story ready, get everyone to sit in a circle while holding their gift in hand. Have one representative read the story out loud, and exchange presents whenever you hear the words left or right. Whenever you hear left, exchange presents clockwise. Whenever you hear right, exchange presents counter-clockwise.
The thrill in this game is not knowing when you're going to be swapping the presents or when each swap is the last. The gifts may go back and forth before finally settling in with their respective owners, but we can guarantee that this activity will be just as fun, if not more, as giving out those presents yourself. 
Valentine Left and Right Game Stories
On the hunt for the perfect left right game stories for your Valentine's Day party? Here are two examples you can use at your gathering.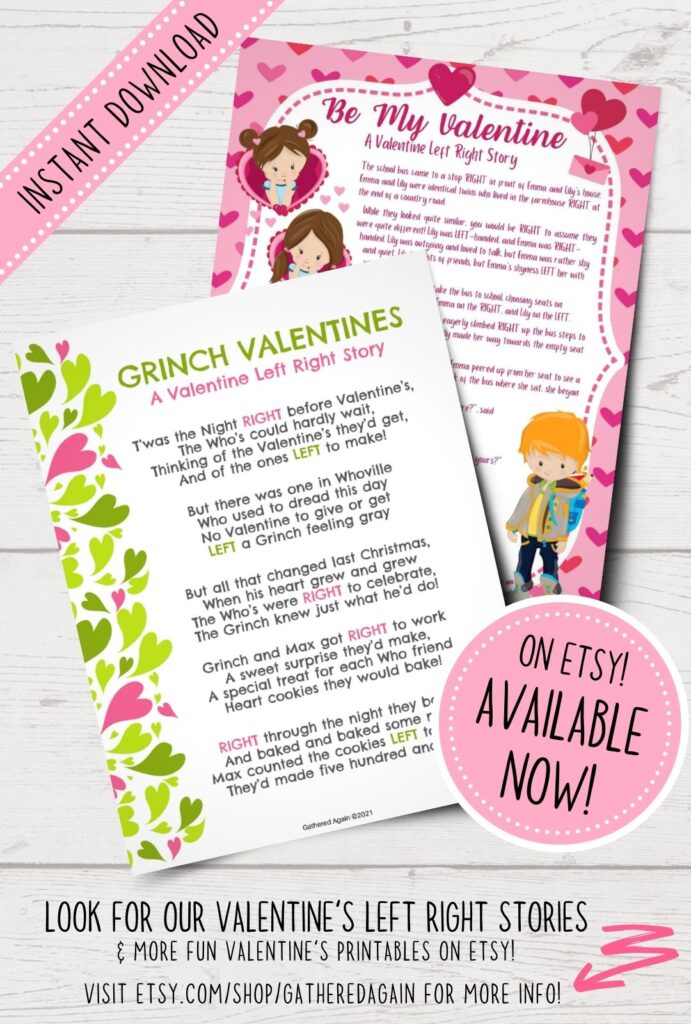 Story 1: A Valentine for You
The school bus came to a stop RIGHT in front of Emma and Lily's house. They're identical twins who lived in the farmhouse RIGHT at the end of a country road.
While they looked quite similar, you would be RIGHT to assume they're quite different! Lily was LEFT-handed, and Emma was RIGHT-handed. The former was outgoing and loved to talk; the latter was rather shy and quiet. Lily had lots of friends, but Emma's shyness LEFT her with very few.
Everyday they would take the bus to school, choosing seats on opposite sides of the bus; Emma on the RIGHT, and Lily on the LEFT. 
This day was no different. Lily eagerly climbed RIGHT up the bus steps to find her friends sitting on the LEFT side, while Emma quietly made her way towards the empty seat LEFT in the back, on the RIGHT side.
The bus had only one stop LEFT before arriving at the school. Emma peered up from her seat to see a young boy climb aboard. As he walked slowly towards the back of the bus where she sat, she began to feel nervous and excited.
"Hi there! There were no seats LEFT up front, is it okay if I sit here?" said the boy pointing at the empty seat RIGHT by Emma.
"Go RIGHT ahead," Emma replied. 
"I'm new here. We just moved," he said. "My name's Jacob, what's yours?"
"Emma," she said. "Do you like it here so far?"
"I had a lot of friends at the school I LEFT; I don't know anybody here…"
"Well you know me now!" she proudly said with a smile.
The school bus arrived at the school RIGHT on time. Students lined up and started to climb down the steps, heading RIGHT to Mrs. WRIGHT's class. Jacob turned back at Emma and said, "See you in class!"
Emma smiled back, LEFT the bus, and went to class. She couldn't stop thinking about the kind boy who sat RIGHT next to her.
The weeks went by, and Emma noticed how quickly Jacob made new friends—even becoming friends with Lily. Of course he'd like Lily, she was outgoing and had lots of friends. There were even days when he'd sit near her on the bus.
This LEFT Emma feeling sad. Then, she would think of Jacob's first day when they chatted the whole way to school, and it would make her feel better.
There were only a few days LEFT before Valentine's Day. All the kids went home to make Valentine cards to bring to school. Lily couldn't wait to get started! After all, with so many friends, it would take her a while to make so many!
Emma was excited to make her Valentine cards, too, but there was a special one she wanted to make just RIGHT. She grabbed her crayons, paper, glue, and stickers, and created the perfect Valentine card.
The next morning, all the children on the bus were talking about the Valentine's party and all the cards they made for their friends.
There was only one stop LEFT—Jacob's stop. Emma peered over the seats. Jacob climbed onto the bus, and slowly walked down the center aisle. He looked at the LEFT side, and then at the RIGHT side. Emma wondered where he'd sit, looking down at the empty seat LEFT by her.
She looked back up to see Jacob standing RIGHT next to her seat, smiling. "Can I sit here?" he asked.
"Of course," she replied with a smile.
She was excited to give him the special Valentine card she made for him, but also nervous, not sure if he'd have one for her. 
Jacob sat down, and without a moment to spare, immediately blurted out, "I made you a Valentine!" A wide grin spread across his face. "I wanted to wait for the RIGHT moment… but here you go!"
He handed her a handmade Valentine with the words, "Will you be my Valentine?"
She smiled RIGHT back at him, and said, "Of course!"
She knew, this would be the best Valentine's Day ever!
Story 2: A Grinch Valentine
T'was the Night RIGHT before Valentine's,
The Who's could hardly wait,
Thinking of the Valentine's they'd get,
And of the ones LEFT to make!
But there was one in Whoville
Who used to dread this day,
No Valentine to give or get
LEFT a Grinch feeling gray.
But all that changed last Christmas,
When his heart grew and grew
The Who's were RIGHT to celebrate,
The Grinch knew just what he'd do!
Grinch and Max got RIGHT to work
A sweet surprise they'd make,
A special treat for each Who friend
Heart cookies they would bake!
RIGHT through the night they baked
And baked and baked some more,
Max counted the cookies LEFT to RIGHT,
They'd made five hundred and four!
One batch of cookies LEFT to make,
They'd baked all through the night.
Baking and decorating Valentine's,
Making sure each was just RIGHT.
RIGHT as the last batch was done,
The sun was beginning to show,
Not much time LEFT to deliver
A Valentine to each Who's door!
Grinch quickly loaded up his sleigh
With the sugary Valentine treats,
Raced RIGHT down to the little town
To start delivering the Who's sweets.
"What a way to start the day,"
the Grinch smiled at the thought,
"Each Who in Whoville, would know
That I like them a whole lot!"
Only one house LEFT, Cindy Lou's,
The one last cookie simply read,
"Happy Valentine's Day
Thank you for being my friend!"
More Valentine's Day Gift Exchange Ideas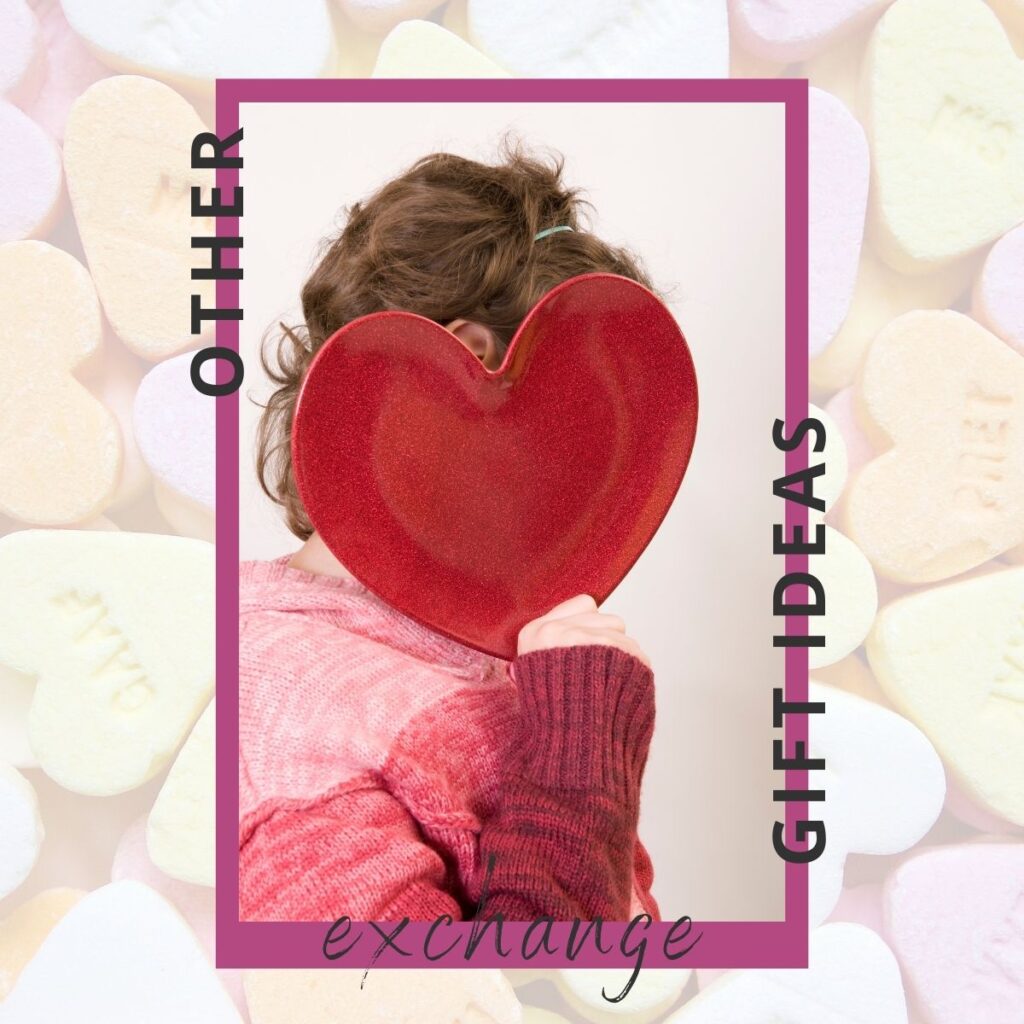 If, perhaps, the current Valentine Left Right Game gameplay mechanics aren't enough to stir the pot, you can apply some of these rules to spice up your left right gift exchange. 
Candy Swap
Instead of bringing in different types of gifts for your loved ones, everyone can instead fill a bag of treats and candy bars for the activity. Since chocolates and sweets are applied to this variation, it's slightly more suited to cater to the Valentine spirit.
Secret Valentine
Everything's a little more mysterious when secrets are involved. In this variation, the rule is to never let anyone know which gift you brought. Once the game is over, and everyone has got their gifts in hand, it's time to have a blast guessing who it came from.
Conclusion
Valentine's Day only takes place once a year and, because of it, it's worthwhile to go all out to give back and make those close to you feel loved. Regardless of which story you go for or which Valentine Left Right game twist or variation you apply, we guarantee you that a fun event like this would be a great way to kick off or close off your celebration.
As for us, we hope this article was able to help you come up with new and exciting ideas this coming holiday. As a closing note, remember that even though Valentine's Day is about spreading the love, it's not the only day in the year you can make someone feel special.
Happy Valentine's Day, everyone!