Are you looking for a fun game to play on Valentine's Day? Why not try a Valentine's Left Right Game, which is full of surprises that will make your Valentine's Day celebration more delightful and unique?
Left Right Games are perfect for any party, because everyone can be involved! Whether you're planning a Valentine's Day party for your elementary school class, an office Valentine's Day Party, or church small-group, everyone will have a great time playing this fun gift-passing game!
How to Play the Valentine's Left Right Game
This is really one of the easiest Valentine's Day party games to set up and play! All you need is a few things to get started and a couple of basic rules to follow.
What you'll need:
Valentine's Day Left Right Story
1+ Prizes
How to play the Left Right Game:
One person will be the narrator and read the story. All other participants will sit in a circle.
The prize is placed randomly in front of someone in the circle. More on prizes later!
As the story is read, the prize(s) are passed around the circle. When the narrator reads "Left", the prize is passed to the left. When the narrator reads "Right", the prize s passed to the right.
At the end of the story, whoever is holding the prize wins it.
Free Valentine's Day Left Right Story
You can't play the Left Right Game with a Left Right Story! So we're providing a couple of stories for you to use for free! You can also check out our Etsy Printable shop for convenient PDF copies of these Left Right stories and more!
"My Puppy Valentine" Left Right Story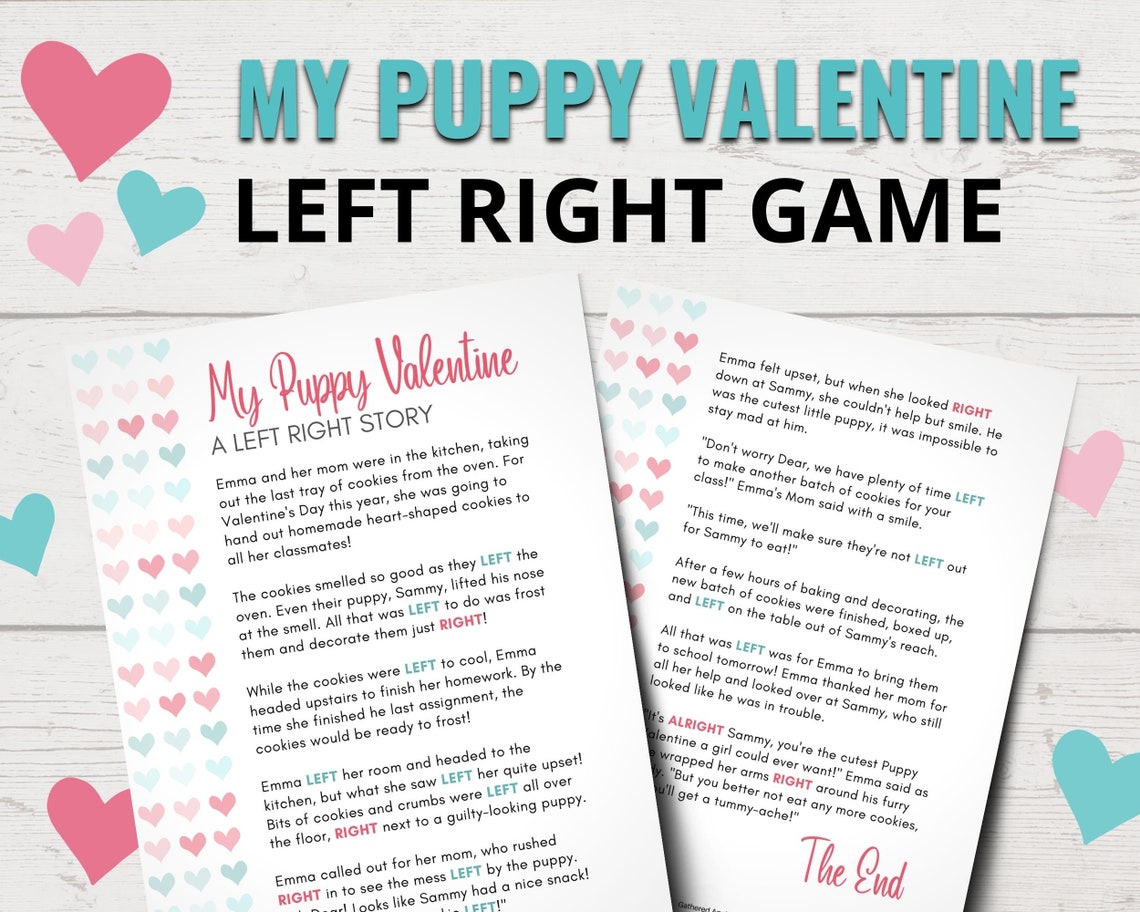 Angie and her mom were in the kitchen, taking out the last tray of cookies from the oven. For Valentine's Day this year, she was going to hand out heart-shaped cookies to all her classmates!
The cookies smelled so good as they LEFT the oven. Even their puppy, Sammy, lifted his nose at the smell. All that was LEFT to do was frost them and cover them in sprinkles!
While the cookies were LEFT to cool, Angie headed upstairs to finish her homework. By the time she finished he last assignment, the cookies would be ready to decorate!
Angie LEFT her room and headed to the kitchen, but what she saw LEFT her quite upset! Bits of cookies and crumbs were LEFT all over the floor, next to a very guilty-looking puppy.
Angie called out for her mom, who rushed RIGHT in to see the mess LEFT by the puppy. "Oh Dear! Looks like Sammy had a nice snack! There's not a single cookie LEFT!"
Angie felt upset, but when she looked RIGHT down at Sammy, she couldn't help but smile. He was the cutest little puppy, it was impossible to stay mad at him.
"Don't worry Dear, we have plenty of time LEFT to make another batch of cookies for your class!" Angie's Mom said with a smile. "But this time, we'll make sure they're not LEFT out for Sammy to eat!"
After a few hours of baking and decorating, the new batch of cookies were finished, boxed up, and LEFT on the table out of Sammy's reach. All that was LEFT was for Angie to bring them to school tomorrow! Angie thanked her mom for all her help and looked over at Sammy, who still looked like he was in trouble.
"It's ALRIGHT Sammy, you're the cutest Valentine a girl could ever want!" Angie said as she hugged her puppy. "But you better not eat any more cookies, or you'll get a tummy-ache!"
"A Shot at Love" Left Right Story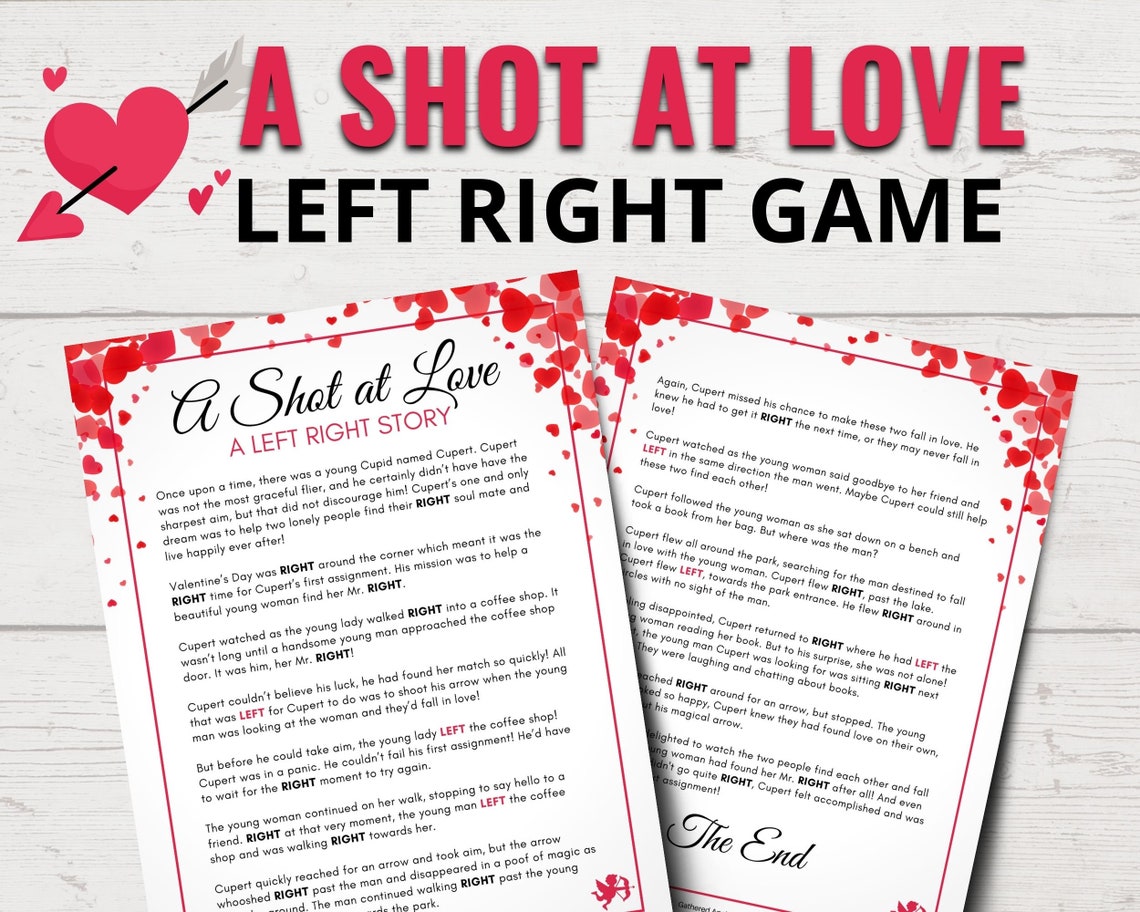 Once upon a time, there was a young Cupid named Cupert. Cupert was not the most graceful flier, and he certainly didn't have have the sharpest aim, but that did not discourage him! Cupert's one and only dream was to help two lonely people find their RIGHT soul mate and live happily ever after!
Valentine's Day was RIGHT around the corner which meant it was the RIGHT time for Cupert's first assignment. His mission was to help a beautiful young woman find her Mr. RIGHT.
Cupert watched as the young lady walked RIGHT into a coffee shop. It wasn't long until a handsome young man approached the coffee shop door. It was him, her Mr. RIGHT!
Cupert couldn't believe his luck, he had found her match so quickly! All that was LEFT for Cupert to do was to shoot his arrow when the young man was looking at the woman and they'd fall in love!
But before he could take aim, the young lady LEFT the coffee shop! Cupert was in a panic. He couldn't fail his first assignment! He'd have to wait for the RIGHT moment to try again.
The young woman continued on her walk, stopping to say hello to a friend. RIGHT at that very moment, the young man LEFT the coffee shop and was walking RIGHT towards her.
Cupert quickly reached for an arrow and took aim, but the arrow whooshed RIGHT past the man and disappeared in a poof of magic as it hit the ground. The man continued walking RIGHT past the young woman and her friend, towards the park.
Again, Cupert missed his chance to make these two fall in love. He knew he had to get it RIGHT the next time, or they may never fall in love!
Cupert watched as the young woman said goodbye to her friend and LEFT in the same direction the man went. Maybe Cupert could still help these two find each other!
Cupert followed the young woman as she sat down on a bench and took a book from her bag. But where was the man?
Cupert flew all around the park, searching for the man destined to fall in love with the young woman. Cupert flew RIGHT, past the lake. Cupert flew LEFT, towards the park entrance. He flew RIGHT around in circles with no sight of the man.
Feeling disappointed, Cupert returned to RIGHT where he had LEFT the young woman reading her book. But to his surprise, she was not alone! In fact, the young man Cupert was looking for was sitting RIGHT next to her. They were laughing and chatting about books.
Cupert reached RIGHT around for an arrow, but stopped. The young couple looked so happy, Cupert knew they had found love on their own, even without his magical arrow.
Cupert was delighted to watch the two people find each other and fall in love! The young woman had found her Mr. RIGHT after all! And even though things didn't go quite RIGHT, Cupert felt accomplished and was ready for his next assignment!
Squirrel's Valentine's Day Left Right Story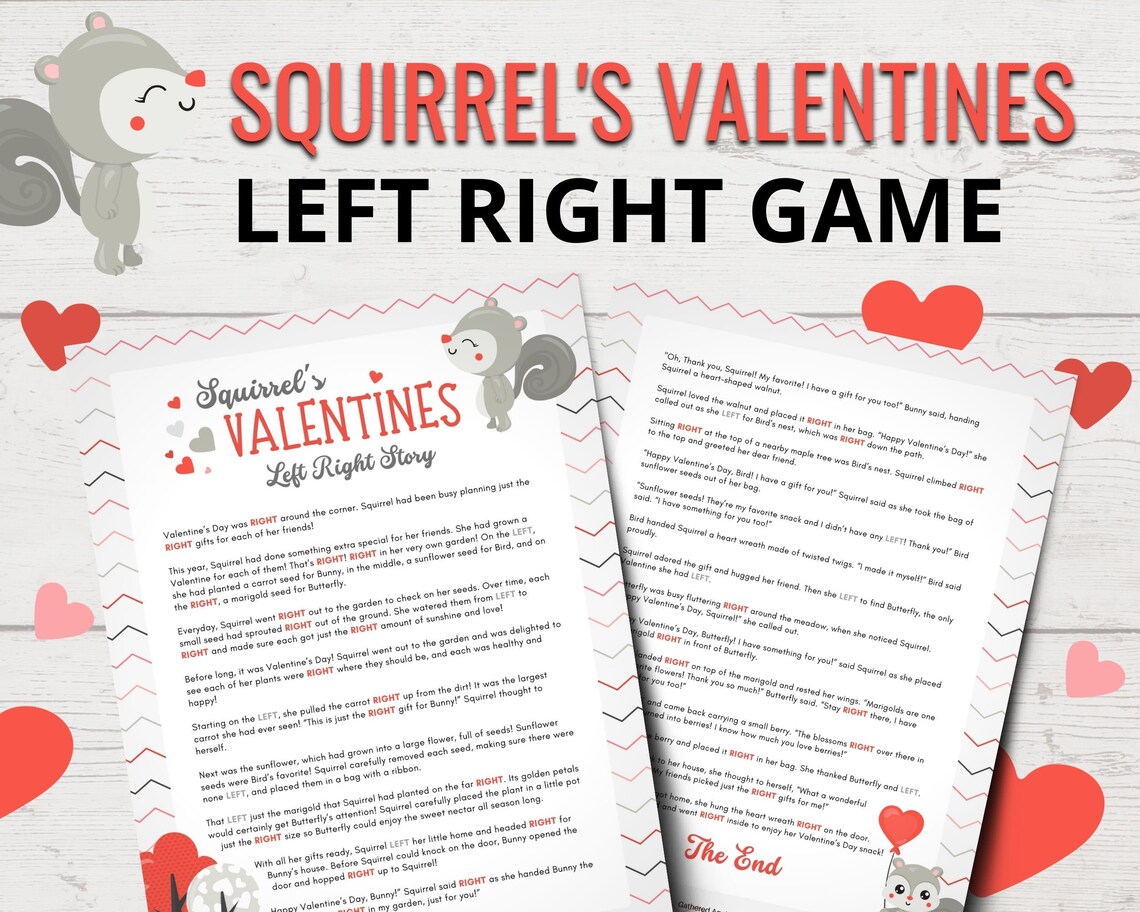 Squirrel's been busy growing special Valentines for all her friends in the forest! Tag along as she delivers each gift and find out what Valentines her friends have for her!
This story is perfect for a Sunday School or Elementary classroom Valentine's Day Party! Find it and our other Printable Valentine's Day Games on our Etsy Shop!
How to Play When You Have Lots of Guests
I've been asked this question a lot! That's because this is such a fun game for big groups or classrooms full of students! Well there is one main trick to playing the Left Right Game when you have a large group: have multiple prizes!
This is a gift-passing game – and if you have a really large group, it's possible that some participants may never even have the chance to hold or pass the gift (which isn't very fun if you ask me!). So having multiple gifts can ensure everyone will have the opportunity to pass the gift at least once during the story!
My Favorite Option: You can also plan to have an equal number of prizes as their are participants. This is my ideal solution, because everyone's a winner! I definitely recommend getting different prizes, it definitely makes the game more exciting!
Now let's talk about what types of prizes you can pass!
Valentine's Day Left Right Game Prizes
It's time to talk about the prizes! There are so many fun things you can use for a Valentine's Day gift prize! Here are just a few prize ideas for kids and adults!
Valentine's Day Prizes for Kids
Stuffed Animals
Pink Play-doh
Valentine's Day Candy
Glitter Slime
Koosh Ball
Coloring Book
Scented Markers
Sticker Book
Fun-Shaped Erasers
Bubbles
Valentine's Day Prizes for Adults
Coffee Mug
Gourmet Cupcakes
Handmade Cookies
Bottle of Wine
Scented Candle
Foam Hand soap
Gourmet Chocolates
Insulated Cup
Gourmet Spice Blends
Rocketbook Planner
Jigsaw Puzzle
Card Game
Gift Card
Whatever prizes you choose, make sure you wrap them! Part of the fun is the surprise of opening the prize at the end of the game!
Final Thoughts
Valentine's Day only takes place once a year and, because of it, it's worthwhile to go all out to give back and make those close to you feel loved. Regardless of which story you go for or which Valentine Left Right game twist or variation you apply, we guarantee you that a fun event like this would be a great way to kick off or close off your celebration.
As for us, we hope this article was able to help you come up with new and exciting ideas this coming holiday. And make sure to check out these other great Valentine's Day Games to play at your party!As a closing note, remember that even though Valentine's Day is about spreading the love, it's not the only day in the year you can make someone feel special.
Happy Valentine's Day, everyone!