When we think about Spring, we think about colorful meadows, emerald green leaves, and the beautiful and blinding light of the sun. We see animals awaken from their hibernation and flowers bloom.  The earth seems to come to life again during this season, and it's the perfect opportunity for you to go out in the sun, and spend time with family and friends. To arrange a perfect and fun-filled day, we have listed different Spring activities for adults you might want to try out!
Outdoor Spring Activities for Adults
With the warm sun and beautiful scene, going outside to enjoy Spring activities for adults is surely a great way to spend the season. We have listed different ways for you to spend spring.
Do Gardening
Spring gardening is a fun and exciting activity after the long and cold winter season. It is the perfect season for you to plant and tend to your garden because the sun is out and the earth is fresh. 
To prepare your garden, you should first sharpen your tools and order summer-flowering bulbs and seeds, such as lilies and gladioli. Remove the leaves and other debris from the flower beds, and tilt the soil to prepare the garden bed. After which, plant the seeds and water the plants.
To take care of your plants, you should watch out for pests and maintain your fences. 
Fly a Kite
With the warm sunshine and wind on your face, it is the best season for you to fly your kite. Kite flying has been a Spring tradition for over two thousand years. It does not only give you the thrill of flying and seeing your kite in the air, but it also gives you the chance to express your creativity.
Creating your kite is just as fun as flying it. Different kites require different styles of a bamboo skeleton. You can shape it to different animals, mythical creatures, and many more. After this, you can pick the material to use as a cover for the skeleton.
The best part of creating your kite is painting it! You can express your creativity and skills through this step. Artistic images and bright colors pose as a good visual effect when it's high up in the air. 
When you're finished painting your kite, tie the string and winding tools to help you fly it. Finally, wait for the wind to come, run, and let your kite fly in the sky.  
Go Fishing
Spring is when the water temperature drops, which makes it great for fishing. Bass is a type of fish that can be found since their feeding activity is on the rise during this season. 
You can invite your friends and family, and find a nearby pond, lake or river. If you don't have the right gear, you can buy one at the local store or rent if applicable. Choosing the bait is also important for a successful fishing trip. 
Plan a Camping Adventure
Pack your bags, grab your shoes, and set up your tents. Spring is a wonderful season to go camping. It doesn't matter if you do it in your backyard or you plan to go out of town, as the season lets you be as close to nature. It's a great time to set up camp, roast marshmallows, talk about camping adventures and watch the stars. 
Enjoy a Nature Hike
Spring is indeed the best time to get out hiking. The trees and flowers are beginning to bloom, the earth is fresh, animals are starting to be active, and the sign of new life can be seen everywhere. You can also explore new trails you haven't gone to before.
Go to a Petting Zoo
Petting zoos are filled with new animal babies you can cuddle and feed (if you're having the baby fever but aren't ready to have one yet). You can also try going out into the wild to watch the animals go about their day. Birds, chipmunks, and ducks also show their faces during Spring after the long winter days.
They may be hungry, so you can pack them proper food and give them a free meal. 
Take an Evening Stroll
Spring evenings are magical and beautiful. The air is sweet, cool, and quiet as the flowers twinkle under the light of the night sky. It's a perfect time to take an evening stroll and arrange to have dinner in your backyard. 
Have a Picnic
Picnic outside is a fun way to gather the family and spend quality time. Considering it's hard to gather the family at the dinner table, why not arrange a picnic to have friends around, as well? Pack your meal, pick your picnic blanket, and take it outside. 
You can plan your picnic outside of your backyard or you can visit the local park.
Play Springtime Word Games
When you're getting ready for your picnic, make sure you don't forget some fun activities to play while you're outside!
Pack a few of our cute springtime word games to enjoy a peaceful activity together while you enjoy the sunshine!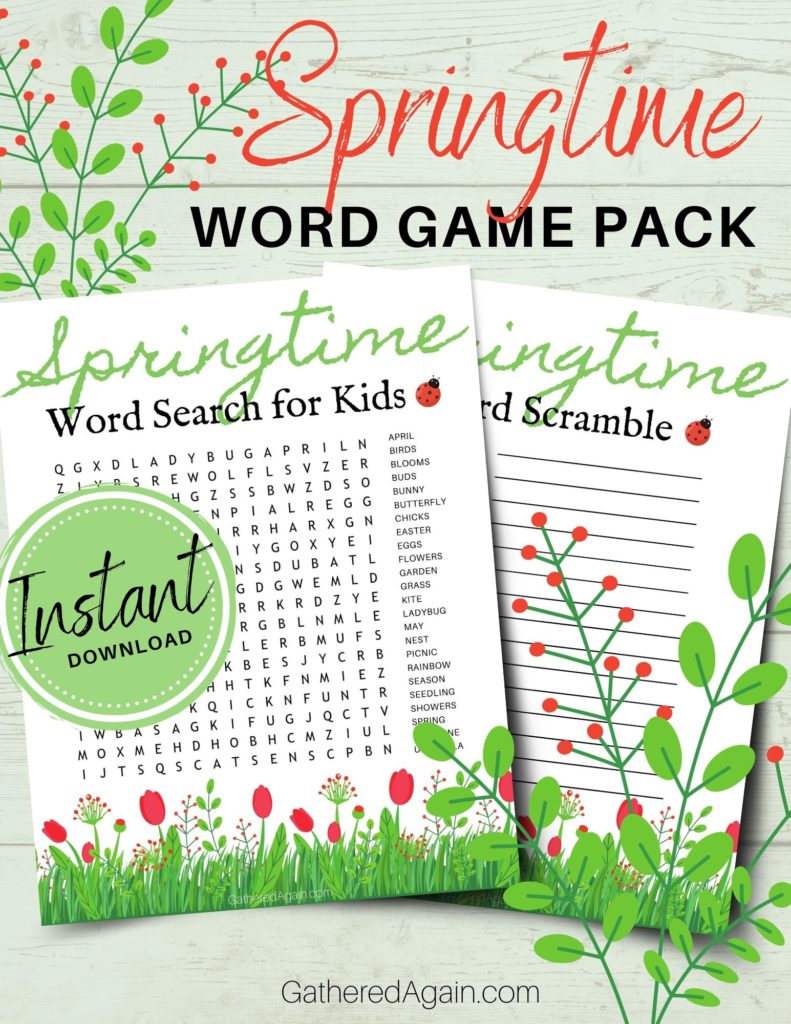 Go on a Flower Farm
Since Spring is the season where the flowers bloom, it would be nice for you and your friends to visit the nearest flower farm or meadow to look at the blossoming flowers. You can simply roam around the area to look, or you can also take photos of them to post on your social media or simply keep as memento. 
Fancy Spring Activities for Adults
Enjoy Brunch
One of the poshest Spring activities that adults can do is have brunch. Going out for brunch is a seemingly luxurious activity for Spring. You can choose to host a Spring Brunch with some seasonal recipes and meals to serve your guests. You can also add on a sweet and savory flavor to your meals to bring in the seasonal spirit. 
Play Golf
Playing golf during Spring, with the lush green fields as the view, is an awesome activity to do. You can invite your family and friends to attend this activity, or you can plan it as a date with your partner. To play the game, you have to get the ball from the starting point to the hole. Keep track of your score for each hole, and whoever gets the lowest score wins the game. 
Go Horseback Riding
Horseback riding is another fun activity to try with your friends. This activity will offer solitude and tranquility to yourself because you get to see nature and smell the fresh air. If you're a beginner, try approaching the horse in a straight line to make your presence known. 
If you feel insecure or wobbly in your seat, you should practice proper posture to avoid falling on your horse. To become a good rider, you have to learn the proper skills and effectively work properly with the animals.  
Travel to Europe
Stunning landscapes, warm temperatures, and beautiful gardens are the reasons why many flock to Europe during Spring. You can search online for beautiful destinations and tour packages you can grab. It's best to book your tour before the season to get discounts. You can also choose to pick your destinations, and plan your trip on your own. 
Shop for Spring Outfits
Wearing chic and fashionable outfits for Spring is a must. It's a good thing the stores have stocked up with different designs and styles for your Spring wardrobe. You can also check the internet or fashion magazines to get good ideas for your outfits. Bright and floral prints are perfect for this season. 
Artistic Spring Activities for Adults
Try Landscape Painting
Spring is such a beautiful season that it is hard not to paint it. Use acrylic colors to bring out the captivating landscapes and scenes, such as rivers, mountains, trees, sky, and wildlife. You'll end up with a stunning landscape painting, which you can hang on your wall or give to a friend.
Bake Cupcakes
Express your artistic skills by baking cupcakes and cakes. You can express your creativity and the Spring theme by using the season's best colors. You can also add flower and animal designs to express the season.
Do Photography
In today's time, everything is digitalized. So, to capture that perfect scene after winter, you can just easily grab your phone or camera to snap the beautiful Spring landscape. You can ask your friends and family to roam around the area to take photos of the beautiful scenery. If you want, you can also do a mini-photoshoot for your brand or social media accounts.
Create an Origami
There are tons of tutorials and videos you can watch online to create a flower or animal origami. Creating origami is a fun and creative activity for Spring that you can also do with your kids and family. 
Decorate your Home with Spring Flowers
It is so nice to see your home littered with colorful and bright flowers. The colors and the smell bring life and vibrance to your home, sending a positive boost to your brain. Try picking flowers in your garden or buying at the supermarket, so you can decorate your home. 
Don't Miss Out this Spring
Spring is a beautiful and heart-warming season, wherein adults can do tons of activities. Instead of sitting on your couch or bed doing nothing, do try out the Spring activities for adults we have listed above to fully enjoy this beautiful season. You should also invite your family and friends to enjoy Springtime with you. So, do not miss this chance to celebrate a season full of life and color.