Easter is a wonderful time of the year for both children and adults alike. On this holiday, one can expect bountiful meals, joyful reunions, awaited family easter baskets and, of course, let's not forget the annual easter egg hunt tradition with the kids.
With that said, a busy holiday like Easter can only mean so much prep time for the hosts in charge; from cooking large servings of food, to making up the home for when guests arrive, things can certainly get crazy before they get any good.
To make matters easier, we've decided to take a load off your shoulders, and introduce a list of super fun family easter baskets to try for the holiday.
With this list, you can choose to deviate from the generic candy basket, and try out something that may suit you and your family's fancy. 
Arts and Crafts Basket
First on this list is a basket dedicated to getting the clan's minds and creativity rolling. Yes, you guessed it right, it's an arts and crafts basket!
Instead of filling them with chocolates or candies, try adding in a bunch of art supplies that can spike your family's imagination, and make them create whichever kind of masterpiece they prefer. Save them as a keepsake to remember the fun-filled activities you had this easter. 
Here are some ideas to fill an arts and crafts basket with: 
Easter Egg Decorating Kit
With this decorating kit, the family can embellish their own Easter eggs. Add in different colors of markers and paint, and have everyone compare how they did at the end. Use them as decoration for a super festive time.
Painting Kit
If you prefer to use paint as a medium, then preparing a complete painting kit may be the way to go. When painting on paper, opt for poster paint for a much faster drying time. On the other hand, if you're going to be painting on other surfaces, such as clay or wood, acrylic would be the best option.
Easter Bunny Masks Craft Kit
Another festive art project is an Easter Bunny mask crafting kit. Print or cut out a template from an old folder, and have the family decorate masks with their own flavor. Doing this activity also doubles as a great photo opportunity later on, where everyone can wear their own DIY masks for fun.
Spring Basket
Since this Easter holiday falls on the wonderful Spring season, how about curating a basket that celebrates this fine time of the year?
Family members can enjoy Spring-themed Easter baskets for some outdoor fun, while basking in the midst of blooming flowers and the season's warm weather.
Here are some ideas to fill a Spring basket with:
Mini-Gardening Kit
A mini-gardening kit is a great way to make the most out of both Spring and family time. Kids and adults can pair up to plant seeds into ceramic pots, or transfer de-potted plants and flowers to their forever home. Include basic gardening supplies, such as a shovel and some gloves, and this kit is complete.
Kites
Flying a kite in the winter time can only spell disaster if it's even possible to fly one. That's why adding kites to the Easter basket can be an enjoyable activity for both children and adults to run around and play. You can also mix things up and add in large bunny or chick-shaped kites with some simple shapes for variation. 
Seasonal Treats or Food
Springtime is not only known for its balmy climate, it also has a reputation for delicious sweets being served at this time of the year. Include some homemade bunny-shaped rice crispy treats or some chocolate eggs to complete this basket. Better yet, make the entire basket out of cookies so you can eat the treats and eat the basket, too!
Healthy Easter Basket
Vegans and health-conscious family members shouldn't feel left out if they also want delicious food or treats in their basket for Easter. 
Whether you've got family members who don't eat too much sugar, or guests that are simply looking for a yummy, guilt-free snack, healthy Easter baskets will work wonders for those who are practicing a healthier and cleaner diet.
Here are some ideas to fill a healthy basket with:
Healthy Deviled Easter Eggs
Devilled eggs, by the word itself, aren't typically considered healthy snacks. However, there are ways to make the most out of the egg's health benefits while adding ingredients that don't have too much calories in them. Low-fat mayo, avocado, relish, and greek yogurt are healthy elements to look into when making the ultimate recipe.
Sugar-Free Jelly Beans
Jelly beans are soft, chewy, and come in a bunch of assorted flavors that satisfy every kind of confectionary craving. On the market, there are sugar-free options that also come in less calories than traditional jelly beans. This makes them a suitable option for health-conscious family members looking to cut back on the sugar.
Dark Chocolate
This sweet treat is a perfect solution to healthy family members who have a knack for chocolate. This is because dark chocolate has a lot of antioxidants, and is a great alternative to milk chocolate or white chocolate. For more nutritional value and added flavor, you can get one with add-ons, like walnuts, almonds, or fruit. 
Game Basket
Since Easter is a time for gatherings and celebration, what better way to spice up the festivities than introducing games to family members' Easter baskets?
A wide array of viable options is literally at your disposal. This Easter basket is a superb idea for children and kids at heart.
Here are some ideas to fill a games basket with:
Printable Games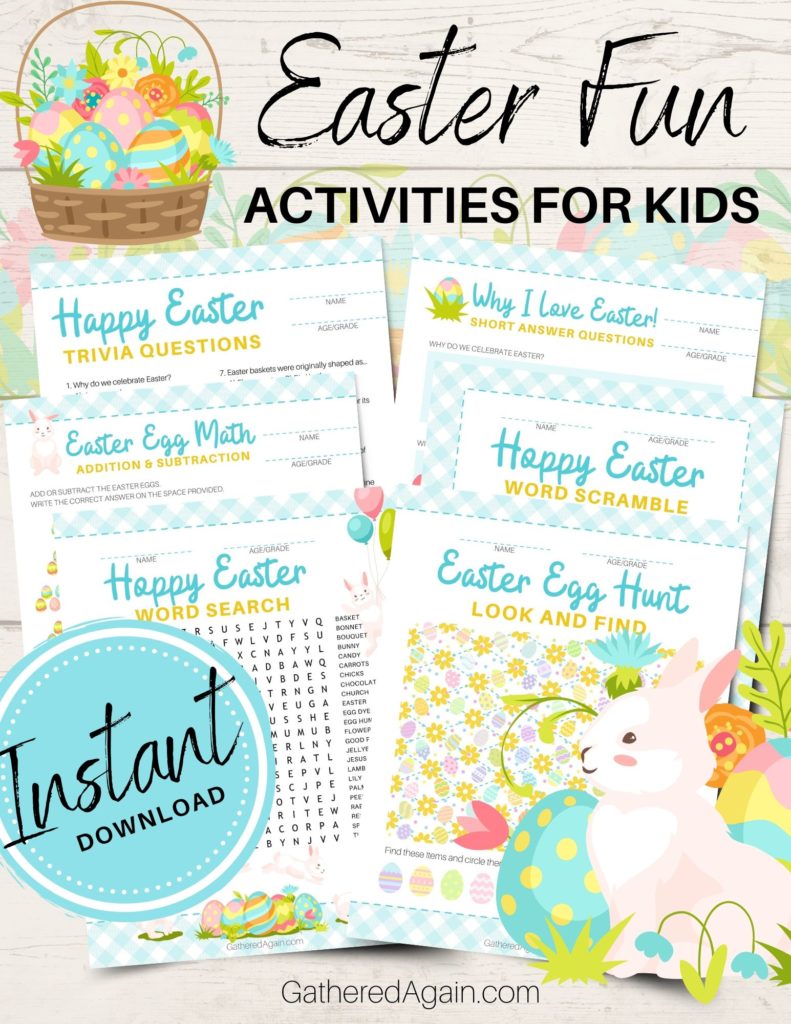 Printable puzzles and games are great basket fillers because you can print a copy for each member of the family and it doesn't cost anything extra! Check out our selection of Easter printables at the Gathered Again Etsy Shop.
Board Games
Make the most of the celebration with some board games. Bring in strategic cult favorites, like Monopoly or Cluedo. On the other hand, if you think your relatives prefer games that require logic, you can also try out word games, like Scrabble or Boggle for a wild family fun.
Card Games
Card games are also great drivers for family bonding and enjoyment. UNO is a fine example of this that can really get people hyped up fast. Traditional Bicycle cards can also be used for more conventional games, like Solitaire, Go Fish and Concentration, if you think your group prefers the classics.
Outdoor Game Equipment
Can't get enough of the weather? If you're looking to take the game outdoors, placing outdoor game equipment would be your best bet. For this, you can include Nerf guns, water guns, mini-golf kits, badminton rackets, and anything else that could be done in your backyard.
Movie Basket
Nothing beats spending an indoor family fun like having a movie marathon. When you can't figure out exactly what to do on this joyous occasion, just consider gathering the folks on the couch. This lasting activity guarantees great family fun for hours on end. 
Here are some ideas to fill a movie basket with:
DVD or Blu Rays
No movie marathon is complete without some films to watch. Opt to leave in different genres that both kids and adults can enjoy, so no one gets left out. 
If you're looking for festive Easter-themed movies, you can watch Hop (2011), or Hank and Mike (2008) for bunny-themed comedies. Also consider watching The Greatest Story Ever Told (1965) for an epic Biblical retelling of the origin of Easter.
Movie Posters
Adding movie posters to your Easter movie basket can definitely help get your family members excited for the activity. You can add miniature-sized movie posters of the movies you're scheduled to watch for the day, and maybe even hang up some on the wall for a true cinema feel.
Movie Decor
To help the family settle in to the vibe of a movie theater screening, adding in respective movie theater decor can do the job. Consider putting clapperboards, old-school cameras or classic rolls of film in family members' baskets to complete the classic theater set-up.
Microwave Popcorn
Of course, no movie marathon is complete without snacks. Gather your relatives' favorite popcorn flavors beforehand, so you can include their picks in the baskets. Recommended flavors are butter, cheddar cheese, or maybe even plain ones with added salt for a nice kick.
Baking Basket
Got a family of foodies and cookie lovers? It's time to bring in the milk, 'cause this basket is the one for the family with a bad sweet tooth.
Not only does this make for an afternoon of eating tasty treats, but it also ensures a great family bonding experience everyone can participate in.
Here are some ideas to fill a baking basket with:
Chocolate Chunks or Chips
A staple to most classic cookie recipes is the chocolate. Chunk or chip form, you can expect your relatives' faces to light up once they see this in their basket. Consider getting semi-sweet if you're after a balanced flavor, milk or white for sweetness, or dark for a richer, pure taste.
Marshmallows
Any kid would love to find marshmallows in their basket, no matter the reason. But, hey, sometimes the same could be said for adults, too. Whether for decorating or eating while you bake, marshmallows are viable additions to making a baking basket for the family.
Baking Ingredients
Before even thinking about what goes on the cookie, make sure you have a base first. Include basic cookie essentials, like flour, vanilla, egg, sugar, and baking soda. For an added touch, maybe have them all measured out before placing in their respective baskets. That way, you can make baking fast and less complicated for both kids and adults.
Wooden Spoon
Complete this kit by adding a mini wooden spoon to each basket. Not only does this add a personalized touch, it can also get your guests in the mood for what's in store for them in the kitchen.
Bonus: Easter Care Basket
The true spirit of Easter isn't all about basking in our own blessings, but sharing it with others, especially to those who are in need.
If you're looking for some ideas to include in family Easter baskets to be given away, below are some options to fill your basket with:
Canned Goods
Canned food is readily available and easy to eat. For people who may be struggling with finding something to fill their stomachs with, this is among the best possible gifts to include in the basket. Make sure to add multiples of different options so it can last them long.
Chocolates and Candies
Who said the less fortunate didn't deserve to feel good on Easter? Add a bunch of holiday-themed treats like Bunny Mallow Peeps or maybe set-aside some baked goods from your party to add to their basket. You never know how many kids and adults you can touch with such a simple gesture.
Toiletries
Sanitary essentials, like soap and shampoo, are wise options, too. Personal hygiene is just as important, therefore making this a valuable addition. Gifting cleaning products also keeps them away from illnesses and diseases they could contract in the future.
Conclusion
To wrap all this up, Easter is a wonderful time to spend with the family. Regardless of one's hobbies and preferences, we feel like we've covered all the bases to having fun family Easter baskets to share with our children and loved ones.
At the end of the day, it's important to recognize the true value of Easter, and that's in celebration of the miracles and gifts life brings us. While having a joyous occasion at home or outdoors, don't forget to spread the love to your friends, neighbors, and especially to those in need.