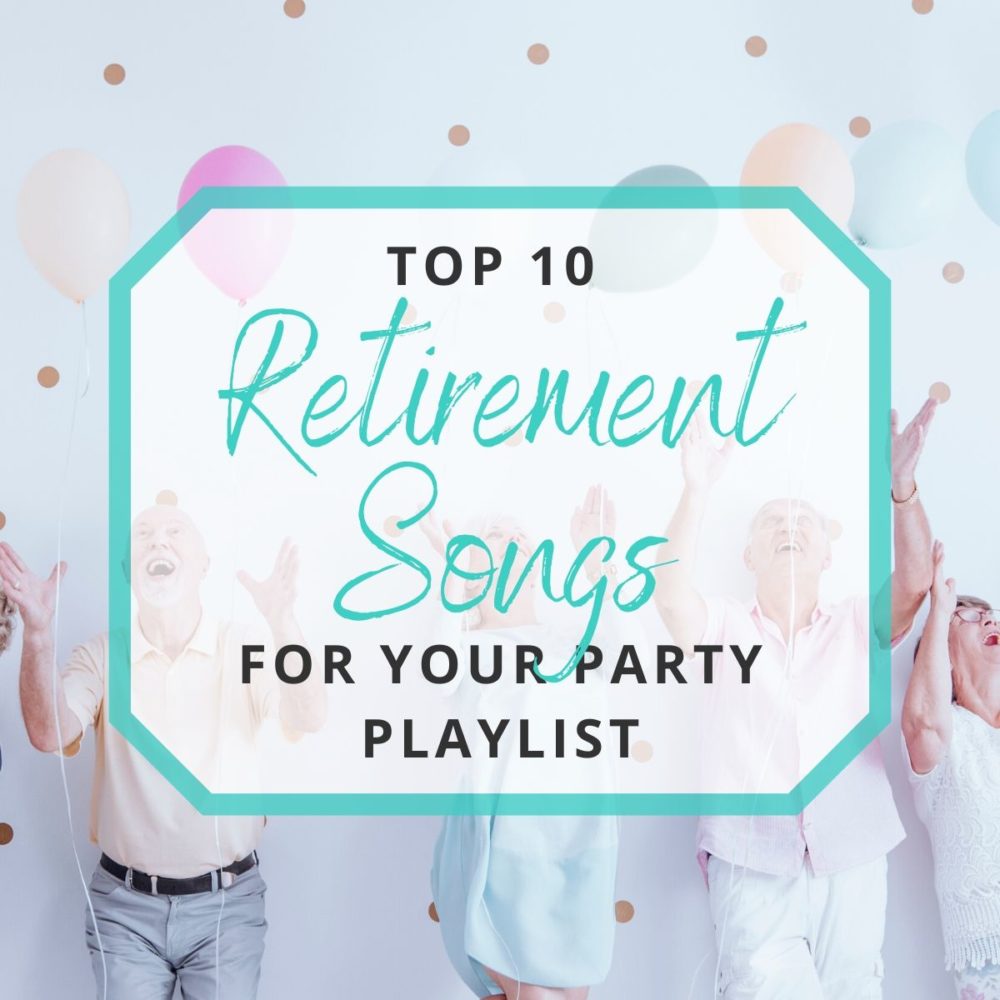 Retirement is the withdrawal from one's occupation or active working life. For some, it means having somehow struck that financial milestone where they no longer have to actively work for a living. For many, it is simply that point in life when one must pull back from active working life due to age.  
After decades of hard labor, the thought of the day when you can rest, enjoy your pension, play with your grandchildren, and listen to the news is surely something worth celebrating. And what's a better way to celebrate than to throw a retirement party?
More than the retirement gifts, we all know that the key to a good retirement party are the songs. Having a party playlist sets the mood of the environment, and keeps the guests entertained. So, if you're in a bit of a pickle over which songs to play, here we have listed the best retirement songs for your party playlist!
Best Songs for Retirement
My Way – Frank Sinatra 
This is perhaps the retirement song of all retirement songs. From its opening lines to its closing verses, every word, every tempo, and every cadence bears eloquent testimony to this classic song. 
The decision to take a bow from the showbiz world by Frank Sinatra was the inspiration for this all-time classic swansong.
Our favorite lines: For what is a man, what has he got? / If not himself, then he has naught / To say the things he truly feels / And not the words of one who kneels
Somewhere Over the Rainbow – Judy Garland
The song, Somewhere Over the Rainbow is very well-known in the world. It is a slow-rhyming and enchanting lullaby with a deeply ingrained message of hope. 
The backdrop of this song is the Nazi massacre of the Jews, one of the worst human atrocities of living memory. The writer of the song is a victim and a survivor, and the song is about hope that the bad times will one day be over.  
At the time of retirement, nothing warms the heart more than a message of hope. Yes, the future may be uncertain, but as long as hope dwells in the heart, the will to live and still flourish once more is a powerful motivation for anyone facing retirement.  
Our favorite lines: Someday I'll wish upon a star/ And wake up where the clouds are far behind me/ Where troubles melt like lemon drops/ High above the chimney tops/ That's where you'll find me. 
I Gotta Feeling – Black Eyed Peas 
This song, as well as the whole album, was built on the theme of escapism, the imagery is that of a party at night. "It's a college anthem for people looking forward to escaping life's pressures by going out and having a ball," Apl.de.ap said in an interview with Billboard magazine.
You are not yet finished. There is still a lot of fun to be experienced. If you have spent so long working, then retirement is the time for playing. In a nutshell, the song tells you that retirement isn't a game over; there is still a night of fun to escape to.
Our favorite lines: I know that we'll have a ball/ If we get down and go out/ And just lose it all/ I feel stressed and/ I wanna let it go
Eye of the Tiger – Survivor 
This song is by Survivor, released in 1982. This award-winning song was written by guitarist Frankie Sullivan and keyboardist Jim Peterik. Originally written especially for the movie Rocky, this song details Rocky Balboa's struggle and perseverance throughout the famous training montage. 
For someone entering into the retirement period, the lyrics evoke a passion for tackling the challenges ahead. The song seems to declare that all your working life was training, and retirement is, in fact, the real game. And, you cannot but be a winner.
Our favorite lines: Rising up, back on the street/ Did my time, took my chances/ Went the distance, now I'm back on my feet/ Just a man and his will to survive
Hall of Fame – The Script  
This song by the Irish pop rock band The Script is about achieving your goals and doing whatever you can to do what you want and be all that you can dare to be. 
While it is a song meant to inspire all kinds of people, anyone just entering into retirement would surely find the lyrics particularly inspiring. The sweet and soul-stirring reminder that it is not over yet just because you are retired begins from its very first stanzas, which actually tells what the whole song is all about.
When listening to this song, just visualize yourself in the imaginary hall of fame while listening to the powerful inspirational lyrics.
Our favorite lines: 'Cause there's gonna be a day/ When your standing in the hall of fame/ And the world's gonna know your name/ Cause you burn with the brightest flame
Survivor – Destiny's Child
This is a song by American R&B group Destiny's Child. The inspiration behind the song was that people expected the group to fail at a time when two members broke away. It was written as a defiance statement by the musical group that, no matter what, they are going to survive. 
The lyrics express a powerful determination to succeed despite contrary expectations of people. This is a song that would resonate well with anyone just entering retirement. The collective sentiment that one will survive despite the contrary expectations of naysayers is the bonding element.  
Our favorite lines: Now I dun' been through the storm and the rain/ Climbed up the rough side and got tough at times/ But I remain, if I got the stuff to shine
When I'm Sixty Four – The Beatles 
This song was released on the band's album, Sgt. Pepper's Lonely Hearts Club Band in 1967. McCartney wrote it when he was 16, and it was one of his first songs. Unlike the other songs on our list, this one is more on the romantic side of retirement. 
This song is about the singer's plans to grow old together with his lover. Because the theme is aging, it resonates very well with couples in retirement. 
If you are still happily married at retirement, and wish to retain the beauty and romance of your marriage during this period, then this is one of the retirement songs you would want to be listening to every day.
Our favorite lines: When I'm sixty-four/ Every summer we can rent a cottage/ In the Isle of Wight, if it's not too dear/ We shall scrimp and save/ Grandchildren on your knee/ Vera, Chuck and Dave
Young at Heart – Frank Sinatra  
Young at Heart was the first million-selling hit, recorded in 1953. Inspiration for the song came when lyricist Carolyn Leigh's father suffered a heart attack and was in hospital. So in a sense, there was a kind of double meaning to the central message to the song being "young at heart," even when your heart is not so young. 
For someone entering retirement, there can be no more precious treasure to life than a healthy heart, a heart that feels young even in an aging body.  
Our favorite lines: And if you should survive to 105/ Look at all you'll derive out of being alive/ And here is the best part, you have a head start/ If you are among the very young at heart
Closing Time – Semisonic 
Released in March 1998, it was the lead single from their album Feeling Strangely Fine. The song has a very literal meaning—being asked to leave a bar. 
According to songwriter Dan Wilson, "It's all about being born and coming into the world, seeing the bright lights, cutting the cord, opening up into something deeper and more universal." 
The lyrics resonate so well with retirement sentiments when you consider that it paints the picture of a new beginning, a new entrance when the old phase closes. This rhymes beautifully with the expectations of retirement and entering into a new phase of life. 
Our favorite lines: Time for you to go out to the places you will be from/ Closing time/ This room won't be open 'til your brothers or your sisters come/ So gather up your jackets, move it to the exits/ I hope you have found a friend/ Closing time/ Every new beginning comes from some other beginning's end
A Hard Day's Night – The Beatles  
The lyrics speak about the singer's deep love and devotion to his lover, and how he toils so hard so she can buy all the good things she wants in life. The singer sings of his deep exhaustion and weariness when he comes back home from work, but how the beautiful things that his lover does for his relief strengthens him up again.  
The point of bonding with retirement sentiments is all about having worked all day and coming home into the loving embrace of your partner. For a retired couple, this is a really beautiful upbeat song they could dance or jam to.  
Our favorite lines: When I'm home everything seems to be right/ When I'm home feeling you holding me tight/ Oh, it's been a hard day's night, and I've been working like a dog/ It's been a hard day's night, I should be sleeping like a log/ But when I get home to you I'll find the things that you do/ Will make me feel alright
Ending with a Bang 
Retirement is indeed a great thing to celebrate. By being present at such a moment, we are giving the celebrant a powerful applause that will ring until the end, even when the party's over. There is no greater way to tell them that their past labors have really been worth the while.
We hope any of the retirement songs above in our choice list will liven the occasion and ensure a truly unforgettable experience for everyone. More than anything else, the retirees can look forward to their next phase in life with renewed hope and vigor.