Get ready for a hopping good time with the Easter edition of "Would You Rather" game for kids! This egg-citing game takes your typical "Would You Rather" questions to a whole new level, filled with fun and festive Easter-themed dilemmas for your little ones to ponder.
From choosing between wearing a bunny costume all day or hopping everywhere you go, to deciding whether to hunt for eggs blindfolded or without using your hands, this game is sure to keep your kids entertained and engaged for hours. So prepare to crack some smiles and let the Easter fun begin!
What are "Would You Rather" Questions?
Are you familiar with the exciting and amusing world of "Would you rather" questions? They're the perfect way to get to know your friends or family on a deeper level while also having a blast. These questions present two equally challenging or absurd options, forcing you to choose between them.
The options often juxtapose serious and lighthearted topics, such as "Would you rather live in a world without pizza or a world without chocolate?" They're a fantastic icebreaker and conversation starter, and you'll be surprised by the hilarious and unexpected answers you'll receive.
How to Play "Would You Rather"
There are no instructions, no points, no winners or losers, and you don't need anything to play other than some silly questions!
Ages: "Would You Rather" is a great game for all ages because of its simplicity. With that said, make sure your questions are family-friendly! We don't want any awkward moments around the dinner table or at the church Easter party!
Players: It doesn't matter if you have a small group or a large group, any number of players can play "Would You Rather!" Even just two players can play, taking turns answering each others' ridiculous questions!
Set Up: To start, gather a group of friends or family together. Take turns picking a "Would You Rather" question from a bowl. Read the questions aloud and tell everyone which option you'd choose and why!
The game can go on for as long as you like, so don't be afraid to keep the laughs and tough decisions coming!
Free Easter "Would You Rather" Questions
The only thing you need to play "Would You Rather" is a bunch of questions! You can write your own, use our Free Easter "Would You Rather" questions below, or pick up a copy of our Printable Easter "Would You Rather" game from our Etsy shop with 80 family-friendly questions! 
Are you ready for some egg-citing Easter fun? Get your thinking caps on for these 20 Easter-themed "Would You Rather" questions that will leave you hopping with excitement!
1. Would you rather find the golden egg worth $100 or have a year's supply of your favorite Easter candy?
2. Would you rather have an Easter bunny as a pet or be able to talk to animals on Easter day only?
3. Would you rather dye Easter eggs with your toes or use a paintbrush taped to your nose?
4. Would you rather have to hunt for Easter eggs blindfolded or with your hands tied behind your back?
5. Would you rather eat an entire chocolate Easter bunny in one sitting or never have chocolate again?
6. Would you rather attend an Easter parade or run in an Easter-themed 5K race?
7. Would you rather have a traditional ham dinner or switch it up with an Easter-themed pizza party?
8. Would you rather hunt for Easter eggs in a park or at the beach?
9. Would you rather have the Easter Bunny visit your house or have unlimited access to an Easter candy store?
10. Would you rather have a giant Easter egg hunt or go on an Easter-themed scavenger hunt adventure?
11. Would you rather eat an entire jelly beans in one sitting or only be able to eat chocolate for a week straight?
12. Would you rather have to share your Easter candy with your arch-enemy or not get any candy at all?
13. Would you rather dress up like the Easter bunny all day or have to wear an egg costume and waddle like a chicken?
14. Would you rather use a cooking pot or a cardboard box as an Easter basket during an Easter egg hunt?
15. Would you rather have chocolate syrup poured on your head, or eat a lollipop that's already been licked?
16. Would you rather have a delicious candy that makes you talk funny, or a candy that tastes gross, but grants you a wish?
17. Would you rather have a magical Easter basket that could produce any type of candy you want for one day or a magical candy that lasts forever, but you only get to choose the flavor once?
18. Would you rather find a magical golden Easter egg that could teleport you to a candy-themed amusement park or one that could transport you to a chocolate waterfall?
19. Would you rather participate in a three-legged Easter egg hunt or an egg-and-spoon race on stilts?
20. Would you rather sing "Here Comes Peter Cottontail" in front of everyone on Easter Sunday, or listen to it on repeat for 24 hrs?
Get the Printable Easter "Would You Rather" Game!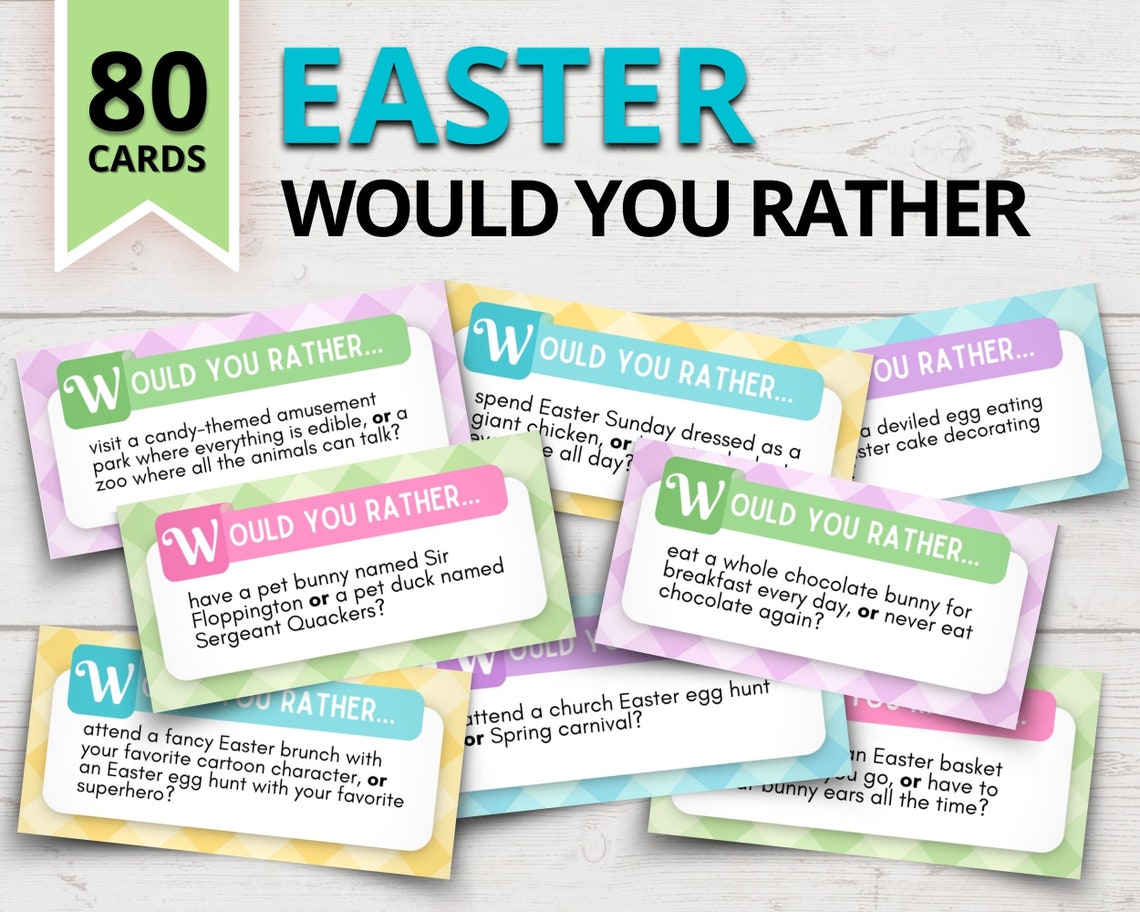 With Easter right around the corner, we're excited to introduce our brand new Easter "Would You Rather" game, available for instant download on Etsy!
This game is perfect for Easter gatherings with family and friends, Easter parties at school, or Easter community and church events! It includes 80 unique and family-friendly "Would You Rather" questions that force you to choose between two ridiculous options!
Get ready for some hilarious Easter-themed scenarios that will have everyone laughing and enjoying the holiday in a whole new way!
More Easter Fun for the Family
Keep the fun going at your Easter celebration with even more Easter games and activities! Check out these other games for even more ways to create lifelong memories this Easter!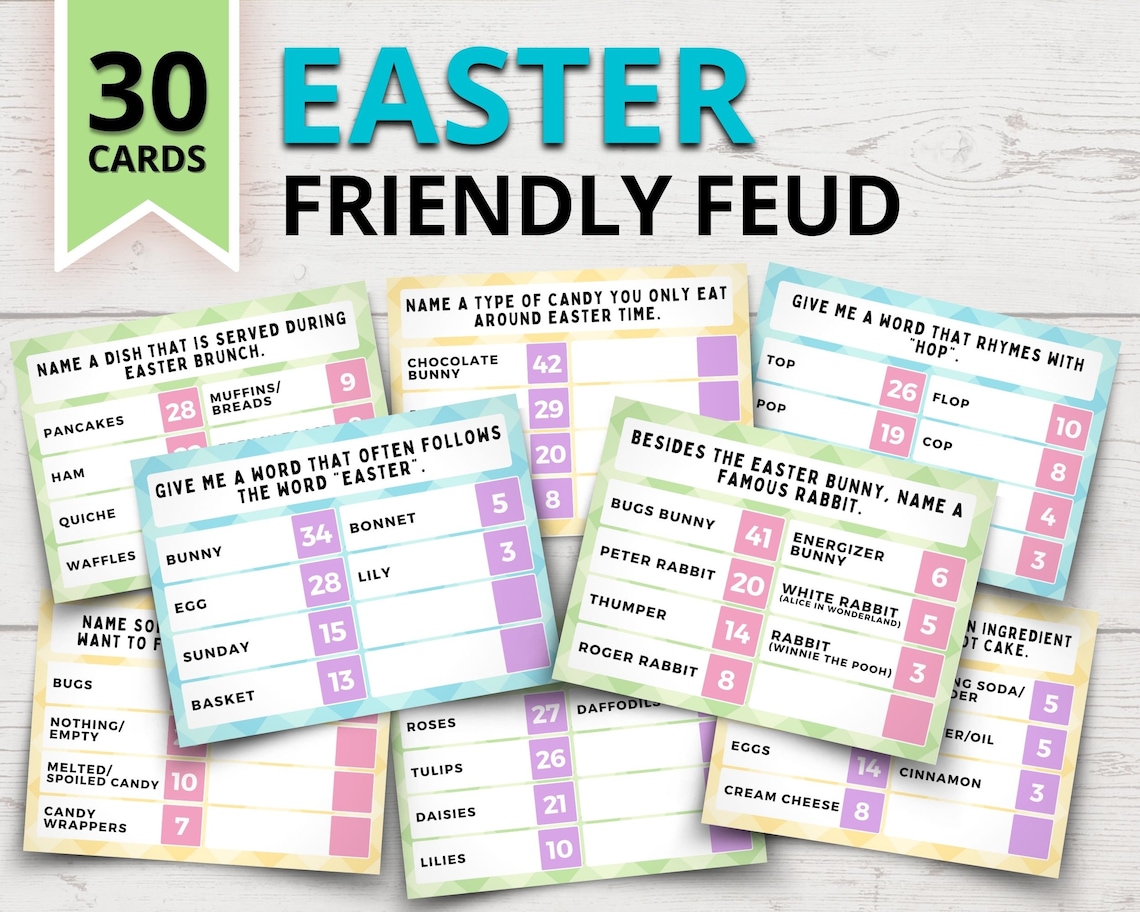 This Easter-twist on the classic family game show is sure to have your family busting at the seems!
Easter Taboo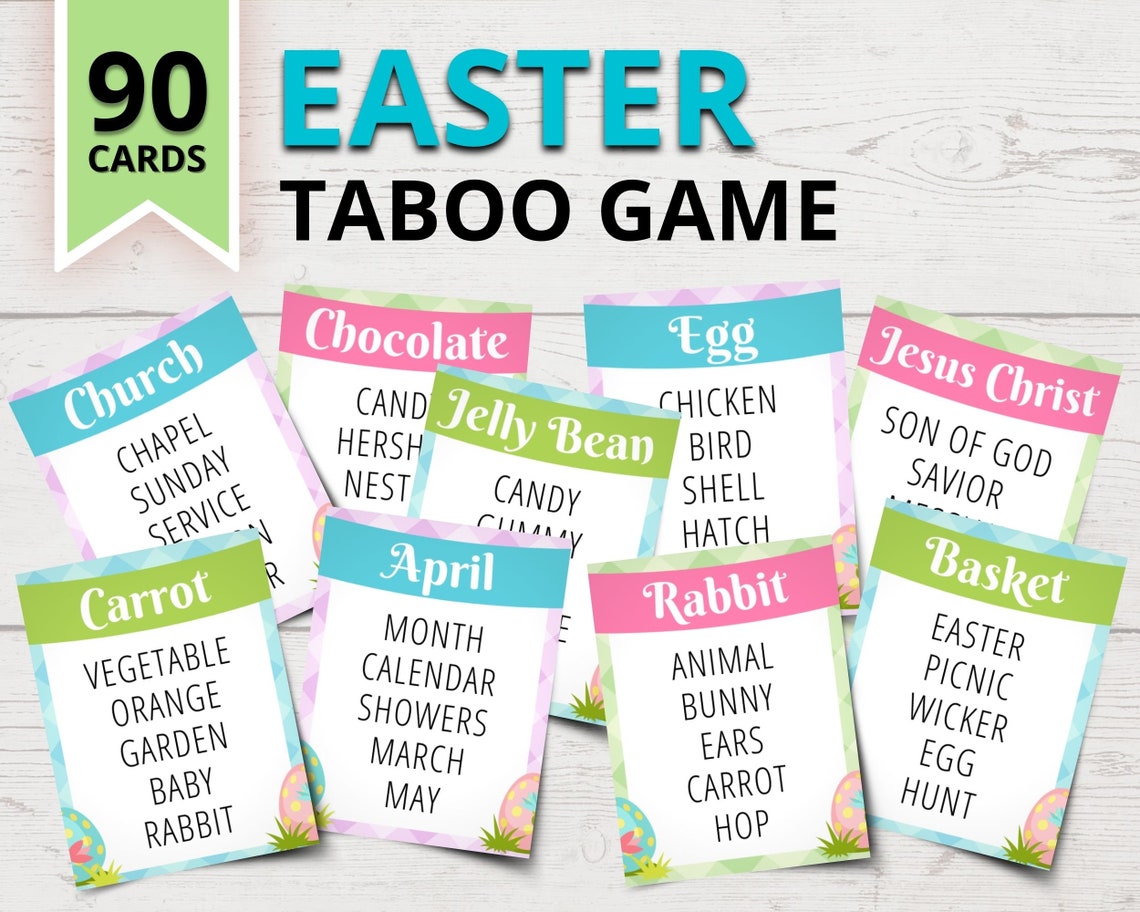 Try to get your teammate to guess the word at the top of the card, but be careful not to say any of the forbidden words listed!
Easter Charades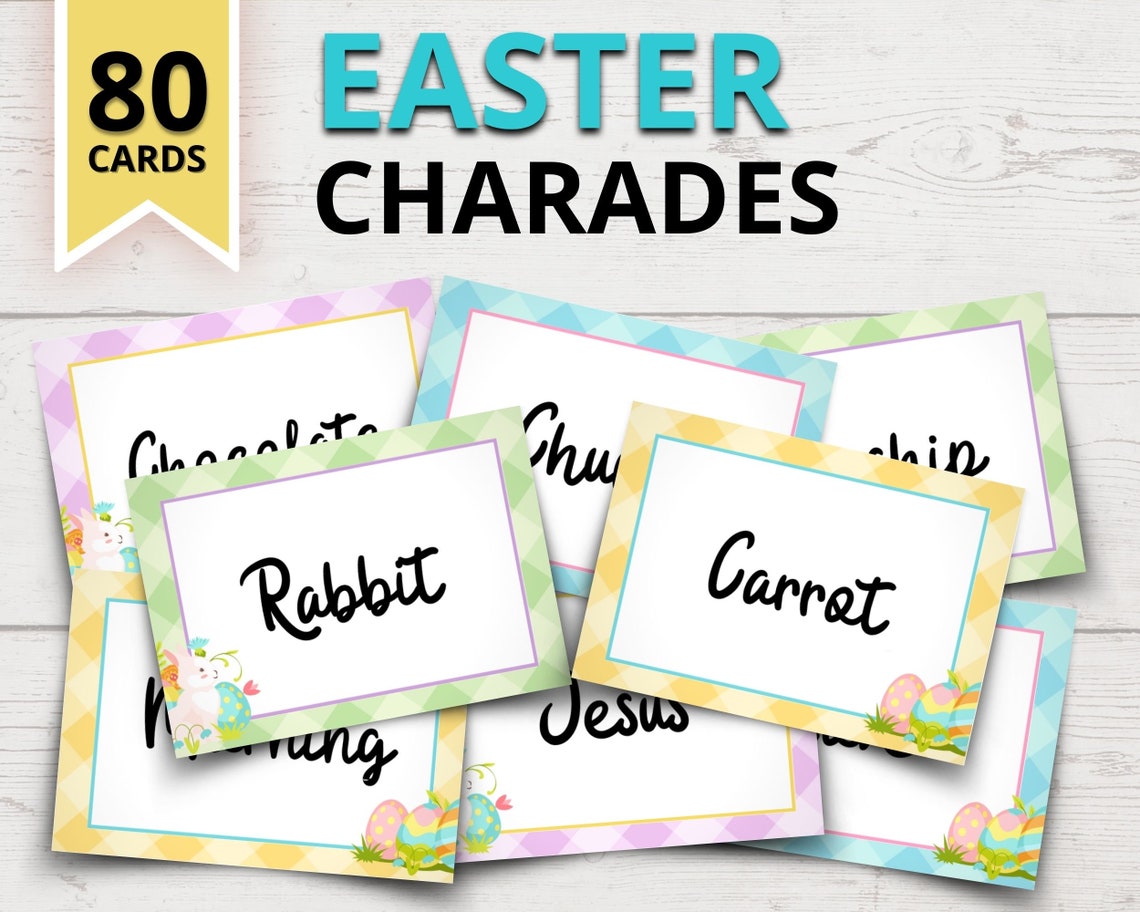 Charades is a classic party game that is guaranteed to put everyone in a good mood, especially with this fun Easter-edition!