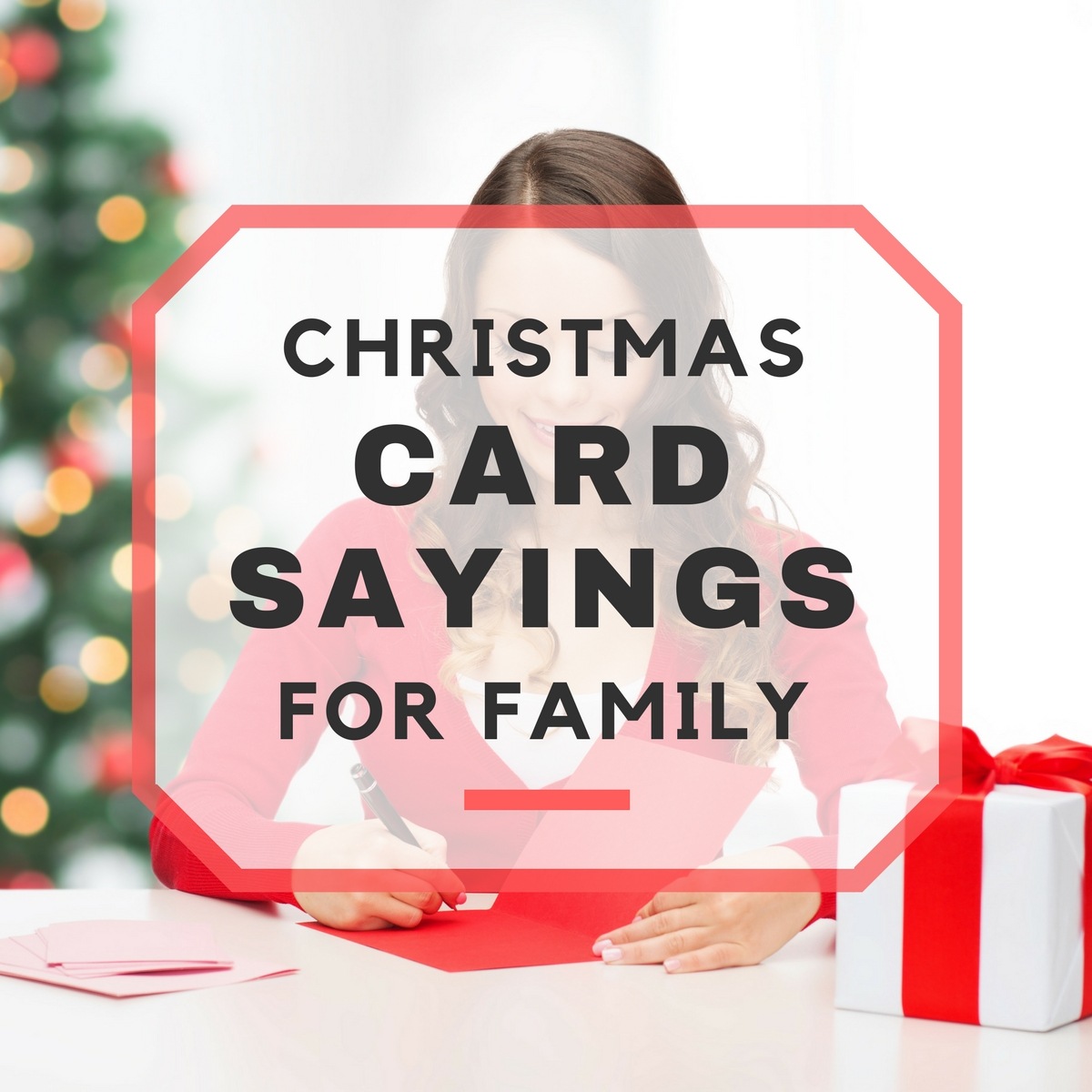 Isn't it nice to receive something in the mail other than bills? I know I always smile when I get a pretty Christmas card, especially when they have just the right Christmas card sayings!
Anyone can go out and just buy cards to send someone, but it takes a special kind of heart to actually sit down and take the time to make your own! Christmas card sayings may be hard to come up with, but when it comes to those who you actually care about, you'll know just the right things to say that will put a big smile across those faces!
Christmas Card Sayings
Just in case you are not able to come up with your own special Christmas card sayings, I've written a few that are suitable to send to anyone in the family! What's even better is that you are free to use these, and even tweak the wording a bit to make it more 'you.'
The biggest blessing to me this Christmas is knowing you're my family. Merry Christmas!
The only thing warmer than a fire on Christmas Day is a warm heart with family by your side. Merry Christmas, may it be a warm one!
Wishing your stockings are filled with something other than coal. Merry Christmas, my naughty, naughty family!
Wishing my beautiful family a Christmas that's white, warm, and peaceful. Merry Christmas!
Missing you all this holiday season. Sending warm wishes for a Merry Christmas and a Happy New Year from family afar!
May your holidays be cheerful and bright. Merry Christmas!
May your bells jingle all the way, whatever that means. Anyway, Merry Christmas!
The only presents that should matter on Christmas is the presence of family. Sending warm Christmas wishes from afar!
May we feast on food and not gain a pound this Christmas; let's hope that we're on Santa's good list! Merry Christmas!
May we find comfort in Christ and in our family this CHRISTmas. Let's hold each other close and be thankful for the greatest of gifts: Family. Merry Christmas!
Oh what fun, Christmas season has begun! May your blessings astound you and family surround you. Merry Christmas and Happy New Year!
Sending all the warmest Christmas wishes in this frosty season. Merry Christmas, may your fire burn brightly and warm!
Merry Christmas and all that other fun stuff.
Wishing that the Holy Spirit surrounds you this glorious Christmas season. Merry Christmas!
Welcome love into your heart and family into your home this Christmas. Wishing you all the best this Christmas! Merry Christmas!
All the jingle bells of Christmas and all the smells of winter come together in a perfect time that we get to spend with each other. I cannot wait to spend many more Christmases with the best family, ever!
A season of love, a season of cheer, a season of peace, let's make it last all year! Merry Christmas!
Take time out of your busy life to enjoy Christmas with your family, the biggest blessings bestowed upon you! Merry Christmas!
The holiday season is beautiful, embrace it with all you've got! Merry Christmas to you!
May presents be beneath the tree and stockings be full of tasty treats! And may Santa not know about your dirty, naughty deeds! Merry Christmas!
What's better than singing Christmas songs and eating good food? Doing it all with family! Merry Christmas and happy holidays!
Seasons greeting to a family who might have just missed the naughty list. Merry Christmas, be good!
May your Christmas be filled with all things bright: Lights, smiles, snow, fire, and the Holy Spirit!
A smile with laughter, a season of cheer, lots of love from those near and dear. All of these wishes I have for you, and I hope you have a Merry Christmas, too!
Be thankful for all you've had and grateful for those you have. Merry Christmas, sending warm wishes for all the best for you and the family!
With Christmas just around the corner, you'd better get busy on those Christmas cards! I'm sure you'll jingle bell ROCK the this project!