With the current crisis looming on our doorsteps, each country has created preventive measures to stop the spread of the virus. Most of these require social distancing and prohibiting mass gatherings. If you're planning on meeting with friends and family, it might be best to cancel your plans, and hold it virtually instead.
Hosting a virtual family reunion is a better alternative to a physical gathering. We understand how important it is to bond with family members, and catch up in this difficult time. But we don't want to risk spreading or catching the virus by pushing with a physical party. Instead, you can gather your family for a virtual reunion. 
Why Virtual Family Reunion?
A virtual family reunion is a good alternative when connecting with family members, and coming together. You don't need to be physically together to check up on family, and make them feel loved and cared for. Thanks to new advancements in technology, there are multiple ways to connect with our loved ones, especially with those living abroad.
Before we discuss how to host a virtual family reunion, we listed below the top benefits of holding one. 
Meet without Leaving Your Own Place
This is one of the best perks of a virtual family reunion. You don't need to physically leave your place, but you can still attend your family gathering. On normal days, some people couldn't come to family gatherings due to lack of transportation, budget, or time. A virtual family reunion removes these hindrances, and lets you spend time with your family despite not being physically present. 
Have Fun While Following Quarantine Protocols
We all know that our health is a priority. We've been given quarantine protocols for our own safety, and to prevent further spread of the virus. Considering that there are people who are asymptomatic, avoiding crowded places and practicing social distancing is a must. With a virtual family reunion, you can follow these protocols and still have fun with your family members. 
Preserve the Experience
One of the benefits of a virtual family reunion is that you can revisit the experience. Since we're doing it online through a camera, laptop, phone, iPad, or tablet, you can screen record the whole experience. This way, you and your family can rewatch the funny moments. 
In a normal family reunion, you usually don't get to capture these moments because you're too excited and pumped to play the game or catch up with family. You may get lucky to capture photos of some moments, but not of the whole event. Having a virtual family reunion helps you immortalize the event, and rewatch it again. 
Catch Up and Throw Fun Virtual Games
By having a virtual family reunion, you can reconnect with your family, and play the most fun games you could think of. You can share events in your life, and share ideas you've learned over the past year. It's also a great way to get competitive, and show your skills to the family. 
Meet Despite the Different Time Zones
We can't help it if we have family members who live in different parts of the world. By having a virtual family reunion, they can attend the party without leaving their place. It's also a fun way to see the different time zones since it can be morning in one place while evening on the other. 
Platforms to Use for Hosting a Virtual Family Reunion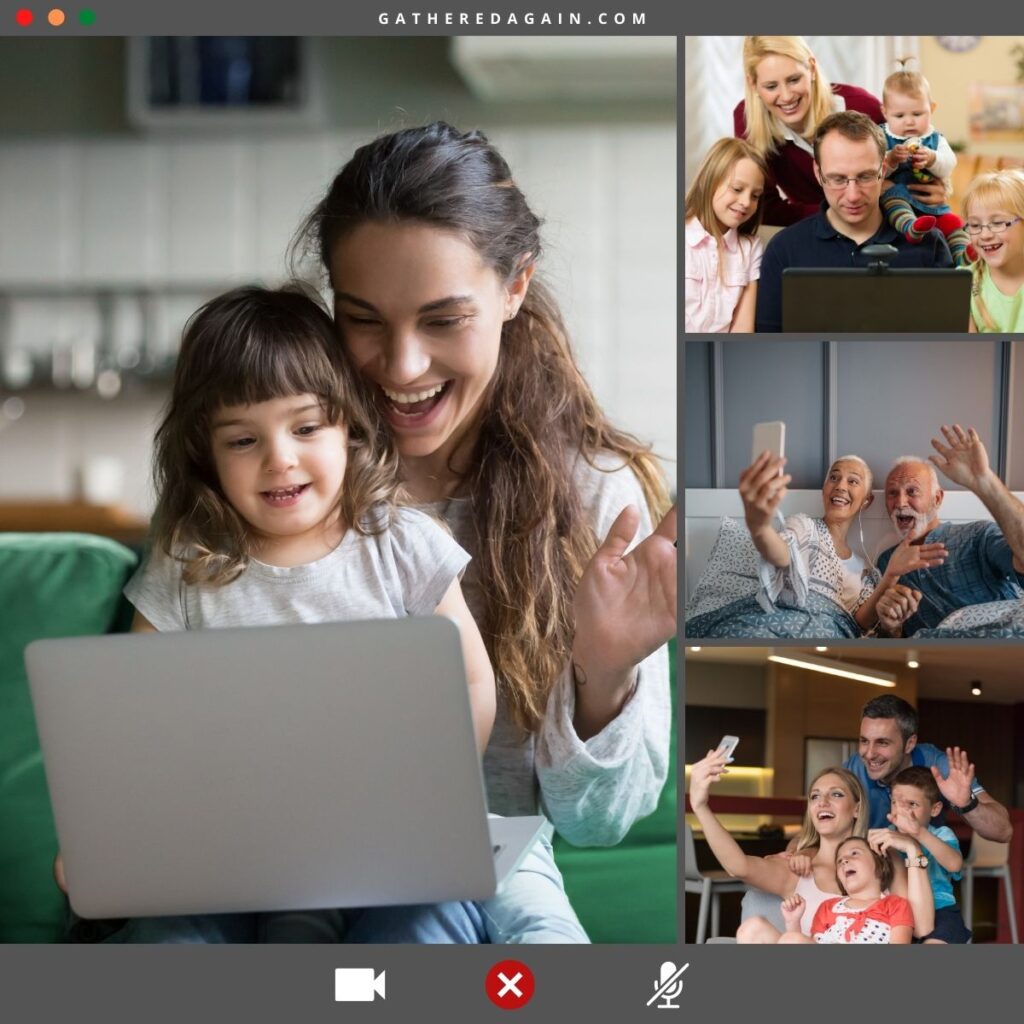 When it comes to hosting a virtual family reunion, you would need a platform to meet and interact with your family members. Below are some of the easy and popular platforms you can use. 
Zoom
Zoom is a virtual conference app, which lets you connect with more than five people in one room. It can support 100 participants in 40 minutes, then you can just hold another call when you hit the 40 minutes mark. To remove this restriction, you can upgrade to a paid plan.
A lot of people are using the app for meetings and online learning. You and your family can use it, too, since it's very easy to navigate. You simply send the link for the meeting, and the members can access the video conference through their phones or laptops. 
There's also a screen sharing feature, which is great for showing home movies, AVPs, or games. It also allows a recording of the reunion. So, if you want to play online games or record your reunion, this is a great platform for you. 
Google Hangouts
Google Hangouts is another fun video conference app that brings life to photos, emoji, and group video calls. Due to the pandemic, it can now support up to 250 participants. It also allows 150 people in a group chat. You just need a google account, and follow the link for the video conference. You can access it through your browser or the app.
One of the key features of Google Hangouts is that it detects the person who is talking. So, it displays that person in the main shot, and puts the other people in smaller shots. You may also record and save the reunion straight through your Google drive. Lastly, there are buttons, which allow you to switch between the front and back camera of your phone. 
Skype
Skype is one of the most popular platforms for video conferences. Your family may have already used this in the past. It can support up to 50 people for an unlimited duration. Unlike the first two platforms where you need a link, on Skype you need to be friends with the other person to make a call. What you can do is create a group chat prior to the virtual reunion, then set a time to start. You may also share files and photos in this application. 
Slack
Slack is an easy and fun tool used by many organizations and companies to share information and news. You can use this to create groups within your family and attend the virtual reunion. This is actually best for the games section or one-on-one catch up between a family member. It's super easy to use, plus you can add applications to it that can be useful for reunion. For example, you can add the application hey taco to give tacos to family members as a point system. 
CISCO Webex Meetings
CISCO Webex allows you to call up to 100 participants for an unlimited duration in a single call. This is best for a pretty large family with tons of family members. There are no limits on the duration and number of calls you can make. You can even screenshare, record, and share your files with this application. To join the reunion, you'll just need to provide your phone number, and access it using your phone or laptop. 
How to Handle Technical Difficulties
We all know that a virtual reunion can't be perfect. Even with all the preparations for the day, there are situations, which are out of our hands. Most of the time, these are technical difficulties. In this section we'll be talking about the different issues you may encounter during a virtual family reunion, and how to address them. 
Video Lag
Remember that time when you're talking to a friend, and the screen froze? Or, how about the time you didn't understand what the other said since the video and audio started to lag? Well, we all must have encountered this same problem. 
As a remedy for this, the person can turn their camera off, and just turn on the microphone. Another one would be leaving and rejoining the group again. Lastly, you should also check your internet connection beforehand to make sure your end is stable. 
Connection Problems
Having a poor connection can affect your virtual family reunion. Hence, before you start your reunion, check your internet connection first. You can use your phone's mobile data, too, if your home wifi doesn't work. You should also find a good spot that has a strong signal in your house. 
Difficulty Joining the Call or Link
Some situations occur when a family member can't join the group call. What you can do is offer them a manual or guide on how they can join the call or create another call that will work for everyone. It can be a bit hard considering others have already joined the call, so you may also tell them to use another account and device. 
Unsure on How to Proceed
There may be times when an older family member gets confused on how they will proceed in joining the virtual reunion or participating in the online activities. As the host, you can create a manual or guide on how to access the virtual reunion link or call. 
You can create a simulation of the games and activities, and create a guide on how they will go about with the activity. Simply use a snipping tool, and copy-paste the image on a word document, then place instructions underneath. You can also create a video guide on how to operate the app where you will hold your reunion. This way, your family members won't have any problems or questions. 
Camera or Microphone isn't Working
Before you start the virtual reunion, check if your camera and microphone are working. It's best to inform your family members about this weeks before the actual event. If one device doesn't work, you can ask them to use another device. Having a spare is quite useful. 
How to Host a Successful Virtual Family Reunion
If it's your first time hosting a virtual family reunion, here are some tips to have a successful virtual event. 
Plan a Program
Like any event, you need to plan the virtual family reunion ahead of time. You wouldn't want to leave everything to chance or spontaneity when you have everyone gathered online. 
Think of a time and date for the event. Create a survey for possible dates, and ask for everyone's availability. Once everyone has picked out a perfect date, you can now consider and plan on the platform you'll be using. Then, you can finally set some rules and constraints. 
Set a Theme
After you've planned out the platform and date, it's time for you to pick a theme, which will set the mood and activities for the event. 
Into the Woods Theme
A fairytale land where magical creatures live would be a fun and exciting theme your kids and relatives would surely love and enjoy. Design your space like a woodland fairytale setting, like in Alice in Wonderland or Snow White. 
Decorate your wall with vines and fairy lights or transform it into a makeshift castle. Add a dramatic centerpiece on the table, too, and fill a large bowl of apples or flowers. You can even dress up in wizard, fairy, or royalty costumes to make it more fun!
Summer Theme
There's really something about the beach that relaxes us and makes us want to soak in the sun. Having a family beach theme is an exciting and fun theme for everyone. You can have it  outside your backyard where you can pipe up the music, serve cool drinks, and wear swimwear. If not, you can set up your own summer vacation inside your home by placing decorations and umbrellas inside. Don't forget to prepare watermelons and pineapples as refreshing drinks. 
Pajama Theme
A pajama party is an exciting theme that's easy to do for your family reunion. Your family doesn't have to stress on what to wear when they can simply wear their best and cutest bedtime outfits. To be a little extra, you can wear unicorn onesies, and add some night cap on your head. Aside from this, you can decorate your space with cut-out stars and moon. 
Plan Games
The activities are the ones that make the reunion more fun, especially for the younger ones. It wouldn't be a party without some fun virtual games. 
Virtual Family Trivia
Start your party with a family trivia. As the host, list down 10 to 20 questions about your family, and have the players answer. Have them prepare a paper and pen, which they will raise on the screen once you're done asking the question. Whoever gets more points wins the game. There can be as many winners for this game. 
Virtual Human Bingo
Another virtual game you can play is the virtual human bingo. Have someone host the game, while others play. To make it fun, customize the bingo into descriptions or facts about your family. Then, the members have to find those who fit the description. Kindly note that names couldn't be duplicated, which means they can't be checked under two boxes. Whoever completes the whole bingo card, wins! 
Pictionary
Who says you can only play pictionary when you're all physically together? There are tons of online platforms nowadays, like skribbl and Drawize, that would let you play the game virtually. All you need to do is create an account and make a private room for all the players. 
Start Early
Better to start early, so you can have more time to bond with your family. It will also give you time to fix any technical problems. Since everything is online, there may come a time when some family members experience technical difficulties, hindering the party from moving forward. So, starting early gives you enough time to fix the problem and still finish the activities you've planned. 
Take Photos and Videos
Just like any other reunion, don't forget to take photos. You can even screen record the party, and rewatch it. You may even set up a good background everyone can use and take photos of. Also, don't forget to chat with your family, and celebrate the day with some drinks. 
Conclusion
The pandemic shouldn't stop you from enjoying a day with your family. Having a virtual family reunion is a safer alternative to gather your family, and have some fun. Hosting and planning it shouldn't be done alone. You can get ideas from your family members, and work together to create a virtual reunion everyone would enjoy. Whatever your plans may be, the important thing is that you connect and make time for your loved ones.