What's not to love about Christmas morning with the Christmas tree? Don't you just love Christmas lights and Christmas stockings filled with gifts from loved ones?
Christmas is a time to love, have fun, create cheer and give gifts to our families and friends. Getting the perfect gift is not an easy task though, especially when it is to be given on Christmas. Even though there are 365 days in a year to decide what gift to get, deciding doesn't get easier. 
Why? There are just too many things to consider and cross off the list of what our loved ones would enjoy. It is especially difficult to find gifts for someone in an age group that is completely different from your own.
For instance, the gift a five-year-old kid will love is not the same kind of gift grandma would want. While the kind of gift a grandma likes is not the same as the gift a mom would.
Things to Look Out for When Shopping for a Stocking Stuffer for Mom
Like we said, getting the perfect gift for anyone is never an easy task, and it becomes harder when you want to get it for your mom. That's because moms are warm, loving and caring. They are also the single thing that keeps the family together. 
Moms know when a child is sad, and exactly how to cheer them up. Moms are there when you need someone to talk to. They are everything you need them to be, from wife to daughter, sister, and friend. They simply are the best. And because they are the best, they deserve the best.
Because we want to make your shopping easier, we have highlighted the kind of things to look for when you go Christmas gift shopping for a mom.

Pampering Gifts
Being a mom is one of the hardest jobs ever. Moms aren't paid, and they certainly don't get to clock out; even on Christmas. Christmas is a wonderful time to show our gratitude to mom for being there, keeping the family together, and making sure everyone is comfortable and loved.
If you have decided to leave a gift in the stocking or under the Christmas tree for her to find on Christmas day, then you may want to consider getting a gift that's going to make her relax. In other words, a gift that's going to take away her stress and give her comfort.
You can give her soothing gifts, like a facial clay mask to give her skin the best at-home treatment, or an ointment for aching joints if you've noticed that she complains about feeling some pain. You can go big by booking a spa for a later date and putting the tickets in her stocking. The main point is, she is going to love the relief and relaxation she'll receive.
Cozy Gifts
One thing we love about moms is that they are easy to talk to, comforting, and have special skills in creating the homely feeling wherever they are. They have an eye for color, can guess what we love even before we know it, and are ready to do anything to make us feel loved–even if it means hanging up our ugly arts from pre-school in the living room. 
While providing for everyone's comfort, moms tend to forget about their own. So, you can tell your mom how much you appreciate her by getting her something to keep warm and cozy all through the holidays. You can get her a trendy knitted sweater so she'll be the most fashionable mom on the block or a cozy, fluffy robe to keep her comfortable even at home.
Personal Gifts
We all have something we want but can't have, either because we are cutting through our budgets or they are not at the top of our priority list at the moment. 
When we get those things as gifts however, the happiness we feel is indescribable. This feeling works the same way for moms. If you surprise your mom with a gift you know she really wants, there's no denying it would definitely make her happy! 
Gift Ideas to Avoid 99% of the Time
Gag Gifts
Moms have a lot of things to worry about, and making fun of them or joking at their expense isn't really going to help them relax or enjoy. So, if you really want to get them something they would appreciate for Christmas, you may want to avoid gag gifts or any gift that may come across as a prank on them. Get them something genuine and solid that they can probably relate to, and you would give them one of the best Christmases of their lives. 

Embarrassing Gifts to Open in Front of Others
Nobody likes being embarrassed, even when it happens on accident. So, when selecting a gift to give your mom, make sure that the gift will not embarrass her when she takes it out of the stocking and opens it in front of others. 
This definitely means you don't gift her something like mouthwash. Maybe she'll take it in stride and say something like "what, are you trying to tell me I have bad breath?" But how will she feel when everyone else opens thoughtful gifts, and hers was the only one that felt impersonal at best? No worries, this can all be avoided. Here are our ideas for the perfect stocking stuffer gifts for moms.
Last Minute Stocking Stuffer You Can Print Instantly!
Looking to fill Mom's stocking really quick and don't have time to get to the store or wait for your package to arrive? These Christmas Mom from our very own printables shop are the perfect last-minute stocking stuffer for Mom!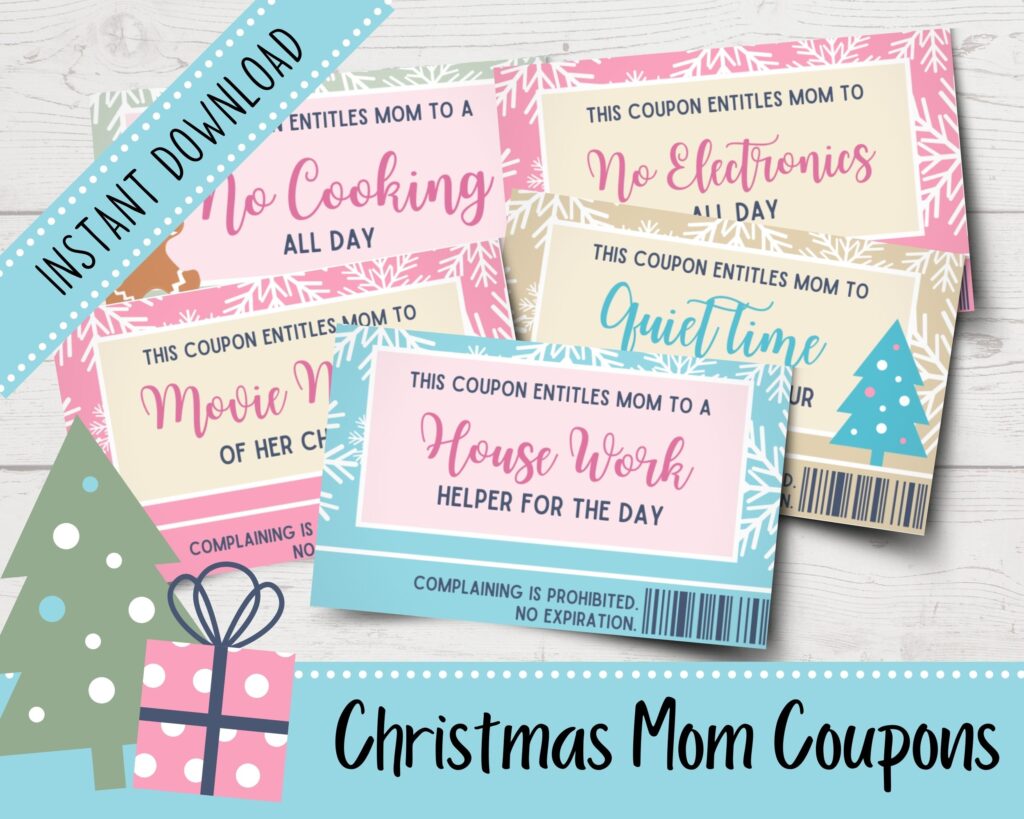 From helping around the house to not having to worry about cooking dinner, these coupons will certainly put a smile on her face!
10 Gifts to Shop for (and get quickly, thanks to Amazon!)
After briefly discussing the things you need to look out for when shopping for a Christmas gift for your mom, below are a number of ideas you can explore!
1. Artisan Soap
Nothing says I love you better than the smell of handcrafted beauty soaps for Christmas. Artisan soap is the perfect gift to pamper mom's skin. It will give her skin the love and care it so richly deserves.
The Pre' de Provence soap is made with traditional soap-making techniques. It makes the skin feel brand new every day of the week.
This soap doesn't dry or damage the skin. It is made entirely of natural ingredients. Mom's skin will be soft and smooth. This artisan soap tries to reduce the effects of aging with ingredients like argan oil.
Artisan soaps also have subtle scents, like lavender or wildflower, that give a cozy mood. So, if you want that spa-like, relaxing gift for mom, then artisan soap is a good choice to make. The only thing you need to decide on is which fragrance your mom would prefer.

2. Detangling Brush
With all the things she needs to do, sometimes moms don't even have the time to do some self-care, even if it's just brushing and giving love to her hair. If that's the case for your mom, show her that you care and want her to take time for herself.
You don't have to go to the extreme. You could show your love and tell her to take care of herself by giving her a detangling brush. We recommend the Glide Thru Detangling Hairbrush. This product is not only very useful in detangling thick and knotted hair, but it is also aesthetically designed. It is also suitable for styling any hair type, ranging from Type A to D.

3. Perfume
Even if we are unsure about everything else, one thing that remains constant is that every woman likes to smell nice. Giving your mom a perfume as a gift to add to her collection is definitely something she's going to like and appreciate, but you need to be careful when choosing. 
There are thousands of different perfume fragrances to pick from,  and knowing the preference of the person you want to buy it for would help you a great deal when it comes to picking the right perfume. Buy mom's favorite perfume if you are not sure about getting her a new fragrance. She will love it, and appreciate it (especially if it's a high-end product).
If you want to gift her something new, however, you can try the Tocca Stella Eau de Parfum Spray. Its natural scents are notable for their array of subtle flowery fragrances. Its smell is not too strong, and a single spray is enough to leave a long-lasting aroma.
This perfume is also perfect for your mom's everyday use and comes in a beautiful bottle that's going to make her dressing table more beautiful, and the Christmas the best one ever.
4. Face Cream
Your mom's skin has different phases. There is a tired mom phase, which usually comes from stress and not having enough time to sleep. There is the new mom phase, which is the beautiful glow usually seen immediately after they get a facial or after they come back from a vacation. Lastly, there is the pampered mom phase, which is basically a glow you can help your mom achieve.
Keeping the skin fresh and rejuvenated to achieve a more supple and smoother skin is not at all very difficult. All you need is the perfect face cream, and your mom would be sporting that gorgeous youthful look in no time.
Like most things on this list, you need to pay attention to your mom's preference and skin type to make sure that she fully enjoys the face cream, and doesn't stop using it after just a couple of days. Purchase a face cream for all skin types if you're unsure what skin type your mom has.
We recommend the Face Cream Moisturizer by LilyAna Naturals. It is perfect for maturing skin and is capable of preventing and reducing fine lines, wrinkles, age spots, scarring, and skin-aging, in general. What's more, it's all organic and contains oils and vitamins that are good for the skin! This is the perfect gift to help your mom get that youthful glow back.
5. Natural Eyeshadow
Moms are busy and often don't have the time to doll themselves up before going out every day, so they tend to put on one or two makeup products or not put anything at all.
Show your mom that she could still achieve that naturally beautiful look every day and that she doesn't have to put too much time and effort as she thought. So to start off this agenda, why not gift your mom a natural eyeshadow? They don't need as much precision to put on as their vibrant counterparts, but they come out just as beautiful and perfect.
If you want to get a natural eyeshadow palette as a gift for mom, there are many brands you can check out, but the best of them all is the NYX Warm Neutrals Palette. It comes with sixteen shades of warm-toned colors, with long-lasting shimmers that sit prettily on the face and make your mom feel as lovely as she is.

6. Infinity Bracelets
If you don't know, infinity bracelets are often used to symbolize friendship, empowerment, eternity, and everlasting love. When you add your own personal design into the mix, what you get is a timeless jewelry piece that will always show your mom how much you love her. Create a stunning look by pairing this bracelet with a couple of other jewelry or clothing items.
An infinity bracelet will make a great Christmas gift for your mom. It's perfect if you want to give her something to show how much you love her and how much she means to you. It makes quite the fashion statement, as well.
Although there are several types of infinity bracelets you can get, the best one for women is still the Turandoss 14k Gold Filled Infinity Bracelet. Mom can wear it, no matter her wrist size, and it allows easy adjustment because of its extender. It is filled with 14-karat gold, which helps it to look stunning and resist tarnish.
Lastly, this sentimental gift is going to stay with your mom for a long time, and you can always buy a matching piece to show her that the everlasting love is mutual.
7. Floral Notepads
Help mom to remember her grocery or to-do lists very quickly by getting her beautiful floral notepads with magnetic stickers. She can easily stick them to her fridge or the back of her wardrobe.
Giving your mom this gift for Christmas shows that you have been paying attention to her needs. Every time she uses the notepad, she will be reminded of just how thoughtful you are.
The Juvale To-Do-List Notepad is a six-pack magnetic notepad with a variety of designs and colors. The magnetic stickers allow you to stick it to pretty much any metallic surface. The magnet should be strong enough to cling until the notepad is willingly removed.
Also, every sheet of the notepad is long enough for a lengthy list with ample spacing between each line to ensure that everything looks nice and orderly.
8. Planner
We all need something to help us prioritize and remind what we need to do on a daily basis. And, with everything your mom has on her plate, keeping tabs on all the important tasks, events, and appointments is quite a hard thing to do. You could help her with prioritizing and managing her time by getting her a beautiful planner. It can be easily carried around wherever she goes.
Sure, a planner is not as grand as an infinity bracelet. However, It is a perfect and essential gift, especially for a mom who's often forgetful or busy. It also makes a perfect gift for everyone at any time of the year.
If you like the planner idea, then take a look at the Orange Circle Studio Do It All Planner. It comes with a monthly and weekly view, ensuring she gets the most productivity she can out of a planner. 
It spans through a total of 17 months. The ink won't transfer to the next page, because of the durable and thick materials. This makes it perfect for even the hardest of scribblers.
A planner is a practical and thoughtful gift to give your mom this Christmas. It's perfect to promote a healthy work-life balance!

9. Measuring Spoon
If your mom is the kind who loves cooking or baking, if she is someone who likes to be precise in the kitchen, or if she's the kind who is big on counting calories, a measuring spoon would be a perfect Christmas gift for her. Gifting her with a set would definitely make her happy beyond measure (pun intended).
The Sanchow measuring spoon set is a set of six magnetic, dual-sided, stainless steel measuring spoons. It comes in various sizes to suit individual needs in the kitchen.
Each end has a duplicate measuring spoon so you can use both wet and dry ingredients, and not have to wash in between or worry about doing the dry ingredients first. It is easy to clean and, the best part is, the middle is magnetic. So, after washing they all stick together and you don't have to worry about losing them in a drawer!
A set of measuring spoons is a good idea to gift your mom who is a staple in the kitchen. Let her know that you appreciate and enjoy her meals and pastries, and it would be the best gift to give her.
10. Coffee Mugs
Every mom deserves to receive one of these at least once in their lives. It might seem a bit uninventive, but mom will love it. What mom wouldn't enjoy opening a coffee mug with 'Best Mom Ever' or 'I love you, Mom' inscribed on it? This classic gift is a lovely stocking stuffer that shows mom you appreciate her.  It's a classic gift for parents for a reason; it gives a feeling of worth and pride. 
Make your mom happy every time she drinks a cup of coffee or tea by giving her a coffee mug with a personalized inscription. She will smile with each sip knowing you got that mug made especially for her.
This Best Mom Ever Mug is a recommended gift for your coffee-loving mom. It is a stylish upgrade from your average white 'World's Best Mom' mugs, and she'll love that it's dishwasher safe!

Stocking Stuffer Gifts for Mom Wrap-up
Although any of these gift ideas would be perfect for any mom, it is important to note that the best gifts are those given from the heart and given with thought. As long as you know your mom enough, and you have an idea of what she likes, then giving her the perfect stocking stuffer for Christmas is easy-peasy!