St. Patrick's Day is one of the most popular and recognized holidays celebrated in various parts of the world. It's a day of lively, colorful, and fun activities that pay homage to St. Patrick. Filled with veneration and family time, this celebration overflows with music, floats, and bands. 
St. Patrick's can be celebrated by everyone, especially seniors. They can boost their brain through fun activities, dance around with their family, and share a good laugh. Here we have listed some fun-filled St. Patrick's activities for seniors to celebrate this day. 
St. Patrick's Activities for Seniors
1. Host a Trivia Night
Trivia night is the best brain-stimulating activity for senior citizens. It increases the brain activities in their head and prevents boredom. 
To play this game, pick a facilitator who would create the questions and oversee the game. There are five categories, such as movies, books, general knowledge, current events and name of celebrity. Prepare 10 St. Patrick's Day trivia questions for each category, and write it down into an index card. You can create a PowerPoint presentation, as well, to flash the questions and correct answers.
For each category, a group should be removed based on who has the least scores. Those who get the most correct answers for each category wins the game. 
2. St. Patrick's Day Crafts
Creating green necklaces, rainbow portraits, St. Patrick's cards, and pots of gold are amazing activities for seniors to celebrate St. Patrick's Day. This activity helps show the creativity of our beloved seniors through designing and creating these trinkets. Their motor skills and hand-eye coordination are also practiced through this artistic activity. You can create green necklaces for everyone in the family or your neighbors. 
3. St. Patrick's Day Pictionary
A Pictionary is similar to charades, but the players have to draw the picture and guess what it is. To play the game, write anything that represents St. Patrick's Day on each card. Then, divide the players into two equal teams.
Each team would pick a player to draw the image for each round. The first players would read the word in five seconds, then draw the word on the blank canvas upon the facilitator's instruction.
The first players have 60 seconds to draw the image while their teams try to guess what it is. They are not to spell out the word nor pantomime it to their teammates. They can only draw the word, and whoever guesses first gets the point. The team that gets the highest points wins the game. 
You could include objects, items, or personalities that are related to the holiday to use for the game. Some examples are leprechauns, fairies, cloverleaf, Irish flags, and many more. 
4. Have a Scavenger Hunt
A scavenger hunt is a fun and exciting St. Patrick's activity for your senior loved ones. This is the perfect opportunity for them to get up, get moving, and stretch their legs. 
Place leprechaun cut-outs at different parts of your house. Each cut-out shall have a clue to lead them to the finish line, which contains a pot of gold for them to collect. 
5. Cook for St. Patrick's Day
A delicious and sweet activity to celebrate St. Patrick's Day is baking and creating delectable treats with your loved ones. You can create any green-themed treats, such as leprechaun or cloverleaf cookies. You can also purchase any St. Patrick's Day toppers to make it more festive. 
Cooking is a fun activity that increases seniors' dexterity, creativity and thinking skills. You can also help them out with these activities and other basic household tasks. 
It's also a fun way to bond with your loved ones and get to talk to them. 
6. Gold Coin Toss (Penny Pickup)
The gold coin toss is another fun activity for seniors to play. You'll be needing a few gold coins and leprechaun pots. 
Group them into two teams with 20 coins each. Have them stand behind the line, which is a few feet away from the leprechaun pots. The goal is to toss as many coins at the pot within five minutes. 
To make it more challenging, you can decrease the time or move the pot farther from them. 
7. Attend a Parade
Many communities host parades for St. Patrick's Day that can be attended by family and friends. These parades, usually filled with colorful floats, mascots, Irish bands, and people dressed in festive attire, can also be attended by seniors.
Parades are fun activities for seniors to interact and socialize with so many people. It also reduces thoughts of depression and loneliness. The colorful and fun-filled parade increases the festive vibe of the holiday, which makes it more memorable for them. 
8. Have an Irish Jig Dance-Off
This game will show your moves and grooves. Have everyone gather inside the room and start playing Irish songs. Let them show their best moves for each song. The one who gets the loudest clap wins the game. 
To make it more fun, you can just have everyone show off their move and declare them all winners.  
9. Have a Leprechaun Costume Contest
Ask your senior loved ones to wear their best leprechaun-inspired costumes. Organize a mini-fashion show where they get to model their clothes. Those with the best design and walk get to win a pot of gold as the prize.
10. Bingo Game
Create your bingo cards where the boxes are full of images and words related to St. Patrick's Day. (If you're not feeling crafty, check out our Gathered Again Etsy Shop, with Printable St. Patrick's Day Bingo and many other fun Printables!)
Cut out images and words to be drawn for the game, and place them inside a leprechaun hat. Make sure to hand out the bingo cards to everyone. 
A facilitator shall draw out the cut-outs, and call out what they picked. Whoever gets to finish a row or column wins the game.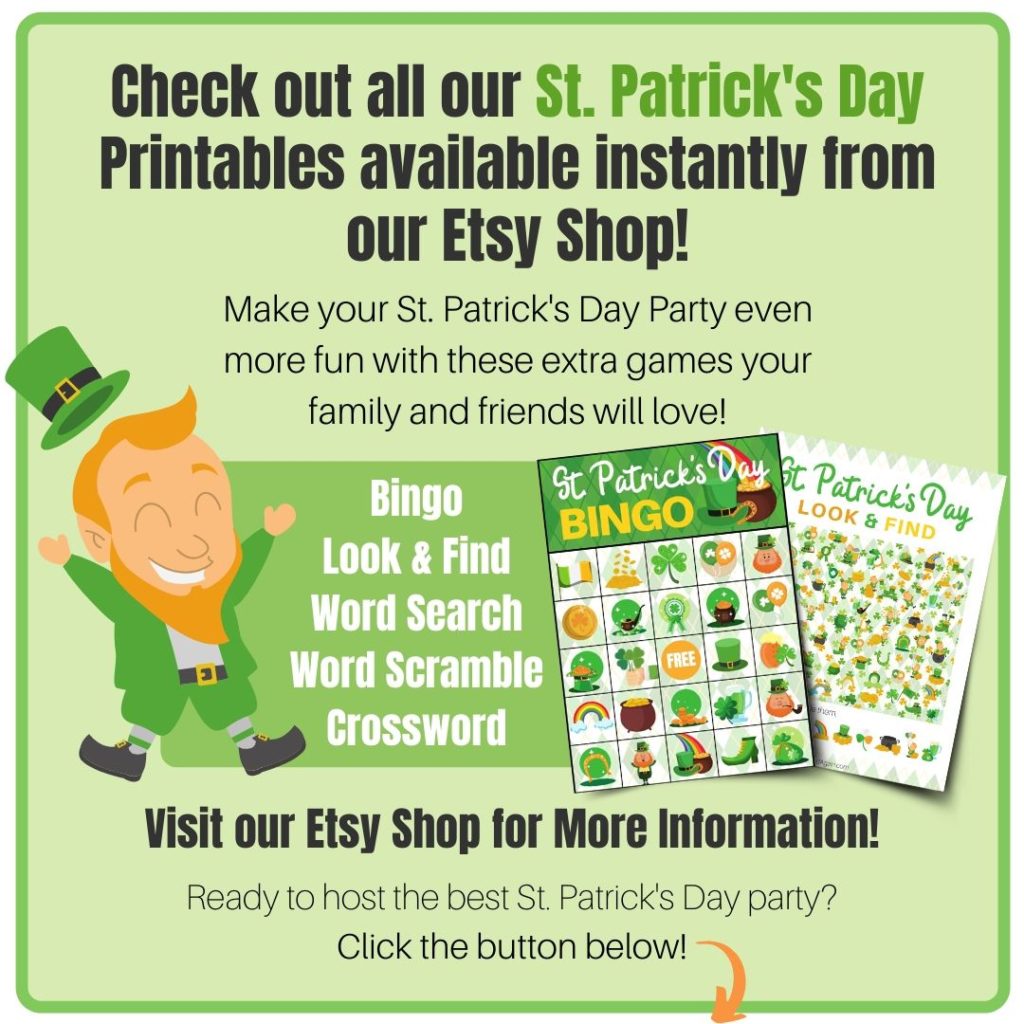 Conclusion
During this fun-filled holiday, engaging seniors in St. Patrick's activities would help in boosting their energy and increase their mental well-being. It makes them feel loved and cared for to be included in these activities. 
The constant laughter and chatter on this day would mentally and physically help them. But most of all, it helps bridge ties and connects family members.